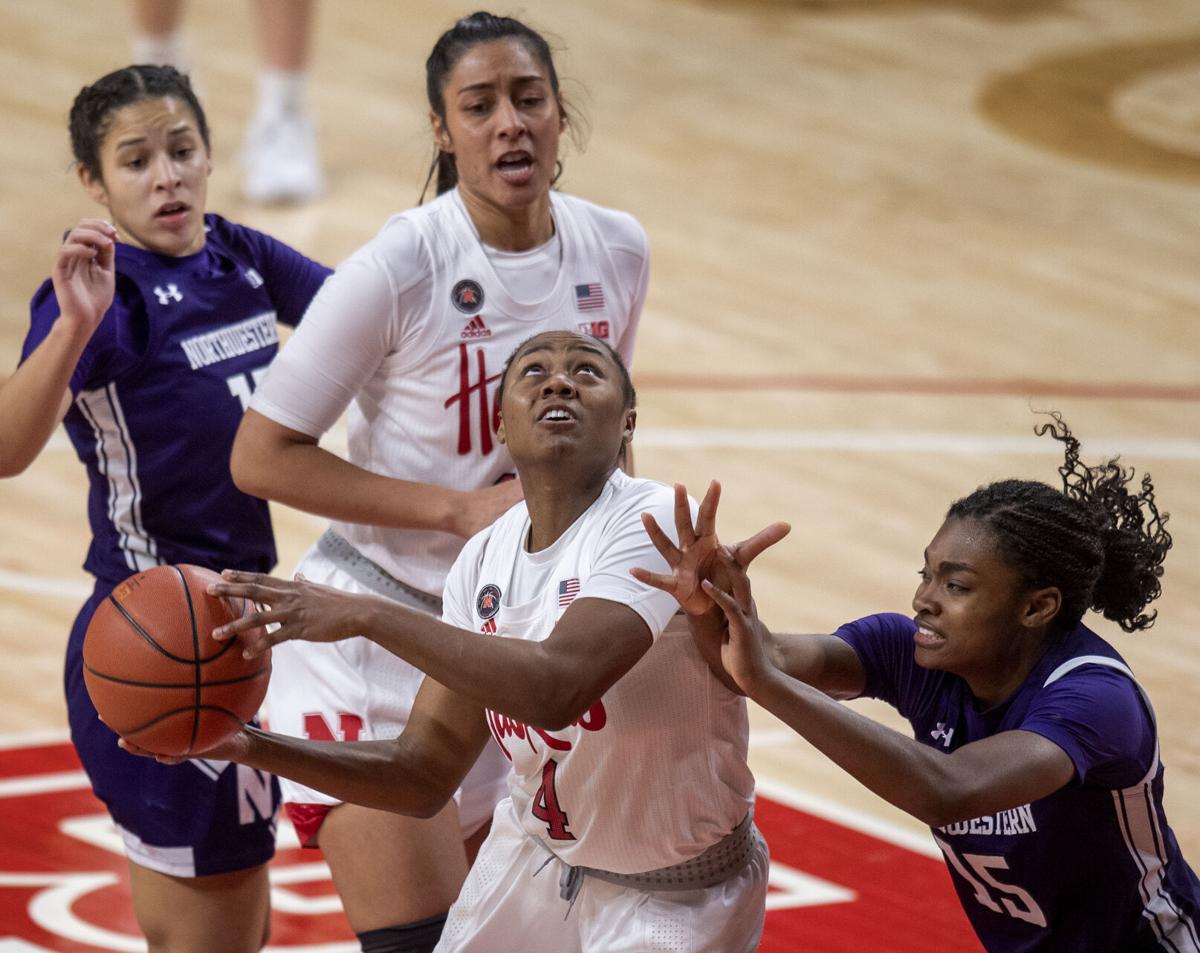 LINCOLN — Key players left. A pandemic hit. More key players got hurt. And then, in the fourth quarter, the best player on the Nebraska women's basketball team got leg cramps that kept her out for several minutes.
That's when a program afforded few good breaks over the past nine months got two, right in succession, to help pull off a 65-63 upset of No. 15 Northwestern.
First, Sam Haiby recovered quickly enough from her leg cramps to return for the final two minutes. Second, when Northwestern had a chance to hold for the winning shot, Wildcat guard Lindsey Pulliam launched a jumper with 23 seconds left. She missed. Haiby rebounded and held the ball for the final shot.
Which, after her initial layup fell short, Haiby made as time expired. It was more of a skillful flip than a shot, but it counted all the same.
"I tried to make a play there, pursued my rebound, looked backwards, threw it at the rim and it went in," said Haiby, who led Nebraska with 19 points. "I'm going to thank the basketball gods for that one."
The Huskers were due for some good karma. In the past four months they've had one player retire, another leave two games into the season, another undergo season-ending hip surgery and two more suffer ankle injuries while a sixth player, who is spry enough to leap off the bench after Haiby's bucket, hasn't yet had her chronically injured knee cleared for game action.
One of this group — freshman guard Ruby Porter, who had an ankle injury — returned Thursday. But Nebraska (4-3 overall, 2-2 Big Ten) still had only eight players available. Northwestern, featuring one of the nation's best backcourts, played just seven, and their strain — despite forcing 24 Husker turnovers — was evident on offense.
Northwestern (4-1, 2-1) took 14 more shots than Nebraska but hit the same number (24). Until Haiby's cramps hit at the 7:46 mark of the fourth quarter, the Wildcats looked rudderless, beaten. The Huskers led 54-45.
That's when Northwestern made its surge behind Pulliam (19 points) and Veronica Burton (15). When Haiby returned, Nebraska led 61-56. It was tied 50 seconds later at 61-all.
Haiby hit a shot to give the Huskers a 63-61 lead before Northwestern's Jordan Hamilton answered with 52 seconds left. After Haiby missed a baseline jumper on the Huskers' next possession, the Wildcats chose to push the ball up the floor, with Pulliam rushing a quick jumper she missed.
Haiby's subsequent rebound was one of eight she had in the game. Nebraska outrebounded Northwestern 47-35. That included 15 offensive rebounds, as well. NU also hit a season-high nine 3-pointers.
Coach Amy Williams acknowledged the sheer effort with which the Huskers, who also dealt with COVID-19 cases before the season, have played.
"It's pretty gratifying," Williams said. "One thing we've been talking a lot about as a team — I know it sounds a little silly — but we talk about what makes a redwood tree forest so special, and it's intertwining roots — the ability to hold each other up in rough times, to really stay together. I thought that was really on display today. I think our kids are really buying into that.
"They're playing hard on each possession for each other, because they don't want to let each other down."
Nebraska's eight-player rotation includes three freshmen off the bench — Porter, Annika Stewart and Whitney Brown — who on Thursday combined for 16 points and six rebounds. And it includes two transfers — Ashley Scoggin and Bella Cravens — in the starting lineup. They combined for 17 points, 10 rebounds and six assists.
But it was Haiby — the team's season leader in points, assists and rebounds — who pulled the Huskers through on Thursday.
Coaches have told Haiby not to try to put too much on herself to lead the team in scoring. It's a nice idea in theory — if Nebraska had 12 healthy players. It has eight. Haiby has to do a lot. The minutes she missed because of cramping were the only significant moments of the game she didn't play.
"She's a warrior," Williams said. "We feel like she just keeps getting better, keeps getting better, and keeps showing ways (to win)."