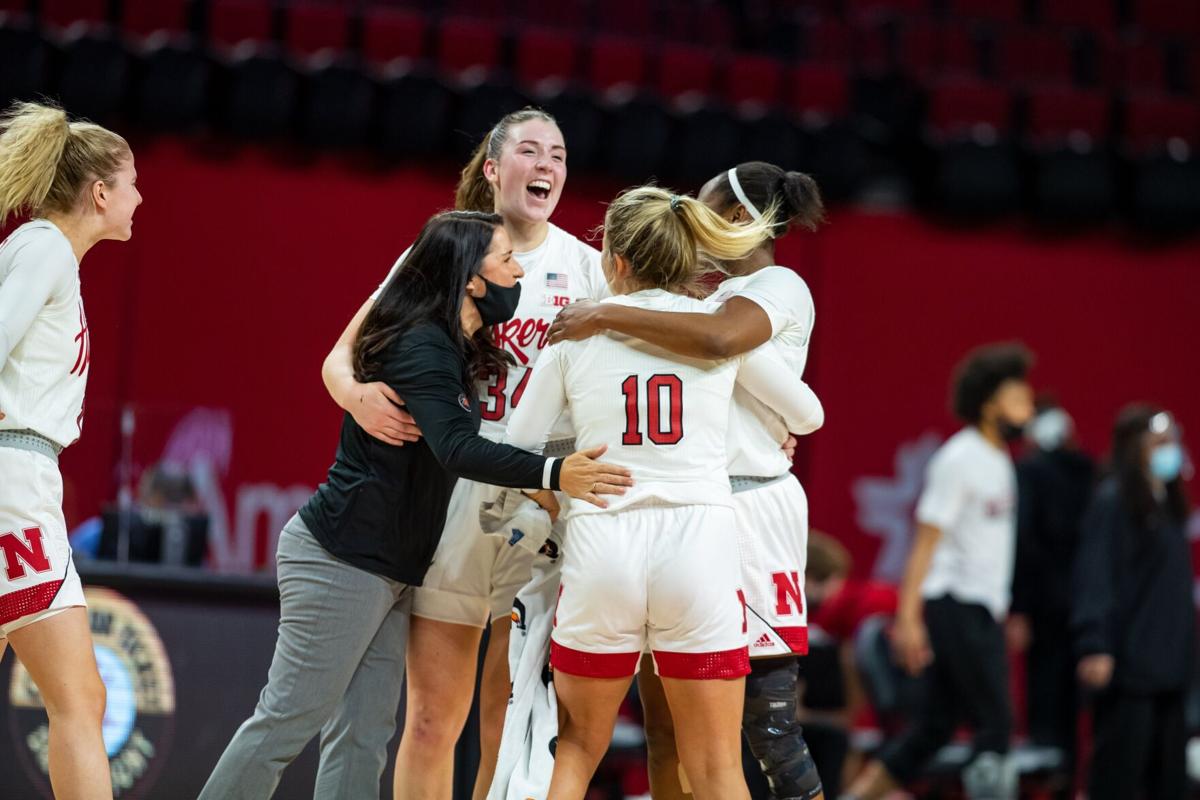 LINCOLN — How season changing it can be, when players absorb coaching and execute the game plan as designed.
For much of a frustrating December as the Nebraska women's basketball team struggled to a 3-3 start, the execution — especially with an injury-depleted team — left something to be desired, even when NU played hard. The Huskers left open shooters at Creighton and Indiana. Against Purdue, they struggled to get stops.
Nebraska had a long break for the holidays. And when the team came back, pulling off upsets against Northwestern and Rutgers, the execution matched the effort — especially on defense.
"We've done a good job of that in the last couple ballgames," coach Amy Williams said. "It's something that we've had to really, really work on, to be honest with you."
Here's why: Of Nebraska's eight healthy players, five — Ashley Scoggin, Bella Cravens, Annika Stewart, Ruby Porter and Whitney Brown — are new to the program. Scoggin played junior college basketball. The last time Stewart, Porter and Brown played was in high school. The level of detail and focus, Williams said, needed at the Big Ten level is an adjustment.
"At times, we find ourselves having to repeat to the second group in practice the same things we just said to the first group," Williams said. "We've had to practice it and practice it and practice it so we can get better and better at that focus. And I think these last couple ballgames are the best we've shown at being able to lock in and carry out game plans."
Williams credited her captains — senior Kate Cain, junior Sam Haiby and sophomore Isabelle Bourne — with leading younger players and repeating messaging to them. NU overhauled its leadership development system in the offseason — Williams sought out multiple sources and created an in-depth plan — that appears to be paying off.
So is NU's coaching of Bourne, an Australian who arrived at Nebraska with high expectations, worked through early struggles last season as a freshman and has taken off as a sophomore. She averaged 5.9 points and 4.4 rebounds in 2019-2020. This year, she's up to 14.1 points and 7.9 rebounds.
Bourne has blossomed from a post player to one who can score and defend all over the court.
"She's just gaining confidence with her ball handling, with all of the perimeter skills she's had to develop as she's moved into a new position for us," Williams said.
In Nebraska's win over Rutgers last Sunday, that meant Bourne guarded one of the league's best players, Arella Guirantes. Bourne dominated Guirantes, holding her to 3 of 24 shooting in the 53-50 victory.
"They really just put a lot of confidence (in me), which has really been a big thing this whole entire year, especially playing out of position," Bourne said of NU's staff. "The confidence I've gotten from them has allowed me to play the way I want to play. I had a lot of help from teammates today, calling out screens, having help on Arella."
To beat one of the Big Ten's best teams — undefeated and No. 15 Michigan — Bourne may have to have another stellar defensive outing. And she may have to do it against an old teammate.
Leigha Brown, NU's leading scorer last season, transferred to UM in the offseason. Nebraska did not expect — nor want — to lose Brown. The Big Ten's sixth player of the year, Williams liked to call the guard "a beast off the bench."
Brown tolerated the reserve role despite being one of Nebraska's top players. It was clear, in interviews with The World-Herald, tolerance was about the best thought Brown had for being a reserve.
At Michigan, she starts, averages 19.7 points per game and serves as a good complement to the Wolverines' star post Naz Hillmon, who averages 24.6 points and 9.9 rebounds per game.
In two contests against Hillmon last season, Nebraska — specifically Bourne, who at times guarded her — had success. Hillmon made 13 of 37 shots and committed five turnovers. It was Michigan's guards — particularly Hailey Brown — that NU struggled to stop.
Hailey Brown's still there. Now, Leigha Brown, too. UM averages 87.9 points per game.
Of course, Rutgers averaged 85 and Nebraska held the Scarlet Knights 35 points under that.
So NU, if it follows the coaching plan, can have success. Haiby, now NU's top scorer, knows that.
"Clearly, we're playing as a team right now," Haiby said. "Everybody's contributing in different areas, whether it's points, rebounds, assists, everything like that. I think we're working really together, too. We don't have to have that one player be selfish and want all the shots."