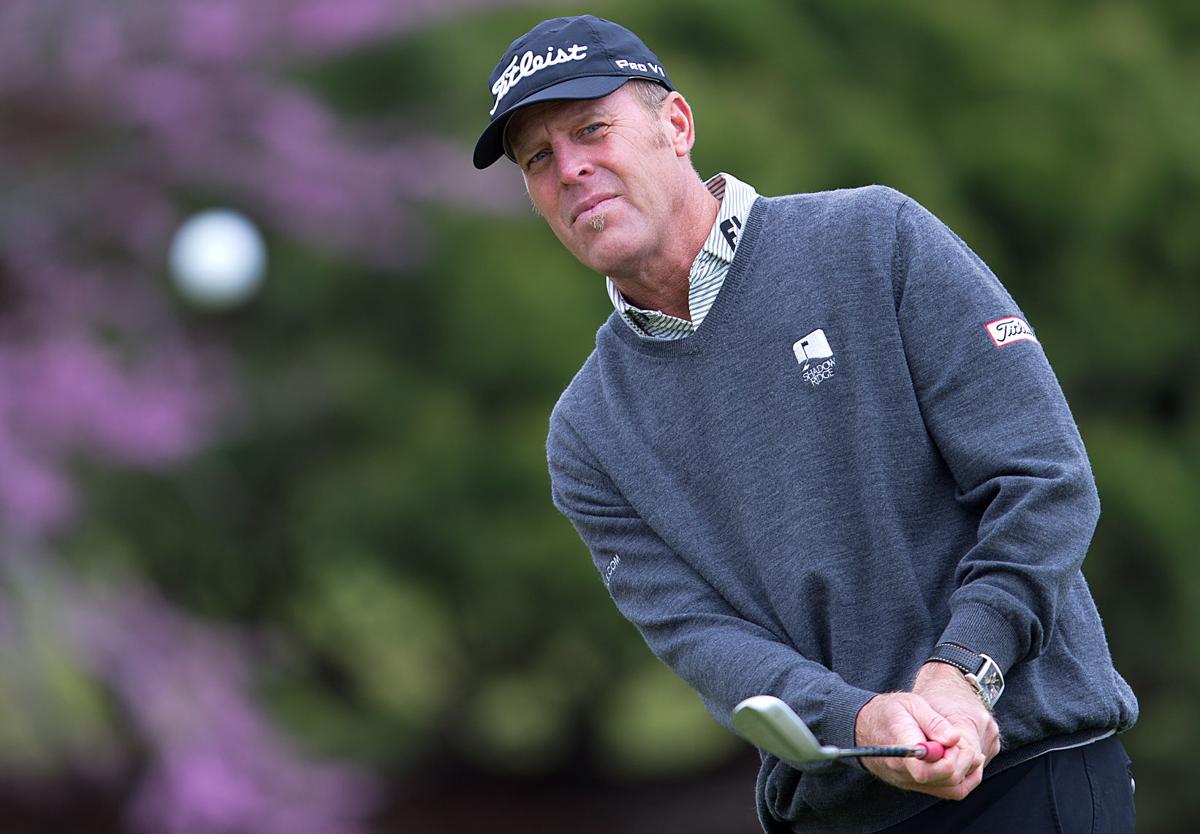 Three weeks before he played with Phil Mickelson on Masters Sunday, Charley Hoffman walked Augusta National with an Omaha teaching pro.
Over six hours, they scribbled in yardage books. Charted every green. Mapped out "quality position" for every pin. Discussed where you can miss an iron shot and where you can't. Experimented with different wedge shots, high and low, long and short.
No tournament stresses the short game like the Masters. And James Sieckmann doesn't take shortcuts.
Sieckmann had flown to Georgia from Orlando, where he met with clients Ben Crane and Kevin Chappell at Bay Hill. He stopped by Golf Channel headquarters and explained his revolutionary teaching methods, inspired by Seve Ballesteros.
Those methods landed him a 2013 cover story in Golf Magazine. Those methods landed him a book deal. Those methods made the Shadow Ridge director of instruction one of the hottest short-game teachers in the country.
Framed championship flags hang in Sieckmann's small Shadow Ridge office, which he's occupied since the club's opening in 1994.
From Ben Crane, who won at Torrey Pines in 2010: "James, never would have happened without your help! Thanks for all the time & wisdom!"
From Hoffman, who won at TPC Boston in 2010: "James, thanks for making me understand the short game. Couldn't have won without your knowledge."
Two days before the Masters, Hoffman and Sieckmann met again at Augusta National, this time on the range. Hoffman said his low pitches — intended to skip and then bite — were coming up short. They weren't crisp enough.
Sieckmann identified the problem. Hoffman's feet were too stationary. He needed to shift his weight a bit in order to compress the ball. A dozen practice shots and he was ready to go.
"That's the nice thing about working with good players," said Sieckmann, 50. "You tell 'em what to do and you know right away if it's right or not. Because they'll do it."
Thursday morning, Hoffman had the first tee time of the Masters. He made five birdies and an eagle, posting a 5-under 67, the leader in the clubhouse. Sieckmann followed him outside the ropes. Satisfying? Sure.
"The better question," Sieckmann says, "is what's it like watching when they're playing like a dog. Then you just wanna turn away and go have a beer."
Thirty years before he was a short-game guru, he was merely known as Tom Sieckmann's little brother.
Tom is the most accomplished PGA Tour pro ever to graduate from a Nebraska high school. He was already playing around the world when James was winning prep tournaments at Millard South in the early '80s.
In June 1984, James had just completed his freshman year on scholarship at Nebraska when big brother asked him to caddy at the U.S. Open.
At Winged Foot, he met Tom's friend and practice-round partner, a 27-year-old Spanish magician. Seve Ballesteros was James Sieckmann's idol. For two days, he studied Seve. Had lunch with him. Got his first glimpse at the world's best short game.
"It was the coolest thing ever," James said.
At that point, James still wanted to play professionally like his brother. But over the next decade, his game started coming apart. He traveled as far as the Asian Tour looking for opportunities. His breakthrough never came.
Growing up, he didn't even think about mechanics and he got up and down from everywhere. Now all the expert lessons and magazine tips and swing keys cluttered his brain.
"I was lost as a player," Sieckmann said. "I had no idea what good technique was. All I knew is what I was taught wasn't working."
He quit competing and became a teaching pro. In the spring of '94, a decade after his U.S. Open experience, he caddied for Tom again, this time at The Players Championship.
James was between jobs, preparing to become director of instruction for the new Shadow Ridge Country Club. He felt confident that he could teach the swing. He could teach putting. What he couldn't teach was wedge play. Chipping and pitching. He had no clue what worked anymore.
"I was on a little quest to figure it out."
He made a plan. Since he didn't know what the right techniques were, he would film the best players and simply teach what they do.
For two days at the TPC Sawgrass, he carried Tom's bag on one shoulder. On the other, he toted a camcorder.
"It was a big-ass camera," Sieckmann says. "One of those you put a VHS tape in. It was brutal."
He replaced divots and raked bunkers and calculated yardages. But every minute of spare time, he filmed pros like Corey Pavin and Raymond Floyd and, of course, Tom's practice-round partner, Ballesteros. He filled his tapes with their short-game shots.
Tom made the cut and finished 74th. James flew home and moved into an apartment on Blondo Street with his new wife. Within a month of Shadow Ridge's opening, he pulled out the VHS tapes and started studying.
"Just like the football coaches do," he said.
Sieckmann had no intention of coming up with a new teaching method. Nor did he have any visions of one day coaching tour pros. He was 29 years old and he simply didn't want to waste Shadow Ridge members' time and money.
But the videos left him "completely stunned."
"Everything I'd heard was wrong, essentially. Everything I'd been taught to do in college and after was literally not what they do."
The one-room instructional building next to Shadow Ridge's driving range is roughly the size of a one-car garage, a little cramped for the 6-foot-5 teaching pro.
It has all his tools, including mirrors, video cameras and a mat that measures weight distribution. But there's little natural light. There's a taped-up window air conditioner above the desktop computer. It's not the type of place that overwhelms the pros who come to town for a lesson.
Two weeks ago, a Web.com player flew in at noon from Phoenix, worked with Sieckmann for five hours, then caught a 7:30 flight home. That's typical. On Monday, a pro flew in from Thailand.
Why? Because even one successful pitch shot can lead to one stroke saved, which can be the difference between making a cut and missing a cut, between winning a tournament and finishing second, between breaking through on the PGA Tour and roaming the mini-tours.
On a recent morning, the head golf pro at Des Moines' Wakonda Club was driving to Shadow Ridge for a lesson as Sieckmann scrolled through his computer files, searching for a video clip of Corey Pavin chipping.
"You see how his head works forward (during the backswing)? He's not leaning left at address. He looks like he's leaning right almost. Watch his club just go right on by (his hands after contact). There's no tension there."
What Sieckmann sees in Pavin's chipping is exactly what he noticed at Sawgrass in '94. It's the antithesis of traditional technique.
"I was taught to keep my head still. I was taught to lean left. I was taught to keep my hands ahead. The rhythm was different. Here I was basically trying to mimic a mini-full swing. That was completely wrong. That was the biggest problem."
Here is Sieckmann's template boiled down to a single idea: The short-game swing is completely different than a full swing. It requires a finesse sequence as opposed to a power sequence. If you use the same fundamentals — the same motor pattern — from 20 yards and 200 yards, you're going to be good at only one.
Sieckmann's first pro client was Tom Pernice Jr., an old friend of Tom Sieckmann. Pernice is also one of the tour's best wedge players. About five years ago, Ben Crane sought Pernice's advice on the short game. He obliged. Then Crane called again. And again. And the fourth time, Pernice directed him to his coach in Omaha.
Crane hooked up with James. His name got out and soon other pros were calling: Kevin Chappell, Cameron Tringale, Nick Watney, Bo Van Pelt, Jeff Overton.
A few years later, Golf Magazine named Sieckmann one of its Top 100 teachers. He attended a summit, where he met the instruction editor. He pitched his personal story and, in July 2013, Golf Magazine devoted a cover story to his short-game methods.
"That was the watershed moment," Sieckmann says.
It led to Sieckmann's book, released this March, entitled "Your Short Game Solution: Mastering The Finesse Game From 120 Yards And In." (Sieckmann is also working on a putting book.)
For most of 20 years, Sieckmann felt resistance from his peers. They looked at his methods incredulously. Suddenly he was receiving validation. It came in emails and letters from across the country, frustrated players who found relief in his fundamentals. It came in the practice area at the TPC Boston in September 2013.
Sieckmann was working with Chappell in preparation for the Deutsche Bank Championship. Luke Donald, one of the best short-game players in the world, approached Sieckmann and said he'd read the article in Golf Magazine. He loved it.
Is there anything you disagree with, Sieckmann asked.
No, Donald said, that's pretty much what I do.
"That was a really special thing," Sieckmann said. "Made me really feel good."
Sieckmann sees a wave of teaching pros looking at the short game in a new way. Five years ago, "there were probably three or four guys in the entire country" teaching the fundamentals the way he does.
"Now there's maybe 1,000."
Wait a second. Golfers have been tweaking their swings for more than a century. How did James Sieckmann stumble on something relatively new?
Maybe his brother has the best answer. Tom Sieckmann is the head of instruction at Omaha Country Club. He remembers growing up when every top player had an instructional book. Jack Nicklaus, for instance, shared all his tips in print, and thousands of amateurs tried to emulate them. One size fits all.
In the '70s and '80s, Tom Sieckmann went to see the top teachers and they repeated the same four or five phrases. Didn't matter whom the client was.
The truth is, Tom says, the old way wasn't always right. And what worked for one player didn't always work for the next. Golf treasures its tradition, but "sometimes we don't challenge ourselves enough."
"We have these ideas that we accept," Tom said. "Somehow they become dogma and we just kind of pass them down. But sometimes it takes somebody to look at it a little differently. Why do we do that? You gotta ask those fundamental questions."
Tom remembers bunker lessons growing up. Everybody taught the same thing. Open stance. Pick the club up steeply. Cut across the ball.
"Well, why do you do that? What's the reason? There isn't a reason. It just started as an idea. A lot of the top teachers taught that way and people just imitated that and, well, this is what we teach ...
"People always taught that on a chip shot, you dragged the grip forward in front of the club head. Again, why would you do that? Nobody really asked the question."
One of James Sieckmann's best attributes, his brother says, is his open mind. He recognized that he didn't need to follow tradition. He recognized a difference between what the top players said versus what they actually did. He recognized that teaching pros weren't paying much attention to the short game, which is where golfers (even tour pros) waste the most strokes.
"Eighty-five percent of golf lessons are on the full swing and he's picked out an area where there isn't as much information or teaching, but it's probably the easiest part of your game to really get improvement on," Tom said.
A new short-game blueprint is one thing. But James wouldn't have earned respect on tour, Tom said, if he hadn't figured out a way to teach it. That's the hardest part of coaching.
"When you're used to making that reactive move and it's wrong," Tom said, "you've got to first learn it in practice in slow motion and then you've got to be able to do it faster and faster and then you've got to be able to do it where that's subconscious reaction."
Under pressure, even the world's top players revert to bad habits.
James Sieckmann spends about 10 days per month away from Omaha, tutoring his clients on professional tours. But you have to come home eventually. On Friday of the Masters, after Charley Hoffman's second-round 68, Sieckmann said goodbye to Augusta National.
Hoffman entered the weekend in second place behind Jordan Spieth. He played in the final group. Sieckmann has told Hoffman over and over that he's a Top-10 talent, capable of beating the world's best.
"As the short-game coach, you are the de facto mental-game coach," he said. "That's maybe more than half of what you do. You talk about belief. You've got to get those people to think they're invincible."
But Saturday at Augusta, the roars were coming from all around Hoffman. Justin Rose. Phil Mickelson. And Spieth, who seemingly made every critical putt. Hoffman shot 71.
Back in Omaha, Sieckmann couldn't watch the third-round action live. He was working with clients at Shadow Ridge and caught the broadcast on his DVR that night. Had he seen Hoffman's short swings sooner, he could've called after the round and offered a few tips.
Instead, Sieckmann sent a text message. Hoffman didn't receive it in time to practice it before Sunday's final round. He shot 74 and tied for ninth.
The lesson: Sometimes even the best coaches feel powerless.