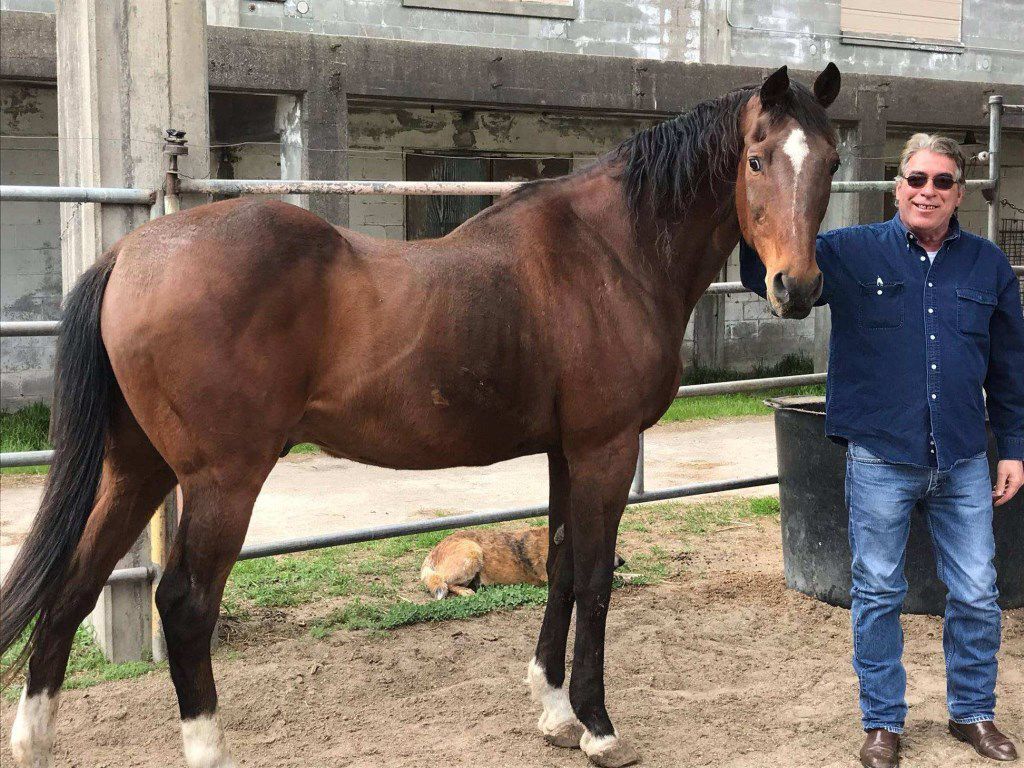 MEAD, Neb. — At Roger Pelster's ranch just outside Omaha, you'll find a VIP — Very Important Pony.
Dazzling Falls, the first and only Nebraska-bred horse to run in the Kentucky Derby, is living the good life there. It's a quiet place, far quieter than the din created by 144,000 fans at Churchill Downs 25 years ago.
The colt, owned by Don and Barbara Kroeger of Valley and trained by Omahan Chuck Turco, was part of the 121st Derby run in 1995. This year's Run for the Roses will be held without fans Saturday, moved back four months due to the pandemic.
"It's hard to believe that it's been 25 years," Turco said. "The horse is still kicking and I still go out to see him."
Born in Omaha, Turco grew up near the Ak-Sar-Ben racetrack. When he was 7, he sneaked under a fence to get a closer look at the horses.
"My friends and I would ride our bicycles and pretend we were part of the races," Turco said. "When we heard the announcer say, 'They're off!' we'd take off."
Turco, who worked various jobs at Ak-Sar-Ben while growing up, graduated from Omaha Gross in 1979. He started his long training career shortly after, one that would eventually produce 773 wins — including 120 stakes victories — in 4,511 races.
His once-in-a-lifetime training opportunity came in 1994. Turco took over the handling of the 2-year-old colt Dazzling Falls, and the pairing proved to be special.
"He was a good-looking horse," Turco said. "But I don't think anybody knew what was going to happen next."
As a 3-year-old, Dazzling Falls really began to dazzle. The colt won the $300,000 Remington Park Derby in Oklahoma and followed with a win in the $500,000 Arkansas Derby at Oaklawn Park.
Those victories sent him on the path to Kentucky and a shot in the Derby.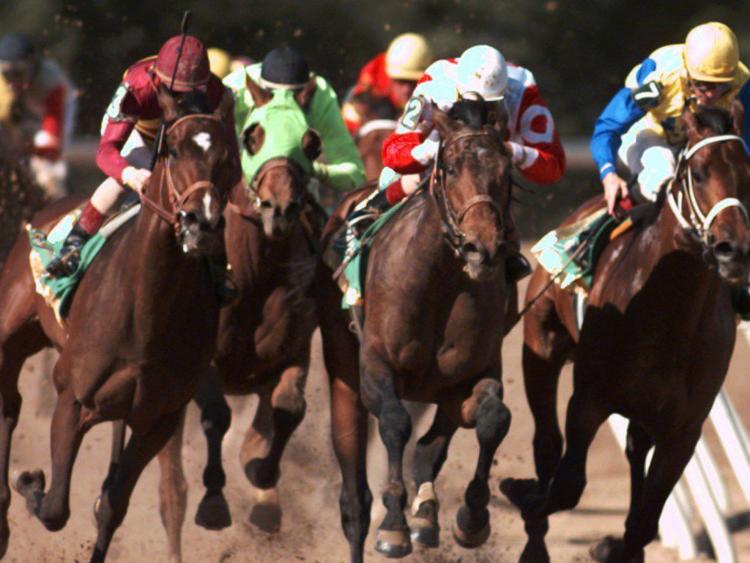 "To know that he'd be the first Nebraska-bred ever to run made it very special," Turco said. "It made me especially proud because very few trainers ever get that opportunity."
Despite his colt's victories leading up to the big race, Turco said there were many who felt a horse from Nebraska had little chance against the regally bred Kentucky horses.
"When you looked at his pedigree, it didn't stand up to most of the others," Turco said. "But he was running great and we knew that he belonged in the race."
The trainer added that others embraced the Midwestern colt, considered an underdog in the 19-horse field. That included ESPN broadcaster Chris Lincoln, who was a friend of Turco.
"In the 10 days leading up to the Derby, I'd take Dazzling Falls over to the track at 5:30 a.m.," Turco said. "And each day I'd hear the Nebraska fight song playing from the ESPN stand."
The trainer said that love for the Nebraska horse extended to the Holiday Inn where the trainer was staying.
"On Derby day, (everybody) was lined up in the hall clapping for us," Turco said. "We made a lot of friends down there."
The trainer also was a hot commodity and was interviewed many times — at least once in a foreign language.
"I did a live interview at 3:30 a.m. on Japanese TV," he said. "They told me that millions of people were watching, so luckily I had an interpreter."
Unfortunately, Dazzling Falls ran into some bad luck even before the race. The colt drew the No. 1 post, a position on the rail that had yielded only one winner in the previous 31 runnings of the Derby.
"Our horse liked to come from off the pace, so that wasn't good for us," Turco said. "In a big field like that, you can get caught down on the rail."
The trainer said Derby week was an experience that would test anyone's nerves.
"There was a great sense of excitement but a great sense of pressure," he said. "I wanted the horse to do well because I felt like we were representing the whole state."
Turco said most of all, he felt a sense of pride.
"My parents, my brother and my sister were all at the Kentucky Derby sitting in the best seats possible," he said. "It was an extremely gratifying moment for me."
As the race unfolded, Turco's fears became a reality. The late-running colt got caught up in traffic along the rail and had to slow down even more as horses on the lead began to tire.
Dazzling Falls moved to the outside in the stretch under jockey Garrett Gomez but finished 13th, well behind the winner Thunder Gulch.
"We needed a great trip to win today," Turco said after the race. "And we didn't get that trip."
Gomez said after the race he knew his horse was struggling with the deep, sandy track along the rail.
"I kind of felt like we were running in slow motion," he said at the time. "I could just tell that he wasn't going to fire the way he did in his past two races."
Dazzling Falls ran well later in 1995, winning the Alabama Derby at Birmingham Racetrack and finishing a close second in the Ohio Derby at Thistledown. The colt finished second in the Razorback Handicap at Oaklawn the next year but suffered a career-ending injury.
He stood at stud in Oklahoma and Iowa before moving on to Pelster's 47-acre ranch in Mead. After standing at stud there for several more years, he's been retired the past five.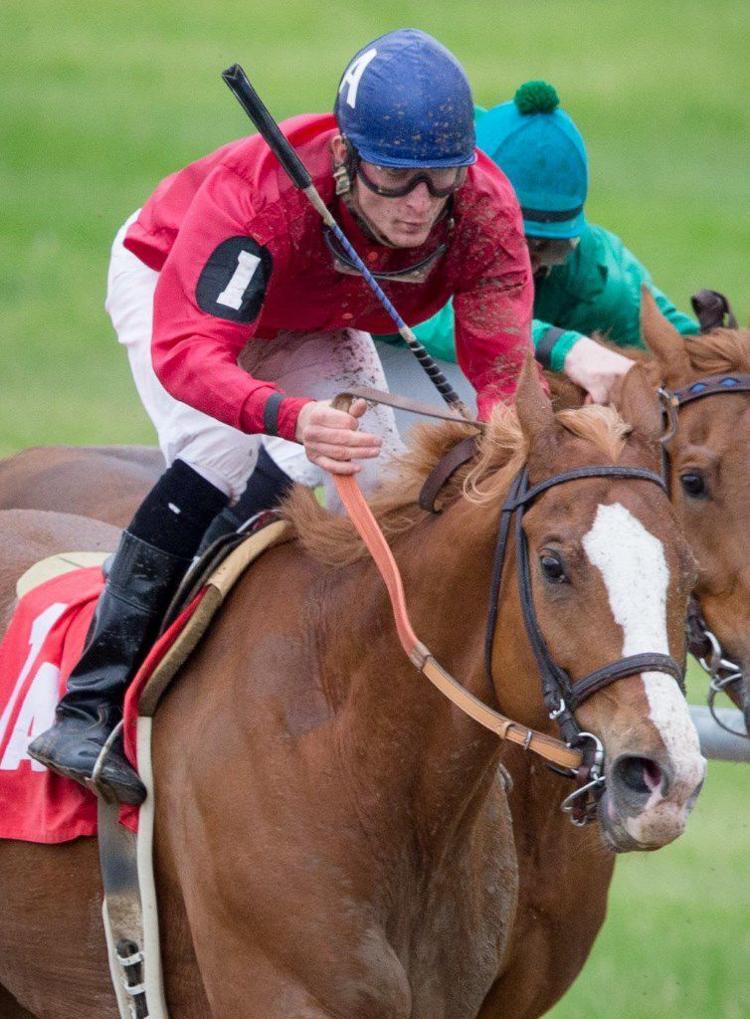 Among Dazzling Falls' progeny was Diamond Joe, another star in the Turco barn. That gelding raced until the age of 9 and won 24 races while earning more than $507,000 — fifth all-time among Nebraska-bred horses.
Dazzling Falls remains the all-time state-bred money winner, earning more than $900,000 in his short racing career.
Fast forward to today and so much has changed. Owner Don Kroeger and jockey Garrett Gomez have passed away, and the 59-year-old Turco is taking a break from training.
He saddled just a few horses last year before returning to Omaha after his father passed away.
"When I lost my dad, I took a step back," he said. "I'd love to get back into training but I know at this point in time, that's really tough here in Nebraska."
Turco, who helps care for his mother, works at Andy's Shoe Repair in South Omaha. He also has been busy in recent months gathering signatures for the pro-gambling initiatives he hopes will be on the November ballot.
As the Nebraska Supreme Court decides whether that will happen, Turco stresses how important those additional gambling revenues would be for the health of the state's racing industry.
"With casino gambling all around us, it's like having a pizza parlor and not being able to deliver," he said. "Fingers crossed, I hope it gets on the ballot."
As for the 28-year-old Dazzling Falls, he remains in the care of Pelster. Barbara Kroeger continues to pay for his upkeep, and Pelster said he recently received a letter from her.
"She told me thanks for taking such good care of 'Daz'," he said. "The Kroegers were such nice people that I want to do everything I can for this horse."
Pelster said shortly before Don Kroeger died in 2003, he received instructions concerning the future of Kroeger's stable.
"Don told me to sell the other 20 horses that he had," Pelster said. "But to make sure that 'Daz' always stayed here."
Pelster said he usually hears from Dazzling Falls, one of 25 horses on the ranch, each morning before sunup.
"He'll be hollering because he wants to be fed," he said. "He doesn't have any worries these days and just enjoys his laid-back lifestyle."
Dazzling Falls did make one return trip to the racetrack a few years ago, when he was honored at Omaha's Horsemen's Park.
"He really perked up that day," Turco said. "He wanted to run another race."
Turco still travels to Pelster's ranch, bringing peppermints for his Derby friend. Someday, the horse will be buried there.
"It's every trainer's dream to saddle a colt in the Kentucky Derby," he said. "Dazzling Falls made my dream come true."
Be the first to know
Get local news delivered to your inbox!