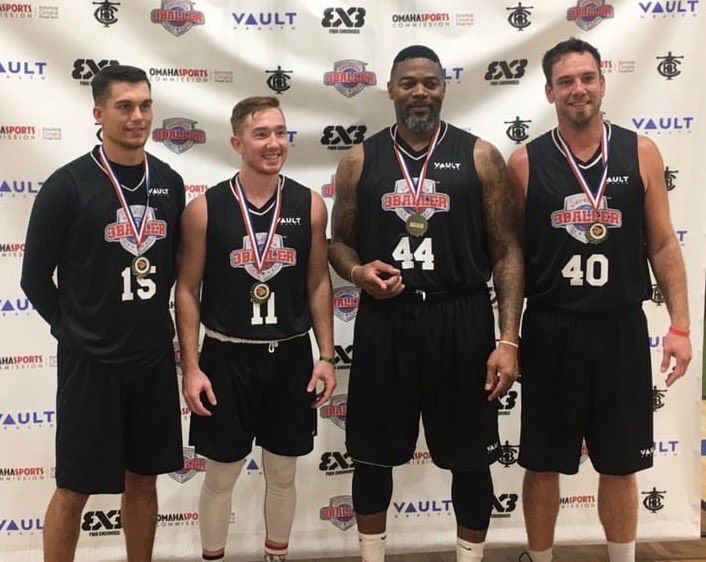 You don't want to let a shooter get hot in 3-on-3 basketball.
Guard Trey Bardsley proved why during the championship game of a showcase event in Gretna on Sunday night.
This playground-style version of hoops, sanctioned by the Summer Olympics and governed by FIBA, takes place in the half court with a 12-second shot clock. The ball stays live after makes and misses — the team transitioning from defense to offense just has to bring the ball back beyond the arc before starting its attack.
The first team to 21 wins. You keep score by ones and twos. Games don't last more than 10 minutes.
"You just take it out of the rim and just go," Bardsley said recently. "It's different than the traditional 5-on-5 game. It's more fast -paced."
Which is why the defense was still recovering to Bardsley on Sunday, when a teammate grabbed a long rebound. It took one pass and one pump fake — and Bardsley was open, rising to bury a long-range jumper.
After the opposing team's quick attempt to answer skipped off the rim, the ball was in Bardsley's hands again. He grabbed the board, dribbled to the corner and knocked down a turnaround jumper from distance.
Then a miss led to a tapout during a battle for the rebound. The ball bounced right to Bardsley. He had space. He drained another one.
In seconds — yes, seconds — the Nebraska Wesleyan graduate put together the decisive run.
"The first thing you notice is the pace of the game. It's so fast," said Steffon Bradford, Bardsley's teammate in Sunday's finale. "It's physical, it's fast, and you've got to think on the fly."
That's the type of action 3Ball USA CEO Michael Wranovics hoped to put on display for fans in Nebraska this summer.
He's trying to increase exposure for this game. Places like Lincoln and Omaha — with engaged communities — are ideal places to start, Wranovics said.
"We see potential, to grow 3x3 here and make this its national home," he said. "We think this is a model that can stick."
But the pandemic stalled some momentum.
Wranovics said he was originally planning an event at Pinnacle Bank Arena to take place after the 3-on-3 game made its 2020 Olympic debut.
He attempted to put together a 3-on-3 showcase at the Capitol District this month, but due to health concerns, he ended up condensing it and moving it to a gym at Hoffman's Hoops Academy in Gretna this weekend. No fans were in attendance but the action was streamed on Twitch.
Bardsley and Bradford teamed up Sunday with event MVP Dylan Travis and Klaye Rowe. Those four were on a 3-on-3 squad that qualified for nationals last year. Travis, the former Omaha Gross standout, earned an invitation to USA Basketball's 3x3 Olympic qualifying tournament training camp in February.
Also competing Saturday and Sunday: Tre'Shawn Thurman, Nick Billingsley, Caleal Walker, Malik Hluchoweckyj, Anton Gill, Nick Gardner, Lyle Hexom, Deon Lyle, James Parrott, Tre'vion Crawford, Trey Lansman, Richard Shepherd and Dachon Burke.
The 16 participants played 17 games. They switched teams and awarded individual points based on their squad's success. Bardsley made sure the event ended with some fireworks.
"Top to bottom, there are no slouches — these are definitely players who are fun to watch," Wranovics said. "They're in the prime of their careers. You've got pride and bragging rights on the line. It's just a great way to get live basketball back in Omaha."
He hopes to do it again soon.