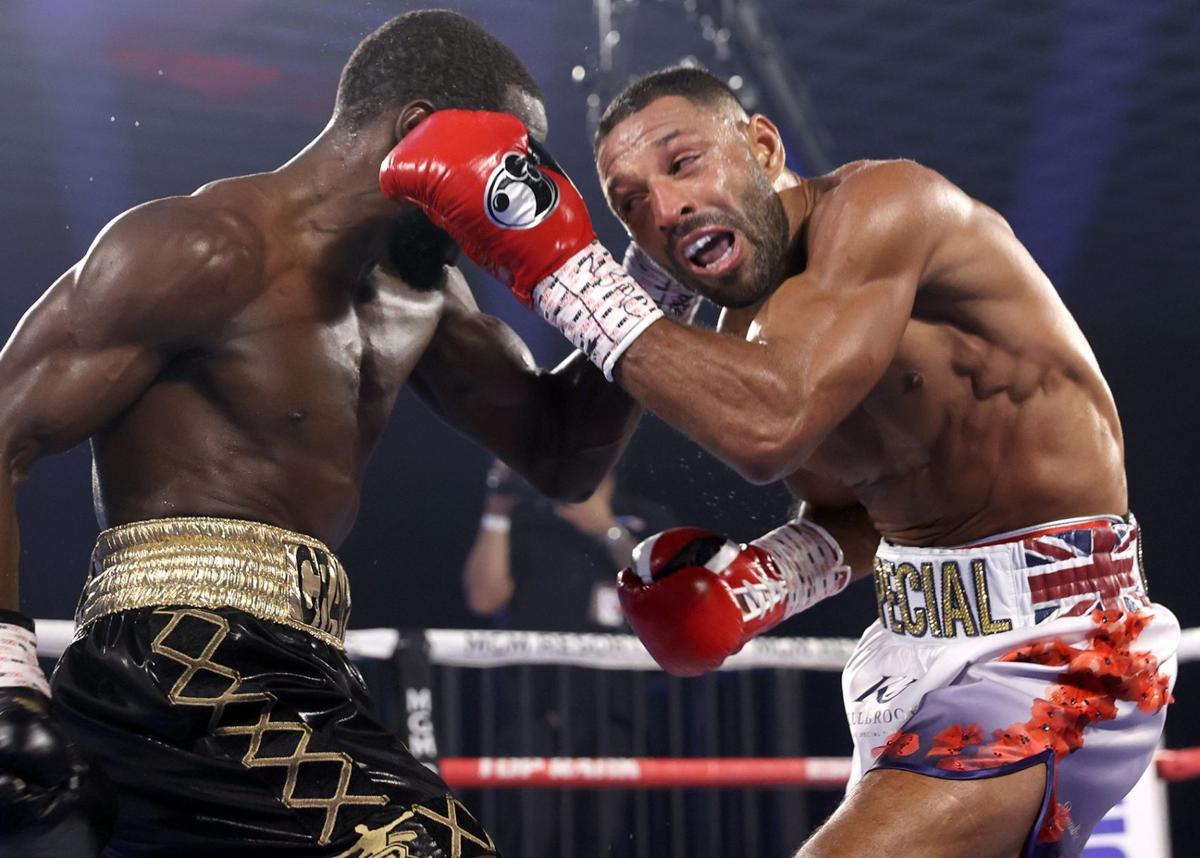 As he has done every time since turning pro, Terence "Bud" Crawford lets his boxing do the talking and style speak for itself.
Except this time, the WBO welterweight champion and the latest holder of the unofficial title of ESPN's top pound-for-pound fighter in the world had some direct answers to a few of the questions during a postfight interview.
Crawford usually takes a Bill Belichick approach to press conferences and interview sessions. Though he speaks louder and doesn't mumble like the New England Patriots coach often does, Crawford isn't afraid to be brutally direct when a question perplexes him for the wrong reasons.
This isn't a bad way to do business for a man who fiercely guards his privacy but also understands that media sessions are a necessary, but not always enjoyable, element of the profession.
The media serves as a conduit to fans of Omaha's brightest-shining sports star. Occasionally a peek behind the curtain is needed to better understand what makes the 33-year-old three-class champion so good at what he does.
After taking care of business Saturday in the ring, Crawford was asked about many of the things he had been quizzed about during the week leading up to the bout.
Among the things he was asked: fighting someone who was said to be a more physically imposing opponent, whom he wants to fight next, what he considers to be his best in-ring weapon and why he doesn't take more time to hype himself for higher-profile fights.
Boxing someone bigger?
Much of the prefight hype, especially during Friday's weigh-in, focused on Brook's appearance. He presented a cut physique, one that might have been suited for a fitness magazine cover.
ESPN commentators gushed, wondering if Crawford could handle a bigger opponent.
Turned out it didn't intimidate Crawford or help Brook withstand that fourth-round right hook that the Sheffield fighter said he didn't see coming. After all, it wasn't the first time Crawford has taken on a big opponent.
"When you talk about big dudes, when you look at Jeff Horn, he fought me then went up to 160," Crawford said. "He's a big dude. When you look at (Jose) Benavidez, he fought at 154, he's a big dude, total power. Amir Khan fought Canelo (Alvarez) at '54. He's a big dude. Mean Machine (Egidijus Kavaliauskas), he's physically a big guy.
"So when everybody says I'm fighting all these big dudes, I don't see any difference because I've been fighting these big guys since I came into the division."
When it came time to move in for the kill, size didn't matter.
"He was coming in trying to throw the right, and I just caught him with the hook at the perfect time (in) the perfect spot," Crawford said. "I knew in his eyes that he was hurt."
Crawford also was asked if Brook was the best fighter he's ever faced.
"I can't rate him the best, no," Crawford said. "Mean Machine was better than him, my last fight. I think Benavidez is better. I think Amir Khan was around the same. Jeff Horn, he was more awkward than anything. I can't give him the best I've ever faced."
Who's next?
Crawford wants Manny Pacquiao. Both he and promoter Bob Arum said a deal was this close to making that wish a reality before the pandemic.
"I already said who I want," Crawford said. "I want Pacquiao. I want to revisit that fight. That's a fight that should have happened right now. But being that the pandemic happened, and they weren't going to allow fans (to attend) in the Middle East, so we had to put a hold on that.
"Everything was already 95% done. We had the venue. The money was almost there. It wasn't quite there. It was the only thing we were waiting on. He is fighting these young lions and (has beaten) two of them, including Keith Thurman."
Along with Pacquiao, Thurman is one of the four boxers Crawford mentioned in his prefight special "Relentless" on ESPN that he wanted to fight before he called it a career.
Arum said if the Middle East deal comes through, it would be before or after the Muslim holy month of Ramadan. In 2021, Ramadan begins the evening of April 12 and ends the evening of May 11.
Righty vs. lefty?
Crawford came out in the first round boxing right-handed before adjusting to his southpaw stance later. Why the change?
"I started out right-handed because I'm right-handed," Crawford said. "I just wanted to test the waters, and I had to switch it up."
It was assumed that Crawford opened with his best look and had to make a change because things weren't going the way he planned, forgetting that Crawford is one of the sport's best in-bout tacticians.
"I don't consider that my best look," Crawford said. "Like I said, styles make fights. Me switching to southpaw was a better style for that fight. ...
I hit hard with both hands."
Pound-for-pound statement?
This question seemed to irritate Crawford a bit.
"Of course," Crawford said. "I showed why I'm considered the No. 1 pound-for-pound fighter in the world. Given my size, me moving up two weight classes from 135, and stopping every opponent that I step in the ring with at welterweight, that tells a lot."
Any messages for Errol?
Someone tried to ask what kind of message he was sending to Errol Spence Jr., the welterweight managed by another group, with Saturday's victory. A variety of circumstances have kept the two from meeting.
Crawford began his answer before the question was finished.
"I don't compare my fights and Spence fights the same," Crawford said. "Styles make fights. That's like comparing my fight with Shawn Porter and (Brook's with) Triple G (middleweight world champion Gennady Golovkin). I'm not going to do it. I think the message is you can't judge a book by its cover."
Self-promotion?
Then the question that got the most reaction from Crawford: "You are who you are, you're going to be who you want to be, but do you feel now that these big fights are beckoning that you have to go out there and promote yourself a little bit harder and really call out these guys for fights that you want?"
Said Crawford: "Listen, listen, I've always said I'm No. 1. I don't really have to call out all these fighters. The media, the public, the people, when y'all demand things, it happens."
More than if you talk about it?
"Yes," Crawford said. "Once you keep demanding the fight and you don't take (anything) else but that fight that you're all demanding, then it will happen. People will start taking notice.
"I didn't call them out. I'm not going to keep calling somebody out every time y'all put a camera in my face. I already did that. So there's no need to do it anymore. I'm not mad, I'm not sad. If it doesn't happen, it doesn't happen."
Whatever is next, and however he chooses to do it, Crawford will do what's best for his career. He will let us know when he's ready.
Photos: Terence 'Bud' Crawford defeats Egidijus Kavaliauskas