Bob Gibson, the most accomplished Nebraska-born athlete and author of the greatest pitching season in Major League Baseball's past 100 years, died Friday night. He was 84.
The Hall of Fame pitcher was diagnosed with pancreatic cancer in the summer of 2019. When the grim reaper knocks on his front door, Gibson said then, "he's gonna have a fight on his hands."
Indeed, Gibson fought the disease with his trademark tenacity.
Gibson grew up in Omaha's segregated Near North Side and starred at Tech High and Creighton before rising to fame with the St. Louis Cardinals. During the turbulent civil rights era, he smashed stereotypes and thrived under immense pressure.
His baseball feats included:
» Two World Series MVPs — only Sandy Koufax and Reggie Jackson have matched him
» 1968 National League MVP
» Victories in seven consecutive World Series starts
» First-ballot induction into Cooperstown
For all of Gibson's striking achievements, his greatest legacy is the way he competed. Opponents feared him as much as they revered him. The graceful right-hander terrified batters with his inside fastball and accompanying scowl.
Gibson once drilled his old friend, Bill White, in the elbow after White swung at the previous pitch on the outside corner.
"You son of a b—," Gibson hollered. "That part of the plate belongs to me!"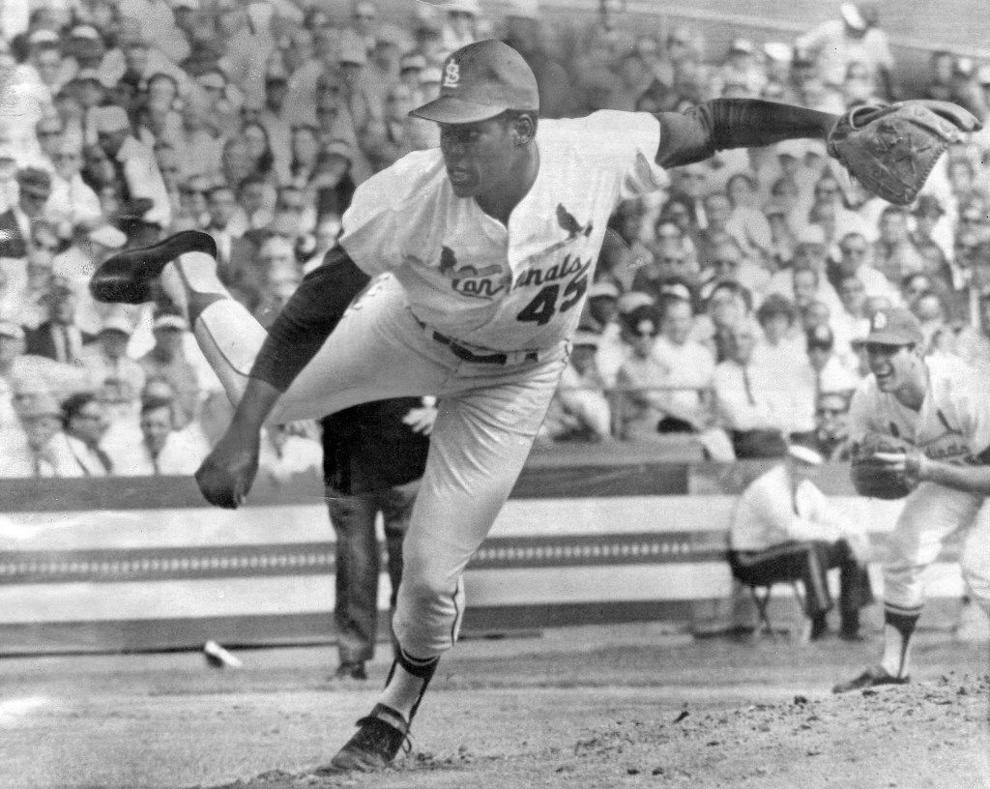 Gibson reached his peak in 1968 when he recorded a stunning 1.12 earned-run average. Had he allowed 13 more earned runs, he'd still own the best single-season ERA since the Dead Ball era.
His signature season featured a summer span of 47 consecutive scoreless innings. In 10 complete game starts from June 6 to July 25, Gibson allowed just two runs. He credited his slider while acknowledging the social chaos around him.
"I can't completely dismiss the fact that nobody gave me any s— whatsoever for about two months after Bobby Kennedy died."
Gibson always saved his best for October. In Game 1 of the '68 World Series, Gibson threw 144 pitches and struck out a World Series-record 17, including all three Detroit Tigers in the ninth inning.
"If baseball were operated sensibly, the game would have been stopped after the fourth inning," a New York Times correspondent wrote. "They stop prizefights to avoid this kind of brutality."
Gibson's extreme competitiveness derived from his humble beginning. Born Nov. 9, 1935, his widowed mother named him Pack Robert Gibson after his father, who died from illness a few months earlier.
Gibson couldn't stand the name so he opted to go by Robert. At 3, Gibson came down with a near-fatal respiratory illness. His oldest brother wrapped him in a quilt, carried him to the hospital and promised him a baseball glove if he recovered.
Nearly a decade later, that same brother, Josh, sat on their front step in the Logan Fontenelle projects and engaged Bob in a discussion about baseball. Jackie Robinson had just integrated the majors and Bob gained a role model.
His path to the majors began with Josh Gibson's neighborhood baseball team, the Y Monarchs, who traveled the Midwest in a rickety, old bus. They won the state midget league championship in 1950, experiencing the world outside of the ghetto.
During one trip to Kansas City, the Monarchs couldn't find a hotel that welcomed Black people so they slept on pool tables at a local YMCA. During another Missouri road trip, Bob recalled white strangers feeding his team cold watermelons. When he noticed them taking pictures of his Black players, big brother Josh stopped them and made them ask for forks. From that day, Bob found watermelons demeaning and wouldn't touch them.
Gibson's long memory for injustice and disrespect, combined with his extraordinary talent, made him a force.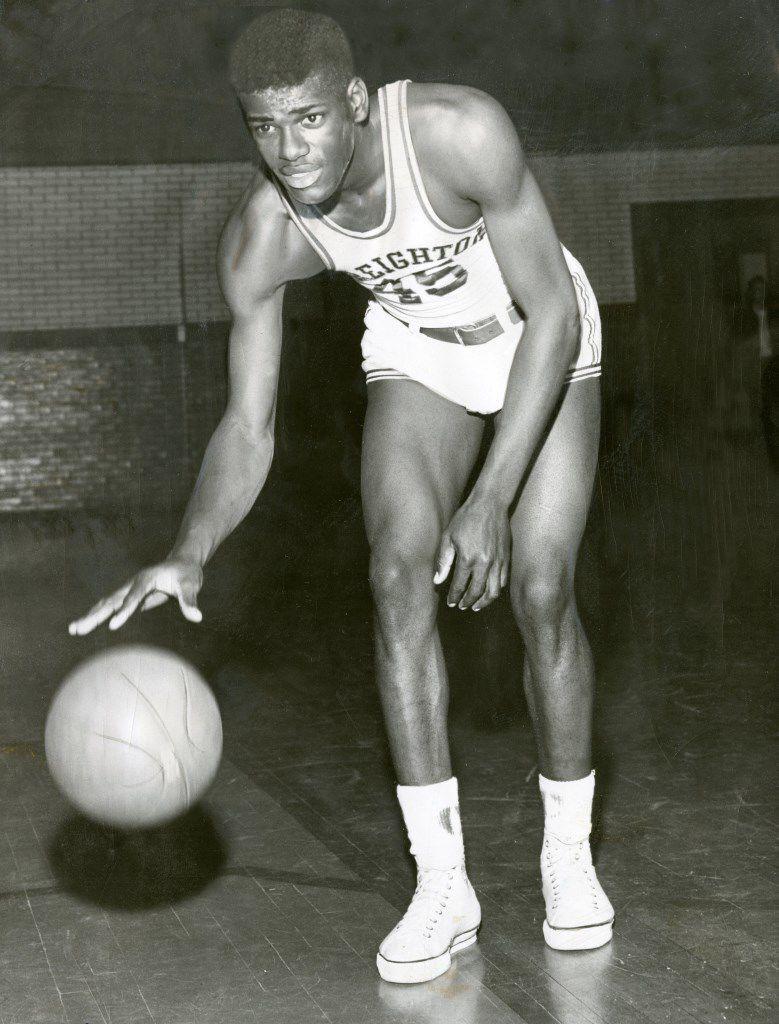 First on the basketball court at Tech High, where he made all-city. Then at Creighton University, where he dazzled fans with his ball-handling and acrobatics. In April 1957, following an all-star exhibition at Ak-Sar-Ben, Gibson received an invitation to join the Harlem Globetrotters.
He roomed with Meadowlark Lemon before the St. Louis Cardinals eventually paid him to focus on baseball. Gibson played mostly catcher and outfield at Creighton, but scouts recognized his lively arm.
Gibson couldn't harness it. Not right away. That changed in 1962 when he made his first All-Star appearance. Two years later, the Cardinals reached the '64 World Series and Gibson demonstrated his incredible will to win.
He beat the New York Yankees in Game 5, throwing 10 innings. On just two days rest, he came back in Game 7 and held Mickey Mantle and Roger Maris scoreless for five innings as the Cardinals built a 6-0 lead. It was 7-3 after eight innings when Gibson headed back to the mound.
Until that day, one of baseball's enduring racial myths was the fragility of the Black pitcher. He wasn't smart enough. He couldn't be trusted in the clutch. Gibson proved them wrong.
Cardinals manager Johnny Keane, who first coached Gibson as a minor leaguer in Omaha in 1959, knew his ace was so sore he couldn't straighten his arm. But Keane stuck with him and Gibson secured the final outs.
"I had a commitment to his heart," Keane said.
Gibson returned to Omaha a hero, earning a parade through downtown and then up North 24th Street. As much as he appreciated the cheers, Gibson kept his fans at arm's length. He knew the difference between cheering a Black athlete on a baseball field and welcoming a Black man into your front yard.
When Gibson bought a home in Rockbrook, neighbors resisted him. When he invested in businesses, advertisers turned him down.
As one of America's most prominent Black athletes, Gibson reluctantly carried the banner of civil rights. "The intention of riots is to get people to think and not to get complacent and take things for granted," he wrote an autobiography. "Like a brushback pitch."
Neither tumult nor injury could derail Gibson. In 1967, just three months after Roberto Clemente's line drive fractured Gibson's leg, he stifled the Red Sox in Games 1, 4 and 7 of the World Series.
His October win streak finally ended in Game 7 of the '68 Series, a bitter climax to his record-breaking season. But MLB didn't forget his 1.12 ERA. It influenced the league's decision to lower the mound the following year.
Gibson grumbled about rule changes, but he maintained an All-Star level with his prolific arm and superhuman stamina. In '69, Gibson pitched 52 innings in a span of five starts. In '70, he tossed complete games of 14 and 12 innings en route to a personal-best 23 wins and 274 strikeouts.
For all his skill, Gibson never sacrificed athleticism. He smacked 26 career home runs, including two in the World Series. On off days, Gibson shagged fly balls and fielded ground balls just to get a taste of the action. "I go crazy on the bench," he said. "The hardest part of pitching is not pitching."
When he struck out his 3,000th batter in 1974, Gibson became the first man since 1923 — and second ever — to reach the prestigious mark. Gibson retired in '75 and settled in Bellevue, where he pursued business interests and enjoyed his family. Over the years, Gibson's public appearances declined — he preferred to keep a low profile.
In June 1999, his hometown honored its most famous athlete down the hill from old Rosenblatt Stadium.
Gibson reflected on his life in Omaha. He said he never dreamed he would stand under a street sign with his name on it.
"If I keep on talking, I'm going to cry," Gibson said. "And as you know, I never cry."