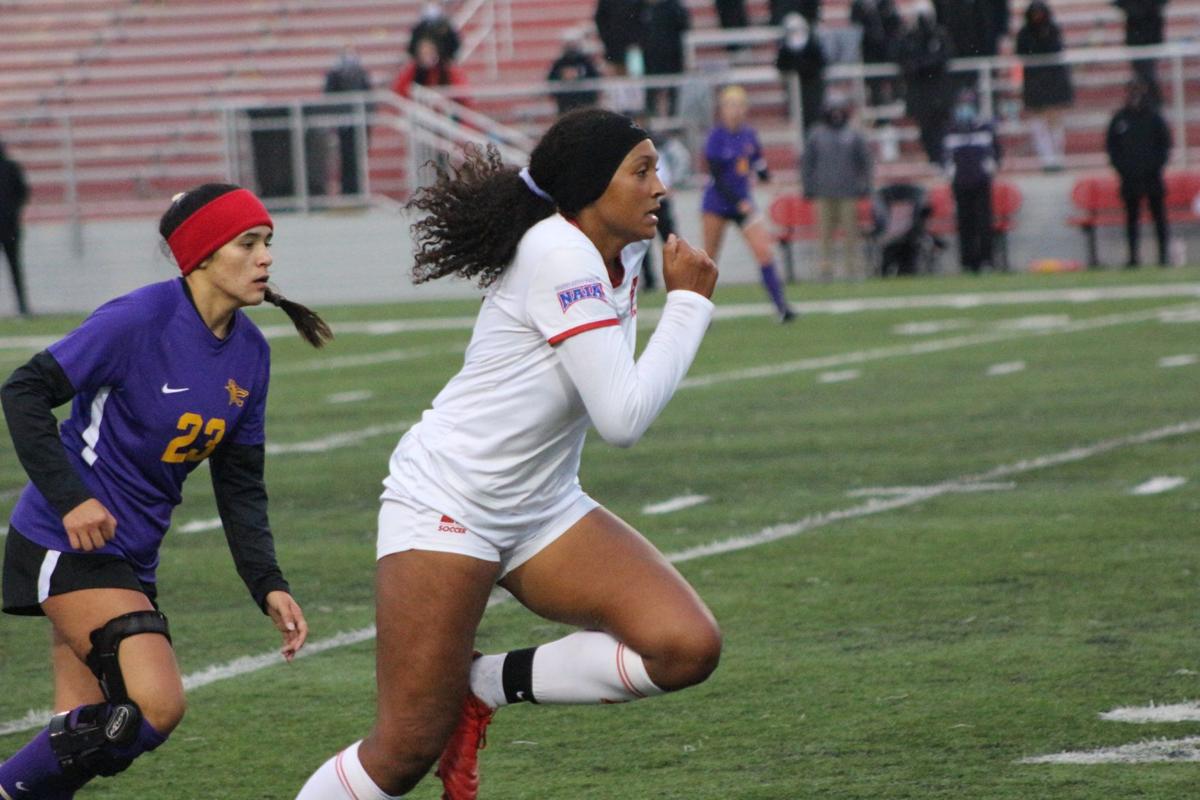 Jade Ovendale knew her Hastings College women's soccer team would get an early-season challenge from her former team when they met Saturday.
What made that meeting even better was that the Broncos came away with a win.
Hastings got two goals from junior Jacqueline Gilbert and a career-high 12 saves by senior goalie Sarah Carpenter in a 2-1 win over University of Science and Arts of Oklahoma.
USAO went 21-2 last season and finished 12th in the NAIA poll. The Drovers outshot Hastings 25-7 on Saturday, but the Broncos (2-0) never trailed. Gilbert scored the deciding goal with 23 minutes left, three minutes after USAO scored its goal.
"We've been working a lot defensively. ... We've been really good on the defensive side," Ovendale said. "If we want to go far in the national tournament, that's the kind of team we need to beat. For me, it was a good one to see where we're at, and I think we're moving in the right direction."
Ovendale, who was hired as Hastings' coach in May, played her final two collegiate seasons at USAO. She was an honorable mention All-American in 2014.
"It's a team I respect and I loved my time there, so it was good to get that win there," she said. "I played under the coach who's still there."
It's been a solid start for the Broncos, who also have a 3-0 win over Kansas Wesleyan. The Broncos are young — 17 of the 32 players on the roster are freshmen — but Ovendale likes how the team is handling the transition to a new coaching staff.
"To be honest, it's been quite smooth sailing. I feel I fit in right now working with them and them working with me. They bought in to some different ideas and new ideas," Ovendale said. "The culture is really strong here at Hastings, so there wasn't much that needed to be changed in terms of wanting to win."
Hastings went 17-5 last season and was picked to finish third in the GPAC preseason poll.
"The upperclassmen have done a really good job of staying connected (with everyone)," Ovendale said. "We have a really big freshman class, so the upperclassmen have been amazing in showing the standard and getting them ready."
Gilbert and Carpenter were named the GPAC players of the week. Hastings returns to action Saturday with the conference opener at Dakota Wesleyan.
» The Bellevue men's soccer team also got a huge early-season win as it downed Columbia (Mo.) 1-0 on Saturday. Columbia went 23-1 last season when it was an NAIA tournament semifinalist. Inaki Aldao scored the game's only goal late in the first half.
» Peru State postponed its football opener for a second time. The Bobcats were supposed to host MidAmerica Nazarene on Saturday, but that game was moved to Nov. 21. Peru originally was scheduled to open its season against Benedictine last Saturday, but that game was moved to Oct. 10.
The Nebraska 100: Our greatest athletes
The Nebraska 100, originally selected in 2005 and then updated and re-ranked in 2015, came from a pool of nearly 500 names from the ranks of high school, college, amateur and professional sports from the past 140 years. Assistance came from a panel of veteran sports observers from across the state, with the newspaper's sports staff determining the final rankings.