Omaha has no bigger baseball hero than St. Louis Cardinals great Bob Gibson, and fans of the game remembered him Sunday at his statue outside Werner Park. 
Mementos and flowers were placed at Gibson's statue outside the home of the Triple-AAA Omaha Storm Chasers in Papillion.
Sarpy County Tourism Director Fred Uhe watched from his office inside the stadium complex as fans trickled by to take photos and pay their respects. 
"Fans have begun to drop off items at the Bob Gibson statue outside of our office, and we expect much more over the next few days," he said.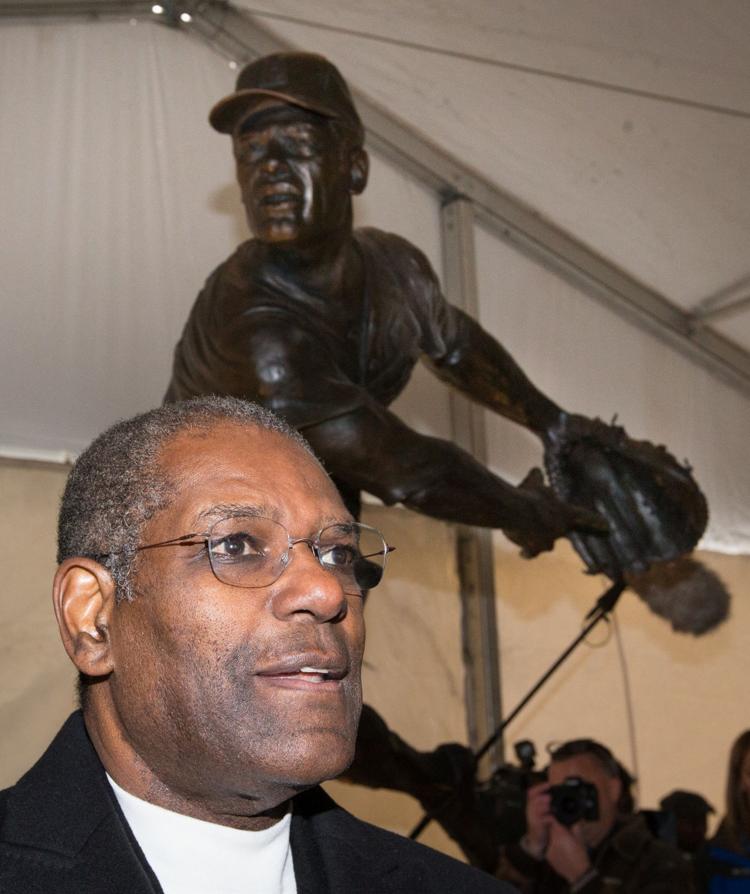 Gibson died in his hometown from pancreatic cancer on Friday at age 84. He was a nine-time All-Star, two-time Cy Young Award winner, two-time World Series MVP, and five-time 20-game winner. 
Uhe opened his office, just a few feet from the statue, on Sunday afternoon. He visited with fans, took photos of them posing with the statue and kept an eye on the tributes. He also made himself available to accept cards for the family.
"We realize what he meant to the community," he said.
Five bouquets of flowers, a candle, a photo of Gibson sitting at a table with friends and a Cardinals baseball cap had been left before noon. Uhe picked up a metal canister with 45, Gibson's uniform number, written on the outside. 
The canister contained dirt, which Uhe thought could be from a baseball field.
"I don't want to open it," he said. "I'm sure it's special to someone. We'll gather up all these things and get them to Bob's family."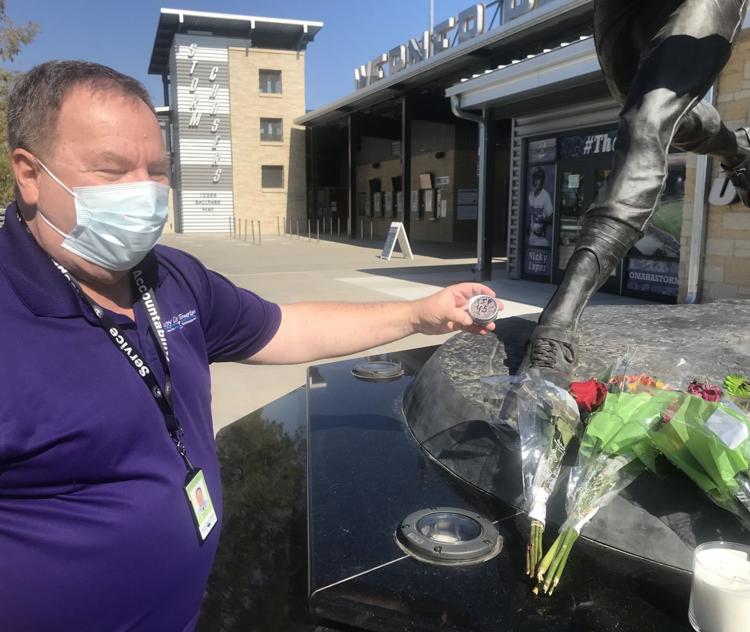 Uhe met Gibson on several occasions, including the groundbreaking ceremony for Werner Park and the unveiling of his statue. He chuckled as he told his own Gibson story. 
"We were at the groundbreaking, and (Storm Chasers President) Alan Stein said something to George Brett like, 'Who knows? This could lead to a local boy dreaming he wants to be like George Brett and getting a hit here some day,' " Uhe recalled. "Bob leaned over and told George, 'Not if I'm pitching.' "
A grandmother, Shirley, a mother, Kendra, and a 2½-year-old boy, Isaac, stopped by the statue during their afternoon walk, which takes them by the stadium most days. Isaac is enamored of the statue and the stadium overall, said the grandmother, who declined to give her last name. 
"He usually has a baseball with him and he points to (murals) on the (stadium) wall," Shirley said. "Today, he didn't want to leave the statue. He wanted to see the photo and things that are up there."
Gibson spent his entire 17-year career with the Cardinals, going 251-174 with a staggering 255 complete games, 56 shutouts and 3,117 strikeouts. In 1968, he started 34 games and finished 28 of them, setting a modern-day record with a 1.12 ERA and 13 shutouts. He started nine World Series games and pitched a complete game in eight of them and a shutout in two of them, going 7-2 with a 1.89 ERA and 92 strikeouts in 81 innings.
"I couldn't tell you all that he did, but we are from Omaha, so I do know that he was a great one," Shirley said. "You know that if you live in Omaha."
Funeral service arrangements will be announced at a later date.
For now, the family is remembering him privately, according to a statement by Heafey Hoffmann Dworak Cutler.
"At this time, per Bob's wishes we are celebrating his life with immediate family only. We look forward to celebrating his exceptional life with all his friends in the near future — details to be announced later."
Gibson is survived by his wife, Wendy; son, Christopher and Ray; and sisters Barbara Stevens and Beulah Craig. He was preceded in death by his parents, four brothers, daughter Annette and a grandson.
Memorials are suggested to "No Footprint Too Small" in Lincoln or to Boys and Girls Club of Omaha.
World-Herald staff writer Nancy Gaarder contributed to this report.
Be the first to know
Get local news delivered to your inbox!