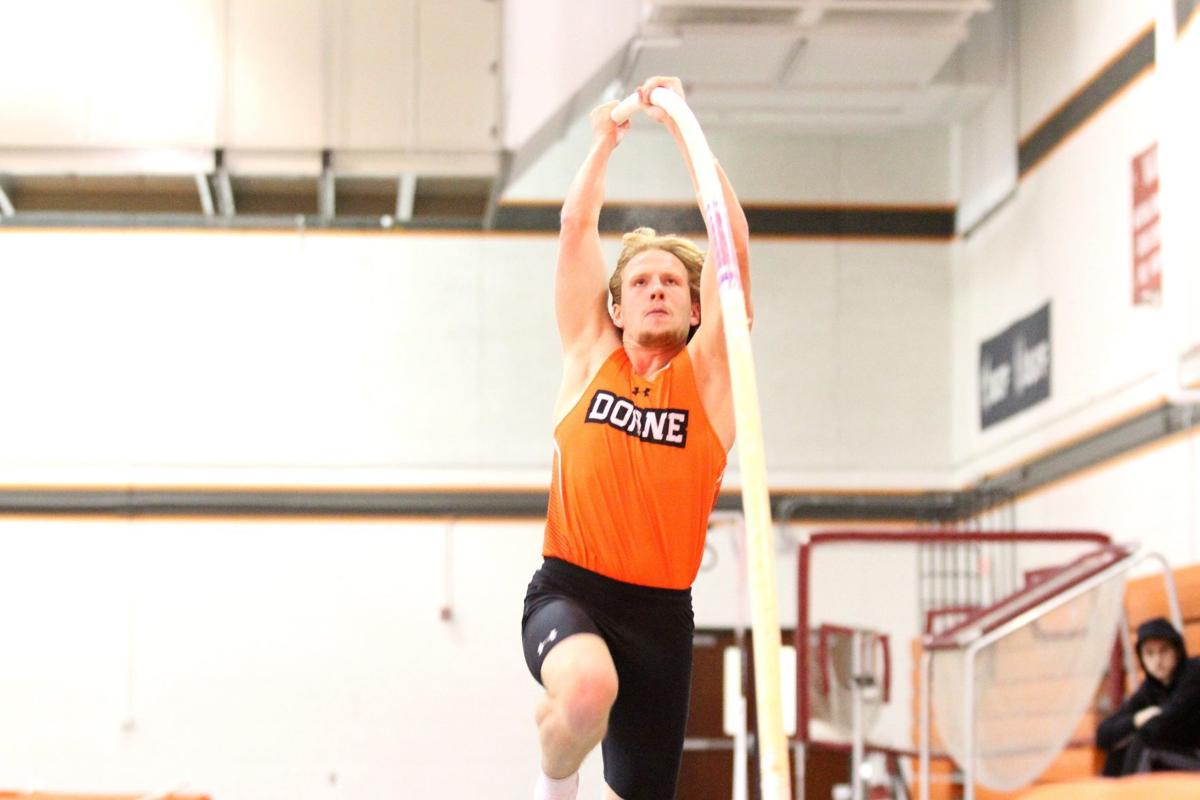 Levi Sudbeck's repeat in March was remarkable.
The Doane senior overcame a slow start and a hamstring injury at the NAIA indoor championships to win his second straight heptathlon title.
"It probably meant even more to me the second time because my family was there again and I saw the relief on (coach Ed) Fye's face when it was over," Sudbeck said. "I remember after the 1,000 (the last event), he came up to me and said, 'I can't believe you did it again.' "
Sudbeck expected to carry that momentum into the outdoor season, when he would have been a favorite to win this month's decathlon at nationals.
But a week after the Pierce graduate won the heptathlon, the NAIA canceled its spring sports seasons because of the coronavirus pandemic. So Sudbeck's highlight this month will be earning his degree — graduation was scheduled for Saturday before the ceremony was postponed.
Sudbeck said "it didn't feel real to me" when his outdoor season was wiped out. Then the NAIA granted spring sports athletes an additional season of eligibility.
"I felt like I had a decision to make about coming back to compete again and I think I am going to come back," said Sudbeck, who plans to take graduate courses next year. "I want to finish track on my own terms. In five years, I don't want to think about what I could have done."
Sudbeck's win in March is one Fye won't soon forget. Sudbeck tweaked his hamstring before the heptathlon and finished dead last in the first event, the 60 meters. He jumped once in the long jump to get a mark, putting him second-to-last after two events.
"I told him we might have to pull you out. He was like, 'I just got to finish the (first) day,' " Fye said. "It was a pretty sad moment for both of us because it didn't look like he'd finish."
Sudbeck was in ninth place after four events, then the hamstring loosened up for the final day. He turned in the competition's best pole vault mark and nearly ran a personal-best in the 1,000 to clinch his victory.
Sudbeck never expected to compete in the sport when he first arrived at Doane.
He was on a football scholarship — one of the Tigers' top receivers last fall with three touchdown catches — but was talked into competing in track by some teammates.
The self-described late bloomer then blossomed in the multievents.
"He was really looking forward to the decathlon. He had events that were a lot better than last year," Fye said. "He's a tremendous leader. He's got a great attitude."
Sudbeck just missed being an All-American in the multievents his first two seasons before the back-to-back heptathlon wins. He finished fifth in the decathlon at nationals last May.
He hopes, with that extra year of eligibility, to improve on that next spring.
"It's crazy to think I came to Doane just to be a football player and get a degree," Sudbeck said. "I'm overjoyed with what I was able to do being a part of the Doane track program. It will be something I'll remember the rest of my life."
» York College Athletic Director Matt Madole resigned to become a youth minister in Oklahoma. Jared Stark, who had been vice president of athletics and enrollment, will take on more of the day-to-day A.D. duties.
The Nebraska 100: Our greatest athletes
The Nebraska 100, originally selected in 2005 and then updated and re-ranked in 2015, came from a pool of nearly 500 names from the ranks of high school, college, amateur and professional sports from the past 140 years. Assistance came from a panel of veteran sports observers from across the state, with the newspaper's sports staff determining the final rankings.