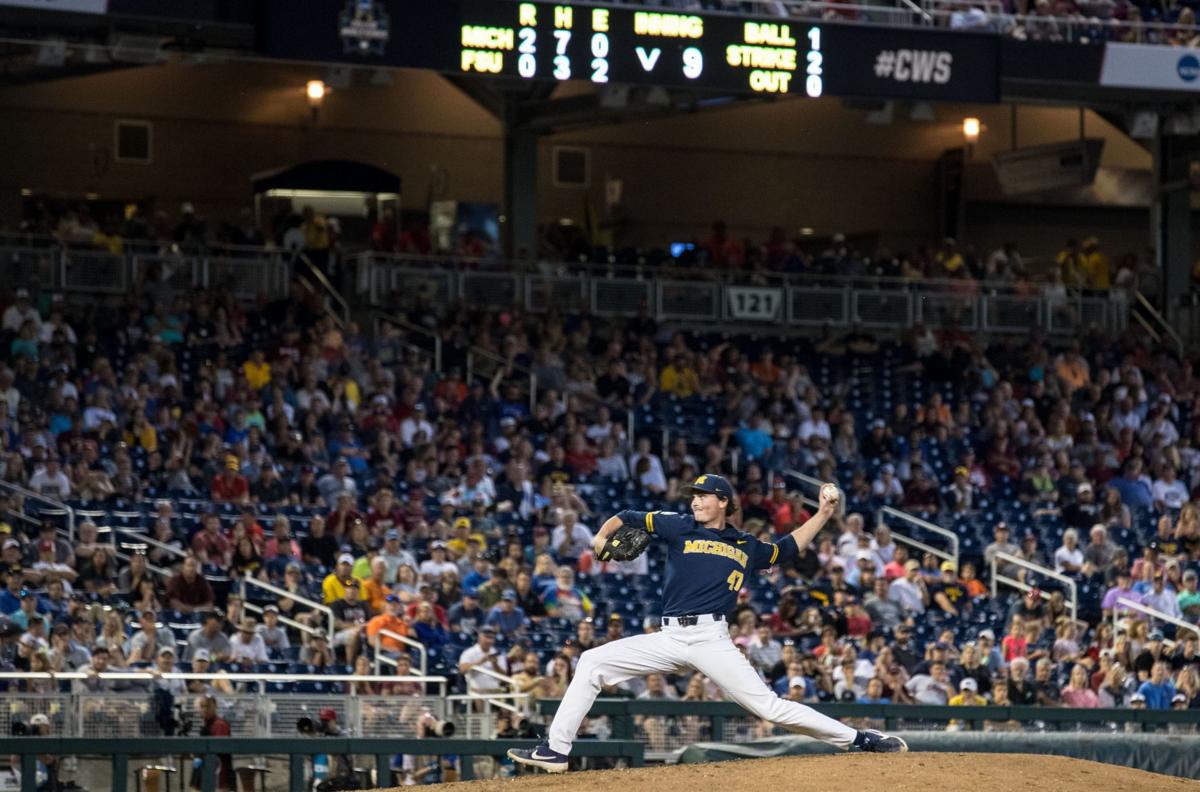 The day Mychal Lanik heard the sport he loved would return, he started to make plans.
Messages piled up on his phone as he made calls to coaches, parents, his players, officials. Baseball was coming back, and the Lincoln East coach — who doubles as the school's Legion coach — had his juices flowing. It had been two long months without the game of home runs, double plays and sunflower seeds, of evening gnats buzzing around lights, pencils in books, coordinated dugout chants, odd outfield hops and tiny hands clasped around chain-link fences, peering in for the pitch.
"It was this volt of energy, this boost to all of our systems, a shot of life into my arm," Lanik said.
Lanik's love affair with the sport is so deep his sons are named Brooks, Griffey and Gehrig. Brooks, a 6-year-old named after Baltimore Orioles hall of fame third baseman Brooks Robinson, is the team's bat boy. He plays daily in the backyard, but he hasn't had many bats to fetch in the last two months. The uniform and cleats he has for coach-pitch baseball would look better with a little dirt on them.
That's one reason Lanik called the order from Gov. Pete Ricketts — a baseball man himself — to bring back baseball and softball in Nebraska on June 1 a "gift." Starting Monday, with social distancing rules in force, he and other youth league coaches will start unwrapping that gift, a pop of color against the gray skies of coronavirus. Players may have to sit in bleachers. When Lincoln East plays its first tournament at Prep in mid-June, all kinds of new precautions will be taken. It won't be easy. But baseball will be there.
The same isn't true for higher levels of the sport.
College baseball and softball were canceled months ago by the NCAA. The Women's College World Series should have been unfolding right now in Oklahoma City. It isn't. The CWS — a festival of sport, travel, food and so many hats — has been long canceled, too, an estimated $70 million hit to the Omaha economy.
Storm Chasers Triple-A baseball at Werner Park remains idle. Ditto for Haymarket Park and the Lincoln Saltdogs, who haven't updated their website in a month. Andersen Park in Millard? Quiet. Sherman Field in Lincoln? Waiting for action. How about Duncan Field, the gem out of Hastings with a massive outfield?
"It's just settin' there ready to go," said Dwight Splitt, who spearheaded fundraising for Duncan Field's renovation in 2014.
The Major League Baseball draft that was scheduled to be held in Omaha won't be, and Major League Baseball has no official start date as owners and players haggle over schedule length and salaries, triggering a flurry of pleas last week from baseball writers to come to some agreement, lest the sport be hurt for good.
The pandemic has put America's pastime on pause, and, in so doing, moved baseball and softball to a back-burner. The NFL had its April draft and steams toward a fall kickoff. College football — the primary concern of college athletics — inches toward normalcy with the return of players in June. Even basketball, via a 10-part documentary on Michael Jordan, had a vibrant May.
Baseball and softball were dormant. But the people who love them — and deeply await their full return — are as bullish as ever.
"Baseball holds a specific and special place in the healing of our country," Storm Chasers President Martie Cordaro said. "Whether you go back to World War II or after 9/11, there's so many examples … we want to be a part of the healing of the country."
* * *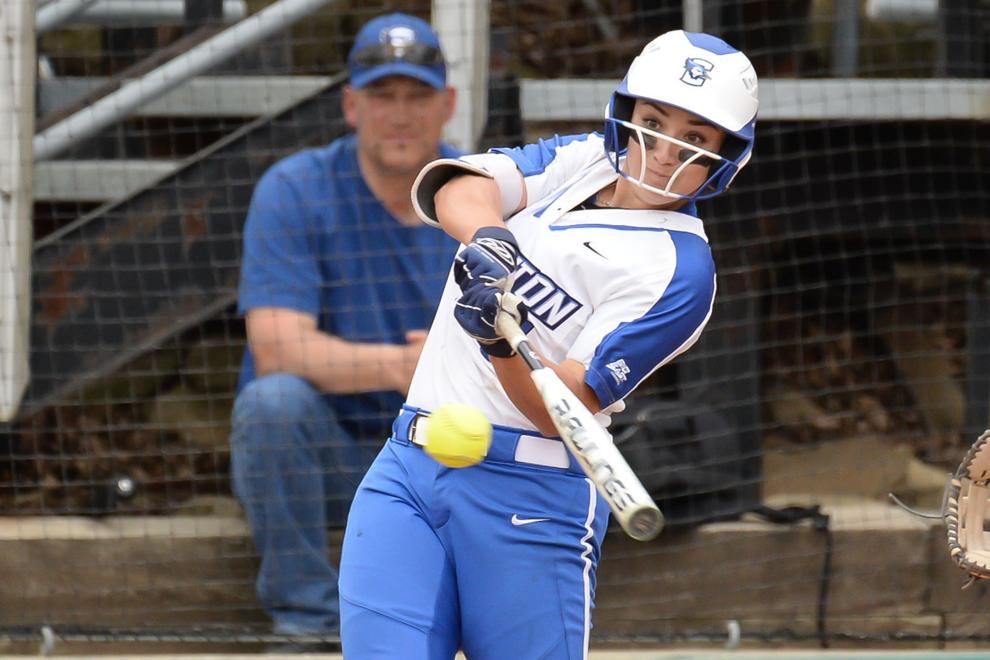 Ashley Cantu misses all the little warmup moments most. The quiet preparation before a Creighton softball game. At first she says there are three before realizing, oh, no, there are five.
"When I first get in the locker room, that's one," said Cantu, a senior outfielder for the Bluejays. "Then, when I tie my cleats — that's when I focus in. And then the initial warmups. Next, when they announce your name. And finally that first warmup pitch. That's a moment I miss. Game day."
Cantu's senior season was canceled right after one of her best games. CU had just beaten Central Michigan 2-1, and Cantu had collected three of the Jays' four hits. That was on March 12, the tail end of the Jays' "spring break series" in Florida. The game started one hour before — and ended one hour after — the NCAA canceled the Women's College World Series due to the coronavirus.
CU players gathered behind the right-field wall after the game, waiting, waiting, waiting.
"Quite a long time," senior catcher Mikaela Pechar said. "We were kind of joking around — what if this is our last game?"
When Creighton coach Brent Vigness returned, the tone of his voice, Pechar said, spoke before he actually said the words. Pechar immediately started looking at her teammates, locking eyes with the seniors.
"I could immediately see tears in their eyes," Pechar said. "It's hard to see people you care so much about break down. It gets to you."
Pechar and Cantu both are longtime softball players. The sport's culture and strategy has many similarities to baseball, but it is also distinct and unique. With the right pitchers on the mound, hits and runs can be as rare as soccer goals, so games zip by when baseball can drag. Where baseball can be emotionally reserved, softball is almost irrationally joyful. Laughs, chants, cheers and tears. Asked for the biggest void in their lives since the sport was canceled, Cantu and Pechar sound like broken records: The team. The team. The team.
Evan Porter misses the locker room culture, too, the mixture of competitiveness and humor. Porter, UNO's baseball coach, misses the strategy of the sport, too, recounting with love a scenario that helped the Mavs win a key Summit League tournament game en route to their first NCAA tournament berth.
"Say you're hoping a guy goes five or six innings and you're handing it to your bridge guy and then to your closer, but the starter doesn't make it out of the second inning," Porter said. "Then you have to adjust and get deep into a ballgame. I miss those moments of adjusting on the fly, making in-game decisions you didn't really plan for going into a series."
Porter had his best team this season. UNO started 10-4 — that included an 8-1 pounding of Creighton — and was about to turn the corner into Summit League play with an elite pitching staff. The season was canceled just before a doubleheader at Seymour Smith Park with North Dakota State.
"I think we had some guys in place and the right coaches in place to keep getting better," Porter said. "Yeah, it would have been a really fun season."
As it was, players went to their respective homes and quarantined. Zoom calls commenced. Porter was able to stay busy figuring how many of his seniors might return — the NCAA granted spring sports athletes an extra year of eligibility — and managing the size of his roster. Porter expects most seniors back.
At Creighton, Cantu and Pechar will return, as will another senior, but two won't. One, Pechar's roommate, has optometry school. Another tweaked her knee just before the season ended, and decided to retire from the sport.
Pechar, a Millard West graduate, couldn't say no. She still works out, when she can, with some of her old Wildcat teammates. Cantu headed back to her hometown of Frisco, Texas. She tries to keep the softball juices flowing with a catch on the banks of a nearby river and that time-tested backyard alternative to her sport.
"My dad tries to throw curve balls and knuckle balls and rise balls — tries to strike us out — and we have this, long, skinny backyard, so if you can hit it on far, back wall, it's a home run," Cantu said. "If you can hit a deep shot to left center, that's pretty good, too."
A reporter suggests to Cantu that the dimensions of her whiffle ball field resemble that of the quirkiest baseball stadium — the old Polo Grounds in New York — which had a 483-foot center field with poles at 279 and 258 feet. Long. Skinny.
"That's exactly what it looks like!" Cantu said after looking it up.
Cantu took a couple weeks, after the cancellation of the season, to think about whether she'd return. She talked to her sister, Alexis, a former Creighton softball player. She talked to friends who'd already graduated and didn't have the choice.
"They told, 'Dude, if I could put my cleats on for one more game, I would,' " Cantu said. "They're right. I have my whole life to relax. I love all my coaches, I love my teammates, I didn't get a full season. That's what pushed me."
* * *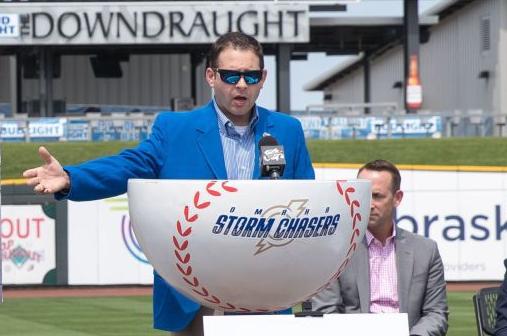 At the minor league level, the Storm Chasers never got to start their season. The players and managers who got to know Cordaro, who reinvigorated the Kansas City Royals' Triple-A franchise with his leadership, weren't around. He might be in the office twice a week until the first week in June. It feels like holiday hours.
The absence of baseball started to sink in a bit for him then. It hit a little more when the Storm Chasers didn't make the season-opening trip to Memphis.
"But the sadness hit on opening night, when I'm standing there on 126th Street, waving cars into Werner Park in 41 degrees and flurries, and I'm waving cars in (for tailgate food) and that's when the sadness hit," Cordaro said. "I shed a few tears — not for myself. It was for those fans who waited all offseason, or the staff and interns who had never worked an opening night, or the players who'd never played at Triple-A."
A night at Werner attracts all kinds, only some of whom are there for the day-to-day fortunes of the Storm Chasers. There are theme nights and fireworks nights and, sometimes, both, when Star Wars and fireworks were supposed to combine on May 2 for one of the Chasers' biggest events. This is Omaha's 10th season at Werner Park, which remains an empty ballpark on a hill.
"It's about families coming not really just for baseball, not really just for fun, and not really just for community — they're coming for all three," Cordaro said. "We want it to be a safe space for kids to run around."
* * *
Scott Urbach was once one of those kids at the College World Series. He attended his first CWS at 11 months old. His great-grandpa, grandparents, aunts and uncles and parents went, too. Third-base side at Rosenblatt. He learned to keep score in a book when he was 5 or 6 years old. And when his kids, Erica and Jared, were born, they spent each CWS down there, too, and Scott taught them how to keep score.
Five generations of CWS fans.
He's never missed a CWS he was alive to see. He turns 50 this year on June 15 — during the time the CWS was scheduled to be played. The event is like a family member to him. He loves TD Ameritrade Park — good for families, easier to park — and has his seats in Section 120. Row 15. Third-base side. Clean view of the Omaha skyline. He arrives before the games start and doesn't leave until the final pitch.
"We take it all in," Urbach said. "We get there early because I love seeing the kids, down the line, talking to the players and getting autographs. I love that. It all adds up, that atmosphere, and you see more of it at the college level. It's about the purity — the love of the game."
So when he found out the CWS was canceled — via Twitter while watching his son in a baseball tournament in Arizona — the Ralston native had a strong reaction.
"I screamed 'f---!' " said Urbach, whose son pitches at Dakota State University. "When I got the alert, I blurted it out, everyone looked at me. I apologized and then I told them what came across. And a handful of people reacted the way I did. I was upset."
At the time, Urbach said, he thought it was a "knee-jerk" reaction from the NCAA. Didn't seem real that the event that had marked his life — and fell on his birthday — had been snuffed out by the pandemic.
"I told my wife that night, in our hotel room, 'I almost feel like someone died,' " Urbach said. "I felt bad saying that, but that's kind of what it feels like. And she said it was kind of the same kind of range of emotions you go through. Shock. Disbelief. Hurt. Anger. All that. That's what I'm dealing with. I still am."
The CWS fans who travel from all over the nation — whether they have a team or not — are like Urbach's family that he sees one week per year. He gets Christmas cards from them.
"I'm used to spending my birthday with 23,000 of my closest friends," Urbach said. "This year I won't be."
Nebraska baseball fan Sally Olson, who attends each game with her husband, Mark, came to see each of the Huskers like her sons.
"I learn my 'sons' tendencies, skills, and weaknesses each game and watch them progress throughout the season to become better players," Olson said. "The fans in our section are very knowledgeable about the game so I learn more about baseball each season. I miss keeping stats in my book so I can talk about improvements and who's making progress and who's struggling."
* * *
Ricketts, whose family owns the Chicago Cubs, is one of the state's most visible baseball fans. He's also been one of the state's busiest people, overseeing and managing Nebraska's response to the coronavirus. A return of baseball — including at the MLB level — would be a "huge morale boost for the country," Ricketts said.
"I think it would represent getting back to that more normal life, and we all want to get back to a more normal life," said Ricketts, who recently watched Game 7 of the 2016 World Series — won by the Cubs — as a substitute for the real thing. "I think seeing baseball on TV, even if we couldn't go see games, would help us do that."
Lanik gets first crack. First of June, high noon, there are Junior Legion tryouts. Brooks and Griffey will get back to playing catch with their buddies on the Legion team. The sounds will return as the summer heat rises.
"Getting baseball back, in some capacity, is going to lift the spirit of our players and our families and our community," Lanik said. "It's going to be there for people when they need something. And I think that's what's great for the game."
For those like Porter — who, as a college coach, isn't allowed to scout Legion games because of the NCAA's recruiting dead period — the game waits. His dog is in terrific shape, he joked. Porter gets his own daily exercise, too. And every three days or so, when he goes to buy groceries, he makes sure to fit into his trip a drive by UNO's campus. One year ago today, the school announced it was building a new baseball and softball complex for the Mavs, and construction continues in the midst of the pandemic.
"You can see the stadium forming a little bit with the concrete and the dugouts," Porter said. "And you can see where home plate will be, the stands behind it."
As he describes the new digs, and the potential it holds for his program, you can hear the future in Porter's voice. The vision — not just for his team, but any team. For the sport, when it returns, when the virus has subsided and the pastime is off pause and has pressed play.
"Having a baseball routine — where we're all going to the park every day, planning practices, scrimmaging in the fall — hopefully it happens, and it'll be a special moment," Porter said. "Just being around the guys again. It's kind of hard to imagine. I don't think we necessarily took it for granted, but I know, going forward, we'll cherish every moment we have with our team."