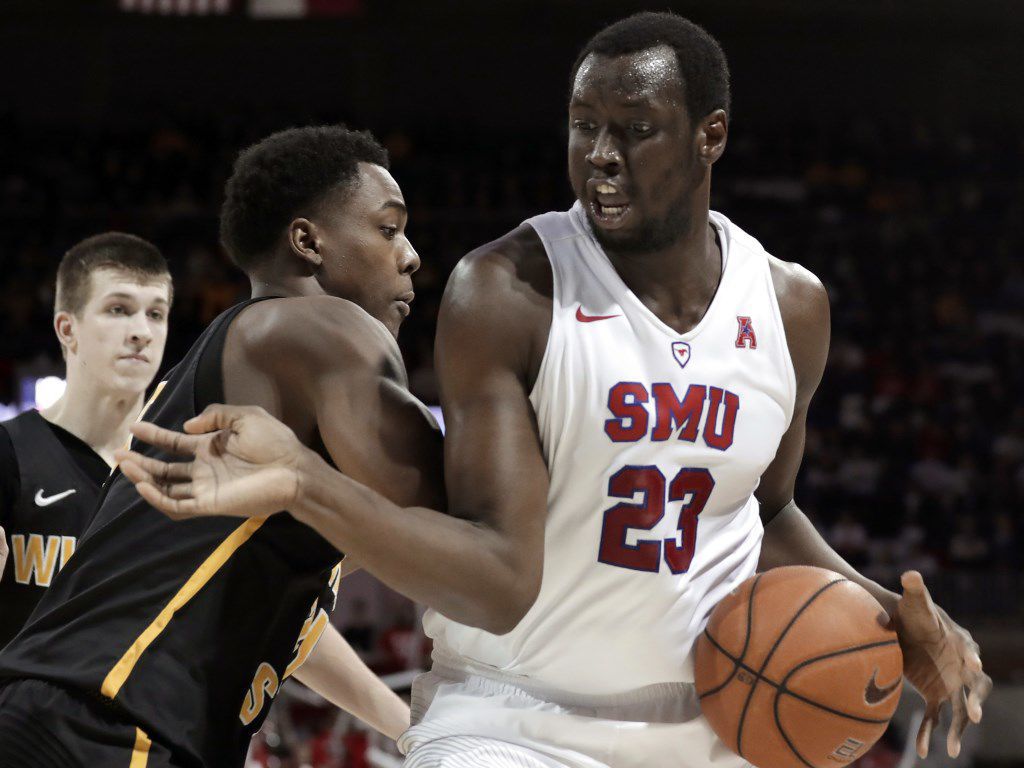 Akoy Agau is all ears these days.
The former Omaha Central star — who played college ball at Louisville, Georgetown and SMU — hasn't decided quite yet to hang up his sneakers. But he's not exactly glued to the court, either, as he carefully digests incoming ideas about where to take the next stage in his life.
He's working a couple of part-time jobs. He's looking at buying a bar. He's taking calls from his agent on professional hoops opportunities, too. A book, "Citizen Akoy: Basketball and the Making of a South Sudanese American," just got published about his high school career, and there may be another in the works.
So when one of his good friends thought to use their video game streaming company to run a virtual NCAA tournament and raise some money for charity, Agau was all for it.
Next thing he knew, Agau was pulling up coaches' cellphones saved from his recruiting days and sending Twitter and Instagram direct messages to recent college standouts.
"Everybody loves the (NCAA) tournament, and obviously it was canceled this year, so we're like what can we do?" Agau said. "How about putting on a tournament?"
That was a couple of months ago. The result of the work of Agau and business partner Matthew Melander, a former Louisville manager, will be debuted Wednesday.
Their company, Primetimesports, is hosting its virtual version of the 2020 NCAA tournament.
Former college stars — like Kentucky's Immanuel Quickley and Maryland's Anthony Cowan— are lined up to play with their schools. The action begins at 5 p.m. central Wednesday on Twitch, a live-streaming platform for gamers.
ESPN already published an article about the project. Agau's name was popping up on the network's bottom-line ticker all day Monday. His phone has been blowing up this week.
"We feel like it's a fun way to fundraise and a fun way for fans to support their guy one last time," Agau said. "Just another way to get people tuned in at a time like this."
Melander spent four straight days building rosters and player profiles on PlayStation's NBA 2K to mirror the actual lineups of last year's top college basketball teams. Then he did it again for the Xbox version of the game. They created a full bracket based on the late-season projections.
The winner of the virtual tournament will receive a $2,000 prize and the soon-to-be-released PlayStation 5, or the cash equivalent.
"Matt, he had the idea, and we've been putting it together ever since," Agau said.
The venture fits right into the wheelhouse of Primetimesports, a company started by Agau and Melander. Their business model is to host athletes on Twitch and invite fans to pay to interact with their beloved stars.
The athlete gets 50% of the cut. Primetimesports donates a portion of its revenue to charity. For this month's virtual hoops tournament, they've teamed up with Direct Relief and Save the Children.
"With COVID rampant right now ... we wanted to help raise money for a good cause," Agau said.
He's eager to see how the event turns out.
But Agau is not really in a place where he's immediately saying "no" too often, anyway.
The 25-year-old earned an undergraduate degree from Georgetown before completing an MBA at Louisville. He finished his collegiate playing career last year. He's since suited up for a Mexican League team and a U.S. minor league squad.
He'll be playing Omaha's summer league once a week this month. There's a new three-on-three event scheduled to take place at the Capitol District starting July 27, and he's been invited to play.
And after that? Who knows? Agau is open to anything and everything.
"It's definitely basketball-first for me, still," Agau said. "But I've always had an entrepreneurial mindset. I've got a lot of time on my hands right now. I'm just trying to take advantage."
---
Celebrating past All-Nebraska basketball teams