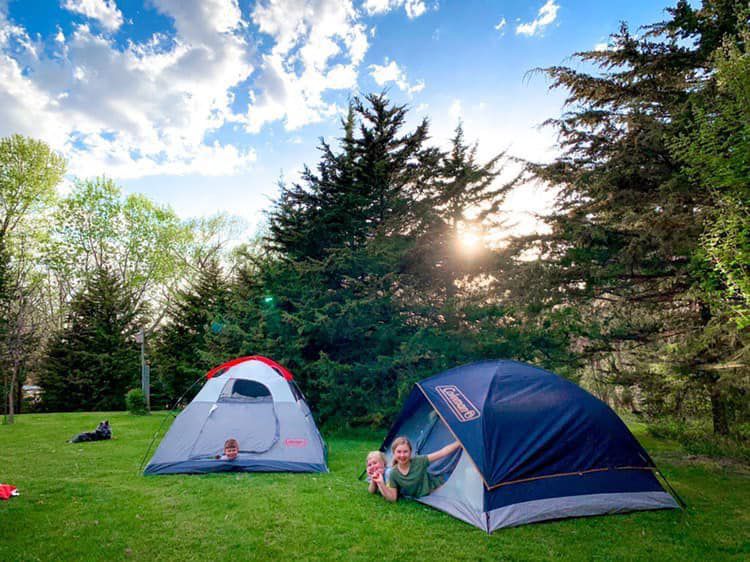 Camping at home turns into contest
Carey Hofmeister and her family soon will be re-creating their "Camp at Home Nebraska" adventure during a free three-night camping stay at a Nebraska Game and Parks Commission state park or recreation area.
The family was randomly selected from more than 360 participants in the social media challenge during the height of the coronavirus closures across the state. Outdoors lovers were encouraged to look to their home or backyard as the ultimate outdoor getaway.
Creativity was not an issue. Game and Parks fans submitted dozens of photos of tents pitched in their backyards, basements or living rooms; recreation vehicle "getaways" on the front driveway; s'mores; tinfoil dinners cooked on the grill; and yard games galore.
Hofmeister and her children set up camp in early May.
"When hot days lead to cool nights, it's the perfect camping weather," the Ashland woman wrote. "The girls set the tents up in the backyard. If the tent bed gets too lumpy, there's a cozy one inside not too far away."
Making memories while bringing a familiar outdoor tradition closer to home was the goal.
"We're grateful to each and every participant in the challenge," said Jim Swenson, parks division administrator. "It's been wonderful to see so many happy families and faces enjoying the outdoors and sharing joy and strengthening their family bonds."
Bird challenge concludes
Normally celebrated with statewide birding events, Nebraska Bird Month in May looked a little different this year.
To safeguard against the spread of COVID-19, the Nebraska Game and Parks Commission took events online and offered bird lovers a new way to celebrate by using the crowd-sourcing app iNaturalist to record bird observations.
Five bird observations were needed to complete the Nebraska Bird Month 2020 Challenge. More than 350 participated, using the app to photograph and identify birds.
"We had amazing participation," wildlife educator Jamie Bachmann said. "Our top observer made 299 observations of more than 100 different species of birds."
In total, participants logged more than 4,530 bird observations, creating a snapshot of the bird species found in Nebraska in May. The most commonly observed species was the American robin, with 295 observations. Lesser-observed species were the scissor-tailed flycatcher, blackpoll warbler, blue-headed vireo and evening grosbeak.
By using iNaturalist, participants also contributed to science.
"When at least two people from the iNaturalist community confirm or refine an identification, it becomes a 'research-grade' observation," Bachmann said. "Research-grade observations can help scientists understand population ranges and species diversity."
She was excited to see Nebraskans' participation in the Nebraska Bird Month Challenge. "While we needed to change the format this year, I think this challenge helped us all stay connected as a statewide community of wildlife watchers," she said.
While Nebraska Bird Month is over, the chance to observe birds is not. There are many community science projects, like Celebrate Urban Birds, a year-round project allowing diverse urban audiences to gather data on bird populations.
Trophy Board photos: Nebraskans and their trophies
See a photo gallery featuring some local hunters' top prizes from across the Midlands.
Be the first to know
Get local news delivered to your inbox!