Two years ago, on the 50th anniversary of the year that Bob Gibson changed baseball, I had an idea.
A column that shined a light on Gibson's transformational 1968 season, one of the most underrated feats in sports.
One problem: That meant getting ahold of Gibson.
I didn't have his number.
So I contacted Martie Cordaro, president of the Omaha Storm Chasers, for assistance. In 2013, the Chasers hosted the unveiling of a Gibson statue at Werner Park.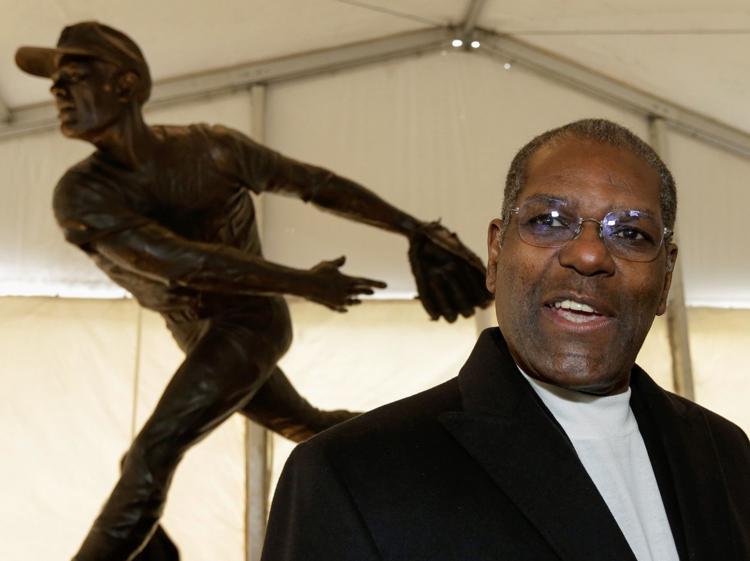 Cordaro had a connection. He put me in touch with Lee Polikov, a Sarpy County attorney and friend of Gibson.
Polikov was agreeable to the idea and contacted Gibson to see if he would do it. He would. In fact, Polikov said he wanted to talk.
But Gibson would not give out his number. He would call me.
Another problem: He wouldn't say when he would call.
When I'm driving, I put my phone away. I can't see it or hear it. Well, guess what happened?
As I was driving to work, Gibson called. When I arrived at the garage, I got out my phone. There was a missed call from "Private." And a voice message.
"Tom, this is Bob Gibson ..."
He didn't leave a number.
I called Polikov back and apologized. He would tell Bob what happened. But Gibson was not the kind of man you played phone tag with. I never heard back.
That's the story of me and Bob Gibson.
In the past three decades, I've gotten to interview and know almost every sports star and celebrity in the city and state. I've struck friendships with them. I have many of their private numbers in my phone.
There was one legend who I never got to know — and he happened to be the biggest. It might be my biggest regret.
In 35 years, I can count the number of times I interviewed Gibson on one hand. That was my loss.
The first time was in 1986. I was working in Kansas City and assigned to do a story on BAT, an organization that helped former big leaguers in need of financial assistance.
I was told to call Gibson, and I was scared to death. I was afraid of getting the writer's version of the brushback pitch.
It was the opposite. Gibson was engaging and insightful.
The next time was when I arrived in Omaha. I went to St. Louis to interview Nebraska native Richie Ashburn, a Phillies' broadcaster at the time. Gibson was a pitching coach for the Cardinals.
I talked to him at his locker. Gibson turned the conversation to the Omaha Racers. He was a big fan. And he loved talking hoops.
There were a handful of other times: at Gibson's golf tournament, when his statue was unveiled in 2013. That was it.
Gibson was a private man. And, as one of his public relations handlers once told me, he didn't like doing interviews. He would do them but he wasn't in a hurry.
I respected that. And I gave him his space.
So for years, the sports legend and the sports columnist lived their lives, and rarely spoke. It happens. I wish it hadn't.
This isn't supposed to be about the columnist. But I think it illustrates the relationship Omaha had with Gibson.
When he was available, it was good. Very good. But we never got to know him nearly enough.
Gibson could have chosen to live anywhere.
In St. Louis, where he was considered royalty in that bright red Cardinals blazer. In Florida. Anywhere.
One of sports' greatest icons chose to live with us. Why not? This was home.
Gibson was Omaha, through and through. Grew up in North Omaha, honing his game and grit on those playgrounds. He played two sports at Creighton.
He was a man of history. North Omaha history. Baseball history. He lived it. He made it.
Suddenly, he was on the little black and white TVs around town, winning World Series, striking out everyone. A giant of the game. Omaha's Bob Gibson.
But Omaha's relationship with Gibson was a lot like the man himself: complicated.
Over the years, Gibson offered glimpses into his world. There were books, "From Ghetto to Glory" and "Stranger to the Game."
There was Bob Gibson's sports bar, located off Interstate 480 near the Creighton campus. Known for its pepper burger, cold beer and plenty of ball games on TV. Not to mention all the cool baseball memorabilia, including one of Gibson's Cy Young Awards.
There was the Bob Gibson Celebrity Golf Classic, played at Tiburon and Shadow Ridge in the mid-1990s. This was an incredible event, where Gibson brought friends like Sandy Koufax, Julius Erving, Gale Sayers, Lou Brock, etc., etc.
These were amazing gifts to Omaha from Gibson, on his terms. 
Gibson was a man for all seasons, a man of substance. A man of attitude but also a man of kindness. A man of wit. A conversationalist. A storyteller.
A man who kept a lot of that private, which was absolutely his right.
In another time, another man, this legend might have been all over town, making appearances, being visible, sharing himself. That was never Gibson.
Likewise, Omaha seemed to keep him at arm's length. There was a statue of Gibson in St. Louis, but not here. Nothing at Creighton. Finally in 1999, a Bob Gibson street sign.
The reputation could be hard to shake. In "Stranger to the Game," Gibson told the story of attending a banquet. A man walked up with his wife and said, "Honey, I want to introduce you to the meanest man who ever played baseball."
Wrote Gibson, "Hell of a way to introduce somebody. I was not the meanest man to ever play baseball; I was just a pitcher who took his work very seriously. Why is that such a difficult concept?"
Gibson was never going to go out of his way to change that image, either. He was even cited for getting into a fistfight with another motorist off I-80.
But if you were fortunate enough to get close to Gibson, become part of his inner circle, you knew there was much more to the man.
Polikov was one of those close friends. He and wife Terry met Gibson nearly 25 years ago, when they became neighbors in Fontenelle Hills in Bellevue.
The neighbors discovered they both loved Wheaten Terriers. The Gibsons' dog is Charlie, the Polikovs had Guinness. They would get them together for "play dates" and babysit the other dog.
Bob Gibson, dogsitter? Yes. And good neighbor and friend.
"That (attitude) was his work, his business," Polikov said. "He was 110% competitive. His reputation, he wanted that. It was strategic and an advantage.
"But when he was with a smaller group, he was very kind. A good friend. He treated his friends very well. And it wasn't about baseball. He was a good guy above and beyond the impact he had on culture and history."
Polikov said he and Gibson were having lunch one day when a stranger approached Gibson. The legend was polite, but it was awkward.
"He was kind of shy," Polikov said. "He didn't like big groups. It wasn't because people bothered him. When the guy came up to him, he was kind to him. But I could tell it was work to him. Most people left him alone."
Bruce Rasmussen did not. Creighton's athletic director occasionally called Gibson to do something at the school. And the alum was always happy to comply.
Over the years, a trust was built. A friendship.
"I treasured my relationship with Bob and really, truly loved him," Rasmussen said Friday night. "He was one of the toughest men I've ever met. One of the proudest men I've ever met. But he was a lot more soft-hearted than most people knew."
Soon, there were regular phone conversations between the two and those became more frequent in recent years.
"He talked a lot about his life," Rasmussen said. "What it was like growing up in Omaha, what it was like being at Creighton at that age, what it was like being in St. Louis.
"I think there are times when people who are as famous as Bob would wonder why people want a relationship and (want to) be around him. A lot of people want something. Bob got hurt a lot over his life."
Gibson also would talk of coming up during a time of racism and civil rights. "When you listen to the stories, it's embarrassing," Rasmussen said. "It's sad. It's convicting."
It didn't take much to get those conversations to turn.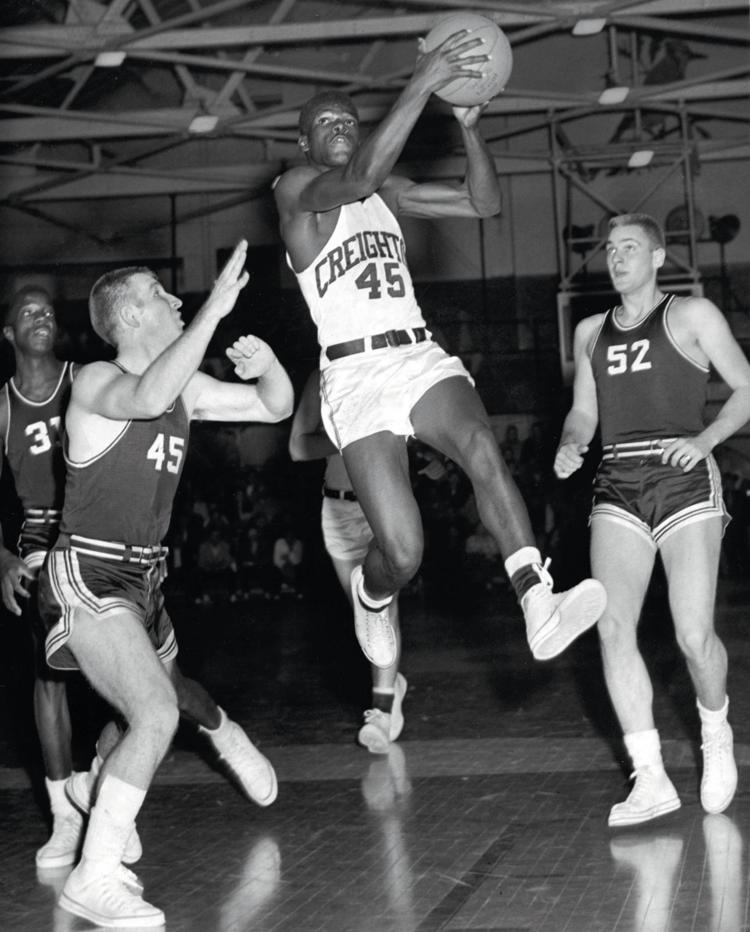 "He loved basketball," Rasmussen said. "He'd much rather talk basketball. If you've seen clips of him playing back in the '50s, he was a Michael Jordan-type player. Great explosiveness. A stop-and-pop player. He's the best pitcher of all time, but he was a better basketball player."
Rasmussen said CU invited Gibson to several games but he would usually decline.
"He didn't come to many games because he didn't want to sign autographs," Rasmussen said. "When he refused, people got upset and he didn't want people to get upset.
"He watched our games. He followed us. He would talk about the toughness in some of our players and the lack of toughness in others."
Rasmussen added: "As Bob got older, he learned to enjoy things more."
I still remember the look of utter joy on his face when his statue was unveiled in 2013. That was an amazing day at Werner Park.
Major League Baseball Commissioner Bud Selig was on hand, along with former Cardinal teammates Joe Torre and Bill White. That's how big a deal Gibson still was 40 years after he retired.
Polikov said it was White who initiated the idea of the statue, saying, "How come Omaha has never done anything for Bob Gibson?"
The easy answer is, it was nothing personal. Omaha was a sleepy sports town for years that didn't take care of its legends.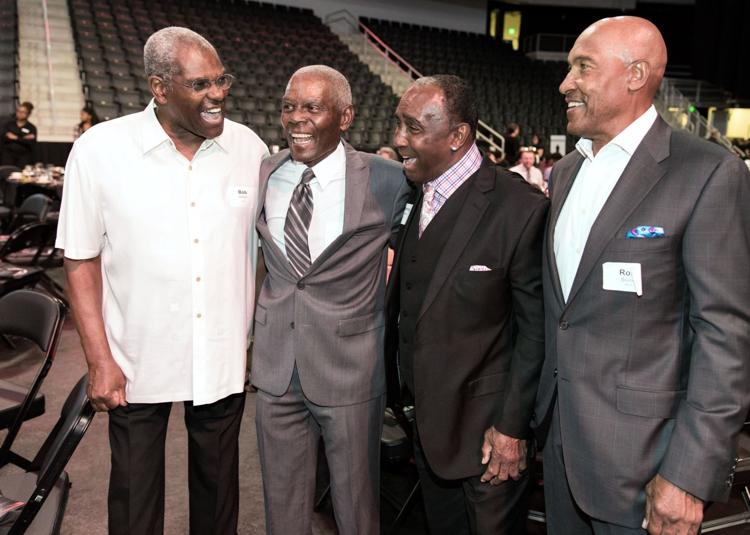 There is nothing for Sayers. Bob Boozer has a street sign out west. Marlin Briscoe finally got something at UNO.
The Werner Park statue is perfect. But Gibson deserves to be honored on Creighton's campus, and Rasmussen says that will happen. If a baseball facility is ever built, that's a natural.
It also wouldn't be a bad idea to honor Gibson around TD Ameritrade Park, near North Omaha.
We need to keep that memory going. And hear more stories, even if it means getting to know the man after he's gone.
"Yes, I have a favorite Bob Gibson story," Rasmussen said.
It happened 14 years ago, when Gibson was 70. Gibson's son, Chris, was a minor league outfielder. Bob wanted to get Chris some offseason work in the batting cages, so he asked Rasmussen if Creighton's were available.
Rasmussen gave Gibson the keys and security codes at Kitty Gaughan facility.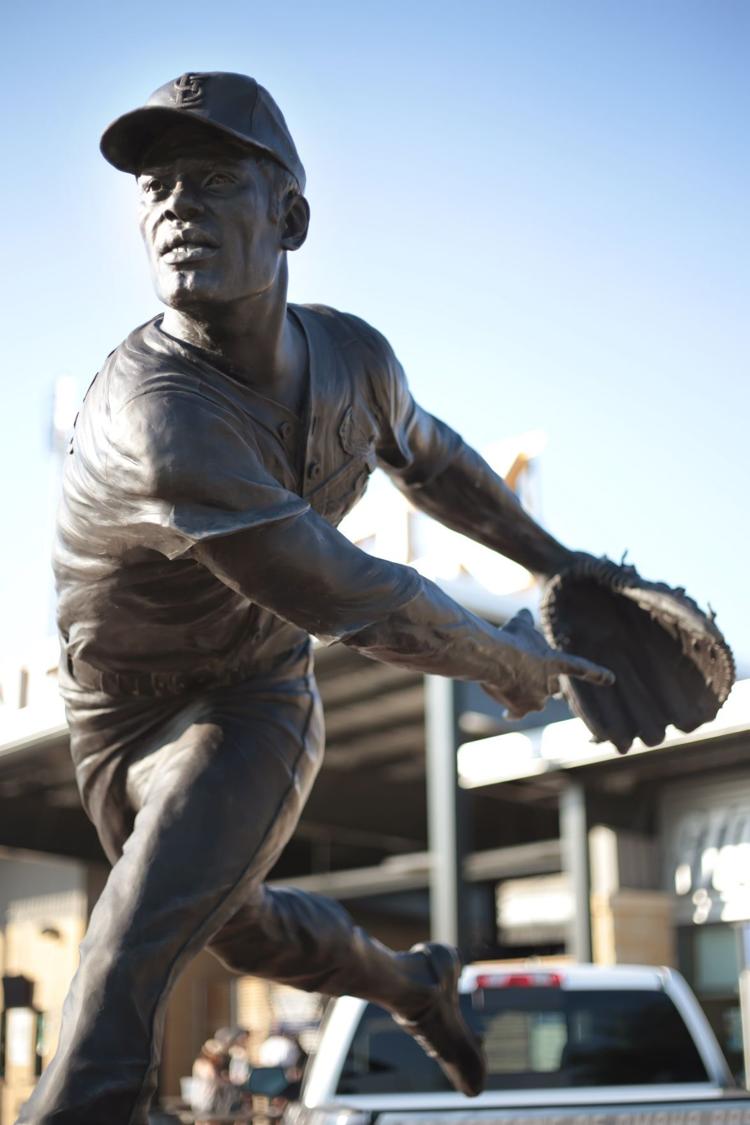 A week or so later, Gibson brought a dozen autographed baseballs to Creighton.
"He said you treated us like we were family," Rasmussen said. "I said, 'How did it work out?'
"He said fine, but Chris didn't like the pitching machine. He wanted to hit live pitching.
"I said, 'You should have let me know, we have all kinds of pitchers looking to get some work in.'
"Bob said, 'Oh, no.' I threw batting practice."
Former Creighton basketball coach Dana Altman was in Rasmussen's office when Gibson said that. Their jaws dropped.
"Gibson was 70 at the time," Rasmussen said. "I just couldn't picture a 70-year-old throwing BP. I said, 'How did it go?'
"And Bob said, 'It would take me a couple days to get at them but I could still get out major league hitters. And I wouldn't be a set-up guy, either. I'd be a closer.' "
Be the first to know
Get local news delivered to your inbox!