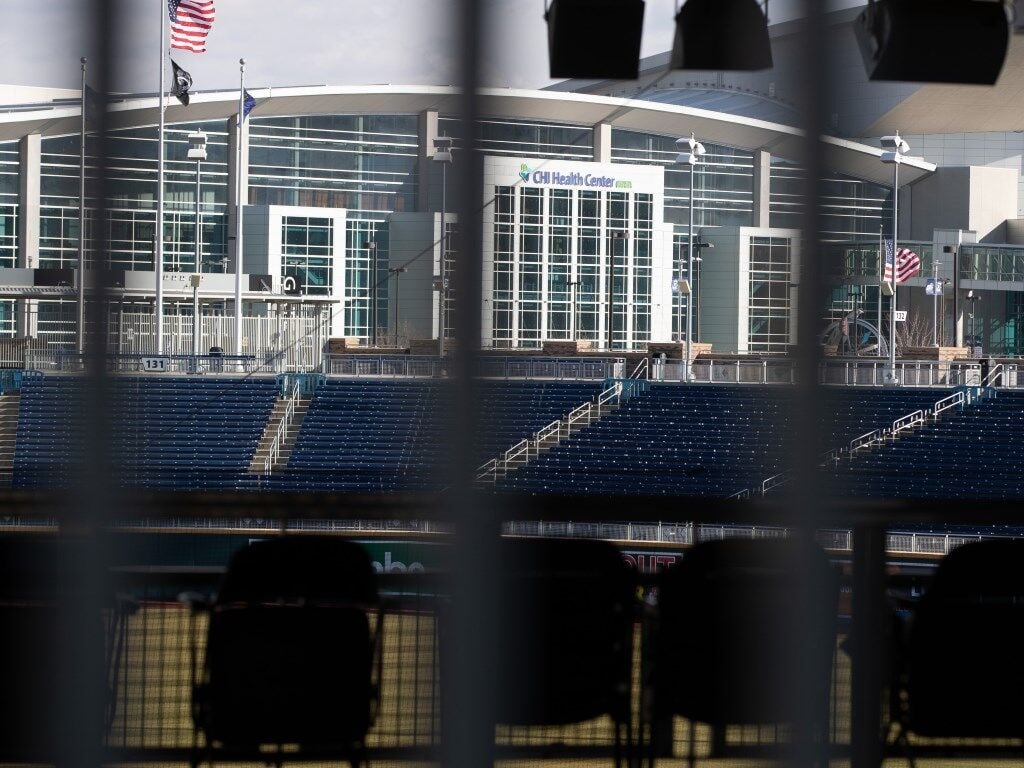 First downs and second guesses while wishing you a Happy Better Year:
A hearty hello to 2021 and a busier local sports calendar. Here are the top stories on our radar:
1. The heavyweights, our big events, are expected to return. College World Series. U.S. Olympic Swim Trials. NCAA volleyball finals. And the U.S. Senior Open.
Will there be fans allowed? How many? Who knows? We just need our parties back. Our economy needs the shot. We need to know it's Omaha around here.
On that list, the CWS is clearly No. 1.
2. Creighton vs. history. The Jays' Big East co-champs made history last year, though they didn't get a shot at the NCAA tourney — and wouldn't have had point man Marcus Zegarowski for it anyway.
This season, all eyes will be on this special group come March. The NCAA tourney will be in bubble mode in Indy. Can the Jays make an extended stay? Can they make the kind of history that would put them above all other Creighton teams?
3. Winter and spring volleyball. What a wild and wonderful thing. The Huskers are loaded and aimed at a delayed national title, but don't forget Creighton.
I'm anxious to see how the volleyball dramas and matches fit into the winter and spring stage. When there's a big volleyball match the same night as basketball, what do you watch?
That said, the biggest games and NCAA tourney will come after basketball is over, in the early weeks of April. This should be fun. Who knows? It might be the beginning of spring volleyball.
4. Scott Frost's fourth season. There's always expectations, but they won't be high, not with an epic schedule. Can Frost finally achieve a winning season? Can he get a signature win in a year with several chances? That will be the story in 2021.
Oh, and there's a little trip to Norman, Oklahoma, in September that will make for a fun week of stories. The game? Well ... 
5. Hunter Sallis. The Millard North hoops star might be the most sought-after basketball recruit in state history. What will it be? North Carolina? Kentucky? Gonzaga? Creighton? What a cool thing for an Omaha kid.
First things first: Gotta get the state title that eluded Sallis and his teammates last year.
6. Summer of Jordan. That is, Jordan Burroughs, Olympic gold medal wrestler. And Jordan Larson, Olympic volleyball player. Both former Huskers will be chasing gold at the end of July in Tokyo. Will they get it? Will this be their last Olympics? Nebraska will be watching.
7. Phil Mickelson. Will he play in the Senior Open at Omaha Country Club in July? It's not out of the question. Mickelson turned 50 last year and cruised to victory in both Champions tour events he played.
He's also out of U.S. Open exemptions. Would Lefty try to get that first U.S. Open title in Omaha? The Senior Open is scheduled the week before the British Open and Mickelson traditionally likes to play the week before majors.
8. Is Runza Night back at Werner Park? The return of a full Major League Baseball season should mean the return of Triple-A ball.
However, the Storm Chasers don't have a schedule yet. And don't know if — or how many — fans will be allowed to come back. The state of minor league ball is in flux. It's a bad look for baseball, so please clear it up soon. We need our summer nights at Werner Park.
9. College baseball. When and how often? We'll finally get to see coach Will Bolt at Haymarket Park, but not against Creighton. It's expected to be a Big Ten-only schedule.
It's the 30th anniversary of Creighton's CWS team. UNO opens its new ball park near Baxter Arena and will host the Summit League tourney. Assuming there are conference baseball tourneys. Fingers crossed.
10. Fans. Will we get to attend all the games, stand in a concession line, sit in a crowded row, high-five the person behind us and yell at the ref without wearing a mask? Please, 2021. Right now we'll settle for attendance at all games.
» If there had been an eight-team playoff this year: Texas A&M vs. Notre Dame would have been a first-round game, Florida and Oklahoma would have been a playoff game with no opt-outs, and Cincinnati would have been in playing Alabama.
Have to admit, I was pulling for the Bearcats in the Peach Bowl. I think the "Group Of Five" element would spice up a boring playoff system. I don't think they'd get steamrolled, except by Bama (join the club). And it would be a reason to watch.
But the idea of G5 in the playoff reminds of the old American Football League before the merger. The AFL didn't force the NFL's hand until the Jets and Chiefs won Super Bowls.
Three years ago UCF beat Auburn. It's going to take a couple more of those kinds of wins to force the Power Five's hand.
» I've received a lot of feedback from Husker fans on the team's decision to decline a bowl game. Some were disappointed and said it spoke to a lacking team culture.
I thought the team would vote to play another game. That's how they've rolled all season.
But I have no problem with that decision this year. Repeat: This year.
Everyone in the country has been impacted mentally by COVID-19. Most of us are worn out. There's depression. People need a break.
As a parent with three teens, I've seen first-hand the frustration and anguish young folks are going through. It's been a brutal year.
I get that some college players elected to play in bowl games. Good for them. Other teams chose not to play. Good for them, too.
It's true Nebraska fought hard to play this season. And the Huskers played — and did a lot of right things to avoid a team shutdown.
They also traveled to New Jersey in mid-December to play in frigid temperatures for nothing more at stake than love for the game.
If they decided it was time to go see their families for the first time since April, rather than practice a few days and travel to Birmingham or Shreveport for one day, I can't blame them.
The pandemic has affected us all in different ways. If folks need a break, let them have it.
» What a time for Harrison Phillips. The hometown Omaha kid starts the playoffs this weekend with his red-hot Buffalo Bills.
Phillips has also been nominated for the Walter Payton Man of the Year Award. The defensive tackle is being recognized for his extensive community work in Buffalo and Omaha — including working with Omaha health care officials and doctors during the pandemic.
Good luck, Harrison. On both fronts.
» Matt Campbell will be a hot commodity, but I think he'd be crazy to leave Iowa State.
Campbell got the Cyclones in the playoff conversation this year and they could be in there next year. Some schools might be able to offer more than his $3.5 million salary, but there's a tradeoff in expectations and pressure, and a shorter career span.
Campbell doesn't have any of those problems in Ames. In fact, he's got a better job than some of the big boys. Go figure. Well done, Jamie Pollard, miracle worker.
» One more and I'm outta here: Aaron Rodgers will win the MVP. But Patrick Mahomes will beat him in a Super Bowl that will seem more like a State Farm commercial.