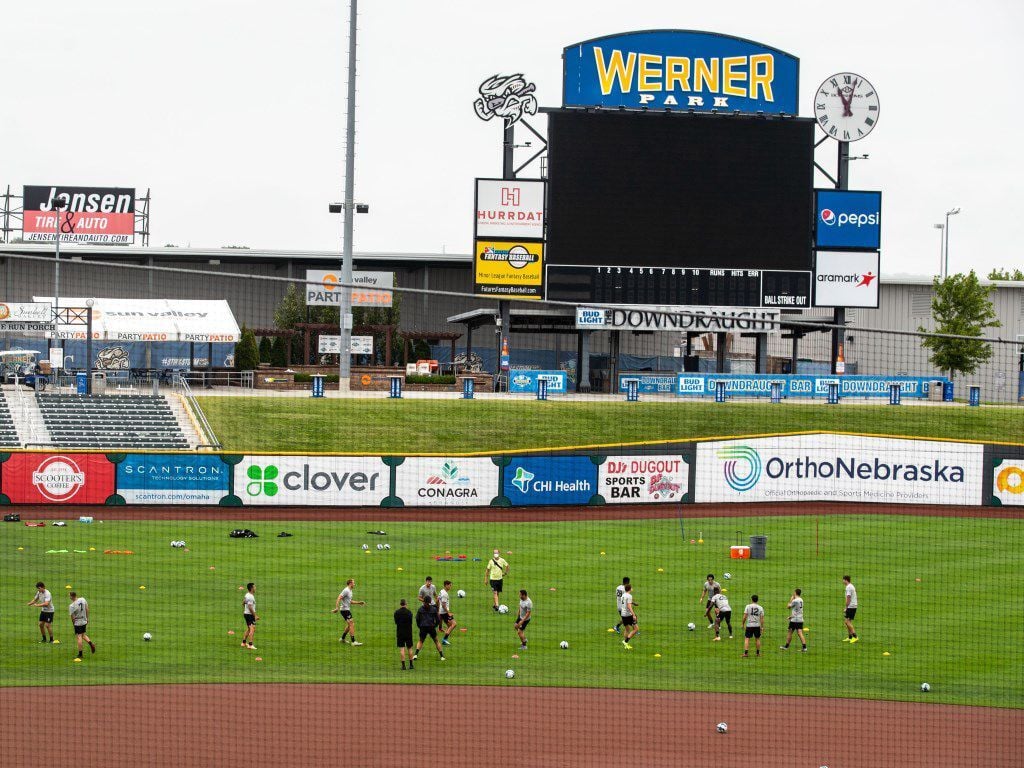 First downs and second guesses, the cardboard cutout version:
» Those won't be cardboard cutouts at Werner Park on Saturday night.
That's when Union Omaha makes its home debut, and it will include real Omaha soccer fans.
Even as MLB postponed games Monday due to positive COVID-19 tests, Werner Park will host one of the few sporting events in the country allowing fans.
Union Omaha President Martie Cordaro said Monday that Omaha is one of three USL League One teams allowed to host fans. The other eight are not, including New England, where Omaha played Saturday.
Cordaro pointed to Gov. Pete Ricketts' order allowing up to 75% capacity at outdoor events. The USL is letting its teams use local government health guidelines in deciding whether to have fans at games.
So with 90 tickets still available as of Monday, Union Omaha expects a socially distant crowd of about 2,400 Saturday night.
They will be encouraged but not required to wear masks. Groups of more than eight will not be allowed to sit together. Lines at concession stands will have spots marked six feet apart.
"The Governor has allowed us to do this," Cordaro said. "And with the USL being very stringent with how its players, coaches and staff are being monitored, we feel very confident."
Soccer crowds I've seen on TV are typically very loud, active and packed in close. It's a giant party. Can that be the case for Omaha's first pro soccer game?
It's going to be a very unique evening, in more ways than one.
» This is live sporting event week in Omaha. Meanwhile, across town at Indian Creek Golf Club, the Pinnacle Bank Championship will take place without fans.
» How did 14 Miami Marlins contract COVID-19? Weren't they supposed to be training and playing in a bubble? Was it the hotel in Philly? Baseball will play on — for now. But if the 60-game season is a sprint, this is a stumble out of the blocks.
» One reader had a great suggestion when it came to bringing the Toronto Blue Jays to Omaha: Have Toronto trade divisions with Cleveland or Detroit. Put the Indians or Tigers in the East and Jays in the Central, where they could fit with KC, Minnesota and Chicago.
» It wasn't to be for Omaha, but I was glad Buffalo — which has the largest stadium in Triple-A ball — will host most of the Blue Jays' home games. Buffalo fell short in getting a major-league franchise years ago. The city gets their moment in the show. It would have been great here, too, but I'm happy for Buffalo.
» The more I think about moving the entire college football season to spring, the less it makes sense.
A full season typically starts with training camp in August and runs through November. When do we play that four-month season in the spring? And then be able to turn around and play again in the fall? No way there are two seasons in one year. Forget it.
I would rather just wait until fall of 2021.
Next year is when Nebraska visits Oklahoma for the 50th anniversary of the Game Of the Century. I'm not missing that one.
» The St. Louis Cardinals had Opening Day but without the usual parade of former greats, including Bellevue resident Bob Gibson.
That was fine with Gibson, who is battling pancreatic cancer but told the St. Louis Post-Dispatch he feels good: "If the doctor didn't tell me I was sick, I wouldn't know."
Gibson told Hall of Fame baseball scribe Rick Hummel that he's happy to see the attention baseball is giving to the Black Lives Matter movement. He recalled a story about going to his first Cardinal spring training, on a train from Omaha to St. Petersburg, Florida, and having to hide in his compartment so he wouldn't get jumped by three men.
"For all my career, nothing was done," Gibson told Hummel. "And I had to endure a hell of a lot that most Cardinal fans probably don't have any idea about. I'm really proud of the fact that they're having these demonstrations and it's not just Black people."
» Congrats to UNO's Mike Kemp for being named chair of the NCAA's Division I Men's Ice Hockey Committee for the 2020-21 season. It's a huge honor. Now, how about sneaking in a Frozen Four bid for Omaha while you're in the big chair?
» One more and I'm outta here: For so long, Andy Hoffman has been an incredible rock — not just for his son Jack, but for many, many more kids with brain cancer. Andy became a leader, a positive voice, creating a foundation that has raised $7.5 million for pediatric brain cancer research.
Now it's our turn to pray and send all our best vibes to the rock. The Hoffmans are an amazing family of fighters. Nebraska strong. We're right here with you, Andy.
---
Photos: Our best staff images from July 2020