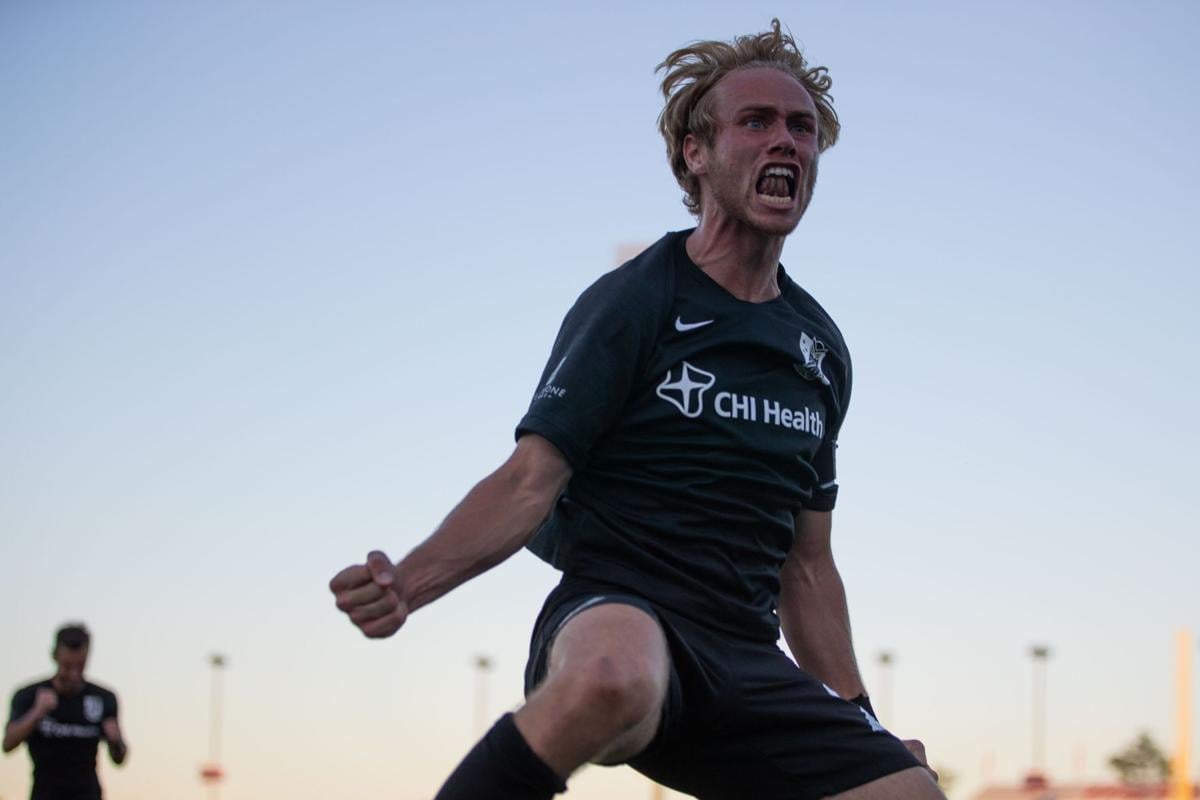 After Union Omaha's center midfielder poked a shot past FC Tucson's goalkeeper to break a scoreless tie Saturday night, he stretched out his arms and gestured toward the stands as he sprinted and hollered in celebration.
Devin Boyce was having a blast.
The announced crowd of 2,400, spaced out around the park, was the reason why.
Earlier this season, he and his teammates took the field inside a 65,000-seat NFL stadium — without fans. They've competed at an away venue with maybe a few hundred folks on hand. There's no other USL League One team in a position where it's drawing more than 1,000 people amid the coronavirus pandemic.
"The atmosphere here's incredible," Boyce said. "It makes a huge difference. For us, we hear the fans throughout. It's a huge spark. And it's so fun. As a kid, that's what you dream about — working hard and scoring in front of fans."
Credit the careful and meticulous work of the stadium's operations staff for that.
They've spent the last several months brainstorming new protocols to ensure that the environment's safe — that they could responsibly pull off this venture during a pandemic.
They didn't want to be reckless. They couldn't afford to be. It's been a summer defined by event postponements and cancellations. Across other pro sports, few are taking any chances. The NBA, WNBA and NHL are in their own bubbles. MLB games are being played in empty stadiums.
So if Werner Park officials wanted to be trendsetters, they had to do it right.
A few hours before the first-ever home opener on Aug. 1 for the first-year franchise, Union Omaha CEO Gary Green and team President Martie Cordaro sat together inside Werner Park and talked about exactly that.
"We take this very seriously," Cordaro said that day. "If people can have a fun and a safe time, we could be an example for other facilities that open up over the next six months across the country."
Sarah Schram, director of the Sarpy/Cass County Health Department, said Thursday that contact tracing has not yet uncovered any COVID-19 cases tied to Union Omaha soccer matches.
The state's guidelines mandate that each local health department scrutinize a 20-page health and safety plan for every event with 500 or more patrons, so there's been careful communication between Schram's office and the ballpark staff along the way.
She said she's been encouraged by the collaborative effort, which has resulted in social distancing strategies and an in-stadium mask requirement.
"We try to think about, how can we incorporate as many strategies as possible that we know can lower risk?" she said. "We'll never be able to 100% lower risk, with anything. But maybe we can add one more layer of protection. What is one more thing that can help us better safeguard?"
It's now part of the daily routine for Steve Farrens, the park's director of operations.
He walks through the Werner Park concourse thinking in ways he never did before. Now, he's scanning the park for heavy foot traffic areas, and wondering about signage, and looking for surfaces to sanitize.
Rows of seats are zip-tied shut. Face guards were added to the concession stands. Drinking fountains were bagged up. After games, all the seats are disinfected. Bathrooms get extra attention, too.
"Just like what we've learned about COVID-19 has evolved, our plans evolve, too," Farrens said. "It seems like an endless amount of things that we do."
But it's a price worth paying for a night like Saturday.
The club's drawn 2,400 fans for each of its three home games in 2020. That's about 25% of the venue's full capacity.
Saturday's environment was perhaps the most electric so far — after Union Omaha secured a 2-1 win, coach Jay Mims said his postgame chat with FC Tucson's coaching staff included unsolicited compliments about the stadium's atmosphere from the opposition.
"We don't take it for granted," Mims said. "We're very fortunate because we can get people out here."
Photos: Union Omaha faces off against FC Tucson