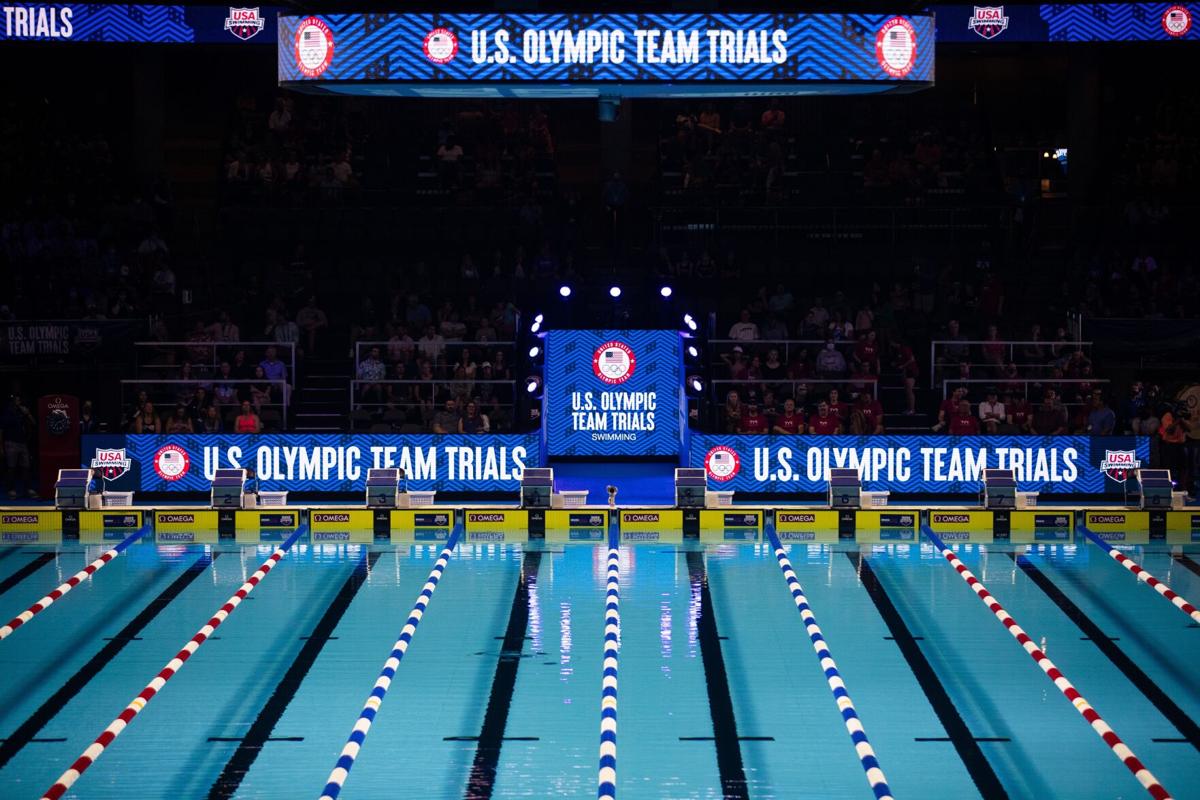 Little did Yuliya Efimova realize that wag of the finger after her semifinal round win in the 100-meter breaststroke at the 2016 Rio de Janeiro Olympics would ignite a powder keg nicknamed Evil Lilly.
The Russian swimmer, who twice had been busted and suspended for using performance-enhancing substances, proclaimed that she was the best by raising her right index finger, slowly moving it back and forth.
American semifinalist Lilly King responded by waving her index finger back at Efimova's image on the TV screen in the ready room.
Little did King know that moment was caught on camera in the room where swimmers in the next race wait for their call to the deck. It was a casual gesture she never intended to be shared.
Efimova's motion was the final spark King needed to win her semifinal race in a time faster than her Russian rival had just posted.
King — the world record-holder who advanced through Monday's 100 breast prelims and semifinals in 1:04.72, the fastest time in the world this year — was ready for the next biggest race of her career.
The next day, the Indiana sophomore went one better and took down Efimova as they swam in neighboring lanes in the Rio championship race. King had her first Olympic gold medal, and the Americans had a new Russian villain.
King officially elevated herself to badass status, a term that made the now-24-year-old professional smile and laugh when it was suggested. Fellow competitors now know that there's no messing with Evil Lilly.
"I didn't know I was being filmed," King said. "Again, I was 19 and very new to the national team and hadn't really been to a big meet before. I didn't have an answer to lie about it, so I just spoke the truth."
That was King's immediate reaction after she found out in the post-semifinal NBC interview that everybody saw her wag back.
"It just kind of happened by accident," she said. "Genuinely (it was) a candid moment in the ready room when I got out of my race and got to my interview. I think I was so new to the national team that nobody knew what I was yet."
She was an honest person who didn't have time for cheaters. That came through loud and clear to the international television audience.
"You're shaking your finger No. 1, and you've been caught for drug cheating," King said. "I'm just not a fan. I'm going to go swim my 100 for USA, and hopefully that turns out the best."
When talking about how going with the truth is usually the least stressful path, King said she knew no other way.
"Then you don't have to build on lies and lies and lies," she said. "It's much easier to just tell the truth."
After winning two gold medals at Rio — King also swam the breaststroke leg on the winning U.S. 400 medley relay quartet — returning to what resembled a normal existence back in Bloomington wasn't easy.
"My life has completely changed," King said. "It was really strange. That summer, my life was turned upside down just by what at the time seemed like overnight fame. Then I had to come back to Bloomington and go back to real life, just like that.
"It was an odd transition for sure. Five years ago, I was still sitting third in the U.S. It was before NCAAs, any American records. I'm in a very, very different spot right now, which is exciting."
There were three years of classes and college swimming to complete, but King also realized that bigger challenges lie ahead.
"It was just a very transitional year into my new life, more into my adult life, I would say," she said. "I wouldn't say I didn't have a swimming career, but it became very apparent at that moment that this was going to be my job for a while.
"Not that I didn't want that, but it was a very difficult transition for a college sophomore at the time."
King has just kept on winning, both in the 100 and 200 breaststroke races. For the Hoosiers, King became the first female breaststroke specialist to win eight individual NCAA championships. Chasing an undefeated record quickly became a goal after her freshman meet.
"Honestly, it kind of became a thing after my freshman year," King said. "I never think about losing a race. I feel if I win a race one year, I should win it the next year."
While there has been plenty of success in both events, King still prefers the 100 over the 200, with the understanding that she has made significant progress in the longer race since finishing 12th in Rio.
"I would not say I'm liking the 200 better, but I am getting better at it," she said. "It's still a little far for me. I'm getting better and better at it."
At the Pro Swim Series meet in Des Moines in March 2020, King classified her 200 breast swim as "pretty good" with a caveat.
"My time was two whole seconds faster than I went to make the Olympic team," King said. "It's definitely a lot better, and I'm more confident in it, but I still like the 100 better. In high school swimming, you only race the 100s of the strokes. That was what I got good at really fast.
"Then you get into college, you have to start racing the 200 a lot more, then I started racing the 200 internationally. Just racing it more often, getting more familiar with my race strategy."
All the changes, all the growth, all the attention. None of it has changed King the person or King the racer, though it still doesn't feel quite real.
"As far as winning a gold medal," King said, "I don't think that will ever set in."
---