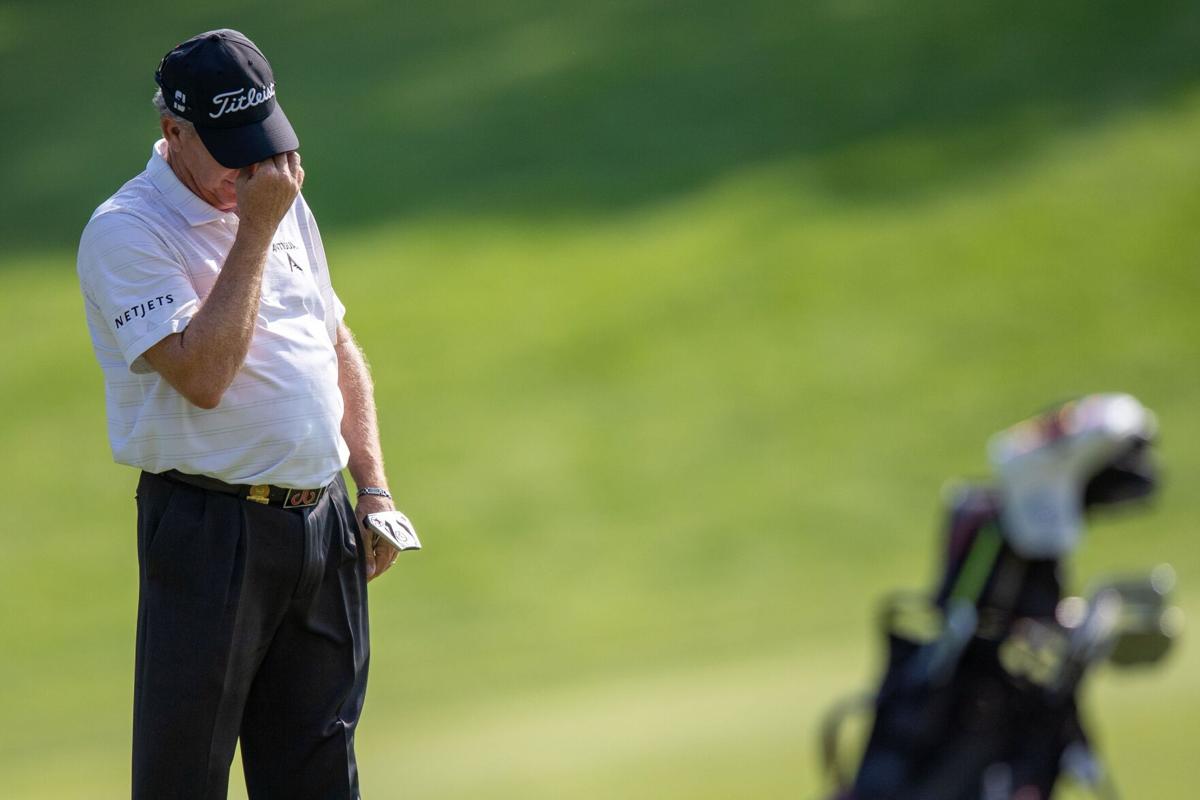 Sports psychologist? No chance. Motivational speaker? Probably not. But if you need a truthteller, Jerry Kelly might be your man.
"Oh my God, I suck right now," said Kelly, leading money on the Champions Tour this season. "I'm hitting it like s—. I wasn't putting it very well. Didn't get the breaks on the up and downs. And my attitude sucked. It was pretty much everything. Hey, I'm saying it with a smile on my face, kind of."
It's the Senior U.S. Open; you gotta laugh to keep from crying. On a steamy, windy Friday on the hills of Omaha Country Club, fans witnessed moments of misery usually reserved for the dentist's office.
Veteran pro Tom Pernice Jr. made a NINE at the 16th hole. Chris DiMarco, two-time Ryder Cup member, started triple-bogey-par-double.
Kenny Perry, who won the 2013 Senior Open here, birdied his first two holes Thursday and didn't make another one in 34 holes. Brad Bryant, the 2007 Senior Open champ, doubled the ninth, then made six consecutive bogeys to start the back nine. So many players made double at the 10th, the USGA should've offered whiskey shots on the 11th tee.
Even the Big Easy occasionally wanted to gnaw off a knuckle.
"The 17th hole, I mean it's a driver and a fricking sand iron," said Ernie Els, who's 3-over. "I made a double yesterday and a bogey today. And then I bogeyed No. 1. I mean, it's all the easy holes I'm bogeying."
Watch a tournament on TV, and you swear every golfer is a genius. Watch a tournament in person, and you're reminded how many guys would rather be fishing. The TV coverage highlights the dart-throwers on the leaderboard, not the scrubs fanning 5-irons into bunkers.
To get the full experience, Kelly said, fans should walk with one group for 18 holes.
"People don't understand, sitting on one hole is nothing," said Kelly, tied for 31st at 3-over. "Follow any group, that's really the best way to do it. You will just see heaven and hell all the way through it."
The carnage was everywhere Friday as the average score topped 75.
Fred Funk shot 77. Corey Pavin posted 78. Amateur Jim Patterson shot 93! (Sorry Jim, just trying to make a point here.) He did it with a birdie on the brutal eighth hole. Go figure.
Here's the intrigue: How do the world's best manage their anger and self-loathing? Some of us, facing such humiliation and despair, might pitch our pitching wedge into the lovely ravine next to the 16th green. Or snap a 3-wood over one of OCC's towering cottonwoods. The pros must maintain a little dignity.
So they mutter to their caddies. Or toss a club at their bags. Kelly, who shot 72 on Friday, prefers a more transparent approach. After missing a 5-footer for par on 12, Kelly gently tossed his ball over the boundary fence behind the 13th tee.
On the fourth tee, Kelly angrily waved away marshals standing too close. Then he missed the fairway and punched his driver, hard enough to sting his hand. Two holes later, Kelly badly missed a 15-foot eagle on the low side. He twisted and gyrated sarcastically, acting as if the ball almost went in.
"I have to let it out," Kelly said. "I can't just go around (acting) like it's cool. No."
Of course, the USGA loves to inflict pain on its performers. There's nowhere to hide at OCC this week. Not with greens that slope like hippos. Not with rough as thick as Perry's accent.
"If you go to a Champions Tour event, the leader after two rounds is at 10-under, and 3-over is 70th," said Paul Goydos, who's 39th at 4-over.
"Here, the leader is probably going to be 5-under, but there will be guys 30-over. It really separates the guys who are playing well from the guys who are not.
"What you want to see is a 10-shot difference between first and 10th. The USGA does a pretty good job of that."
Good? Tell that to Stan Souza, who shot 89-87. Or Clay Weems, 81-90. They're among the best 0.1% of golfers in the world. On Friday they posted scores like 10-handicappers.
I'm not suggesting you feel sorry for them or anyone else inside the ropes. Kelly has earned $2.2 million this season alone. But walking with his group Friday, you recognize how demoralizing this silly game can be, even for the best in the world.
Maybe there's a silver lining for scrubs like us.
Notes
>> Friday morning, Pete Whitted walked in the entrance behind Omaha Country Club's fifth green and watched a pro putt his ball off the devilish green.
Whitted, a 34-year member at OCC, takes pride in watching the stars compete (and struggle a bit) on his home course.
He had one more reason to celebrate Friday. It was Whitted's first day postretirement after a career in ophthalmology. "This is the first thing I'm doing."
Whitted kept a close eye on Ernie Els and Jose Maria Olazabal. He also noticed the course changes since the 2013 Open.
Whitted has seen a lot of history at OCC. He's compiled his share of highlights, too. As he watched Els miss a birdie putt on the par-3 third, Dr. Whitted noted his two career aces on the hole.
>> Yes, players and caddies still complain about the hills. It's not just the walks from tee to green. It's the walks from greens to the next tee, often 50 to 100 yards back and 20 to 40 feet up.
"I mentioned on the 12th hole, every time I walk back to hit, I feel like I need to plant a flag," Goydos said.
It's especially arduous the last 10 holes — from the ninth tee to the 18th green.
"But that's what we do," Goydos said. "You gotta walk 5 miles in five hours, not 5 miles in 15 minutes. I like that aspect of it. I want it to be more physically challenging."
---