One day in 2013, a sports pioneer walked into the White House.
Marlin Briscoe had witnessed so much in 68 years — good and bad — but the Omaha native never got close to 1600 Pennsylvania Ave. That August morning, Briscoe took the official tour, studied all the old portraits, then gathered in the Green Room alongside his 1972 Miami Dolphins teammates.
A door opened. President Barack Obama entered and greeted the NFL's only undefeated team, one by one. Marlin introduced himself, but America's first Black president already knew him.
"You're a trailblazer," Obama told Briscoe.
It's hard to fathom what that moment must have meant to a fatherless boy from the segregated South Omaha housing projects, a small-college underdog who worked at the packinghouse the spring after the Broncos drafted him. Briscoe called his day at the White House "one of the highlights of my life."
I think about that scene every August when NFL legends descend on Canton, Ohio. I come back to the same question: How is Marlin Briscoe NOT in the Pro Football Hall of Fame?
The gold jacket fraternity includes 350 football legends, including 26 quarterbacks and 29 wide receivers. Each boasts better career statistics than Briscoe. But like anything in life, context is critical. And Briscoe's achievements are astounding, even 45 years after his last game.
Find me another player whose biography compares to this:
» First Black starting QB in pro history
» Sixth in AFL passing as a rookie, starting only five games
» Pro Bowl wide receiver two years later
» Two-time Super Bowl champion
Coming out of NAIA Omaha University in 1968, "Marlin the Magician" possessed all-world quarterback skills — pro scouts marveled at his mobility and arm strength — but he slipped to the 14th round in the AFL draft, where the Denver Broncos wanted him as a cornerback, a position he had never played. Why?
Because Briscoe was 5-foot-10 and African American.
Briscoe didn't give up. He negotiated a three-day tryout at quarterback, planting a seed with Denver coaches.
Early in the '68 season, injuries decimated the Broncos' QB depth chart. Coach Lou Saban desperately turned to Briscoe, who broke a color barrier Oct. 6, 1968, earning his first start.
Briscoe and Steve Tensi split time the rest of the season. Briscoe threw for 1,589 yards and 14 touchdowns — one fewer than MVP Joe Namath in 14 starts.
It wasn't good enough to earn a shot at the starting job the next season. Briscoe landed in Buffalo instead, and here's where he becomes more than just a trailblazing story.
He reluctantly converted to wide receiver — another position he had never played — and earned Bills offensive MVP honors, edging a rather famous rookie tailback: O.J. Simpson. In '70, Briscoe caught 57 passes for 1,036 yards, second in the NFL.
The Dolphins traded a first-round pick for Briscoe in '72. He led the undefeated Dolphins in touchdown receptions, then paced the team in receptions in '73, another Super Bowl season.
Five offensive starters from the 17-0 Dolphins are in the Hall of Fame. Briscoe's career numbers don't measure up to Paul Warfield, Larry Csonka or Bob Griese, but football historians must consider the opportunities he never received.
In '68, Marlin outperformed Griese the final month of the season. While Griese became Don Shula's franchise quarterback, Briscoe didn't get invited back to Denver's quarterback meetings.
Briscoe remains the only player in NFL history to produce 1,000 career passing yards and 1,000 receiving. Yet for decades, the NFL forgot about The Magician.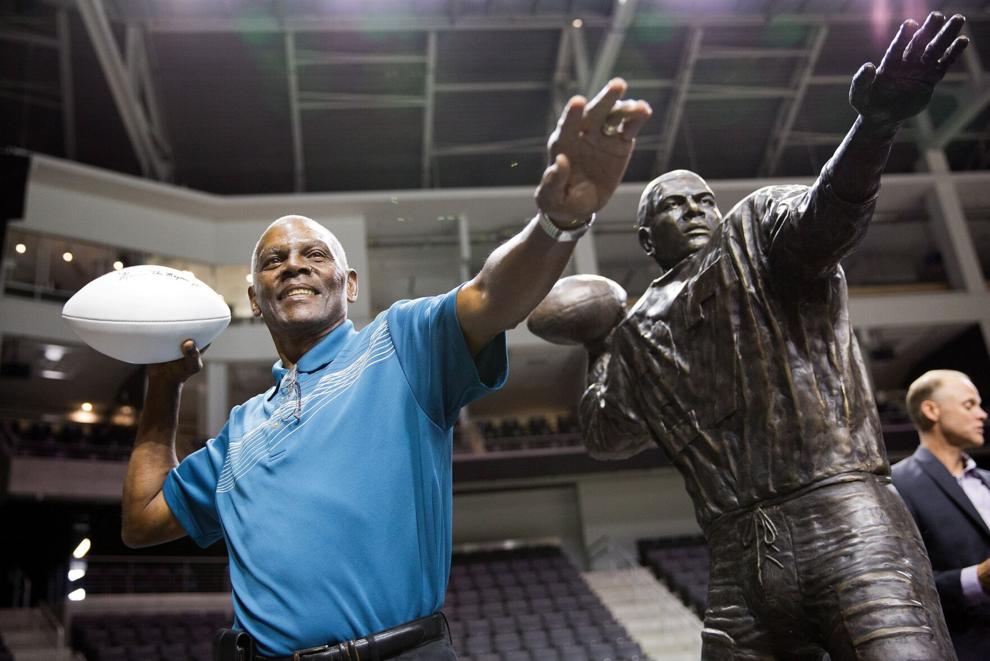 Then Briscoe became a hero all over again.
In 2006, he appeared in a Nike commercial with stars LaDainian Tomlinson, Deion Sanders and Michael Vick. In 2013, weeks before he met the president, "60 Minutes Sports" featured Briscoe during a segment on Black quarterback pioneers. In 2016, Briscoe earned induction into the College Football Hall of Fame.
During those years, an Omaha group that includes actor John Beasley launched a film project documenting Briscoe's life. Their movie effort is gaining Hollywood interest again.
Briscoe doesn't need a red carpet or gold blazer for historic validation. But he surely deserves the attention, especially as sports organizations emphasize Black history.
Hall of Fame voters can't induct Briscoe as a modern-era player — he retired more than 25 years ago. But he could be inducted by the senior committee.
Drew Pearson got in this weekend as a senior. So did Jim Covert, Harold Carmichael, Bobby Dillon, Cliff Harris, Winston Hill, Alex Karras, Donnie Shell, Duke Slater, Mac Speedie and Ed Sprinkle. In 2015, former Husker Mick Tingelhoff was a senior inductee.
I recall the years leading up to Tingelhoff's induction, when his friends and relatives made countless phone calls campaigning on Mick's behalf. It often seemed like a lost cause.
But history has a way of circling around. That's what gives me hope for Briscoe's candidacy, even as he approaches his 76th birthday in September.
The NFL can't honor every player who might have done more under ideal circumstances. But every once in a while, there's a special case.
Stereotypes and racism denied Briscoe a chance to be a star quarterback. Instead, he pivoted and achieved greatness as a receiver. Along the way, he blazed a trail for Doug Williams, Randall Cunningham, Russell Wilson and Patrick Mahomes.
Maybe it's too late for Marlin Briscoe to deliver a hall of fame speech. Or maybe justice just requires a little more time and imagination.
---