It was about 5,000 bylines ago. Roughly 5 million words ago. Somehow the scene is still vivid in my memory.
June 4, 2003. I'm the new sports intern at the Omaha World-Herald.
Two weeks in, I pitched a feature story about Shane Komine, the 5-foot-9 Hawaiian who improbably led Nebraska to two straight College World Series. One year after he left the mound at Rosenblatt, Komine was in Double-A with the Midland RockHounds. Great name.
And that Wednesday afternoon, I discovered, Komine was pitching nearbyish. Wichita, Kansas. I approached my sports editor: Can I go?
He gave me the green light, a surprising vote of confidence in a 21-year-old who looked more like 17. Get a hotel and drive back in the morning, he said.
I hurried to the car, drove 300 miles south, found a mostly empty downtown stadium and grabbed my notebook. Behind home plate, I struck up a conversation with a scout wearing a World Series ring.
Like every baseball expert who first saw Komine, the scout was skeptical. Little right-handers, regardless of college accomplishments, rarely reach the big leagues, he said.
"You want me to recommend him? You want me to lose my job?"
Then we watched Komine retire the first 15 batters. Slowly the scout came to admire the little pitcher. In eight innings, Komine allowed one hit — a bunt single. Then came the best part.
Bottom of the ninth. One on, one out. Komine, nursing a 2-0 lead, confronts a full count. The scout predicts fastball. You don't want to walk the tying run, right?
Instead, Komine yanks the reins on a 70-mph curveball, fooling the Wichita shortstop. Strike 3. The scout raises his eyebrows and looks at the reliever warming up in the bullpen.
"Just tell that guy to sit down," the scout says. "They ain't going to need him."
In journalism, you learn quickly that beginnings are important but endings are crucial. I had my story ending. Riding the adrenaline rush, I skipped to the hotel and drove five hours home, delighting in my good fortune.
What were the odds of Komine pitching the best game of his pro career the very night that I saw him? What were the odds of finding that scout beyond home plate? What were the odds of getting paid for a dream job?
I landed at my front door after 3 a.m., eager to nail down the words floating in my head.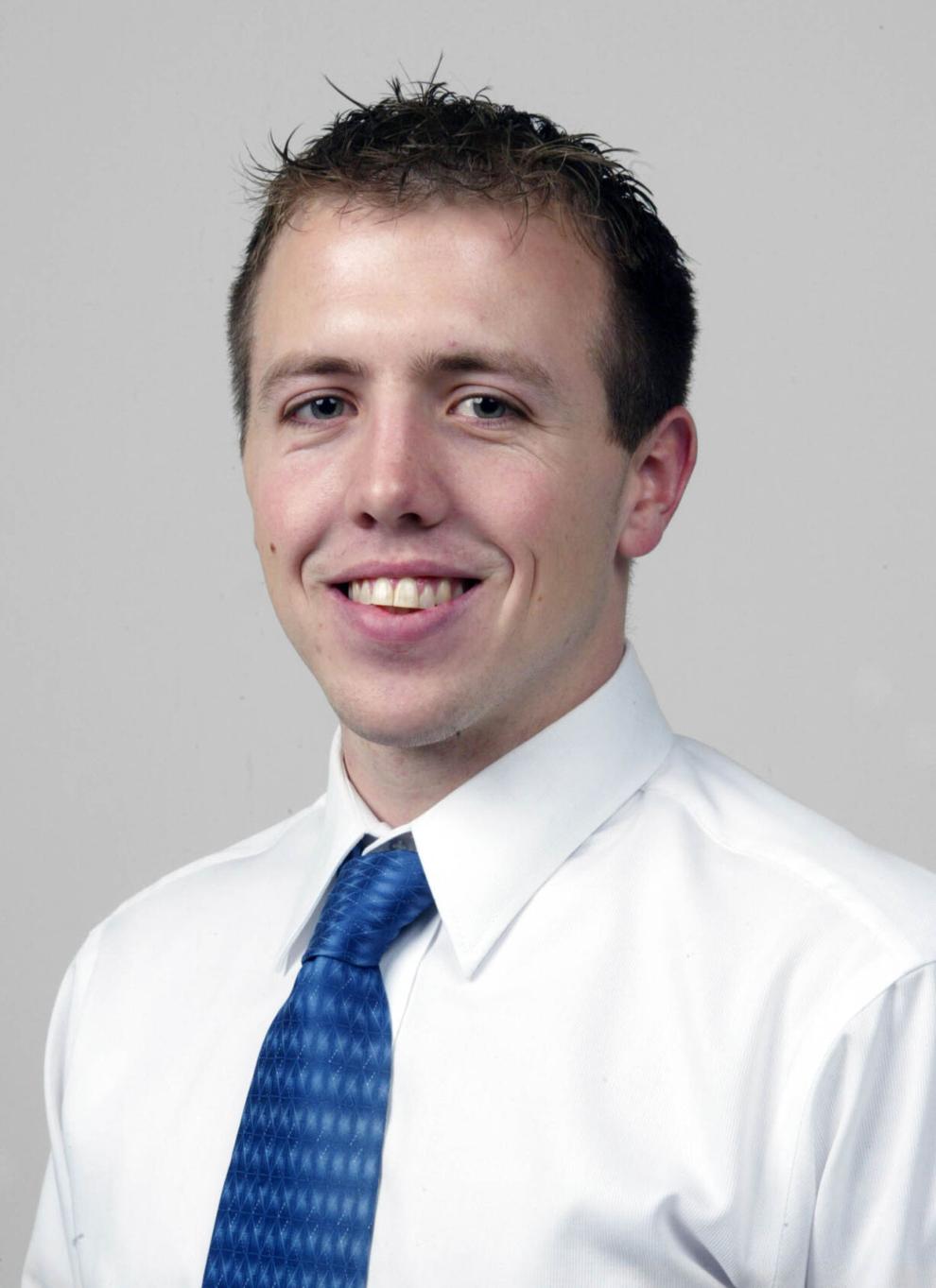 I will miss nights like that. I will miss telling you those stories. Nearly 20 years after my first World-Herald byline, I'm leaving the paper.
It was my decision, and a difficult one. I still believe in the power of local journalism. I still believe in the people who comprise The World-Herald. Occasionally, I hope to contribute to the OWH as a freelance writer — I'm not leaving Omaha. But it won't be the same.
The World-Herald is the only real job I've ever known. I used to think I would spend my entire career here. But over the past couple of years, I lost a little fire for daily journalism. It's time to reflect, explore and hone new skills.
Is it too late to learn a curveball?
---
---
FROM FAN TO REPORTER
---
---
Back up a few years. Sept. 23, 1999.
I'm a senior in high school with a new hobby: writing minicolumns to The World-Herald. AKA, "Voice from the Grandstand."
On that Thursday morning, I recall the dopamine hit of seeing my letter at the top of the page. Of course, it makes me cringe today.
During Nebraska's game Saturday against Southern Mississippi, I was told to sit down countless times on crucial third-down plays. But when I stood to catch a hot dog I was applauded.
The only time Husker fans stand is to check for a fitness pass under their seats. It was louder during the "Amigos Under the Cap" game than it was when Southern Miss had the ball.
I saw people leaving with five minutes to go in the fourth quarter when it was a seven-point game. Come on, folks. Show the players you care. It's not obnoxious to get on your feet and be vocal. It's called being a fan. You can be classy, but it's OK to make Memorial Stadium a tough place to play.
Dirk Chatelain, Rising City, Neb.
God, I loved The World-Herald. During the 1990s, Huskers' signature decade, the sports section connected the UNL campus to the entire state. Every single day.
In grade school, I awaited the dinner hour, when my dad came home from work and tossed the day's paper on the living room carpet. I unwrapped it like a present and devoured the latest from Tom Shatel and Lee Barfknecht.
In high school, Monday study hall couldn't come early enough. I rushed to the library and scrutinized Stu Pospisil's latest rankings. (I still do.)
I grew up wanting to teach math and coach basketball ... until I took calculus at Columbus High. No thanks. That same senior year, I discovered the school newspaper.
One of my first columns criticized the administration for refusing open campus to seniors. Headline: "Columbus High: School or Penitentiary?" In hindsight, maybe a bit too dramatic.
At UNL, I wrote for The Daily Nebraskan. My first season covering Husker football? 2002. It's not my fault, I swear.
The next summer, one month before the Cleveland Cavaliers drafted a high school phenom named LeBron James — what ever happened to him? — I produced my first byline in The World-Herald. The state track and field meet.
Two Omaha Benson runners battling for gold in the 800 meters.
Soon I found myself covering the same programs I grew up cheering for. Only I wasn't cheering anymore. I was poking bears. Stirring pots. Trying to ask the questions fans would ask, if only they could.
One day in 2007, I stood outside Harvey Perlman's office as Steve Pederson walked out in a hurry. I requested an interview. Pederson declined. He had just been fired.
In 2009, after the Big 12 championship game, I stood outside the Nebraska locker room as the Pelini brothers unleashed their wrath on Dan Beebe and the Big 12.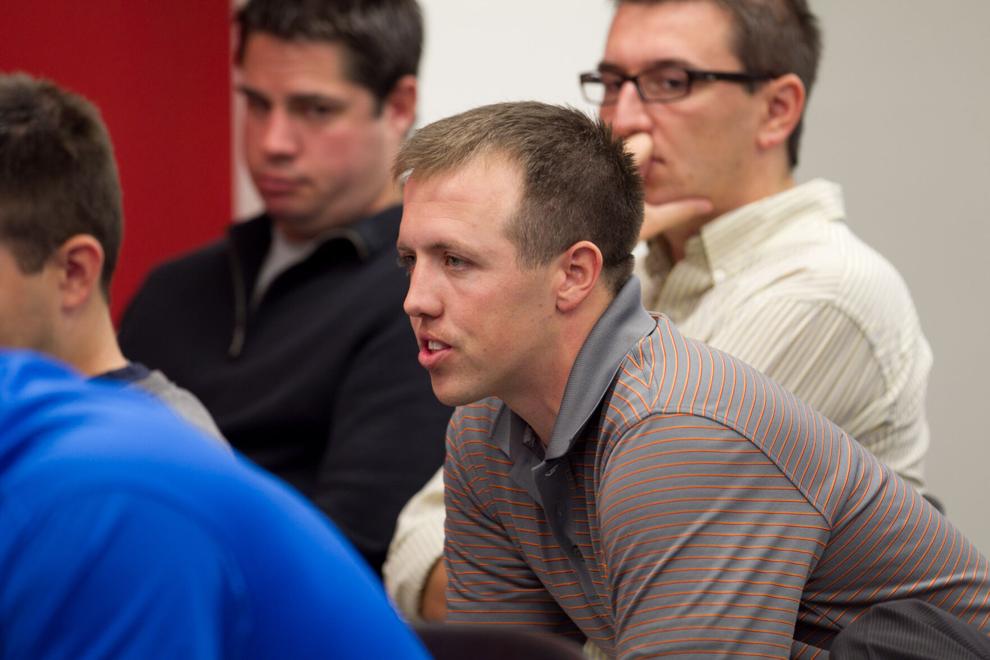 In 2006, I sat courtside in Omaha as Jordan Larson recorded the final kill of the national championship match, igniting a celebration and a legendary career.
I saw the final hit at Rosenblatt Stadium. And the first pitch at the downtown ballpark.
In March 2014, I watched Doug McDermott score his 3,000th point and — the very next afternoon — Nebraska upset Wisconsin on No-Sit Sunday.
Two weeks later, I found Tim Miles in a San Antonio locker room, glued to a little TV watching the final minutes of an NCAA tournament game, Nebraska's first in 16 years.
The coach had just been ejected.
That fall after Game 7 of the World Series, I stood at Alex Gordon's locker, next to two unopened bottles of Champagne, as he planted his left hand against his bearded cheek, wondering — like a lot of us — if he should've tried to score from third base.
---
---
LIFE MEETS LIFE
---
---
You root for stories, not specific brands or athletes. That's sportswriting law. And I never had a problem with it.
But gosh I spent a lot of time chasing my childhood passions. The teams and characters who sparked my sports-crazed life.
Beau Reid! Terrell Farley! Ryan Sears! Andre Woolridge! I discovered some of the neatest people in the world.
Ardie Sayers. Milt Tenopir. Jerry Bartee. Tim Cannon. Bruce Rasmussen. Rodney Wead. So many more.
I got married. I moved twice. I had three kids. My hairline receded. Wrinkles creased my cheeks and forehead. Through it all, The World-Herald anchored me.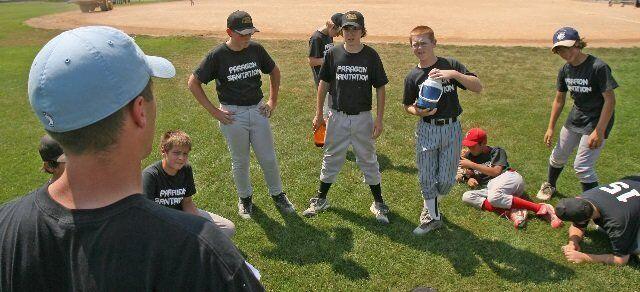 I wrote ridiculously long series on Homegrown Huskers, Tom Kropp, Danny Nee and North Omaha's epic generation of athletes. The latter, "24th & Glory," became a book.
I found fresh ways to contribute. Mad Chatter. "Where I Come From." Big Red Breakfasts. 
Occasionally, I busted out of sports and wrote news features. About my son's first day of kindergarten. About a small-town barber in Auburn. About a 91-year-old Lincoln man and his obsessive search for a new dog. A pug.
My favorite subjects were always outside the daily news cycle. Farmers competing in a combine derby. A former Husker walk-on who became a bobsledder, then an Olympic gold medalist.
I accompanied a six-man high school football program — on the verge of extinction — across the Sandhills in search of an opponent: 736 miles on a bus. In one day.
I wrote about Winnebago's first state championship team. "Rez Ball." And Omaha South soccer. The first generation of Husker volleyball players. And the first generation of girls high school wrestlers.
I documented an all-state soccer player with selective mutism — his teammates had never heard him speak. I profiled an all-state basketball player who described the night his father murdered his mother.
I spent a lot of time with tragedy. Walking with characters through heartbreak and hope.
I gained inspiration at the graves of Brook Berringer and Sam Foltz. I gained wisdom from Paul Beranek, Jerry Stine and Chris Jessen. I gained resilience from Aeneas Renfrow and Autumn Smith, teenagers who lost their baby girl, Ameliya.
In 2015, I met a Fremont distance runner named Ty Hansen. An all-class contender in the 800 and 1,600 meters. Two years earlier, Ty lost his brother to a car accident. His twin brother.
At the state track meet, Hansen won the 800 going away. He broke his own school record and climbed into seventh on the all-time Nebraska charts.
Then a few hours later, he returned for the 1,600, a race he didn't expect to win. On fumes, he fell behind. Then he rallied.
On that final straightaway, running shoulder to shoulder with a rival, Ty made one last kick. He won — by .19 seconds.
In those moments, the adrenaline rush is so high, you feel more than goosebumps. You feel like you're flying.
You don't get that every day. You can't bottle that. When it happens, the sense of gratitude is overwhelming.
For having a platform. For having a heartbeat.
---
---
IT'S ALL ABOUT THE ENDING
---
---
Not the chaotic minutes before deadline of a Husker night game. The task of writing 800 words in the next 30 minutes that encapsulates a riveting win or a program-changing defeat.
When in doubt, I tried to channel the emotions of fans. Write it from their point of view.
I won't miss staying up all night to write a long feature. My wife emerging at dawn and asking how much I slept. "I didn't."
But I will dearly miss the fresh idea that pops into my head, pushing me to the keyboard. I'll miss the "holy crap" moment in every great interview when you realize there's one helluva story here. And only you get to tell it.
I'm thankful for my colleagues, whose indispensable work inspired me. Especially my editors, who tolerated me when I asked for more time or more space.
I'm thankful for my subjects, who trusted me with their personal stories. And most of all, to World-Herald readers, who carved out a piece of their busy days. My primary bosses were always readers, not executives.
Early this winter, I was rummaging through a bookcase in the basement when I found some old World-Herald editions, including my first substantial contribution. The Komine profile.
"Just tell that guy to sit down. They ain't going to need him."
I always loved story endings. Countless times I wracked my brain seeking just the right final note. The perfect exclamation point for the reader.
Often I'd complete a story, email it to the office, chew on it for a few more hours and send in a new ending.
For days now, I've been writing this column and I can't find a final note. Thousands of stories. Millions of words. And here I am, back where I've spent so many hours, staring at a white screen. A blinking cursor.
It's a strange thing to walk away from the job you always wanted. I'm still coming to grips with that. But I will tell you this: The mission still matters. As much as it ever has.
Stories connect strangers. They bind together cities, communities and families. They endure.
Last month, I opened a surprisingly large sports page — June 7, 2003 — and lay the paper on the basement floor. I called over my 12-year-old son, who has devoured more books than I ever have. (Thankfully, he got his mother's attention span.)
I explained to him the origin of my first big adventure at The World-Herald. Then I left him alone on the carpet, just like me as a kid. Alone on the carpet, with an underdog pitcher he never heard of. Alone on the carpet, driven by the most basic, most essential question: What happens next?
Several minutes later, my son came upstairs and delivered a brief, satisfying review. That story was pretty cool, he said.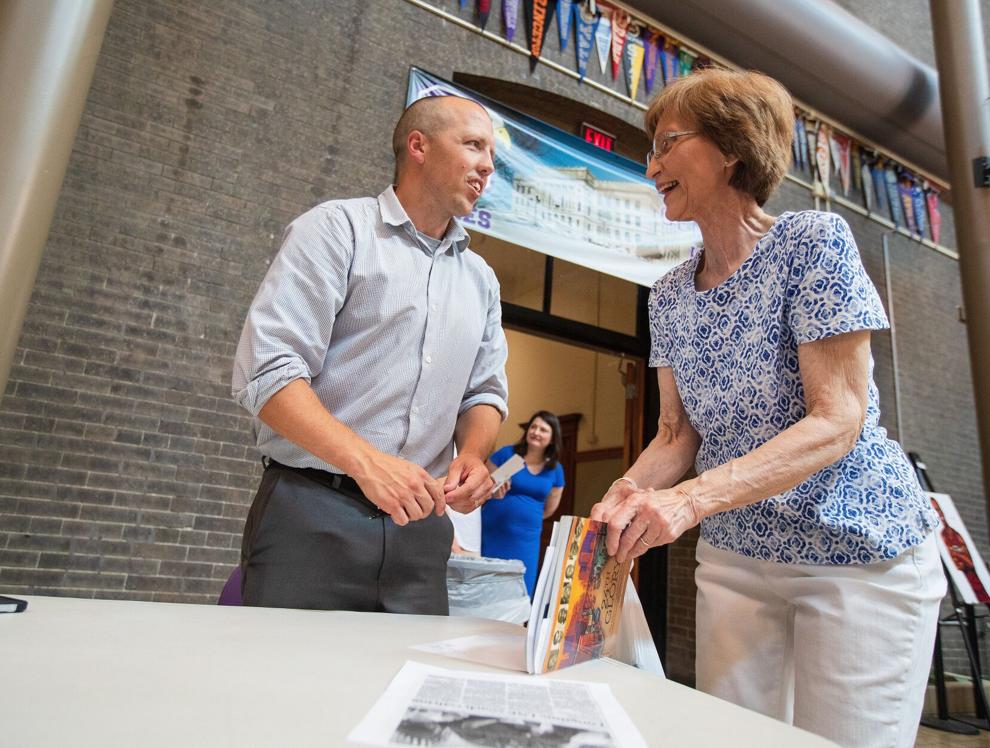 Dirk Chatelain's stories and columns
Here are a few of Dirk Chatelain's most recent stories and columns from his time at The World-Herald.