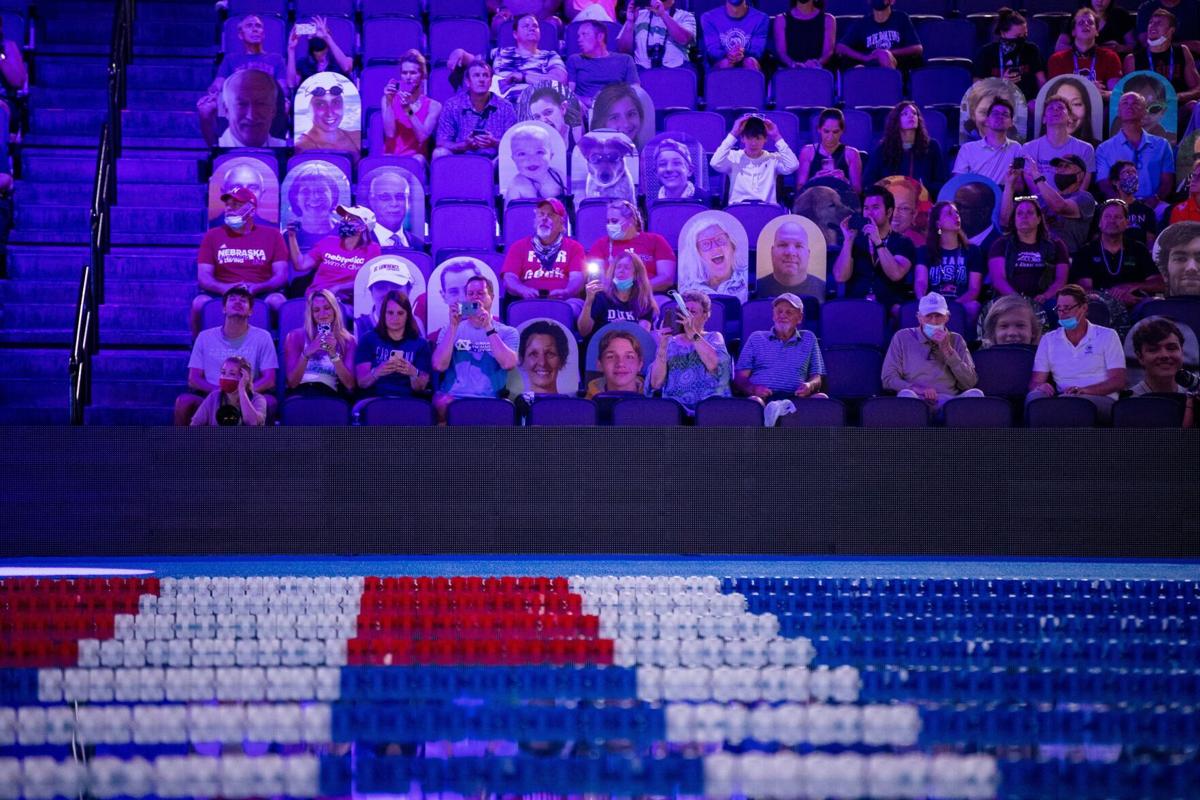 Find out everything from where to park to the U.S. Olympic Swim Trials' schedule below.
Parking
Parking is available around the CHI Health Center in Lots B, C and D for $10. The CHI Health Center garage is also available for $15. Lots close 90 minutes after the event is over, and those remaining in the lot will be towed.
Lot A is restricted to teams, officials and media with parking passes.
Tickets
For Wave II of the Swim Trials, the venue is open to 65% capacity, or roughly 8,200.
Ticket are available at CHI Health Center box office or online through ticketmaster.com and other secondary ticket sites. There are two sessions on each day of Wave II except the last day. You can choose to buy tickets for single sessions or for a full day.
COVID-19 protocols
Fans planning on attending are encouraged to be fully vaccinated, wear masks while in the venue and/or receive a negative COVID-19 PCR test within three days of attending. However, these are not requirements.
Fans are also deemed Tier 4 personnel and it's recommended that you avoid socializing with Tier 1 personnel, which includes athletes, coaches and any staff members whose job does not allow for physical distancing from athletes (team staff, medical staff, etc.).
Other info
Doors will open an hour before each session. Between preliminary and semifinal/final sessions, guests will be required to exit the venue.
Fans can bring in clear plastic bags or one opaque clutch-sized purse or wallet not exceeding 4½ by 6½ inches. Exceptions will be made for bags with medical necessities.
Other items that are allowed include signs/banners that do not exceed 8½ by 11½ inches and binoculars, though cases must adhere to the clear-bag policy.
Outside food or beverage aren't allowed in the venue. However, concession stands will be open.
All preliminary heats will be broadcast on NBC Sports Network (channel 77/1077 on Cox Cable and 220 in DirecTV) while final races will be broadcast on NBC.
Schedule
Men's 400 individual medley
Women's 400 individual medley
6:45 p.m. — Semifinals and finals:
Men's 400 individual medley — Final
Women's 100 butterfly — Semifinal
Men's 400 freestyle — Final
Women's 400 individual medley — Final
Men's 100 breaststroke — Semifinal
6:45 p.m. — Semifinals and finals:
Women's 100 butterfly - Final
Men's 200 freestyle - Semifinal
Women's 100 breaststroke - Semifinal
Men's 100 breaststroke - Final
Women's 400 freestyle - Final
Men's 100 backstroke - Semifinal
Women's 100 backstroke - Semifinal
Women's 200 individual medley
6:45 p.m. — Semifinals and finals:
Women's 200 freestyle - Semifinal
Men's 200 freestyle - Final
Women's 100 backstroke - Final
Men's 100 backstroke - Final
Women's 100 breaststroke - Final
Men's 200 butterfly - Semifinal
Women's 200 individual medley - Semifinal
6:45 p.m. — Semifinals and finals:
Men's 100 freestyle - Semifinal
Women's 200 freestyle - Final
Men's 200 butterfly - Final
Women's 200 butterfly - Semifinal
Men's 200 breaststroke - Semifinal
Women's 200 individual medley - Final
Women's 1500 freestyle - Final
Men's 200 individual medley
6:45 p.m. — Semifinals and finals:
Men's 800 freestyle - Final
Men's 200 breaststroke - Final
Women's 100 freestyle - Semifinal
Men's 200 backstroke - Semifinal
Women's 200 butterfly - Final
Men's 100 freestyle - Final
Women's 200 breaststroke - Semifinal
Men's 200 individual medley - Semifinal
7:45 p.m. — Semifinals and finals:
Women's 200 breaststroke - Final
Men's 200 breaststroke - Final
Women's 200 backstroke - Semifinal
Men's 200 individual medley - Final
Women's 100 freestyle - Final
Men's 100 butterfly - Semifinal
7:45 p.m. — Semifinals and finals:
Men's 100 butterfly - Final
Women's 200 backstroke - Final
Women's 800 freestyle - Final