The baddest man in college football drew quite a crowd.
In January 2010, at the peak of his local celebrity, Ndamukong Suh came to Boys Town's Hall of History during his Outland Trophy tour. He answered questions. He met students.
The Heisman Trophy finalist remembers Father Flanagan's famous 1952 bus. He doesn't remember seeing the 17-year-old defensive lineman in a blue jersey who'd one day line up alongside him, sacking Aaron Rodgers three times in the NFC Championship to pave Suh's path to the Super Bowl.
As inevitable as Suh seemed 11 years ago, young Shaquil Barrett was quite the opposite. Raw. Vulnerable. Undefined.
From the anxious streets of Baltimore to the foreign halls of Boys Town, from UNO football refugee to undrafted free agent to NFL sack leader, you won't find a Super Bowl participant who endured more twists and turns.
Barrett is the guy Suh describes as a "dominant force." Barrett is the focus of Patrick Mahomes' film study. "I have to know where he's at on each and every play," the Chiefs quarterback said.
"Everywhere he's gone, he's exceeded expectations," said former Boys Town wrestling coach Aaron Groff. "It is a remarkable journey."
Shaq Barrett may be the weapon Tampa Bay needs to upset Kansas City. But in Omaha, he represents something more.
The bus nobody saw coming.
That's how Shaq Barrett's dad describes their hometown. The kind of place where an innocent teenager meets trouble when he's not looking. Make the wrong steps, say "OK" on a day when you should've said "No" and you can become a victim, Steven Barrett said.
Fifteen years ago, the only thing Steven knew about Boys Town was "the Mickey Rooney movie." But his sons' wrestling coach in Baltimore knew the wrestling coach at Boys Town. When Shaq's older brother, Kevin, struggled with grades and discipline, their dad took a chance and sent him to Omaha. Kevin turned the corner.
Shaq's outlook in Baltimore looked brighter. In eighth grade, he was part of the Charm City Buccaneers' Pop Warner national champions (an omen?), a team his dad coached. He carried good grades and no behavioral baggage.
"You gotta do something real vicious to see him get angry," Steven said.
But Dad still didn't feel at peace, especially when Shaq — "dead lazy" without Kevin's guidance — started skipping football practice. At 15, Shaq came home and told Dad he'd been robbed of his phone and wallet.
"That's enough," Steven said.
On Aug. 25, 2008 — days before Shaq started 11th grade — he came to Boys Town, too. Shaq didn't embrace the rigid structure of "family teachers" and daily chores, at least not immediately. He did embrace his older brother. They leaned on each other emotionally and literally in the Boys Town wrestling room.
Kevin won three straight Class B championships, the first two at 215 pounds before dropping to 189 his senior year so Shaq could have a spot in the starting lineup. Shaq couldn't match Kevin's skill, but he showed grit.
Senior year — a month after Suh's visit to Boys Town — Shaq lost a major decision to Crete rival Brock Sherman, Shaq's first loss of the season. Two weeks later, Shaq got another chance in the Class B final. He pinned Sherman in the first period.
That's what Groff recalls most: Shaq's knack for learning, adapting and finding a way.
"He's a heckuva athlete, but he's not as good of an athlete as some might think," Groff said. "He really is a student of the game."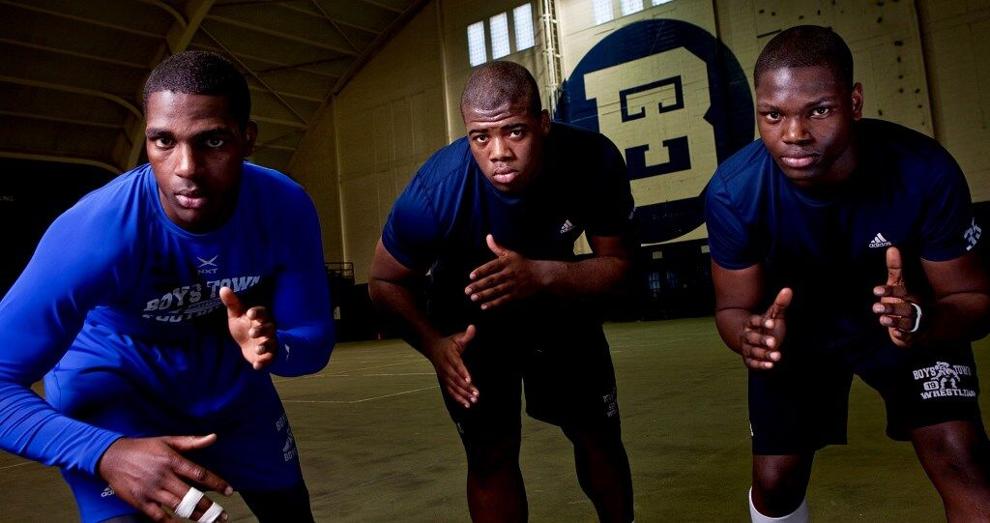 Senior year at Boys Town, Shaq blocked six kicks from the defensive line, earning second-team all-state. At the 2010 Shrine Bowl in Memorial Stadium, Shaq amassed three sacks, a forced fumble, a pass breakup and a blocked field goal. Defensive MVP.
He had a scholarship chance at North Dakota, but leaving big brother didn't feel right — "Kevin always took care of him," Steven said. Together, the Barretts became UNO Mavericks. Kevin stuck with wrestling; Shaq walked on to the football team at 6-foot-2, 230 pounds.
"Physically, he was a grown man," said Taiwo Onatolu, former UNO assistant. "He was a gentle giant. Barely said a word. I don't think he knew how good and how strong he was. He was way ahead of the curve."
In fall camp, UNO moved Shaq from D-line to inside linebacker, where he hadn't played since middle school. He was so good that Onatolu suggested starting him for the season opener at UNK.
No, coach Pat Behrens wanted to make him earn it. That lasted a whole week. By the second Saturday, Shaq was the first Mav freshman starter since 2002. Week 4, he earned conference defensive player of the week. Talk about potential.
Shaq looked like a future All-American. He had close friends, his brother and his future wife (an Omaha girl) all in a city that felt like home. Then in March 2011, the same night Kevin's wrestling team won another Division II title, a bombshell dropped.
Shaq heard the rumor Saturday night and couldn't sleep. The next morning he learned it was true.
UNO was going to Division I. The wrestling program was done. Football, too. 
"I loved Omaha," Shaq said. "It devastated me when they dropped that football program. I had to man up. … It made me grow up a lot earlier than I wanted to."
UNO athletes, desperate for roster spots, dispersed all over the country. Utah. Villanova. Florida International.
Kevin transferred to UNK and wrestled. Shaq wanted to go to Missouri State, but family convinced him to pursue Colorado State, the only Division I school to give him a shot — Nebraska's staff didn't return his inquiry.
Just like in Omaha, Shaq surprised CSU coaches with his nose for the ball. He started three seasons at outside linebacker, earning Mountain West defensive player of the year in 2013. Meanwhile, he worked overnight shifts for a road construction crew to support his working wife and kids.
That's where Shaq Barrett's journey could've ended. On NFL draft weekend in 2014, he sat through 256 selections and didn't hear his name.
Learn. Adapt. Find a way.
The Denver Broncos signed Barrett to their practice squad, but he was cut twice. He needed a boost. He adopted a more disciplined diet, chiseling his frame.
He went to school on the Broncos' vaunted pass rushers, emulating Von Miller and DeMarcus Ware. Barrett left college with two moves — a bull rush and a double swipe. On the Denver practice squad, he diversified his craft.
"For instance," Steven said, "he knows the guy blocking him cannot see the quarterback. So Shaquil will make him think the quarterback is on the left side and he'll go right. He can fool the guys with his eyes. Little things like that."
In 2016, Barrett played a reserve role on the Broncos' championship team, logging 48 snaps (22 defense, 26 special teams) in Denver's Super Bowl win over Carolina. The 24-year-old earned his ring.
But Shaq didn't stop. "He just keeps getting better," Onatolu said. "That's the thing."
Barrett never became a regular starter in Denver, but opposing teams took notice. "You could see how much talent he had even though he was backing up those guys," Mahomes said.
Barrett hit the free-agent market in 2019, signing a one-year deal with the Bucs after Cincinnati pulled its contract offer due to a rumored injury. His first three games in Tampa, Shaq shattered expectations with eight sacks.
"One of the things I love about a young guy like that is he actually listens," Suh said in 2019. "On either the third or fourth sack (in Barrett's four-sack game against the Giants), he reached for the ball like I told him to, and he got it out."
Barrett finished the 2019 season with an NFL-leading 19.5 sacks — more than he recorded during five seasons in Denver. Seemingly overnight, he became one of the league's most fearsome defenders.
How? Depends whom you ask.
Larry Foote, Bucs linebackers coach, looks at Barrett and sees similarities to Pittsburgh Steeler James Harrison, another small-college late-bloomer with a relentless engine.
"I always remind him, it's not my fault you went undrafted," Foote said. "You weren't that good in college."
Groff, the former Boys Town wrestling coach, points to Shaq's intelligence and humility. Todd Bowles, Tampa Bay defensive coordinator, cites Barrett's technique. "He's got quite an arsenal."
Said Onatolu, now an assistant for the University at Buffalo: "It's the twitch. The ability to anticipate the snap, get off the ball, bend the corner and he has power. Even if a lineman gets his hands on him, Shaq is versatile. He can run through you or run around you."
But there's another component to Shaq's story. Maybe the most important of all. Resilience.
How many teenagers could go from Baltimore to Boys Town to UNO to Colorado State without finding an excuse to quit? How many would get swallowed amid the change?
Steven Barrett points out his son's good influences, good fortune and divine protection. "All the praise goes to God."
The story isn't over. Not even close.
After 19.5 sacks, offenses keyed on Barrett in 2020. No pass rusher in the NFL got "chipped" as much, Foote said. Barrett settled for eight regular-season sacks. He reclaimed the spotlight in the NFC Championship at Lambeau Field, sacking Rodgers three times.
Barrett, who played in 2020 with the franchise tag, hopes to sign a long-term contract with the Buccaneers this spring, bringing security to his wife, Jordanna, and their three kids.
But that's a few months down the road. First there's another title to seize. The Bucs are "too close to start all over next year," Barrett said. During Super Bowl week, he's trying to balance urgency and reflection.
"This is everything I dreamed of when I was a kid. Be on this stage. Be in the role I am on the defense. I'm going to make sure I take full advantage of it."
Earlier this season, Barrett and Suh started talking about old days, specifically their Nebraska connection — the 2010 visit to Boys Town. The high school senior remembered seeing the Heisman Trophy finalist stand in front of Father Flanagan's bus.
Did Shaq Barrett envision his own football future that day? No way. Not possible. But as the crowd dispersed, if you'd put an ear to his chest, you might have heard his engine warming up.​
Photos: Nebraskans selected in first round of NFL draft
This is a collection of football players who graduated from high schools in Nebraska and then became first-round NFL draft picks after college. Did we miss anyone? Let us know by sending an email to sports@owh.com