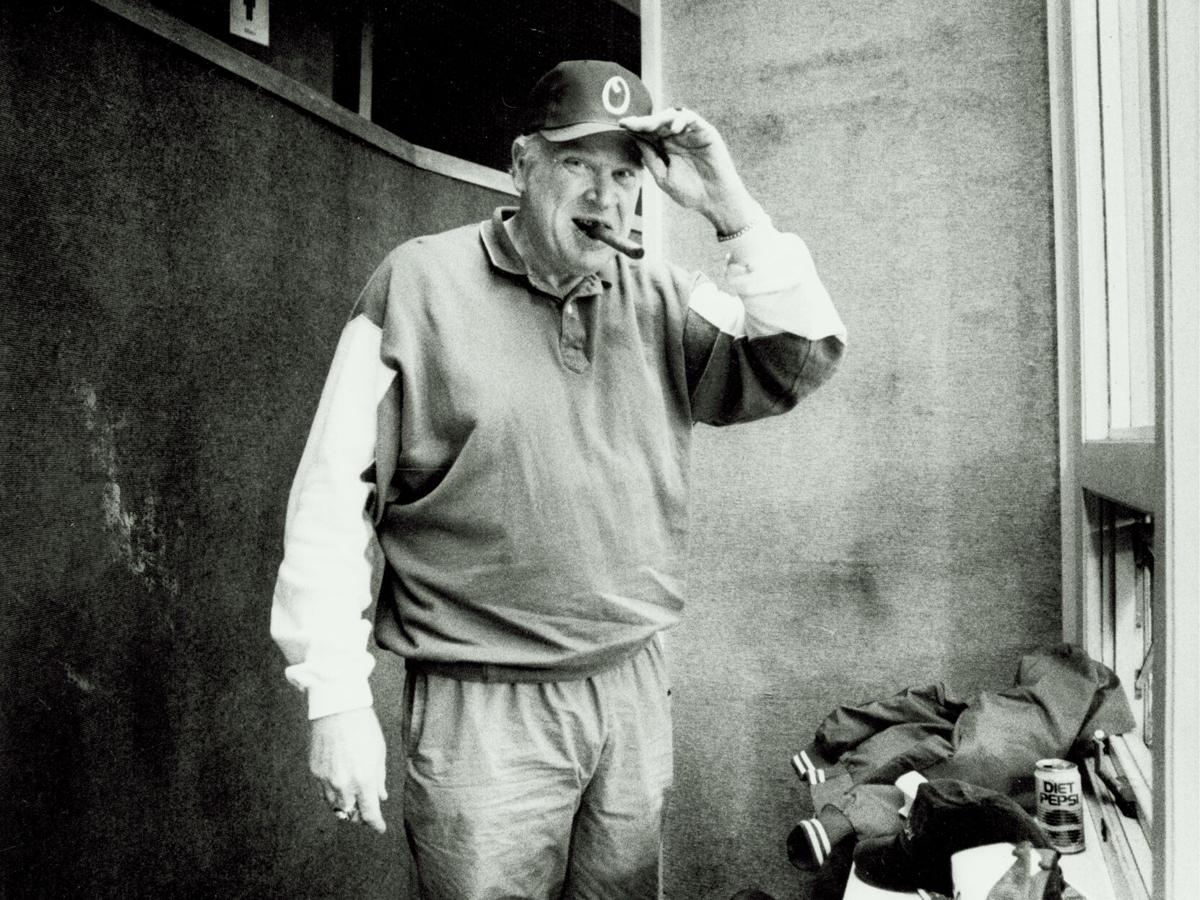 John Madden had a fear of flying, which seems like it would have made difficult his many cross-country journeys to coach and broadcast NFL games.
But instead he took advantage of the opportunity on his massive Madden Cruiser bus to see America's less-visited destinations, including several in Nebraska.
Madden — the legendary NFL coach, commentator and namesake of the best-selling video game franchise — died Tuesday at the age of 85. Tributes and stories have poured out since, including one in particular that detailed some visits he made to the Cornhusker State.
"Busman's Holiday" — a Sports Illustrated feature in 1990 by Peter King — follows Madden on a coast-to-coast road trip from his house outside Oakland to his apartment in Manhattan. Mentioned prominently in the article were several stops the group made in Nebraska.
Madden was no stranger to this state. The article mentions he loved to stop in Sidney, where he once watched a Monday Night Football broadcast at a Tastee-Freez with a group of townspeople that included the local high school basketball team.
Another visit included a pit stop in Beaver Crossing to use a phone, and his appearance attracted a crowd. "The whole town came out," Madden said in the SI article. "There were only about 10 of them, but they were the whole town." The scene drew so much attention that an article was even written for the Omaha World-Herald, which is relayed below in full.
---
Sports broadcasting personality John Madden made just a short stop in Beaver Crossing to use the telephone, but he created quite a stir among townspeople.
Madden's bus, the Madden Cruiser, pulled into the town of about 500 at 11 a.m. Wednesday so that he could make a phone call for his radio show. The vehicle immediately drew attention.
After using the phone in Loyd's Lounge, Madden emerged to a throng of local fans and signed autographs.
"Well, we were so in shock, I guess, that we just couldn't believe it," Sherry Noler said. "I'm a sports fan, so it meant a lot to me."
Townspeople presented Madden with a Beaver Crossing T-shirt, bumper sticker and pins. Some women presented him with rhubarb cake and rhubarb torte, Ms. Noler said.
Madden, who is afraid of flying, was traveling to San Francisco from the East Coast, where he attended his son's graduation from Brown University.
---
A few days after that stop in Beaver Crossing, Madden made his way to Omaha. "Sometimes I just like to break up the trip," he told SI, "and Omaha's kind of halfway." That night in 1989 he attended an Omaha Royals baseball game. The World-Herald even snapped a picture of the NFL great at Rosenblatt Stadium wearing an Omaha Royals ballcap.
He recounted a story about that game in the SI article.
"They have a raffle for a case of pork and beans. It's the seventh inning, and everybody's excited. They pick the winner, and the guy's sitting right behind home plate. His name is Elmer something, and he's jumping up and down. To him it was like a trip to Hawaii or a new car or something. It was just a case of pork and beans. That was great."
Back to 1990 and the particular trip featured in the SI piece. After crossing through the Rocky Mountains and Wyoming, the bus eventually reaches Nebraska. 
Their first stop is in Brady, a town along the Platte River between North Platte and Gothenburg. There they pulled off the highway and stumbled upon an animal farm with "one gray burro, two dozen deer, five dwarf ponies, five llamas, one crossbred deer-llama and several crossbred animals that resembled llamas with very thick necks." There were no humans around to explain why that peculiar farm was there
The mystery stuck with Madden until they reached Kearney for dinner at Grandpa's Steakhouse. He asked a woman about the animals. "I just think he has them for personal pleasure," she replied.
And like his visit to Beaver Crossing the year before, Madden's stop in Kearney also attracted a crowd. The Kimple family had gathered near the bus hoping to meet him. Madden obliged, giving 10-year-old Travis Kimple an autograph.
"Nebraska loves John Madden," said Kerry Kimple, Travis' father. "He's a common-sense, say-what-he-thinks guy."
Back on the bus, Madden continued his preparations for the game he'd be calling for CBS that weekend. Somewhere near the Nebraska-Iowa border, he turned to the SI writer and reflected on the beauty of his travels, particularly those stops in Nebraska.
"We really saw a lot of stuff today, didn't we? Think of all the things we saw that we wouldn't see on a plane."
---