At a celebration of life for Omaha native and Creighton alum Bob Gibson, former teammates and friends remembered the Hall of Fame pitcher as accomplished yet humble and serious yet selfless.
The celebration at Creighton's Sokol Arena on Saturday commemorated the one-year anniversary of Gibson's death at age 84.
Saturday also happened to mark the 53rd anniversary of his record-breaking World Series strikeout performance in 1968.
Gibson was diagnosed with pancreatic cancer in the summer of 2019, something he was determined to persevere through, said former Cardinals teammate and lifelong friend Joe Torre.
"He was a month short of his 85th birthday," Torre said. "But even during his illness, his aggressiveness and confidence showed because he wasn't only expecting to get to 85, but he was planning on being there at 90."
Gibson was a native Omahan, growing up in the Near North Side and attending Tech High. He then went on to Creighton as part of the class of 1957 and excelled at both baseball and basketball.
In 1968, Gibson was named the first member of the Creighton Athletics Hall of Fame.
After graduating, he went on to play for the Harlem Globetrotters for a year before starting a 17-season career with the St. Louis Cardinals.
The highlight of his Major League Baseball career was on Oct. 2, 1968, when he struck out 17 Detroit Tigers during Game One of the World Series, a record that still stands.
On Saturday, longtime sports anchor Bob Costas said he remembered, as a teenager in Long Island, seeing Gibson pitch that record-breaking game.
"Nobody had the prowess on the mound that Bob had," he said.
Former Cardinals catcher Tim McCarver got to know Gibson well as a pitcher, as he caught for Gibson for 198 regular-season starts, he said.
"People always asked me what made Bob Gibson different," McCarver said. "The one thing he was different about was his overwhelming desire to win."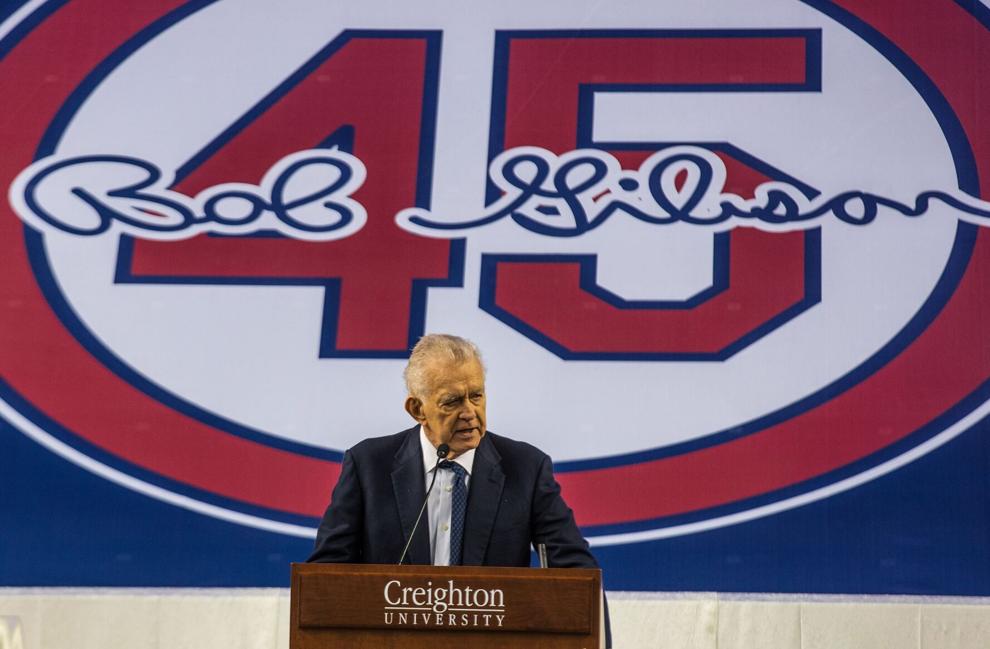 Speakers at Saturday's event remembered Gibson's nuanced personality.
"Confident, yes, but not a trace of bravado," Costas said. "Never one to talk about his own achievements unless prompted, and even then, getting it out of the way as quickly as possible ... what he did spoke for itself."
The Cardinals retired Gibson's number, 45, in 1975. He was named to the Baseball Hall of Fame in 1981, the Cardinals Hall of Fame in 2014 and was chosen for the MLB All-Century Team in 1999.
Off the field, the serious, driven Gibson made way for the family man who enjoyed hosting, cooking and wine, friends said. Costas recalled a moment at Gibson's house when Gibson brought him into his basement to show him an elaborate train set he had built.
"You thought of this fierce competitor standing out there on the mound making the likes of Dusty Baker more than a little bit anxious," he said. "This man, in those gentle and quiet moments, with that tiny attention to detail."
Gibson leaves an undisputed legacy as one of baseball's greats, Costas said.
"There are a select few out of the thousands upon thousands who have played whose names will always echo down the corridors of time as long as the game is played," he said. "Bob Gibson is one of those names."
---