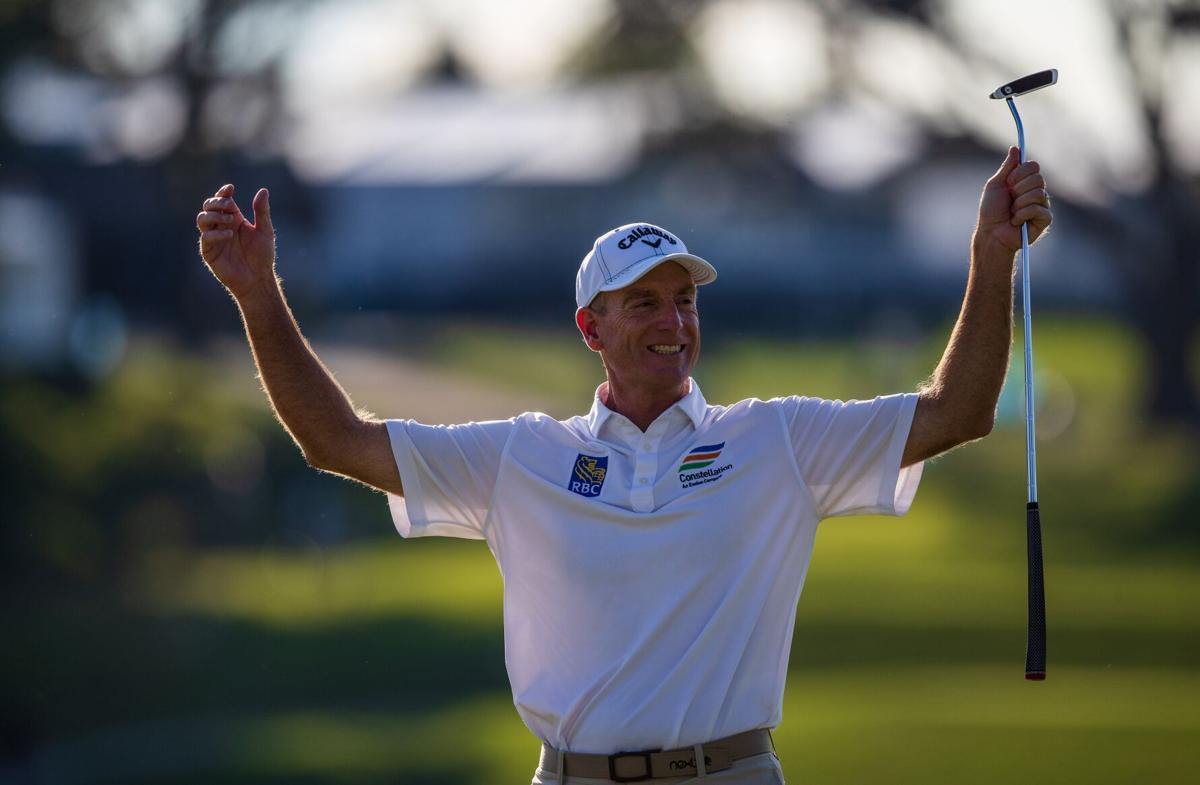 Shades of 2003 for Jim Furyk.
"I've only stood on the last green and had, like, four putts or whatever it was to win maybe once in my career, and that was at the U.S. Open in '03,'' the new U.S. Senior Open champion said.
Furyk needed only two from 60 feet — finishing off a week on Augusta Nat ... er ... Omaha Country Club's greens without a three-putt. All week. Simply amazing.
And with him, as in 2003, was caddie Mike "Fluff" Cowan.
"It was good to have that nice long walk with him up 18. I mean, at that point it's kind of stress-free,'' Furyk said. Every other time (other than 2003), it's always been a tight battle, and 18's always been super nerve-wracking. So it's nice to take that walk.
"He's been on the bag now for over 22 years, so it's great to share it with him and great to have him be a part of it. And you got to think, I mean, the guy's 73. Walking these hills, he's a beast."
On the walk up, adding to his emotions, Furyk spotted his wife, Tabitha, and their children, Caleigh and Tanner. They originally were to come in, then plans changed and he was going to meet Tabitha in Baltimore on Sunday night because he had some commitments Monday with sponsor Constellation Energy.
"Tabitha kind of surprised me with the kids," Furyk said. "She told me last night she was going to fly in. She said, 'Well, it's just as easy for me to get there, watch the tournament, and I'll fly over with you late this evening.' But she did surprise me with the kids, which was pretty cool, and my agent surprised me today.
"I didn't get that emotional until I saw Tab and the kids to the right of the green."
Furyk is 51, "still can't believe I'm a senior," but says, "I'm a little older, a little wiser now, and this part of your career is kind of taking a victory lap and enjoying it. I still get really stressed, and I still put a lot of pressure on myself, but it's not like being 33 again."
Furyk has succeeded in debut situations on the senior circuit. He won his first two PGA Tour Champions starts after turning 50 when the tour resumed after last year's COVID-19 suspension. He won the first U.S. Senior Open he could enter.
But in between, he hadn't won.
"I haven't played poorly at all this year. I've played solid, but I haven't contended for enough tournaments," Furyk said. "I haven't put myself in the positions to win like I would like to, and when I have, I haven't finished them off, either.
"So I worked really hard on my game. I still feel like I've got some stuff I need to work on, but to see, I guess, the fruits of that labor is very satisfying."
Sunday's start was a struggle. His four-stroke overnight lead was down to one over Retief Goosen, who tied Mike Weir for second, following a bogey on 2 and a double bogey on 3 after needing two strokes to get out of a bunker.
"I was 3-over through 3 but only finished 1-over for the day,'' he said. "So to really play the last 15 holes that well under the conditions was real exciting and gratifying."
The roots of avoiding three-putts for 72 holes were in his practice rounds. He said that on Monday and Tuesday, his lag putting and his speed came very natural, and he was comfortable with the speed of the greens.
That knowledge, he said, came into play for his back-nine strategy in front of the largest galleries — by far — of the week.
"I had a good, sizeable lead, and it was going to be hard for those guys to chase me down, that I was going to have to at least come back and meet them halfway,'' Furyk said. "It allowed me to take conservative lines, and I felt very comfortable that I could get the first putt up there pretty close.
"I left myself a little work on 9, and I left myself a little work on 17. I hit that one solid, but when it left the putter, I knew it was a little firm. But for most of the day, it was pretty stress-free. A lot of tap-ins, a lot of easy clean-ups."
Furyk is the eighth golfer to win the U.S. Open and U.S. Senior Open. He didn't want to look at it after it was brought up to him Saturday, but it was on the Golf Channel telecast when he was in the scoring tent Sunday.
"I'm very honored and humbled to have my name in the same breath, to be honest with you,'' Furyk said. "That's some damn good players."
---