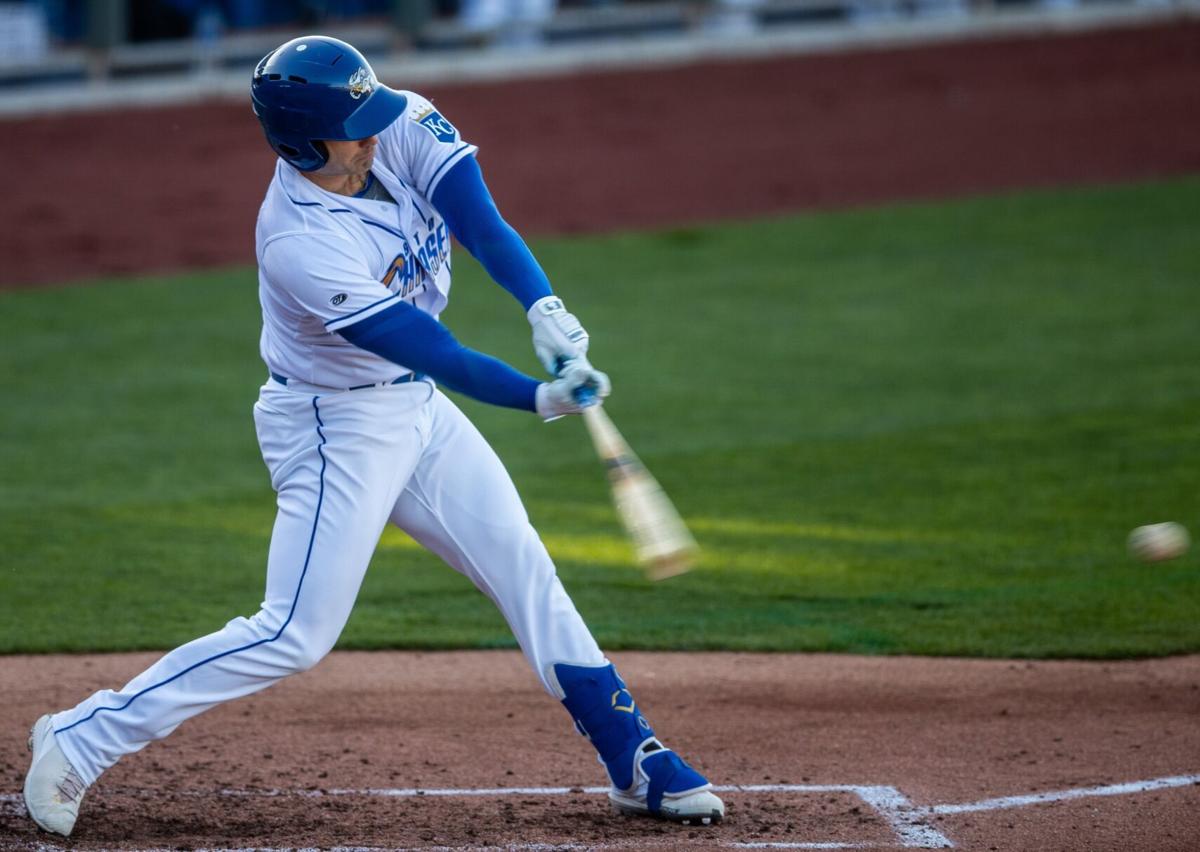 The crowd at Werner Park was still buzzing when Ryan McBroom swung at a cutter last Wednesday.
The batter in front of McBroom, Emmanuel Rivera, just hit a home run that traveled 453 feet. McBroom connected on the first pitch he saw, and hit it 470 feet.
"It was one of my better ones," McBroom said of the distance. "Especially to reach 30 at the same time, it was a milestone for my career."
That homer was the right-hander's 30th this season, making him the franchise's third player to hit at least 30 in a season since 2006. On Friday, he hit No. 31, the most by any Chaser since the team moved to Werner from Rosenblatt Stadium in 2011.
"To put up 30 regardless of where you are, I see it as an accomplishment," McBroom said. "For a power guy like me who is supposed to drive in runs, it's a proud moment to reach that number."
The 29-year-old McBroom, who was drafted in 2014, hit 26 Triple-A home runs in 2019 when he was with the Yankees organization. But at the end of August that year, the Royals purchased his contract. He made his MLB debut a few days later on Sept. 3.
He played in 23 games for the Royals in 2019, 36 in last year's shortened season and has eight at-bats in the big leagues this year.
All six of his homers in the majors came in 2020, when he hit .247 in 81 at-bats.
He said he'll always remember his first MLB homer, which came off former Cy Young Award winner Dallas Keuchel of the White Sox.
But one of his most memorable homers this season came Aug. 31 against Toledo. His bat broke in two on contact, but he still hit the ball well enough that it hit the top of the left-field fence and bounced over for a three-run homer. He was left holding the handle of the broken bat, which he carried around the bases.
"I hit it on the barrel, but the bat was kind of old. I used it in the offseason," McBroom said. "But she died a soldier for me."
McBroom has the most homers in Triple-A in 2021, and has been in the heart of Omaha's power-packed lineup all season.
In 2019, the Chasers were last in the 16-team Pacific Coast League with 156 homers. On Saturday, they became the first team in the minors to reach 200 homers this season, when Nick Pratto hit a shot to the right-field berm. For good measure, the Chasers added three more homers that night, including grand slams from Angelo Castellano and MJ Melendez.
Four Chasers are among the top 10 in homers in the minors this season — Melendez (38), Bobby Witt Jr. (32), McBroom (31) and Pratto (31). Melendez has hit 10 with the Chasers since being promoted from Double-A Aug. 10, while Witt and Pratto each have 16 since their promotions July 20.
"We're all pushing each other to be the best player we can be," McBroom said.
McBroom said he just wants to have a steady approach each at-bat and hit the ball hard somewhere. He said when you start pressing is when you try to do things out of the ordinary.
He knows if he keeps his current mindset, the long balls will keep sailing.
"Homers are always fun, whether you're playing backyard whiffle ball or you're in the big leagues," McBroom said. "Homers are just fun."
---