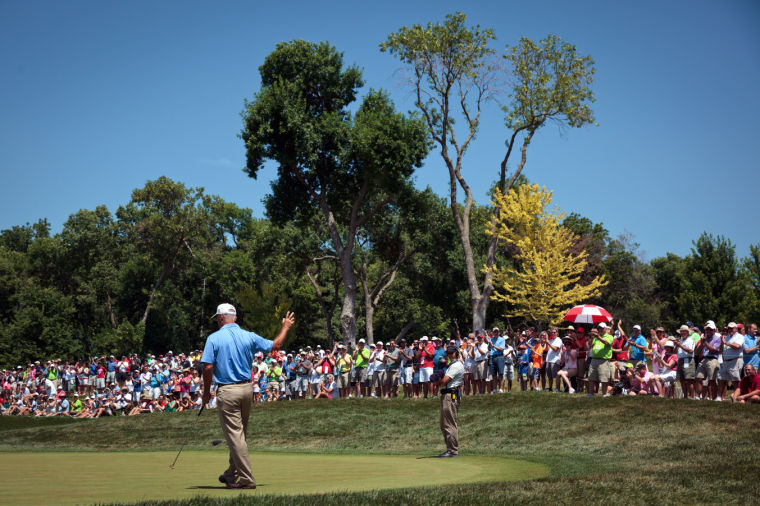 Omaha Country Club, which opened its current golf course in 1926, welcomes back the U.S. Senior Open in July.
The club hosted the tournament in 2013, setting financial records. No wonder the sponsoring United States Golf Association sought to bring its championship for 50-somethings back to a course as fast as it ever has.
The tournament is July 8-11. It caps what the city hopes is a run of championships that will start with the entire 48-team NCAA Division I volleyball tournament in April and continue with the U.S. Olympic Swim Trials and the College World Series in June. All were wiped out last year by the coronavirus pandemic.
So was the 41st U.S. Senior Open set for Newport Country Club in Rhode Island. Steve Stricker will thus make his 2019 title defense in Omaha.
A new group, including prominent pros Ernie Els, Angel Cabrera, Jim Furyk and maybe Phil Mickelson, will tackle the hilly walks, tree-lined fairways and slick greens.
The numbers explain why the USGA wanted to come back to Omaha. For the 2013 Senior Open, corporate hospitality sales were a record $5.6 million, ticket sales topped $2 million for only the third time, the weeklong attendance of 157,126 ranked second all-time and the volunteer force of 3,000 was lined up nine months in advance.
The 32,994 spectators for the Saturday round, then the 34,354 on Sunday for the final round, set records for the largest single-day attendance at an Omaha sporting event.
"We'll love to come back anytime," then-USGA Vice President Tom O'Toole Jr. said after the 2013 tournament. "We couldn't be any happier with the week."
In a USGA press release the next February, the economic impact to Omaha was reported to exceed $50 million.
"The support of the 2013 championship helped to open our eyes as to the interest in seeing these players compete and encouraged us to strive for those lofty expectations," the USGA's Hank Thompson, championship director of the 2021 U.S. Senior Open, said last year. "And that support was key to the USGA returning to Omaha Country Club after just eight years."
Senior Opens have been best received in Midwest markets such as Omaha, Des Moines and Wichita (Prairie Dunes at nearby Hutchinson, Kansas).
It will be the second USGA open championship for the state and only the fourth USGA event in state history. Firethorn Golf Club in Lincoln hosted the 1996 U.S. Women's Amateur and Field Club of Omaha hosted the 1941 U.S. Amateur.
The hilly terrain, notably the 18th hole, caught most visitors off guard in 2013.
Said Scotsman Colin Montgomerie after one round in the heat and humidity: "I'm just thrilled that I don't have any more bloody hills to climb for one more day."