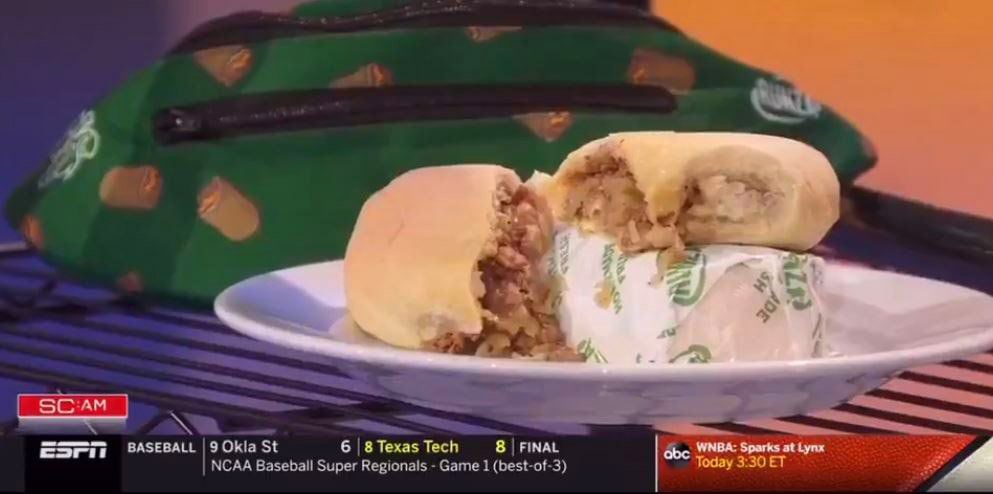 This was the question of the minute Saturday morning during a SportsCenter segment on the Omaha Storm Chasers' "Runza Night" at Werner Park.
Morning hosts Ellen Duncan and Matt Barrie, both wearing the signature green and yellow Omaha Runzas jerseys, introduce the Midwest delicacy with all the fanfare you could hope for.
With "Take Me Out to the Ball Game" playing, Barrie explained that a Runza (pronouncing it 'Ron-za') is an "enclosed bun full of beef and cabbage, served by the regional fast food chain bearing the same name." 
The two then took a tour of all the "Ronza" merchandise and apparel available, including the fanny pack — or "Ronza holder" as Duncan calls it — that the first 1,000 to enter Werner Park will receive at tonight's game.
In the end, the duo are presented Runzas to try. Barrie can't wait. Duncan says no way.
Before taking a bite, Barrie finally pronounces Runza correctly in an original joke about the food possibly having an adverse affect on his digestive system, asking, "Is Matt going to get the 'Runzas,' if I eat the 'Ronza?'" 
Sign up for World-Herald daily sports updates
Get the headlines from Creighton, Nebraska, UNO, high schools and other area teams.
Later, on Twitter, the Omaha Runzas shared their excitement about the shoutout, tweeting:
"Tonight's our 2nd annual Runza Night, and what better way to start the day than with an appearance on @SportsCenter this morning! #HOMERUNZA."
The team followed it up by poking fun at the hosts' pronunciation, with photos of Ron Weasley from "Harry Potter" and Ron Swanson from "Parks and Recreation" both wearing Runza uniforms. 
Now those are some Ron-zas. Nailed it.
Photos: Chasers become Omaha Runzas to beat Albuquerque Green Chile Cheeseburgers