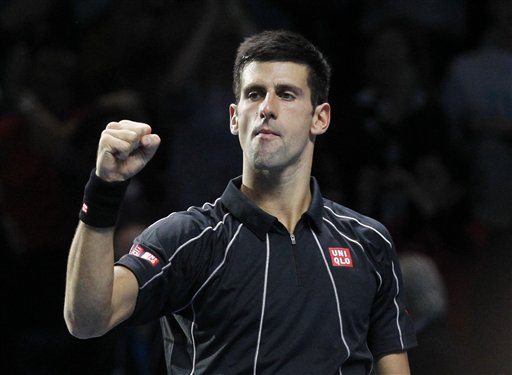 Your Top Plays for Today: AP's Sports Guide
--DJOKOVIC BEATS FEDERER AT ATP TOUR FINALS
Novak Djokovic inflicts a three-set defeat on Roger Federer at the ATP Tour finals.
--RIESS WINS $8.4 MILLION WORLD SERIES OF POKER MAIN EVENT
Ryan Riess, a 23-year-old American poker professional, takes out the $8.4 million World Series of Poker Main Event.
--BAYERN, MAN CITY ADVANCE IN EUROPEAN CHAMPIONS LEAGUE
Defending champion Bayern Munich confirms place in last 16 of European Champions League, as does big-spending Manchester City, which snaps its run of continental failures.
--LEBRON JAMES JOINS EXCLUSIVE CLUB AS HEAT OVERCOMES RAPTORS
LeBron James scores 35 points to lead Miami Heat to 104-95 win over Toronto Raptors, and in the process becomes fifth player in NBA history to score 10 points or more in 500 consecutive games
--ONCE STATE-OF-THE-ART, HOUSTON ASTRODOME FACES DEMOLITION
The Houston Astrodome, once a groundbreaking domed arena, faces the wrecking ball after voters refuse government redevelopment plan.