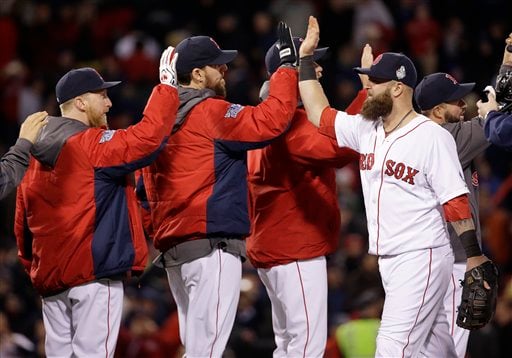 Your Top Plays for Today: AP's Sports Guide
--RED SOX TURN WORLD SERIES OPENER INTO A ROUT
Mike Napoli hit a three-run double right after the umpires reversed a blown call and Jon Lester made an early lead stand up as the Red Sox romped past sloppy St. Louis 8-1 in the World Series opener.
--SERENA WILLIAMS WINS AGAIN AT WTA CHAMPIONSHIPS
Top-ranked Serena Williams is on a roll at the WTA Championships, beating Agnieszka Radwanska 6-2, 6-4 for her second win in two matches.
--MADRID BEATS JUVENTUS, PSG THRASHES ANDERLECHT IN CHAMPIONS LEAGUE
Cristiano Ronaldo and Zlatan Ibrahimovic warmed up for their World Cup playoffs meeting with high-scoring displays for Real Madrid and Paris Saint-Germain in the Champions League. Ronaldo's two goals lifted Madrid to a 2-1 home victory over Juventus; Ibrahimovic struck four goals as PSG thrashed Anderlecht 5-0.
--BIGGER JOHN DALY MAKES A RETURN TO GOLF IN CHINA
Healthy again after surgery to repair a shattered tendon in his right elbow, and heavier after a steady diet of chocolate during his three months away, John Daly made a strong return to golf Thursday with a 4-under 68 at the BMW Masters.
--SENATORS ROUT RED WINGS, BRUINS RATTLE SABRES IN NHL
Jason Spezza and Bobby Ryan scored two goals each as the Ottawa Senators routed Daniel Alfredsson and the Detroit Red Wings 6-1 on Wednesday night.