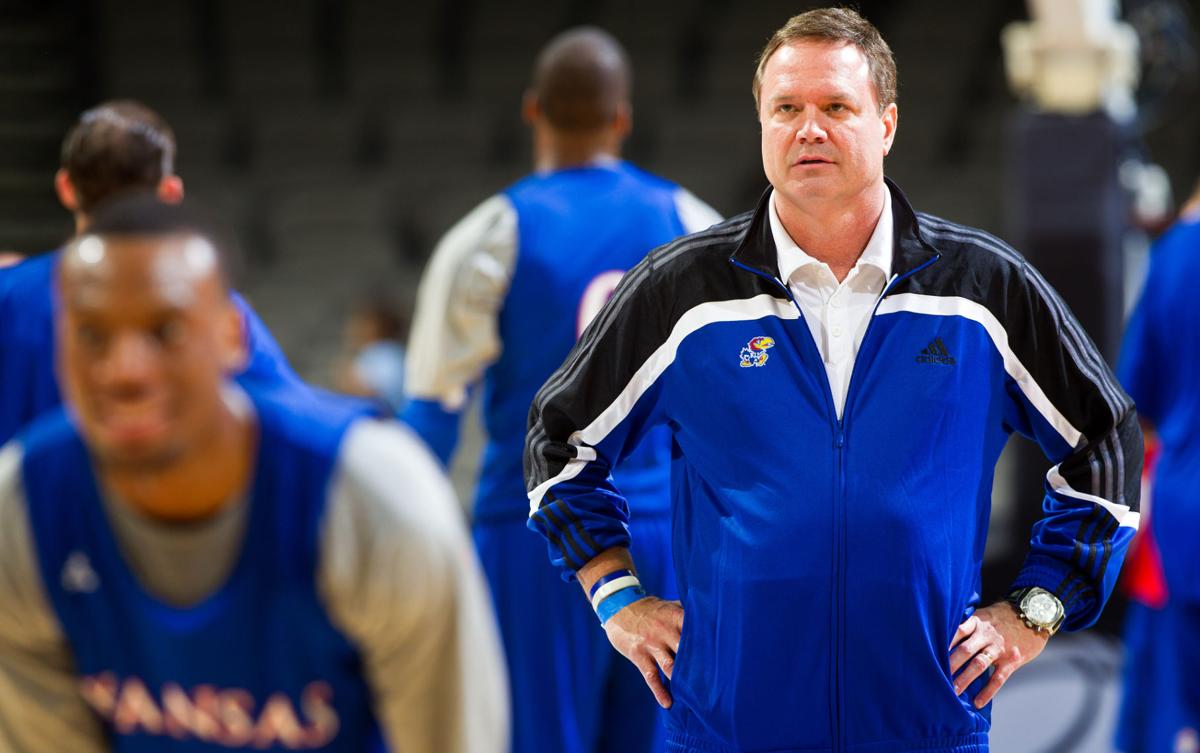 Bill Self has had better weekends.
Saturday afternoon in his backyard, Kansas blew a 17-point, second-half lead in the Big 12 tournament final.
Twenty-two hours later, his Selection Sunday nightmare came true. Wichita State in the Round of 32 is bad enough — "How they're a seven seed blows my mind," Self said Sunday night. But the real mountain is Kentucky on the other side of the region. In November, the 'Cats whipped KU 72-40. The Jayhawks shot 11 for 56 from the field.
Self's conversation Sunday with KU assistant Norm Roberts illustrates what makes this 2015 NCAA tournament bracket so unique.
"He said they're 10-to-11 to win the national championship," Self said. "And the other teams were 7-to-1 or 25-to-1 or whatever. And Norm said, 'What does that mean?' I said, 'It means you've got to bet $1.10 to win $1.' ... He figured out real quick, well, they're favored then.
"I don't know if we've ever had a team that, you can't even get even money. ... I shouldn't be talking about Vegas, but my point is that they're a pretty heavy favorite."
The past few weeks, analysts have dissected which teams belong on which seed lines. But the reality is, the worst draws in this 68-team bracket are all in the Midwest Region. That's how large Kentucky looms.
Maryland can't be happy. Notre Dame can't be happy. KU can't be happy.
The Jayhawks would've been far better off falling to the No. 3 line, where Iowa State landed. Beating SMU, Gonzaga and Duke is much more manageable than beating Wichita State, Notre Dame and Kentucky.
If Self reaches his third Final Four, it'll be the biggest Jayhawk miracle since Mario Chalmers' 3-pointer.
Tournament tidbits
» Kentucky or the field? It's a fascinating question. I must say, I lean toward the Wildcats. But even if you don't, you'd be crazy to pick someone else to win your bracket. It's one thing to say Kentucky will lose. It's another to select the team that beats Kentucky.
My hunch is if UK loses, it will happen before the Final Four when a big underdog can catch the Wildcats off guard. The closer they get to the finish line, the more focused they'll be.
» You know what else stands out about this bracket? The indistinguishable differences between No. 1 and 2 seeds, aside from Kentucky and Kansas, of course. You could easily flip Duke/Gonzaga, Wisconsin/Arizona or Villanova/Virginia.
The No. 2 seeds have 16 combined losses. That's fewer than any year since 2004. The average from 2005-14: 23 losses. This is a very good crop of twos. I expect one of them to make the Final Four.
» This year's bracket isn't nearly as controversial as last year's, when Kentucky was an eight seed and Louisville was a four. But I do have a gripe. There's no way that Baylor (24-9) deserved a No. 3 seed over Maryland (28-6). That matters because the Terrapins were assigned to Kentucky's region and could face UK in the Sweet 16.
According to the committee, the Big 12 had four teams (Kansas, Iowa State, Baylor and Oklahoma) better than the Big Ten's No. 2. I doubt that, especially considering the Terps lost just once in the nonconference. They beat Iowa State in Kansas City and knocked off Oklahoma State in Stillwater. If I'm Mark Turgeon, I'm ticked off.
» Boise State plays basketball? Seriously? The Broncos have experienced their share of BCS snubs, but they can't be thrilled with the selection committee's decision to send them to a play-in game in Dayton ... against Dayton. That's right, the Flyers will play at home.
What's silly is the committee could've avoided the conflict had it given Dayton the respect it merited. The Flyers are more deserving of an at-large bid than UCLA, which went 5-10 against the RPI top 100 (compared to Dayton's 6-6).
My only regret? No Cyclones. The selection committee surely considered sending the Badgers to Louisville (443 miles from Madison) instead of Omaha (430 miles). It would've opened the door for Iowa State to come to CenturyLink.
» Best region: The Midwest is toughest overall because Kentucky is much better than the other No. 1 seeds. And Notre Dame and Maryland are dangerous.
But let's measure "best" another way. Which No. 1 seed has the stiffest challenge? I say Wisconsin in the West.
To get to the Final Four, the Badgers likely need to beat surging Oregon (which almost upset UW in last year's Round of 32), then North Carolina (one of the most explosive teams in the country), then Arizona in Los Angeles. That's rough.
» Worst region: The East. Villanova and Virginia are a combined 61-5, but together they have one win over a top-3 seed.
Oklahoma, prone to meltdown, has more losses (10) than any top-3 seed. And Louisville is 3-3 without guard Chris Jones, who was dismissed from the team.
Many experts like Northern Iowa to make a Cinderella run, but I'd take a hard look at six-seed Providence, too.
» Most entertaining region: The South. Love 'em or hate 'em, Duke is must-see TV, especially considering its recent NCAA tournament flops. Gonzaga has its best team ever. And Iowa State is a blast, unless you have to defend them.
That regional in Houston could be an offensive exhibition.
» Three Round of 64 upsets to watch:
No. 13 Eastern Washington over Georgetown. This one's almost too easy. The game is Thursday in Portland, just down the road from EWU. And have we mentioned John Thompson's recent NCAA tournament record? His past five appearances, these are his seeds: 2, 3, 6, 3, 2. Yet he hasn't made the Sweet 16 in that span. He's 2-5 overall, including a shocking loss to 15th-seeded Florida Gulf Coast.
No. 12 Stephen F. Austin over Utah. The Utes are tough as a desert floor, but they got a tough draw here. The Lumberjacks knocked off VCU in last year's opener. No. 12 seeds are 8-4 against No. 5 seeds the past three years. This is the most likely 12-5 upset this year.
No. 11 Texas over Butler. The Longhorns have more talent and they're finally playing well. They almost toppled Kansas in Allen Fieldhouse, they beat Baylor and nearly knocked out Iowa State in the Big 12 tournament. The only thing that makes me nervous about this pick is Rick Barnes.
» Best possible matchups of the first weekend (other than KU-Wichita State): Gonzaga-Iowa belongs on the short list. Same for Arizona-VCU and North Carolina-Arkansas.
But let's go with Virginia-Michigan State, a sequel of last year's dynamite Sweet 16 clash. The Spartans have finally hit their stride, beating four NCAA tournament teams in the past 12 days (Wisconsin was almost No. 5 on Sunday). Virginia, meanwhile, has dropped two of three after a 28-1 start.
» Final Four picks*: Kentucky in the Midwest. Arizona in the West. Iowa State in the South. Providence in the East — you won't see that one on ESPN. Coach Cal beats The Mayor for the title.
* I reserve the right to change these picks by Thursday morning. Except for Kentucky. That one's etched in stone.
If Self reaches his third Final Four, it'll be the biggest Jayhawk miracle since Mario Chalmers' 3-pointer.