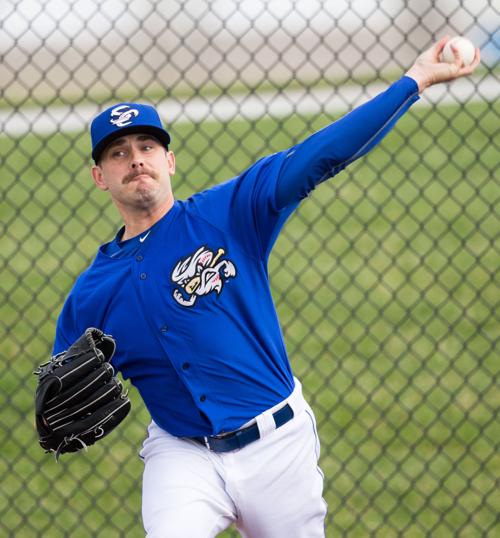 As a member of the Baltimore bullpen, Brian Duensing is doing his best to help the Orioles make the postseason.
The former Nebraska pitcher also is doing his best to aid in the fight against pediatric cancer.
Duensing and his wife, Lisa, will host their second major fundraiser Nov. 10 at Jams restaurant in the Old Market. The celebrity bartending event includes dinner and will raise funds for Angels Among Us, an organization that helps reduce the financial burdens of families with a critically ill child.
"We try to pick one organization every year and do what we can for them," Duensing said. "We're excited about helping another one that has a major impact in the Omaha area."
The Duensings hosted a fundraiser last year to benefit Camp CoHoLo, a summer camp near Gretna serving children who are battling cancer and blood-related diseases. That event was at the Ralston Arena, but this year's event will move to a restaurant.
"I know we set the bar pretty high last year," Duensing said. "We've been busy this year with our family so we thought we'd better scale it back a little."
The Duensings had their third child in December.
The fundraiser will run from 6 to 10 p.m. and will feature nine celebrity bartenders. Raffle tickets also will be sold throughout the night for various prizes.
"We've got a mix of baseball people and non-baseball people," Duensing said. "We've also got connections to both Nebraska and Creighton, so we're trying to touch all of the bases."
Joining Duensing behind the bar will be Husker baseball coach Darin Erstad, Minnesota Twins first baseman Joe Mauer, former Creighton ambidextrous pitcher and current Seattle Mariner Pat Venditte, Nebraska assistant volleyball coach Dani Busboom Kelly, former Nebraska place-kicker Alex Henery, "American Ninja Warrior" competitor Maggi Thorne, former KETV newscaster Brandi Petersen and ex-Husker and radio personality Damon Benning.
Mauer, a six-time All-Star, has a career batting average of .308 in 13 seasons with the Twins. He also was part of Duensing's fundraiser last year.
"Joe is a good guy," Duensing said. "He really enjoyed coming to Omaha last year, so we're happy to have him back."
Duensing, a graduate of Millard South, spent 11 seasons in the Twins organization. He signed a minor league contract with Kansas City in February but opted out of it in May, signing with Baltimore the next week.
He underwent surgery in June for bone chips in his elbow and has since joined the Orioles bullpen. He has thrown 131⁄3 innings in 14 games and had his most important outing Wednesday night at Toronto.
The left-hander entered the game with Baltimore trailing 2-1 in the eighth inning. Facing Melvin Upton with the bases loaded in front of a sellout crowd of almost 45,000, Duensing got the strikeout to end the inning.
The Orioles then rallied for two runs in the ninth to grab an important 3-2 victory over the Blue Jays, who also are battling with Baltimore for a wild-card playoff berth.
"That might prove to be one of our biggest wins of the year," Duensing said. "I'm glad that (manager) Buck (Showalter) had confidence in me."
Duensing spoke by phone from New York, where the Orioles are finishing the regular season against the Yankees. He said he is focused on helping his team reach the playoffs — Duensing was part of the Twins' postseason in 2009 and 2010 — but added that he also wants to get the word out about his fundraiser.
"It's something that's very important to my wife and I," he said. "Hopefully people will come out and support this great cause."