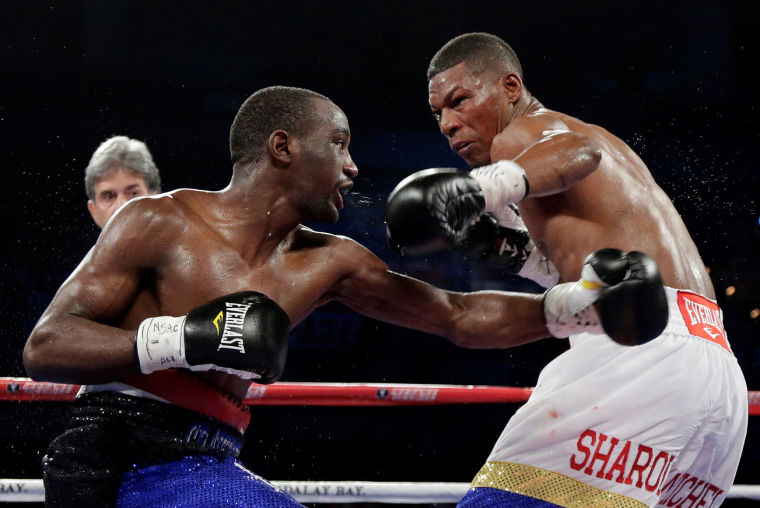 If quickly moving from late replacement to HBO regular hadn't convinced Terence Crawford that he had reached the upper echelon of his sport, an August trip to California did the trick.
The lightweight from Omaha, currently rated No. 1 by the World Boxing Organization and No. 3 by the International Boxing Federation, was invited by the cable television network to an exclusive photo and video shoot for the promotional campaign for its fall fight schedule.
Crawford was there with some of the hottest names in his sport. Juan Manuel Marquez. Manny Pacquiao. Nonito Donaire. Yuriorkis Gamboa. Gennady Golovkin. Mikey Garcia.
"Everybody there was top elite fighters," he said. "For them to bring me out and look at me as a top elite fighter, it felt good. I felt like I've accomplished something in the boxing game.
"It was a blessing. And it was a great experience at the same time."
Crawford (21-0, 16 knockouts) returns to HBO Saturday to face unbeaten Andrey Klimov of Russia in a scheduled 10-round bout at the Amway Center in Orlando, Fla. It is the opening live televised fight on a card that features the return of former world champion Miguel Cotto.
With a victory over Klimov (16-0, 8 KOs), Crawford moves closer to a possible world title bout.
That could come as soon as January. His ranking makes him a mandatory challenger for the belt held by WBO lightweight champion Ricky Burns of Scotland. But Burns suffered a severely broken jaw in a September defense and is expected to be out of action for a while.
If so, Crawford may be offered a fight for an interim title, which doesn't really interest him.
"I don't want the interim. I want the title," he said. "That's going to be in the books for life. It will always stay in there. It's not going to say interim title. It's going to say world champion."
Crawford isn't concerned about the future right now. Stating he's never overlooked an opponent, he's focused solely on the 11th-ranked Klimov, who was relatively unknown until he upset former title challenger John Molina by majority decision in an ESPN bout in June.
"I don't worry about none of that," he said. "I just worry about who I'm fighting right now.
"I look at it like this: All the guys I've fought since the first opponent, they all know how to lose. They all have lost before. But going into this fight, this guy hasn't ever lost. I know he's training hard, just like me. And he's going to be fighting hard, just like me, to keep his zero."
In his last bout in June, Crawford knocked out Alejandro Sanabria of Mexico in the opening seconds of the sixth round in Dallas to win the vacant North American Boxing Organization lightweight title. The 135-pound Omahan is expecting to be at his best come Saturday night.