Game point at Cushing Coliseum and Bart Kofoed had one thought: He's not scoring. Not on me. Not this time.
Kofoed dug in against Tom Kropp, driven to prove how far he'd come.
The late-blooming wild child from Omaha Westside transferred in 1985 from Hastings College to Kearney State. He found a mentor in Kropp, who had recently retired from pro ball and joined the Lopers' staff.
Kofoed, 6-foot-4, 210 pounds with a 40-inch vertical, played with fury, attacking the rim at full speed, punctuating fast breaks with ferocious dunks. But for all his gifts, Kofoed lacked discipline. He loved to party as much as he loved to hoop. Kropp channeled his energy. Polished his skill.
On NBA draft night 1987, the Utah Jazz took Kofoed in the fifth round. He credited Kropp "1,000%" for his development. But the NAIA couldn't prepare Kofoed for the NBA. So that summer of '87, he asked Kropp to get him ready.
Every morning at 5, Kropp rolled up to Kofoed's house in his brown Ford Maverick. Kropp knew Bart was probably hung over, but he didn't judge him. He punished him. First they jumped rope for an hour, then drilled fundamentals, then played full court 1-on-1.
"We would go at it like a couple of warriors," Kofoed said. "He was like, 'I'm gonna be ready. You better be ready. Because we're strapping it on and I'm coming at you.' "
Nobody could've known it then, but Kropp was building his coaching identity. Others might win with superior recruits or X's and O's. Kropp won not by telling kids how to play, but by showing them how hard to play. To be more blunt: He kicked his players' tails until they learned to kick opponents' tails.
Fans saw Kropp on game night in shirt and tie. They didn't see him six hours before tipoff diving on the floor at noon ball. Even after he'd doubled his players' ages and endured half a dozen knee surgeries, Kropp humbled them.
"How demeaning is it when you've got a 40-some-year-old coach who's beating your ass in shooting games?" said Mike Hancock, a Loper starter in the late 1990s. "And still beating you in pickup ball. That's demeaning!"
One moment sticks with Kofoed — "I'll never forget it." This was 1987, the year he entered the NBA. He thought he'd finally eclipsed his 34-year-old mentor. During an ordinary 5-on-5 pickup game, Kropp posts up on game point. No way he's scoring on me, Kofoed thought.
Kropp turns and throws a backdoor bounce pass to the baseline. At least that's what Kofoed thought. For a moment, he turns his head and raises his arm. That's when Kropp takes the ball, flips it under Kofoed's extended arm and over Kofoed's head. A pass to himself!
By the time poor Bart realizes what's happened, Kropp is waiting for eye contact. He buries a 15-footer for the win, smirks and walks off the court.
"It was all I could do not to just run at him and fight him," Kofoed said. "But I knew that might be a looong fight."
Kofoed went on to play five seasons in the NBA. One year later, he was guarding Magic Johnson in the Western Conference semifinals as the Jazz pushed the Lakers to seven games. Bart Kofoed was a great player. But that day? Kropp reminded him who owned the court in Kearney.
"It was a clear message," Kofoed said. "Like, 'Dude, you're coming along, but you're still a grasshopper.' "
While Kofoed made the jump to the NBA, Kropp pursued a very different mission: his doctorate in education.
He actually started teaching as a graduate assistant in January 1978, three months after his NBA career ended and before Belgium. His two classes became his hallmarks for the next 40-plus years: Basketball Theory and Sports Psychology.
Kropp didn't need a curriculum. He'd already identified his textbook: John Wooden.
Somehow in college, Kropp picked up UCLA games on the radio. Wooden's teachings captivated him, shaping his classroom teachings.
» The mental side of basketball is four times more important than the physical.
» Eighty percent of a season is determined before the first game.
» Nobody remembers how many points you scored or how many games you won, but they do remember what kind of person you were.
» Most important: "Success is the peace of mind and self-satisfaction of knowing you took your God-given ability and did the very best you could."
Oh, Kropp's players could recite that quote in their sleep. But don't stop there. Keep scanning the players' handbook until you get to ... uh oh.
"Basketball requires players to be in superb physical condition, and the responsibility for the players' physical condition should be shared equally by coach and player."
The whistle blows — tweet! — and the Lopers start running. Free-throw line and back. Half-court line, back. Opposing free-throw line, back. Then all 94 feet, back.
They hated this conditioning drill more than any other: "20 in 20." The faster you finish one suicide, the more time you get before the next one starts ...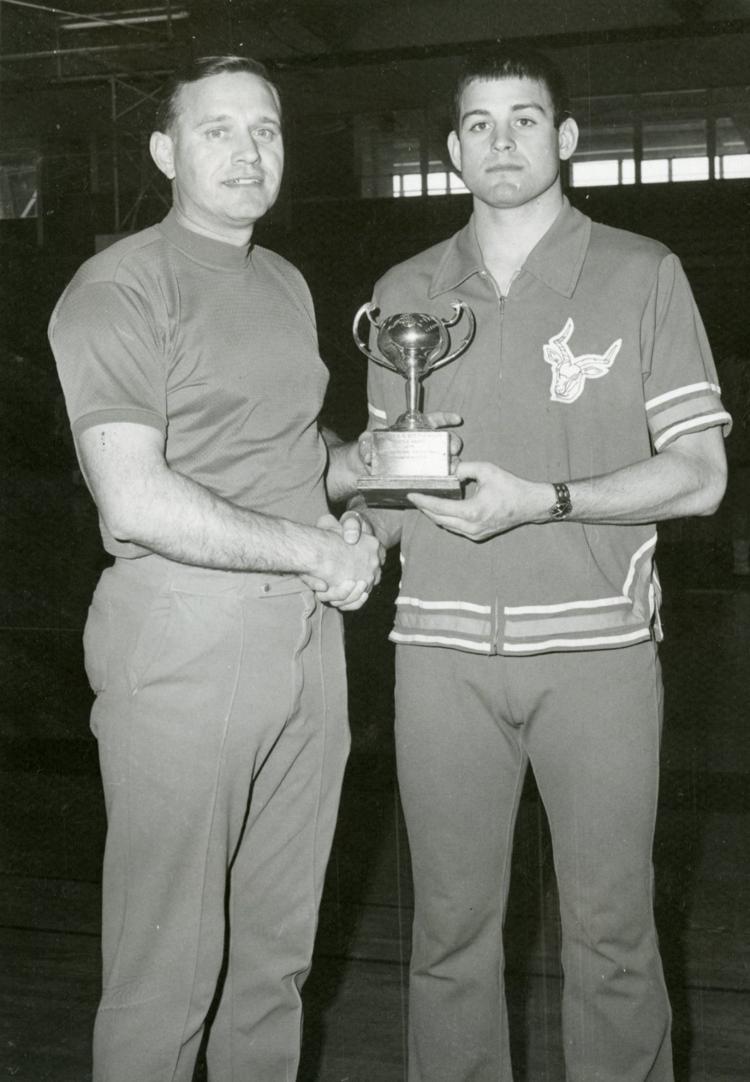 Kearney State, athlete for athlete, had no business beating Fort Hays State or UNO. But Jerry Hueser and Tom Kropp constantly emphasized the Lopers' edge — effort. We'll wear 'em down.
At practices, Hueser sat under one basket orchestrating the defense, Kropp occupied the other end teaching offense.
"You'd hear a dadgummit out of Coach Hueser," former Kearney High coach Kyle Hoehner said. "And needless to say, Coach Kropp was a little more colorful."
In those days, Kearney State epitomized a small-college underdog. Each fall, coaches handed out $250 scholarship waivers and held tryouts for 200-300 kids before naming a varsity and junior varsity.
To pay a few bills and give the kids a lasting memory, Hueser signed up Kearney State to be a sacrificial lamb. A nonconference game at his friend Norm Stewart's Missouri Tigers, who would climb to No. 1 a few weeks later. The Hearnes Center student section heckled Kearney State mercilessly, calling them "wrestlers" because they were so small.
But the Lopers made seven of their first 10 shots and, holy crap, led 40-35 five minutes before halftime, prompting a Missouri timeout.
"They were not real pleased that we were trying to beat them," Wade Behlen said.
Then officials swallowed their whistles and Doug Smith and Anthony Peeler went off. Mizzou turned a five-point deficit into a nine-point halftime lead. Hueser, who rarely lost his cool, entered the locker room and blew a gasket. Yelling. Throwing stuff. Then he stormed out.
Kropp's response: "Hey, guys, I don't know about you, but I thought that was pretty f---ing cool."
Two days later, a new decade began. The 1990s transformed Kearney State's program in major ways. The college joined the University of Nebraska system, becoming the University of Nebraska at Kearney. It jumped to NCAA Division II. And the Lopers opened the Health and Sports Center. One more change: Kropp earned a promotion.
At age 37, he joined Hueser as co-head coach. He celebrated with a new trophy. A 10-pound, 3-ounce carp mounted on his office wall.
Even with two classes per semester and a basketball team to coach, Kropp kept the lunch hour open. Not for eating. No! For the "NBA" — the Noontime Basketball Association.
Kropp recruited friends, coaches, college kids, UNK professors, whoever moved the ball, set hard screens and didn't hesitate to get on the floor. Kropp always picked teams — no one else even considered it — and usually stacked the other side, assuring the games would be tight.
" 'Here's what we're gonna do,' " Hancock said, imitating Kropp. " 'We're gonna play to 50 by 1s and 2s. Then we're gonna take a break and we'll see where we're at from there.'
"What he meant by that was if we're losing at 50, then we'll go to 75. If we're losing at 75, we'll go to 100. We got to 225 points that day, but we won. ... I can't prove it and I'll deny it, but I swear to God he changes the score every third time down."
More often, Kropp chose shorter games and a best-of series. If he orchestrated things just right, the teams would push it all the way to Game 7 — that was his ultimate lunch-hour goal.
"All right, fellas, one more game and this is for the championship."
He never humiliated teammates or demanded the ball. But he definitely controlled the rhythm, shot distribution and team spirit. He'd take a 60-year-old English professor and turn him into a knockdown spot-up shooter. Or 20-year-old Japanese foreign-exchange students who'd barely played before.
"By the end of the game," Kris Freeland said, "he had the kid making damn layups."
Kevin McKenna, whose in-laws lived in Kearney, remembered one time the ball got knocked off the court and someone walked after it. Kropp, on the other side of the floor, took off sprinting to retrieve the ball.
"Guys, if we're not gonna work hard, let's not even do this," Kropp said.
Scott Steinbrook once nearly lost his ACLs when Kropp dived headfirst to the floor. "NEVER bend over at the waist to grab a loose ball, Scotty."
Once, somehow, his noon ball group needed a basketball. Kropp found one on a shelf commemorating one of his career feats. A basketball, he said, is not supposed to sit on a shelf.
The stories go on and on ...
Kropp scratched his competitive itch at noon ball, but he also took teams to small-town tournaments around the state, insisting to start the game on the bench. At the Cornhusker State Games, he insisted everyone score.
Tim Cannon, a teammate one year, doesn't remember the Cornhusker Games competition as much as the pickup games in between when Kropp dragged a few guys to the YMCA for a 2-on-2 game to 100. We didn't come to Lincoln to sit around all day!
"In his 40s," Cannon said, "he played harder than anybody I've ever seen in high school or college. Just amazing."
People talk about 50/50 balls. No such thing with Kropp, Doug Holtmeier said. He grabbed 90%.
Once Kropp showed up for jury duty with cuts all over his face after diving for a ball at Apollo Park. The judge took one look and granted mercy.
In 1996, UNK's administration decided the co-coaching arrangement had run its course. Its hall of fame coach was out.
Jerry Hueser had built Loper basketball from nothing, going 519-256 over 26 seasons, including 12 national tournament appearances.
But UNK didn't want to lose its most prominent figure to another school. It was time to see what Kropp could do. He assumed new responsibilities, most notably in recruiting.
Say the word and you can almost hear Kropp's deep sigh. He hated recruiting.
Going to games, sitting in bleachers, acting like he could determine a kid's heart from 50 feet away. No. Kropp wanted to participate. That's how you check a kid's ticker. That's how you know what he's gonna give you at Metro State with two minutes left.
"I could play against a kid for 20 minutes and I would know more about that kid than if I watched him in 10 high school games," Kropp said. "I left a lot of high school games at halftime."
Kropp avoided the AAU circuit like the plague. He almost never made home visits. If he heard good things — if he liked your potential — you got an invitation to Kearney.
Meet the players. Get a campus tour. But bring your gear. Because the real purpose of those recruiting trips was to get you on the court. Sometimes 5-on-5 with the team. Sometimes 3-on-3 at Apollo Park. Sometimes 1-on-1, you vs. him, full court to 100.
Play well and Kropp immediately pulled you into his office and offered a scholarship. Cower in the face of Kropp's demands and, well, thanks for coming.
Said Loren Killion, one of Kropp's best friends: "There's not very many coaches out there who are gonna take some recruit and say, 'Here's how we're gonna do it, buddy. Get up here and try to stop me.' "
Kropp was smart enough not to look for kids who played like him. They couldn't possibly. "There was not another Tom Kropp to go recruit," Kofoed said.
But he could take prospects who possessed "hard-nosed" characteristics and maximize them. Mold them day by day.
Some coaches practiced three hours. Kropp pushed hard for 75-90 minutes and dismissed.
Get in, get out. But be precise. And always drill the basics. Assume nothing. Every year, he taught how to chest pass. How to jump stop. How to flip pass at the belt buckle. Every practice started with 12 fundamental stations, Kenya Crandell said.
"Roll the ball out, dribble backhand, keep your hand behind the ball, pass the ball off the backboard, shoot the ball, follow through, hold your follow-through, chase the rebound, go get it, spin it back out, pass the ball against the wall ..."
Said Hancock: "Every time I watch 'Hoosiers' with my kid nowadays, I feel like I'm back in Kearney. Doing the drills, pop, pop, pop."
Come tipoff, Kropp took a hands-off approach, even to the point that first-time observers confused him with assistant Kevin Lofton, who paced the sideline.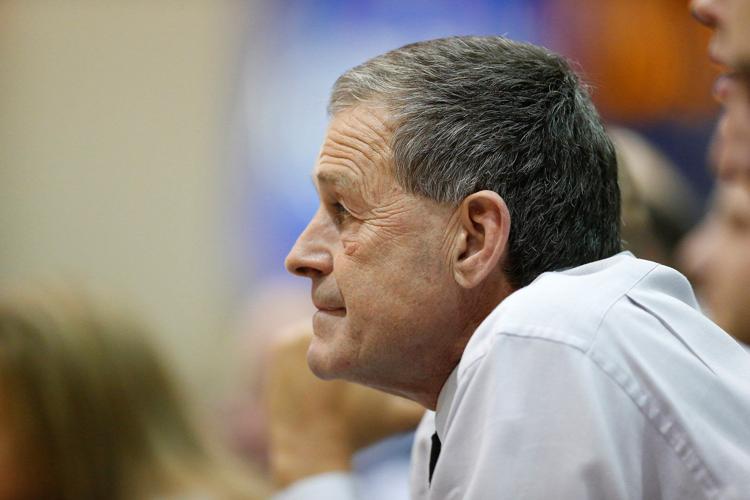 Strangers always asked: That guy is the head coach? "He just sits there."
Kropp's philosophy: The hay's in the barn. He had no desire to draw attention.
"I've thought a lot about it," former Hastings College coach Mike Trader said. "I think Tom just really wanted his kids to play. I couldn't do it. Never could. He's just always felt that it's a players' game and I'm gonna coach you during the week."
Kropp rarely called plays. The strategy was simple. Penetrate and kick. "Man, we won 19-20 games a year and only had four plays," Hancock said.
Kropp rarely engaged an official, either. He received three technicals in 39 years. "S---, why yell at the ref?" he said. "We're making enough mistakes on our own."
When he blew a gasket, he pinpointed ego or effort. If a teammate set a screen, you'd better use it. If you didn't sprint back on defense or run to the free-throw line after a foul, he might call time out. You knew a tirade was coming when he ripped the dip of Copenhagen out of his mouth.
Kropp didn't use film to prepare for opponents — better to focus on your fundamentals and keep a clear mind — but he did use it after games to point out "gutless wonders!" or "the running herd!"
"Hold it!" he'd tell Lofton when he spotted a slacker. "Rewind that!"
Players dreaded those film sessions. Crandell committed six or seven turnovers his freshman year in Amarillo, Texas. He had nightmares on the bus ride home.
"Kenya f----— Crandell. What are you doing here?"
Once Kropp even pointed to the UNK bench, chewing out his players because they didn't model the student manager. "Now this guy wants to win!"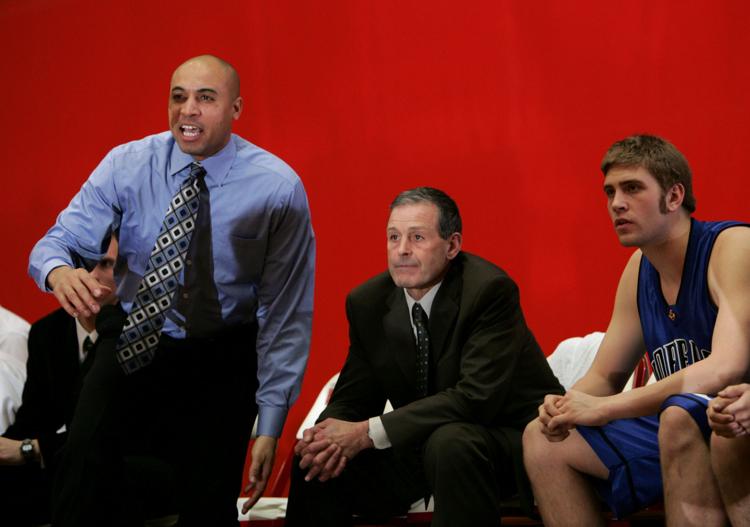 In the mid-'90s, the Lopers emulated Michael Jordan's huddle before taking the court. "What time is it? Game Time! Wooomph!"
One night at Adams State, UNK played awful in the first half. Kropp stormed into the locker room and mocked the pregame routine. "Game time f---ing wooomph! Game time f---ing wooomph!'"
At Chadron, one of his regulars told coaches he couldn't play because of a blister on his foot. You guys think you have it tough. You ever seen a coyote?!?
After a loss at Hastings, Kropp walked into the gym and saw a player shooting a half-court shot. "I don't think he talked to us for two practices," Hancock said.
Then there was Mesa State. Oh, this is a story they all tell.
In 1997, UNK trailed in the final seconds when Kropp called timeout to get the ball inside to Eric Strand, his best player. Strand made his move, spun to his left and shot the ball with his weak hand. In the locker room, Kropp exploded.
"Eric Strand, if I was your f---ing teammate, I'd punch you in the god-- — mouth!"
That was a long 600 miles from Grand Junction, Colorado.
Road trips delivered a steady diet of memorable and bizarre. And that was just Kropp's eating habits.
He wouldn't eat breakfast. Wouldn't eat lunch. Often wouldn't eat team dinner, either. He'd get them sat down at a restaurant and look for a quick exit.
"I saw a 7-Eleven over there," Kropp would tell an assistant. "Let's get a couple bags of chips and a couple pops and let's go up to the room. There's an NBA game on."
Coaches and trainers tried to convince him that binge-eating was self-sabotage. Your body stores all those calories as fat! Kropp didn't listen. Players spotted him making midnight runs for doughnuts or Chick-O-Sticks.
At Colorado Mines, he chose Fritos and a side dish that had passed its expiration date. Sure enough, the next day at the arena, Kropp rushed to the locker room stall.
"Must've been that bean dip," he said.
For all of his intentional simplicity, you couldn't predict the loner's next move. Like the February day in Florida when nobody on the team wanted to swim — too cold! Except Kropp, who waded a few hundred feet into the waves, where he spent a couple of hours swimming.
In Denver, the Rocky Mountain Athletic Conference hub, Kropp visited the franchise that had drafted him in 1975. He landed the team Nuggets tickets in the nosebleeds. He wouldn't stay there.
"You'd look down and in about the third row at midcourt, there'd be old Tom sitting in a seat," said Brent Robinson, UNK's sports information director. "He'd just wander down there. He told me more than once, ya know, I've been thrown out of better places than this. If somebody tells me to move, I'll move."
Those RMAC road trips were hell, especially for a guy who couldn't sleep on a bus. The team might play in Grand Junction (Mesa State) on Friday night and Gunnison (Western State) on Saturday. Drive all night and roll into town Sunday at dawn. A few minutes from home, he'd look at his assistants.
You up for a little game? "Put our stuff on, get in the gym and play to 100 by 1s," Robinson said.
One of those long winter nights in the early '90s, the Lopers were somewhere between Chadron and Denver. Kropp and Robinson sat next to Brent's son, Zac, who occasionally traveled with the Lopers. Kropp started thinking about Clarkson and Aurora and his childhood.
"Tom looked at me and goes, 'B, do you discipline Zacco pretty good? If he smarts off, do you smack him?' I said, 'Well, he'll get a swat on the seat every now and then if he doesn't behave, but I really don't have to do that. Zac's always been respectful.'
"And Tom said, 'You're goddamn right he's respectful and you know why? Because you raised him that way.' He said, 'Just like my dad. My dad was hard on me, but you know what? He loved me. That's why I grew up the way I did.' "
To Kropp, discipline was the silver bullet. And the prerequisite. He had little tolerance for personal freedoms within a team. That meant wearing the same shoes, the same socks. No earrings. No saggy pants. No wristbands or headbands or facial hair.
One season, at the first team meeting, Kropp read an article about a boy dressing unusually as an expression of individualism. That's not us, Kropp said. We're not bringing attention to ourselves. We're a team.
When you step off the bus, your headphones come off so you can "be part of society." When you walk in the arena, your hat comes off.
"If you had a hat on in the gym, you're gonna get your ass chewed," Hancock said. "The basketball court was his church."
Kropp didn't persuade everyone to fall in line. He once kicked a talented walk-on off the team because the kid wouldn't cut the necessary length from his shoulder-length hair. He kicked another player off the team at halftime of a game. Not a bad kid — just defiant.
"He would rather do things the right way and lose than do things the wrong way and win," former Loper Nick Svehla said. "I think a lot of coaches would say that, but he actually believed that and followed through."
Strand simplified Kropp's mentality: "Treat the game with respect."
Kropp was no tyrant. He called timeouts to call attention to hustle. He summoned players to his office, one on one, to laud their assists and steals. He canceled practice when he recognized dead legs.
In '98, UNK throttled Colorado-Pueblo in the RMAC tournament final, the program's first Division II league title.
Kropp walked over to Hancock on the bench in the final minutes: "What do you think, should we cut down the nets?"
I think so, Hancock told him. Some of our guys have never cut a net down in their life.
"Goddammit," Kropp said. "Then let's cut down the nets!"
Surely he could've left that spring. He had the résumé. Or the next spring, 1999, when freshman Anthony Harms scored 37 in UNK's upset regional win at Wayne State.
Who occupied the Wayne State bench? Greg McDermott. Who bought a ticket and sat behind the UNK bench, marveling at this Loper legend who never left his seat? Southwest Minnesota State coach Tim Miles.
Both McDermott and Miles climbed the coaching ladder, all the way to major Division I. Kropp never gave it much thought.
He returned to Kearney, taught his classes and retreated to seclusion. He turned down public appearances — he didn't like speeches. He didn't even answer his home or office phone. Leave a message and he'll get back to you. Maybe.
You might find him covered in mud, working in the garden with Sonja. He kept a toothbrush and toothpaste on a window sill. When it was time to hang out with his friends — to share "Dumb and Dumber" lines — he stripped down to his gym shorts and took a shower with the garden hose.
He kept a small circle, mostly for fall hunting and summer golfing, two activities with a surprisingly similar goal. When Kropp hit a ball in the woods or weeds, he went after it.
What'd you have? Robinson asked him after a hole.
No, Kropp said, that's how many balls I found in this field.
Kropp wanted to walk because it eased his arthritis. He preferred to play shirtless, but sometimes he'd discard his shoes and socks, too, wading into the middle of a pond — occasionally submerged entirely — to retrieve balls. Pretty soon he's thrown a few dozen up on the bank.
"It's the craziest thing you've ever seen," UNO coach Derrin Hansen said. "Tom likes looking for golf balls as much as he likes playing golf."
Of course, he'd let trailing groups play through. Imagine, you're out for an afternoon 9 and there's UNK's basketball coach, waist deep in the muck, looking for old Titleists.
Once the Meadowlark Hills superintendent found him shirtless in the pond off No. 13 with about 10 golf balls on the bank. He confiscated the loot, then ejected Kropp from the course.
A Division I school would've frowned on that. Omaha and Lincoln would've made him golf with a shirt on. But Kearney let Tom be Tom. And Kropp rewarded the town with winning, hard-nosed basketball for a very long time.
In February 2001, Kropp was still two years away from the defining season of his career when he produced perhaps his most famous pickup game story.
Noonball. Game 7. Ball is headed out of bounds. Kropp dives and lands on his right shoulder, nearly prompting his competitors to lose their lunch.
"The clavicle was sticking clear up out of his skin," trainer Bill Murphy said. "He just got up and said, 'Hey, Murph, you wanna take a look at my shoulder? I may have done something.' "
"I'm like, 'Yeah, Coach.' "
Kropp, who'd just turned 48, spent the next few days with his arm in a sling. He stayed home for the following game at archrival Metro State. But first he handled his business.
---
The World-Herald's Still Spinnin' series
An introduction into your crash course of Nebraska's basketball history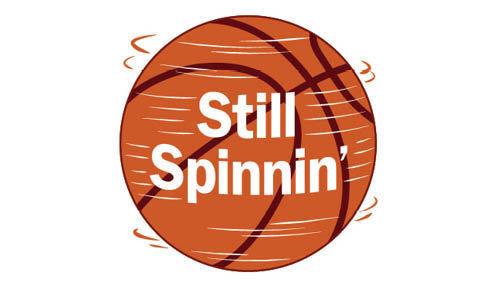 From humble Nebraska beginnings to basketball legend, meet Jerry Krause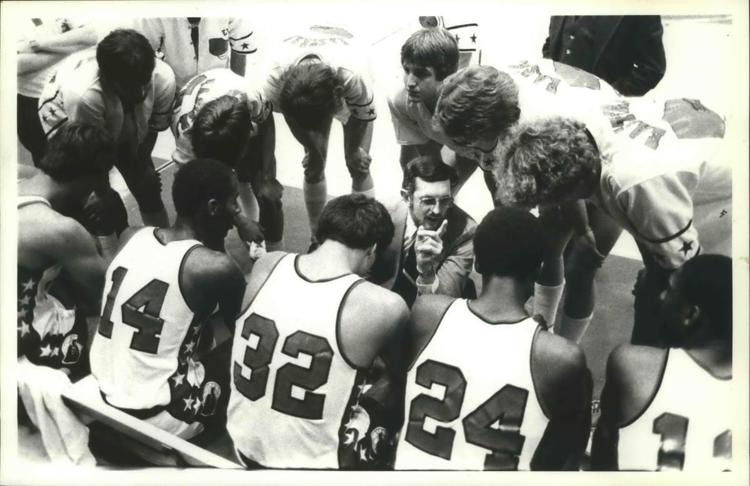 Hoop-It-Up could get heated, but it brought Omaha's basketball community together
Woolridge's and Strickland's rivalry ended in chase for Class A scoring record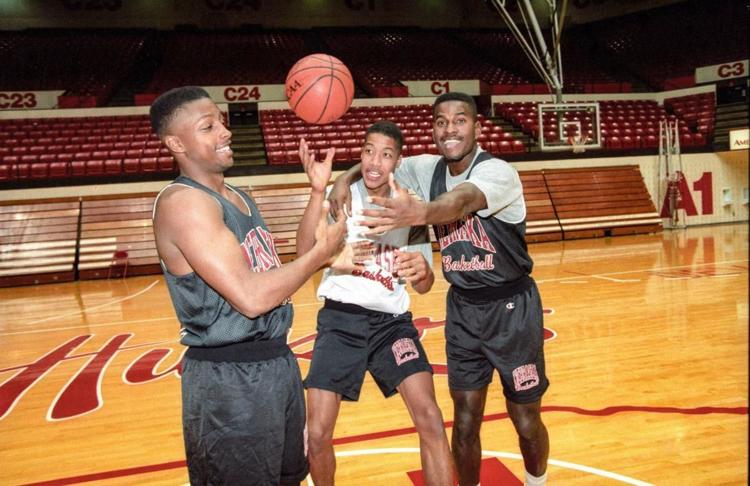 A now-closed Wahoo college once had nation's best women's basketball team
Forrest Roper built a girls basketball dynasty, but his impact was so much more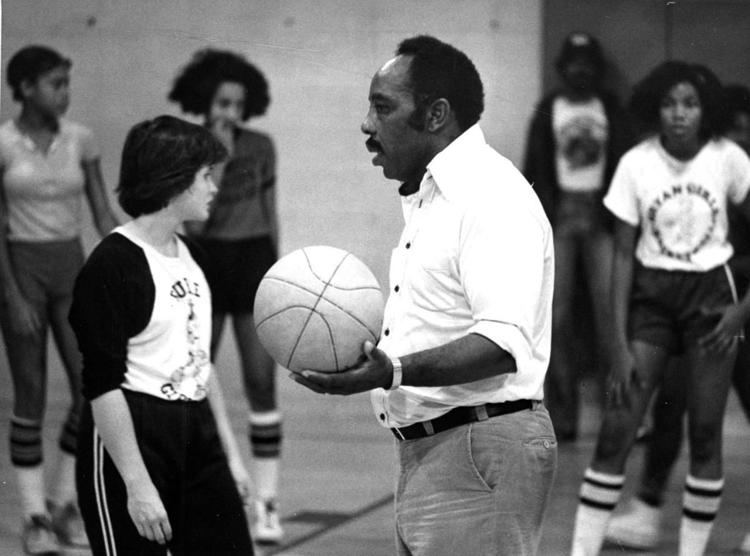 No one could stop Omaha Central's basketball machine, led by high school rock stars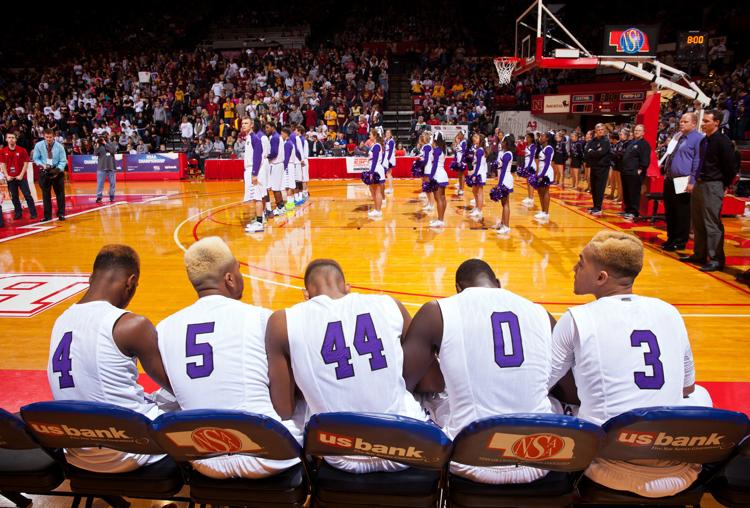 From an Olympian's shoes to Air Jordan, history of the dunk in Nebraska runs deep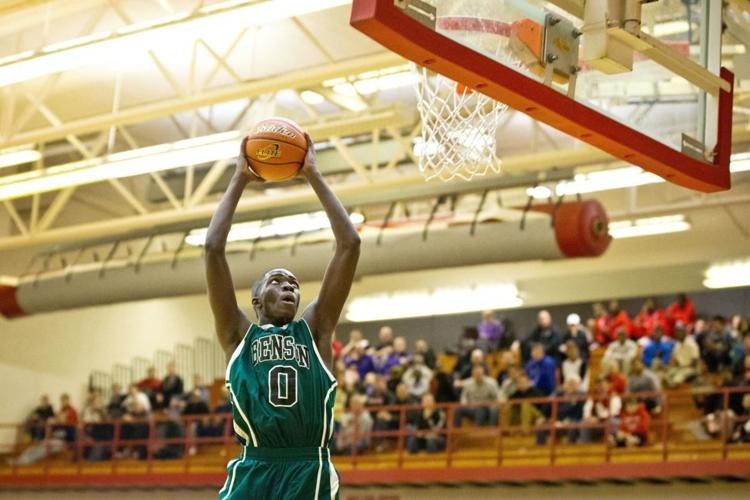 Another Big Ben — Benoit — once towered for Creighton, but was he appreciated?
Meet Mike Heck, the Nebraska high school and Jays standout who had 'unlimited potential'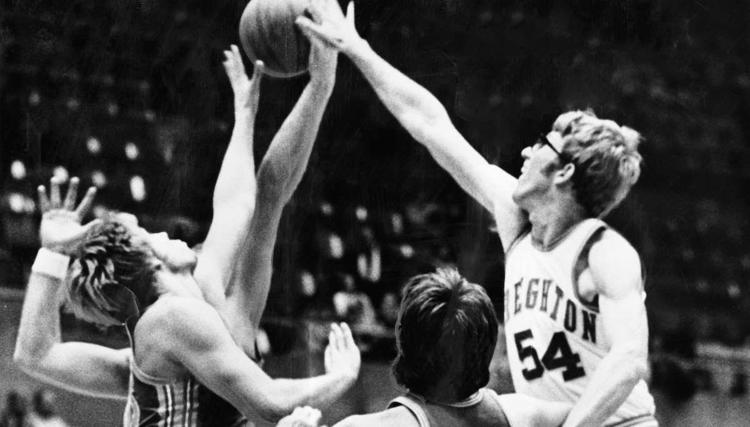 Tragedy kept Harry Kersenbrock, a 7-footer from Crete, from becoming a Jayhawk star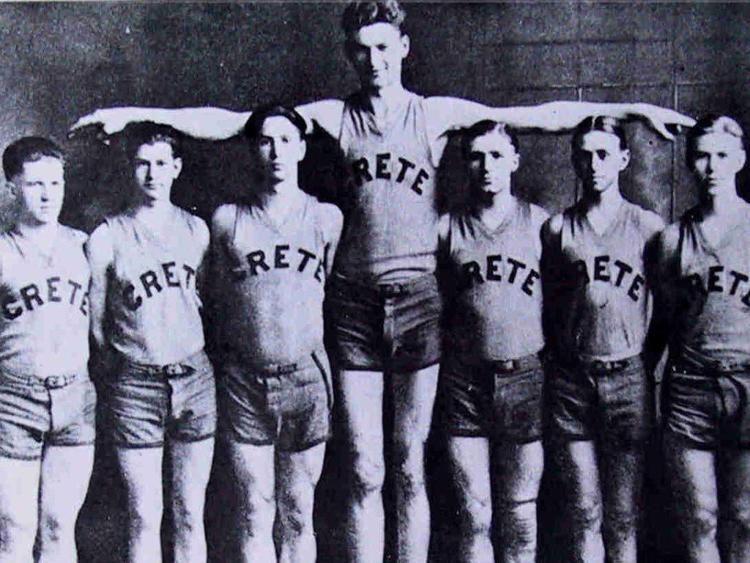 Bill Vincent, the Omaha South great who drew comparisons to Wilt Chamberlain, left his mark
The story behind Kelly Flynn and South Sioux City girl's decade of domination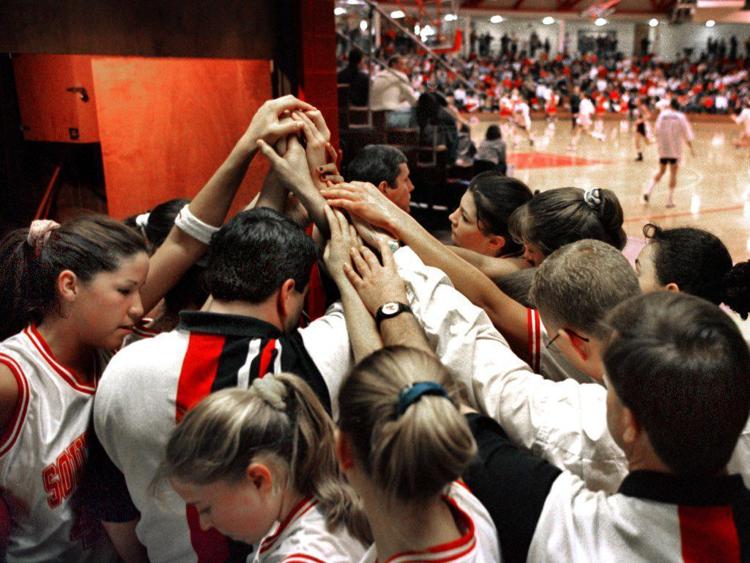 South Sioux City's Mini-Dome presented big problems for hoops opponents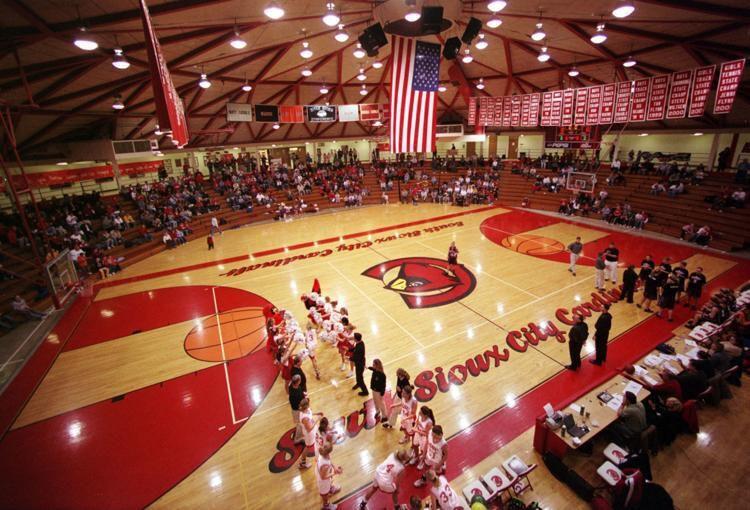 In Omaha's episodes of racial tension, only once has basketball played a major role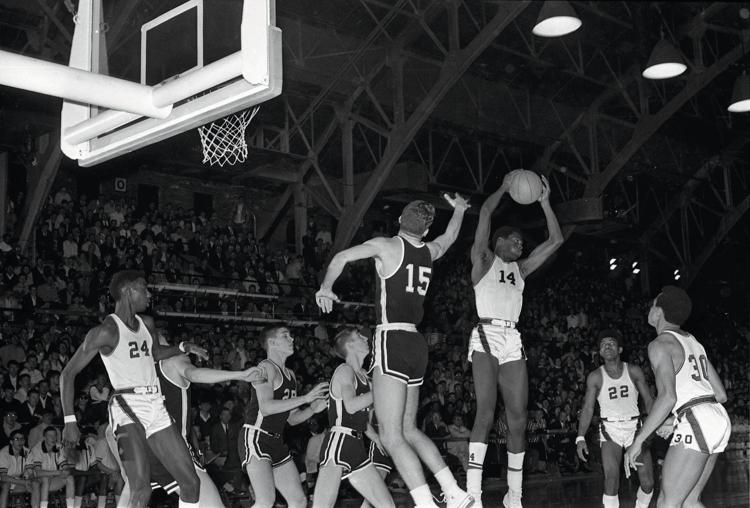 I got a lesson on Nebraska's basketball history from a classical music expert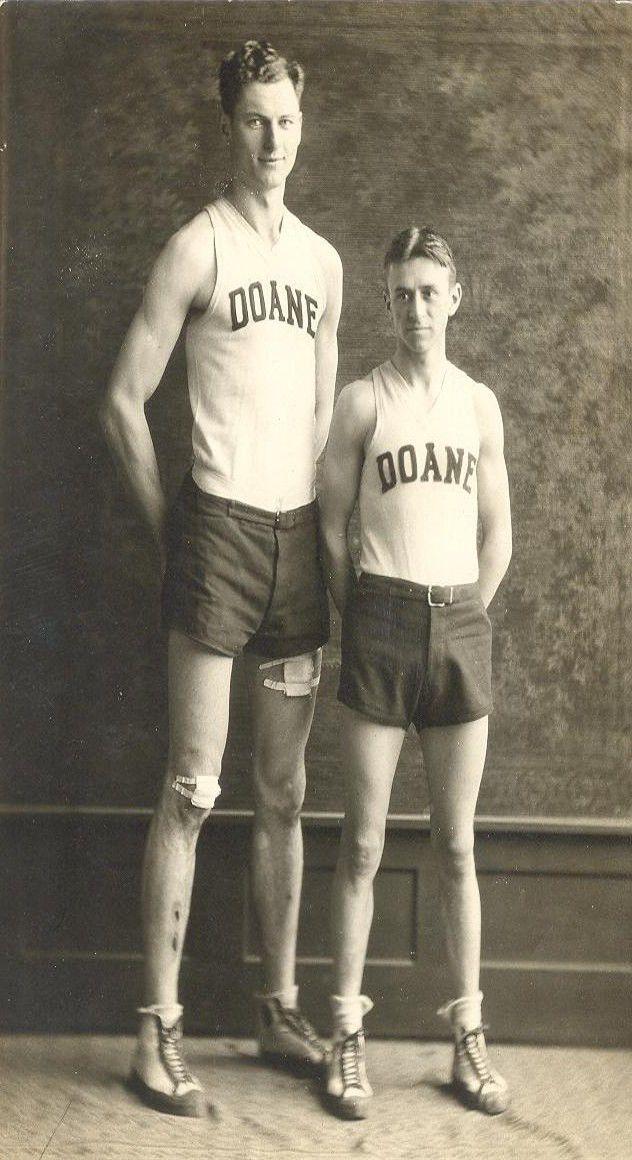 Be the first to know
Get local news delivered to your inbox!