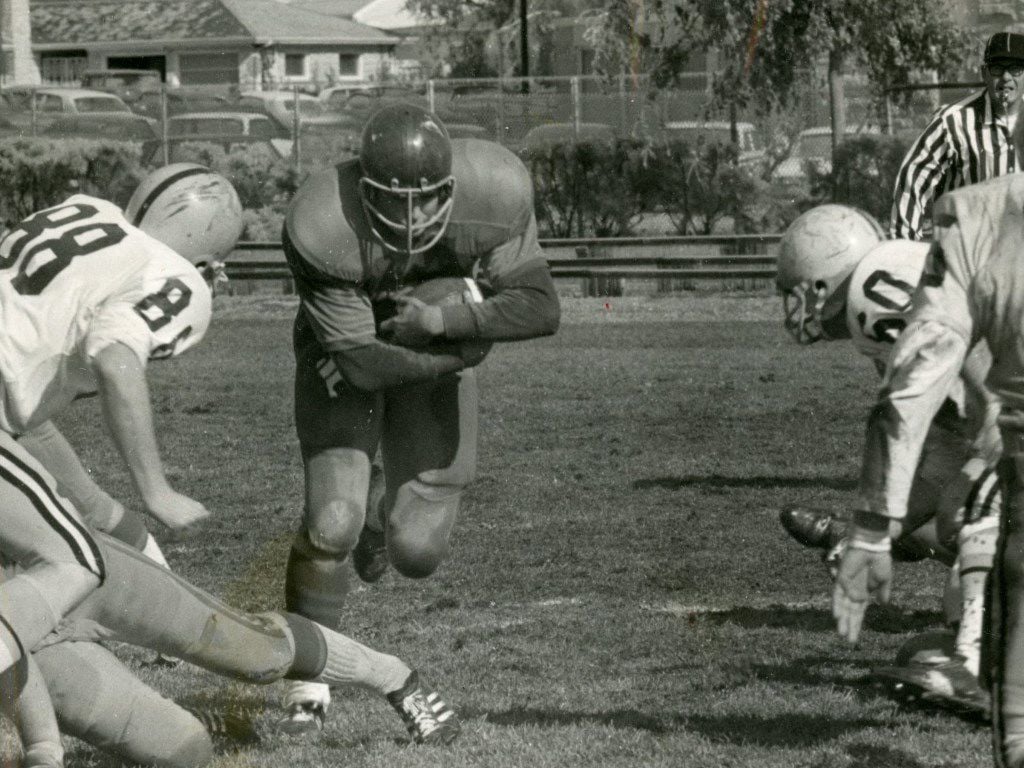 Twenty years later, they still shake their heads. Was it a mistake? A prank? No, couldn't have been.
One day during another 1,000-mile Rocky Mountain road trip, the Loper basketball team walked the streets of Denver when a stranger saw blue and gold gear and asked the players where they were from.
"Kearney, Nebraska," they said.
Kearney, Nebraska? Then the stranger described a winter night in the 1970s when his car stalled on Interstate 80 and he had to stay in this little college town. He heard about a basketball game nearby so he caught a ride and bought a ticket. And there he watched the most remarkable player.
"You guys ever heard of Tom Kropp?" the stranger asked.
"Our jaws dropped," said Nick Svehla, a 2003 Nebraska-Kearney All-American, recounting the story. "We looked over and said, 'Yeah, he's right there.'"
"This random guy from Denver, who saw one game in his life in Kearney, remembered watching Coach Kropp play. It's weird things like that you just can't make up."
It's not a unique experience in Loper Nation. Just last December, a stranger approached a UNK official and introduced himself as a former small-college coach who once marveled at Kropp, too. What made it extraordinary wasn't just the 45 years gone by, but the location of the encounter.
Kropp's name spread far and wide in the early 1970s. Without TV exposure or major media coverage or big arenas, Kropp transformed from small-town Nebraska treasure into a cult hero on the national small-college scene. Then one epic night in Kansas City pushed him even higher.
"I mean, how many people get drafted in the NFL and the NBA?" former college teammate Steve Curtiss said. "Who does that?"
On a much smaller scale, Kropp was Nebraska's version of Larry Bird, snubbing the flagship university for cozier confines. But his college basketball coach compared his punishing style and versatility to another NBA legend — Charles Barkley.
"You'd almost have to watch him in action to appreciate him," Jerry Hueser said.
For four years, that was basically the marketing pitch for Kearney State athletics: See to believe.
On the first day of fall classes, 1971, Kearney State basketball players engaged in a pickup basketball game at Cushing Coliseum.
They'd heard rumors of Tom Kropp's cold feet in Lincoln. Heard that he might be transferring. But they didn't believe, either, until they saw him walk in the door.
"We all just stopped dead," Mark Christensen said. "Like, what the hell are you doing here?"
The state's best high school athlete landed in their lap. Before Kropp could show his stuff on the basketball floor, he joined the football team. That weekend, Kearney State held its first scrimmage and Kropp sat the bench. His mom even pointed out how unusual it was.
"Well, get used to it," he said.
The following Saturday, just 12 days after his campus arrival, Hueser remembers a rare ticket line out the gate.
Kropp lined up in the Loper backfield. He hadn't been there long enough to learn the playbook, so his quarterback called the play in the huddle, then explained it to Kropp. Against Colorado Mines' 4-4 defense, coach Al Zikmund called a steady diet of fullback traps.
Kropp carried the ball 21 times. For 202 yards. So much for sitting the bench.
His new friends noticed his strength — and his appetite. Before boarding a bus for Game 3 — 18 days after his arrival — coaches pulled Kropp aside to a scale.
He'd added 28 pounds since the end of the Shrine Bowl. Blame the all-you-can-eat buffet at the dorm cafeteria, including limitless milk. "I would go over there every day and just gorge myself," Kropp said.
His penchant for bingeing and fasting made even the Kearney State wrestlers look stable. Kropp annually gained 30 pounds for football, then lost it as quickly as he could in late November.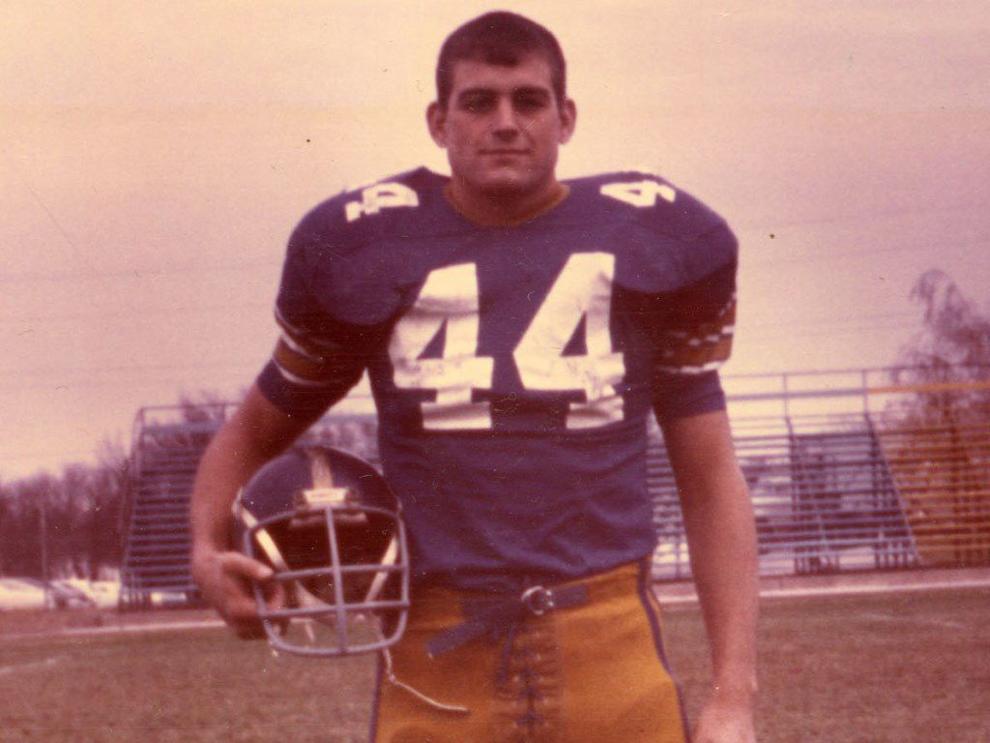 In December 1971, the basketball Lopers opened the season at Fort Hays State, Coach Hueser wasn't going to play Kropp, who was still recovering from a back injury suffered in football. But then Kearney fell behind by 20.
Kropp entered and the opposing radio announcer quipped: If you put a sheet on this guy, he'd be a movie screen.
Kropp led a furious rally and Kearney State lost by one.
No wonder Kearney was abuzz to see him at Cushing Coliseum. Loren Killion, a future NAIA All-American, was a junior at Kearney High when he first watched the plump Loper freshman. Which one's this Kropp guy? Killion asked.
"Once the ball went up," Killion said, "I figured out which one he was because he was all over the court."
John and Tom Kropp, calling on their driveway experiences back in Aurora, ran pick-and-roll as well as anyone, Hueser said. Tom averaged 16 a game. Big brother, the hard-working senior, averaged 17.
The Lopers won the Nebraska College Conference and qualified for the NAIA national tournament, their first trip since 1943.
Despite his love for basketball, Kropp looked like a better prospect in football. At least until the Eastern Montana game his junior year when he caught a screen pass, jumped to miss a tackler and got blindsided. During a 17-hour bus ride back to Kearney, his throbbing knee sticking out in the aisle, he wondered if he'd ever play anything again.
Coaches wanted to take Kropp to the hospital Sunday morning. No, Tom said. His mom was making fried chicken in Grand Island. He didn't miss fried chicken dinner.
But a full stomach couldn't save him. Monday morning, doctors discovered two torn ligaments.
Surgery in 1973 left roughly a 50/50 chance of playing again. At least for most athletes. Kropp returned to the basketball court only three months later. He air-balled a free throw — first time for everything — but he was 40 pounds lighter. A shade under 200.
On Dec. 29, 1973, just 2½ weeks after his return, Kearney State trailed Wisconsin-Stout in the final minute. Kropp always prioritized team above self, even to a fault. But at crunch time, Dan Vodvarka said, he knew when to carry them.
"You could see the look in his eye."
So here we go. Down five, 40 seconds left. Kropp drives and draws a foul. He makes the first free throw, then intentionally misses the second. He grabs his own rebound and converts a bucket plus another free throw. Just like that, Kearney State is down by one and those Loper fans headed out the door stop and turn around.
Wisconsin-Stout milks clock and makes two free throws, pushing the lead to 96-93. Kropp responds with a quick, long jumper. A surge of hope. Hurry.
Kropp deflects the inbounds pass, emerges from a pile of scrambling bodies and, just before the buzzer, hits a 15-foot leaner. The Kearney crowd rushes the court. Eight points, 40 seconds. Victory.
"To this day," Christensen said, "I still can't believe it happened."
Years later, Curtiss coached high school basketball and his running joke with a big lead was, "Not even Tom Kropp could save 'em now."
Kropp's exploits didn't even get a mention in the following day's Sunday World-Herald. Coverage focused on Tom Osborne's first bowl game as Nebraska's head coach — the Cotton Bowl against Texas.
In March, Kearney State fell short of the NAIA tournament — Hastings won the conference — but Kropp and his teammates drove to Kansas City to watch. On the city auditorium elevator, they stood next to a stranger who eyed Kropp and muttered.
It was the coach at Wisconsin-Stout.
You have to remember the era.
The humiliation of Vietnam. The shock of Watergate. The oil crisis and a stock market crash and drug culture and protesters poking holes in America's most hallowed institutions. From the haze, here comes this clean-cut, small-town kid who reminded people of simpler times.
Who every day in the cafeteria sought out the special-needs girl, Sunshine. Who showed up for every 8 a.m. class after a late-night road game. "Whatever he's got in his nervous system," his English professor once said, "I'd like to get it and bottle it and then sell it."
Kropp never said an ill word to a referee, teammate Tom Ritzdorf said, "but I did see him stare at an official when he thought it was a bad call — to the point that the official was sorry he made that call. If Tom did that, you knew you made the wrong call because he doesn't do that."
Coaches and fathers bought tickets to Kearney State games just as a teaching tool, Ritzdorf said. Just so they could tell their sons or players: "This is who you need to be like."
"You couldn't look at him moving up and down the floor without realizing this guy is giving everything he's got," Ritzdorf said. "A lot of people do that for spurts. But to do that all the time, that's what set him apart."
But here's the rub: The praise never felt right to Kropp himself. The more attention he stirred, the more he valued privacy. Kropp's eventual evolution into a recluse is rooted in the early '70s.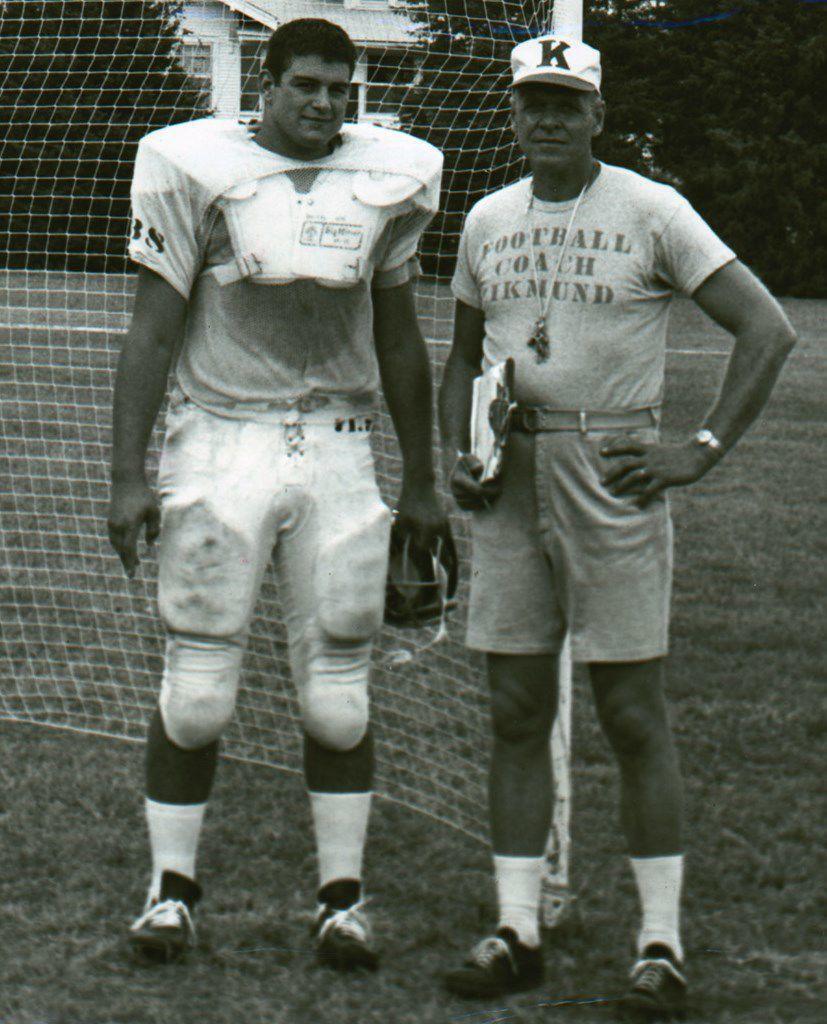 In college, he didn't drink. He went on one date. Sunday nights, he'd hunker down at Men's Hall, drinking Wyler's lemonade and eating caramel popcorn. Talking about what's next.
Before Kropp's senior year of football, in the summer of 1974, he approached Kearney State coaches and asked for a position change. He wanted to be the hammer, not the nail. Play linebacker, like he did in high school.
Kropp wasn't fast, but he was quicker and more instinctive than the average 235-pounder.
"One time," Christensen said, "I watched him jump across the line of scrimmage during a handoff and tackle the quarterback and the running back at the same time."
Kearney State went 7-2 in '74 and Kropp earned second-team NAIA All-America honors. As NFL scouts evaluated his tape, Kropp had other priorities: his senior basketball season.
The Lopers, like usual, had already started practices when Kropp joined the team. Instantly he raised the intensity level. At Fort Hays State, they trailed by 10 at half. Just like his freshman year. We've got 'em right where we want 'em, Kropp said.
"He just made you believe," Ritzdorf said.
The Lopers rallied and won at Hays for the first time ever. A few nights later, they ended Hastings' 45-game home winning streak. Teammates didn't need hindsight to recognize something special.
"I remember thinking Tom can do things that people will talk about for years and we're getting to witness it," Ritzdorf said.
Unlike Charles Barkley, Kropp didn't exactly play above the rim. He would dunk in warmups, but rarely in games. Instead, he bullied smaller defenders inside and stretched defenses to 20-25 feet.
"If they'd had the 3-point shot in those days," Vodvarka said, "they would've had to build bigger scoreboards. And Tom scored a bunch the way it was."
More than anything, Kropp saw the game two or three passes ahead.
Mike Culver was a young social studies teacher in Omaha when Kearney State came to UNO's fieldhouse in 1974. Culver read the paper. He joined the season's biggest crowd to see Kropp for himself.
The Loper junior scored 30 in a 99-95 Mavericks win, but Culver remembers one play vividly. Kropp caught an outlet pass along the right sideline near half court. A UNO defender is right in his face.
"In the meantime," said Culver, the former Creighton Prep baseball coach, "there's a Kearney player streaking down the other side wide open. And Kropp threw it behind his back and hit that guy in stride for a layup. Everybody just kinda went, 'Whoa.'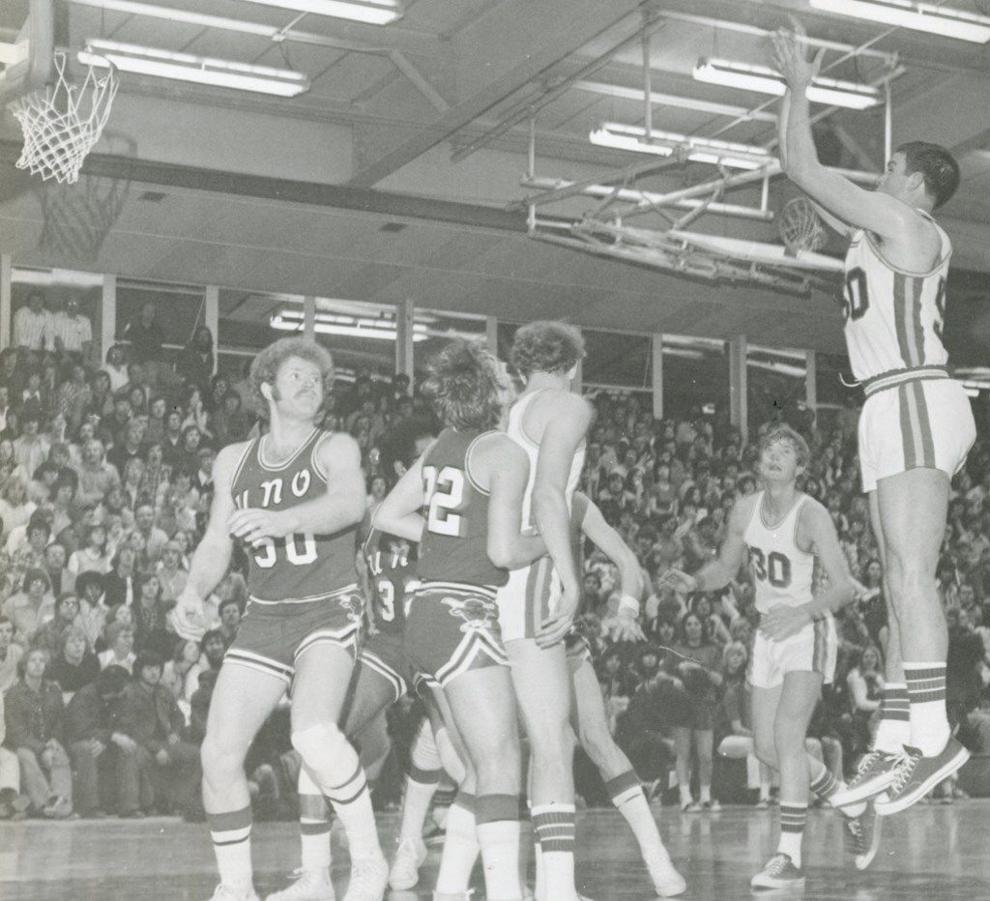 Kropp followed his shot so hard that he frequently rebounded his misses. Another trick? If he didn't have rebounding position, he turned butt-to-butt with the opponent. Tom Kropp had a big butt.
"He got so many offensive rebounds nobody else could get just because of that one little move," Ritzdorf said.
Cushing Coliseum, like a Jersey music dive showcasing a young Springsteen, added new fanatics every night. Hueser maximized their entertainment with a breakneck style. First open shot available, take it. If the Lopers didn't reach 100 points, it felt like a disappointment.
On Dec. 16, 1974, Central Missouri came to town and decided to run with Kearney State. They won 119-116, but Kropp scored 51.
Kropp's relentless energy gained strength from the crowds. But there was another source of motivation: fear.
"I was always afraid I was going to be the goat," Kropp said. "Insecurity really drove me."
By 1975, Kropp's dad was coaching at Grand Island High School. Bill surely heard about Tom's exploits, but they weren't enough. Following a last-minute win over Hastings, Kropp's dad scolded Tom's attitude over postgame ice cream at Dairy Queen. Bill didn't come to a game for another month.
"He was that pissed off," Tom said.
Bill missed Kropp's 35 points and 11 rebounds against UNO. Four days later, Kropp was hanging out in his dorm room between classes when he got a phone call.
Who was that? teammate John Bacus asked. Oh, the Pittsburgh Steelers, Kropp said. They just drafted me. The same Pittsburgh Steelers who 10 days earlier won the Super Bowl.
In February, Kearney State basketball had a rare weekend off. Kropp packed a bag and flew to Pittsburgh for rookie orientation with another Loper draft pick, his cousin Kirk Heyer. The Steelers gave Kropp $100 spending money — he came home with $96.
Kropp and 17 other newcomers attended a banquet with the team's big stars: Terry Bradshaw, Franco Harris, Mean Joe Greene. They toured the bottom of Three Rivers Stadium, where Kropp got a few words of advice from linebackers coach Woody Widenhofer.
You're gonna play behind Jack Lambert. And Jack Lambert is mean all the time. We have six shower heads. If six guys are showering and Jack Lambert walks in, somebody gets the hell out of one of those showers. I just want you to know.
What Kropp remembers best, though, is Sunday morning's locker room speech from Chuck Noll. The head coach introduced the conditioning programs — running, lifting, stretching — and ordered the rookies to work out religiously before camp. A Penn State lineman, Greg Murphy, raised his hand and tried to be funny. Do you really expect us to do all that?
"Boy, that pissed off Chuck Noll," Kropp said.
Noll kicked Murphy out of the room — and off the team! Then he turned his ire toward the world champions. Nobody, Noll ranted, maximizes their ability. Nobody devotes 100% all the time. Not Bradshaw. Not Harris. Not Lambert.
Noll, according to Kropp, compared his all-pro defensive tackle to a coyote. Mean Joe Greene is 6-foot-4, 275 pounds with a brain the size of a grapefruit. A coyote is 40 pounds and 2 feet tall with a brain the size of a lemon.
But if you shoot a coyote in the foot, you know what it'll do? Keep running. Shoot it again. Paralyze the back legs. That coyote will pull himself through the field on his two front legs! Shoot it a third time until it can't walk.
You better be careful when you go to pick up that coyote, Noll told them. Because he'll still give you 100%.
"He'll still try to bite you."
Kropp listened to the Super Bowl coach, half-scared, half-riveted. He tucked those words away and returned home. And for the next 40 years, Kropp called on the tale often, first as an athlete, then as a coach. Especially when his basketball players emitted a whiff of entitlement. He let 'em hear it.
"That day in the bottom of Three Rivers Stadium," Kropp said, "that story had the biggest impact on me."
Maybe it was the stress or the travel, but Kropp came home and got sick.
Five days later, the Lopers drove to UNO for their last regular-season game. They stopped at a gas station outside Ashland, and Kropp, standing at a urinal, fainted. He spent the next three days in bed.
Kearney State qualified for the best-of-three series to make the NAIA tournament. The foe? Archrival Hastings, which won Game 1. The Lopers took Game 2 at home, setting up the finale at Cushing Coliseum.
On the south wall, a banner stated the goal: "I'm going to Kansas City. Kansas City, Here I come."
The Lopers heard the noise through the locker room door. When it swung open, they elbowed their way through the crowd.
"It was hard to fathom the enthusiasm," Ritzdorf said. "By the time you got on the floor, you swore the place was shaking."
Kearney State retired Kropp's No. 50 home jersey and presented him with the road 51. Only the tip-off interrupted the ovation.
No wonder Kearney State nearly ran Hastings out of the gym. Kropp drained his first eight shots of the second half, mostly outside. He fouled out with 11 minutes left on a charge call — if ever a ref deserved a glare! By then, it was over.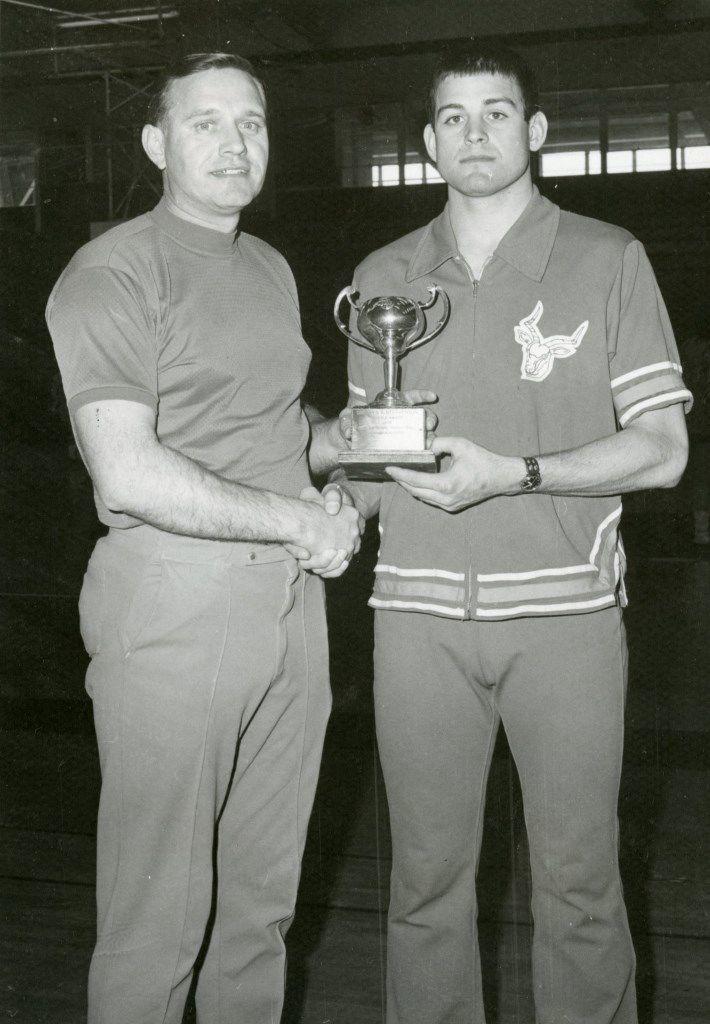 The Lopers entered the national tournament 21-6 and drew No. 2 Fairmont State from West Virginia. Kropp figured it would be the last time he ever put on basketball trunks. He didn't like his chances of making the Steelers, but surely he had no future in basketball.
The NAIA tournament has a long history of producing NBA players. Willis Reed. Jack Sikma. Earl Monroe. Dennis Rodman. But Kropp hadn't registered like those guys.
"I've never heard of him," said Joe Axelson, Kansas City Kings general manager, hours before the tournament.
That was about to change. At the new Kemper Arena, before 16,000 fans, Kropp played perhaps the finest game of his life. Kearney State's underdog status and run-and-gun style appealed to the crowd. A 16-2 burst after halftime gave the Lopers a 62-55 lead. Kropp scored 10 during the stretch, including four long jumpers.
It wasn't just his shooting. He dived to the floor like a kindergartner on a Slip 'N Slide. He flipped pinpoint passes for layups. He crashed the glass, going through opponents if necessary.
"He's playing against All-Americans and he was making them look silly," Christensen said.
Up in the seats, a coach named Leo Hirsch, who attended eight games a day in Kansas City over 15 years, watched closely. Kropp, he'd say 40 years later, was one of the two or three most memorable players he ever saw. And he only saw him once.
"I couldn't believe him," Hirsch said.
But Kearney couldn't hold the lead. Fairmont State won, 94-86. But after 27 points, 18 rebounds, six assists and four steals, Kropp was the talk of Kemper.
"We go walking out and I'm right behind him," Bacus said. "Guys are jumping out of the aisles. I'm the general manager of X. I'm a scout for X. All wanting to shake his hand."
Among the admirers? Axelson, the Kings GM: "That kid can play. He goes after every loose ball. It's a pleasure to watch a kid play all out like he does. ... There were a lot of scouts there and he impressed them all."
The NAIA national tournament awards its "Charlie Stevenson Hustle Award" every year. Sixty-two years dating back to 1958. Only once has the recipient lost his first game. Tom Kropp, 1975.
He played harder in 40 minutes than most guys did in 80 or 200.
The attention stunned him. "If Hastings had beaten us," Kropp said afterward, "none of this would ever have come about."
Phil Johnson, NBA coach of the year that spring and leader of the Kansas City Kings, wanted Kropp to drive down for a meeting. Kropp couldn't; he was student teaching P.E. at Kearney High. Instead, they met at the Lincoln airport. Student teaching derailed an all-star trip invitation to Israel, too.
In May, Tom graduated from college alongside his mom, Delores. For years, she'd worked as a paraprofessional in classrooms. In 1975, she began teaching fourth grade in Grand Island.
Bigger things were coming at Kearney State, too. Kropp's four seasons gave the program credibility, enabling Hueser to seek better talent. It established a culture of grit and humility.
Three years later, with a senior class that entered college emulating Kropp, Kearney State returned to Kansas City and advanced all the way to the national championship game.
"I was never the player that he was," said Ritzdorf, a senior in '78, "but I got as good as I could be by trying to keep up with him. I would call it a highlight of my life being able to spend a year alongside him."
Kropp entered the summer of '75 ready for a new highlight. There was just one source of dread: saying no to another iconic franchise.
After high school, Kropp walked away from Nebraska football between national championship seasons. In '75, between Pittsburgh's back-to-back Super Bowl seasons, Kropp did the same to the Steel Curtain. Perhaps the best two-sport athlete in Nebraska history finally chose one.
Kropp couldn't take Chuck Noll with him to the NBA. But for better or worse, he was going to play like a coyote.
---
Coming Sunday: In 1975, Nebraska's favorite small-college hero made the leap to the big time and established a reputation as a tireless overachiever. But according to one NBA legend, Tom Kropp worked too hard for his own good.
The Nebraska 100: Our greatest athletes
The Nebraska 100, originally selected in 2005 and then updated and re-ranked in 2015, came from a pool of nearly 500 names from the ranks of high school, college, amateur and professional sports from the past 140 years. Assistance came from a panel of veteran sports observers from across the state, with the newspaper's sports staff determining the final rankings.