The Abel Hall dorm room wasn't big enough that August day, 1971.
Picture the scene. Squeezed between concrete walls, a couple desks and single beds stand the following men:
Bob Devaney, head coach of the defending national champions. Top assistant coaches Tom Osborne and Monte Kiffin. Plus, Husker basketball head coach Joe Cipriano and assistant Moe Iba. How's that for influence?
They're all staring at a crew-cut, husky 18-year-old from Aurora who's on the verge of tears.
What are you gonna do, Tom?
Tom Kropp, at this moment, is perhaps the most revered high school athlete in Nebraska history.
Who else throws a no-hitter in the Class B state legion championship series and scores 45 points in his last high school basketball game and heaves the discus 182 feet, the second-best mark in Nebraska prep history? Just 10 days earlier in the Shrine Bowl, Kropp's performance prompted opposing coach Dallas Dyer, a former Husker himself, to conclude: "He is the finest high school football player I've ever seen."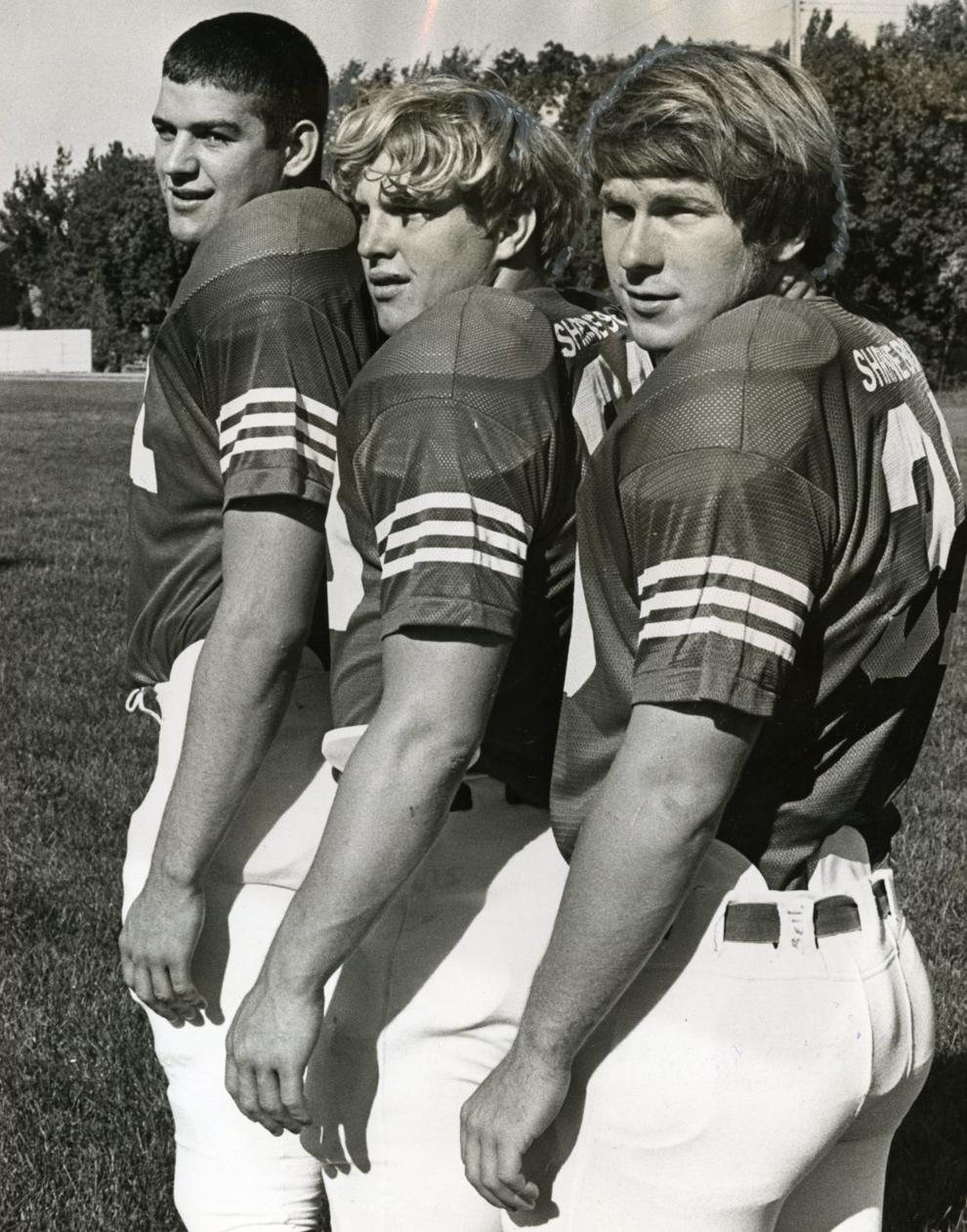 Of course, Devaney won't lose his prized recruit without a fight. Thirteen days from the 1971 season opener, the magnetic Irishman delivers his best sales pitch.
"If you leave," Devaney says, "you'll always wonder if you could play Big Eight football."
Tom can't bear to look him in the eye. Can't bear to disappoint these men. But for all the firepower present in Abel Hall, the voice of wisdom Kropp needs most hasn't arrived yet.
He's just rolling into Lincoln.
* * *
Back up a few years because the road to Devaney's front door takes a few turns.
Just like those weekend afternoons in Aurora, when young Tom Kropp plotted his path to exhaustion. He studied the town of 3,000 people. He counted 17 baskets between the high school, the junior high and friends' garages.
After lunch, he left home with his basketball and stopped at hoop No. 1 for his season opener: Broken Bow.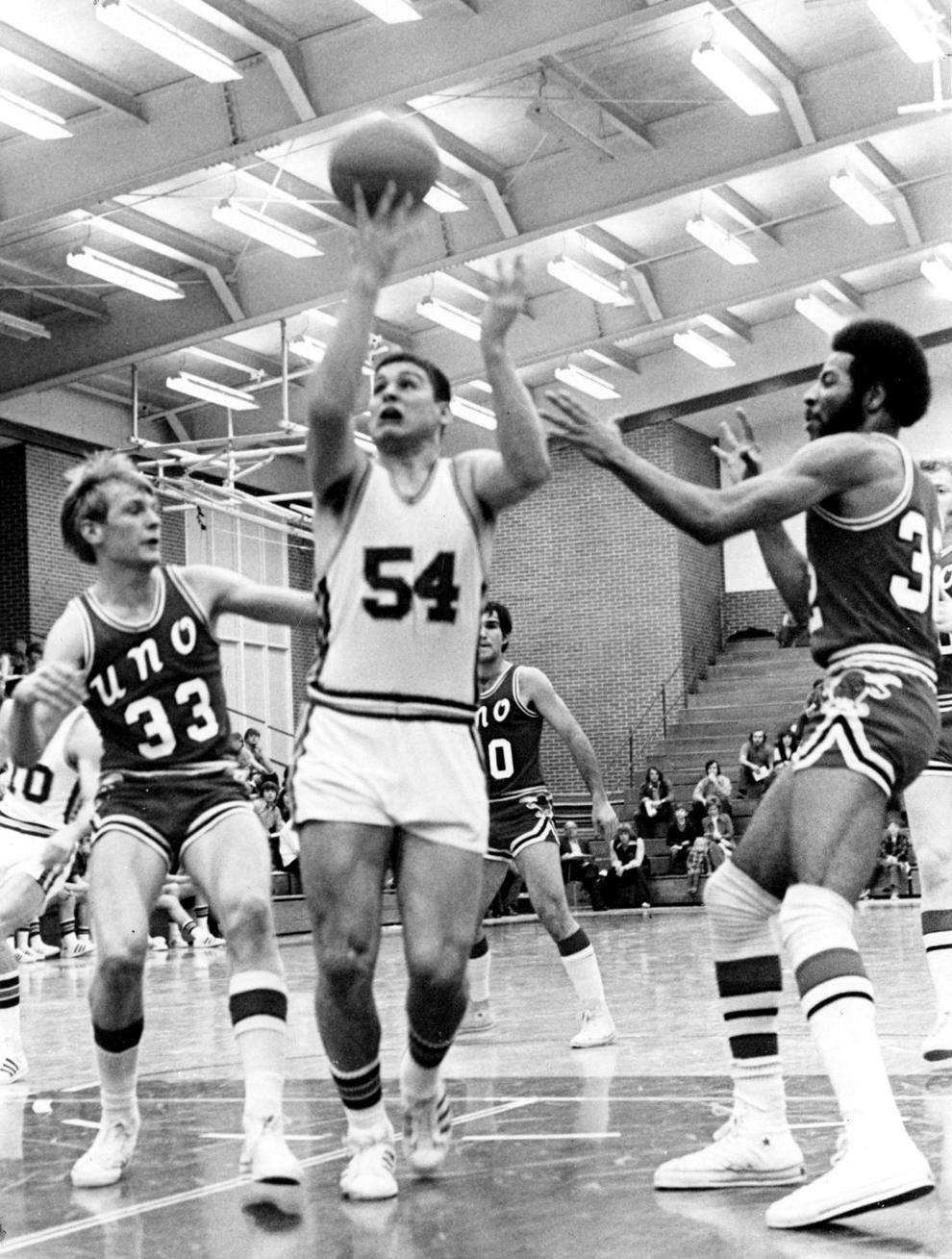 He played 10-15 minutes, honing his best moves — "one against zero." Then he dribbled down the street to the next hoop. Who's next? Albion? Another 10-15 minutes. Then Central City and Superior and Fairbury. By 5 p.m., he's soaked yet undefeated.
"I had a pretty good imagination," Kropp said.
What Tom Kropp didn't have was athleticism. You couldn't find his bones under the baby fat. He wasn't fast. Didn't jump high. Couldn't even do a push-up!
"What you look for in an athlete," said Aurora football coach Rollie Carter, "I didn't see that much in Tom."
"Just wait," Bill Kropp told Carter. Just wait.
Tom's dad knew the power of desire. He was a child of the Great Depression. Orphaned by his parents, both dead before his 13th birthday. Bill and 12 siblings separated into homes across Stanton, Nebraska, whomever could help.
Bill graduated high school in 1945, just before World War II ended. He joined the Marines and landed in New York City, unloading bodies from the front lines. In his free time, he joined the base basketball team. He was hooked.
At 21, he returned home and found his high school sweetheart. Delores had her own scars. Her dad died. Her mom attempted suicide. Pulled the trigger on a .22 and paralyzed herself from the waist down.
Bill and Delores married Jan. 8, 1949, just as the worst blizzard in Nebraska history suffocated the state. Drifts 50 feet high! They endured.
One year later, Bill was a basketball standout at Wayne State when their baby arrived premature. John spent several weeks in a Norfolk hospital incubator as Bill scraped up every penny he had — roughly $300 — to pay the bill.
At home in GI housing — a Quonset hut — Delores turned on the oven and set the baby on the open door just to keep him warm.
Mary was born in '51, Judy in '52, Tom in February '53. Four babies, three years.
They bounced around northeast Nebraska as Bill taught school and sports. They owned nothing and shared everything. One Christmas, the family tree was bare underneath when his uncle and aunt showed up with a six-pack of 16-ounce Coca Cola bottles.
"What a thrill that was," Tom said.
But Tom's first love wasn't sugar, it was Jelly Bell. "Sh--," Tom said, "this cat was my life."
One day, his brother came down with an impetigo rash. Bill took him to the doctor and paid another bill he could barely afford. Then a sister got the fungus, too. Who's the culprit?
Bill threw Jelly Bell in the car and took a drive out to the country. When Tom came home from kindergarten, he started asking questions.
"Ten days later, sh--, I come home and there was that goddamned cat," Tom said. "On the steps to our front door. And it laid there and died."
He filled the void with a basketball. The Kropps didn't have toys or bikes, but Bill mounted a hoop on the garage and his boys filled it up.
Sports are so important, Bill said, that he'd move to the smallest town in the state if it enabled his boys to play in high school. That wouldn't be necessary.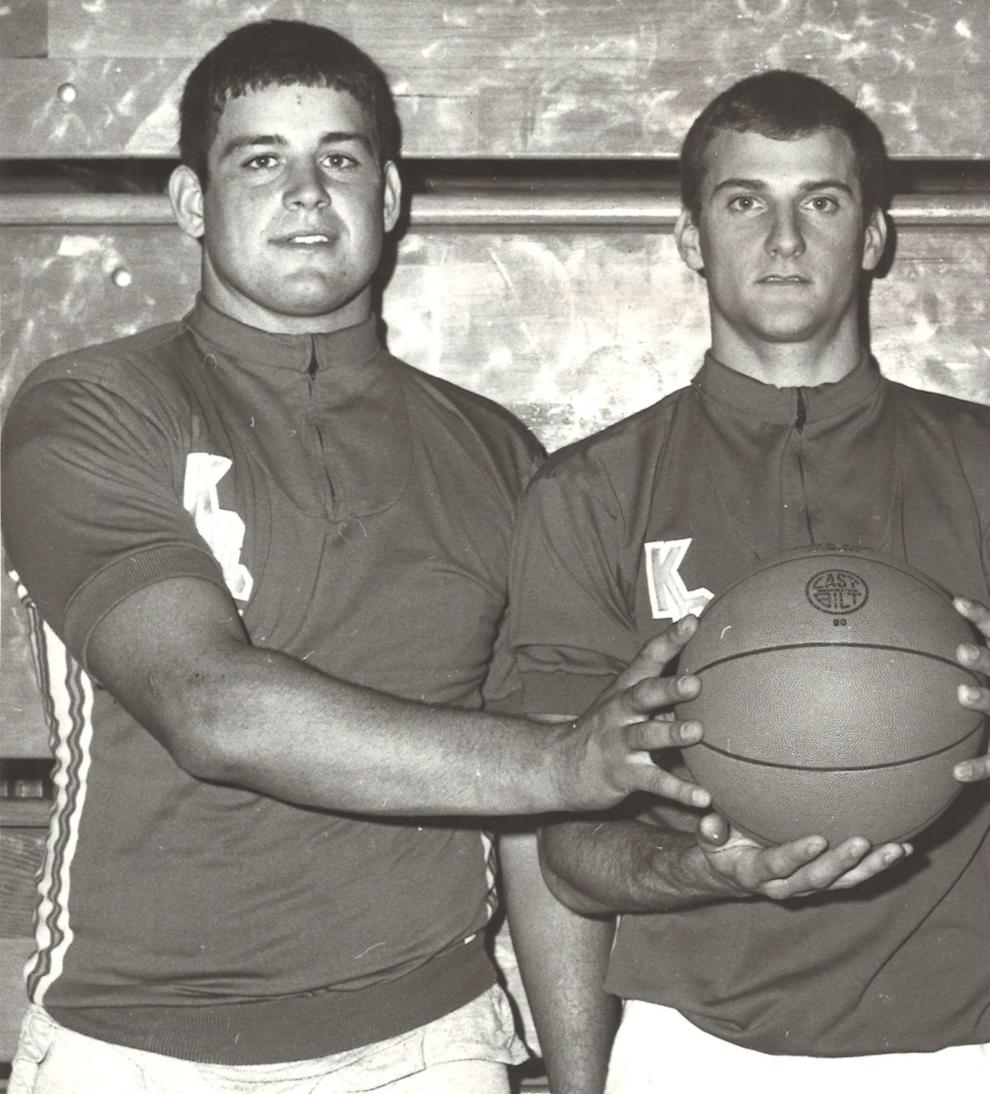 In 1962, Bill accepted the head basketball job at Class B Aurora. Their first house shook when trucks rolled down the highway. On Christmas Eve, the four kids walked out of church and received a sack: an apple, an orange, a Snickers and a plastic nativity scene, a couple inches tall. The same figurine the youngest Kropp puts on his Christmas tree to this day.
Tom Kropp, you'll come to learn, never forgets his roots.
* * *
Sunday afternoon. Everybody to the basement. One kid polishes, one shines, another finishes with a rag. When the Kropps walk into school Monday morning, their shoes look pristine.
It's funny, Bill rarely mentioned his military service, but his regimen gave it away.
"We used to say around Aurora that Bill Kropp was never discharged," Rollie Carter said. "He still thinks he's a Marine. He could be one of the toughest characters you ever saw."
How many school-bus drivers keep a 12-gauge shotgun at their feet so they can target pheasants after dropping off the last student? Tom loved those 10-mile road hunts.
Bill was happiest in a duck blind or a fishing boat, cigarette dangling from his lips. His favorite term? Hard-nosed. You gotta be hard-nosed!
As a basketball coach, he was no John Wooden with a chalkboard, but Bill ran practices like Camp Lejeune, demanding the finest condition and fundamentals. Kids wondered if they were ever going to practice shooting?! Only after they mastered the full-court press.
Bill didn't scream like a drill sergeant. But his eyes, according to one player, "just kinda burned through you. You knew you better do better."
At 6-foot, 185 pounds, Bill was just big enough to intimidate officials, too. One night, he got a technical and demanded another. When the ref threatened to eject the coach, Bill fired back. OK, but you're going with me. The ref backed down.
"He was gonna take that son of a b---- right out the door with him," John Kropp said.
Said Carter: "Bill would never, ever allow anybody to push him around."
Carter assisted Bill and learned the nuances of coaching. How to spot the difference between 95% effort and 100% effort. When to scold and when to encourage. Bill told Carter the first week of practice: If I'm getting on a kid, you pick him up. We should never both be angry.
Most of all, Bill taught Carter how to weather a storm. Put your head down and endure it. When Carter's wife died of cancer at 29, Rollie exited the hospital room and the nurse asked if she should call someone. Call Bill Kropp, he said.
Carter was in the parking lot when Bill arrived. How the hell am I going to go home and tell my two sons that their mother is gone?
Bill's response: "God damn it, you just go do it."
For all his hard edges, Bill had a soft spot for kids like him.
In Aurora, the "hoods" stood on street corners and smoked cigarettes. The anti-Kropps. Half a dozen times, Tom saw one with new shoes, new shirt and new pants from Dean Morgan's men's store.
"Where'd you get that stuff?"
One student came to school in the same clothes almost every day. A rash covered his ankles and elbows. "Hell," Carter said, "he probably never had a bath."
Bill called the kid out of study hall daily to the coaches office, where he treated the skin. "But the thing that really helped that kid was what he and Bill Kropp talked about. Because Bill was working with his mind. And the kid turned out to be a pretty darned good citizen of Aurora."
That's the thing — Bill was always recruiting. Always opening the gym. Always inviting kids to the driveway for basketball games. Bill joined the action because — here's another lesson — demonstration is the best form of coaching.
"Some of the best basketball you ever saw took place in Bill Kropp's driveway," Carter said.
His first Aurora teams struggled, but Bill knew the kids in the driveway were growing up. And when everyone else saw them on Friday nights — when all the little kids messing around in the commons area started paying attention — look out, Bill said.
"They'll start to play that way, too."
* * *
John and his friends led Aurora's sports resurgence in the late-'60s, but Tom produced the headlines.
So what if he couldn't do a push-up or pull-up. He dominated every ball he touched, including local punt, pass and kick competitions. At 13, he qualified for regionals in Minneapolis, boarding his first plane and staying in his first hotel.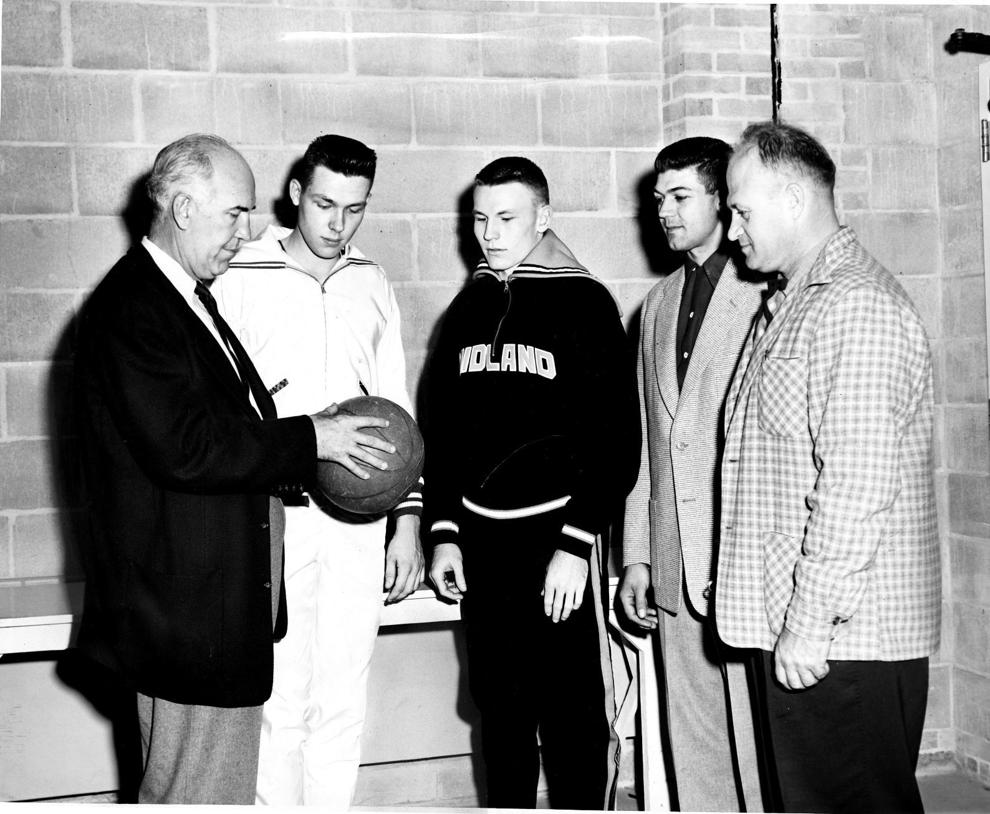 Tom competed at halftime of the Lions-Vikings game. He got a glimpse at big-time sports. What it felt like. He won in Minnesota, advancing to Baltimore in December 1966. Kropp entered an elevator with his parents, the Aurora Ford dealer and four prominent faces:
Colts coach Don Shula and his quarterback, Johnny Unitas. Packers coach Vince Lombardi and his quarterback, Bart Starr. 
The 13-year-old shook off his sense of awe. The next day at halftime, he heaved a regulation football 51 yards on national TV.
Tom came up short in the national final, but Aurora thought he was a big deal. Tom thought he was a big deal, too. Until his seventh-grade basketball coach kicked him off the team for getting a big head.
"God, I remember going home that night and trying to figure out how I was going to tell my dad."
Next day, the Kropps met with the coach. Tom apologized and received a reprieve. "That humbled me big-time."
By ninth grade, the components of a teenage superstar lined up: A hard-driving, ever-present dad who coached all three Aurora sports. An older, competitive brother. A community on fire to win. Tom needed just one thing to cap it off: a rope.
How many hundreds of hours did he jump?! His fatigue reached a saturation point and, like a marathon runner, he just kept going. 
As his dad preached, you can learn to embrace hard work just as easy as you can learn to avoid it. When good players feel agony, Tom said, they disassociate it from their actions. They block it out. Great athletes do the opposite.
"They feel that pain and fatigue and they like it."
Going into 10th grade, an Aurora friend paid Kropp's way to the very first Cornhusker football camp outside Central City's Lake Mary Ranch Camp. Each session spanned four days, featuring appearances from Husker players and coaches. Kiffin. Warren Powers. Kent McCloughan. Even Devaney.
The leader was Nebraska's 31-year-old redhead assistant.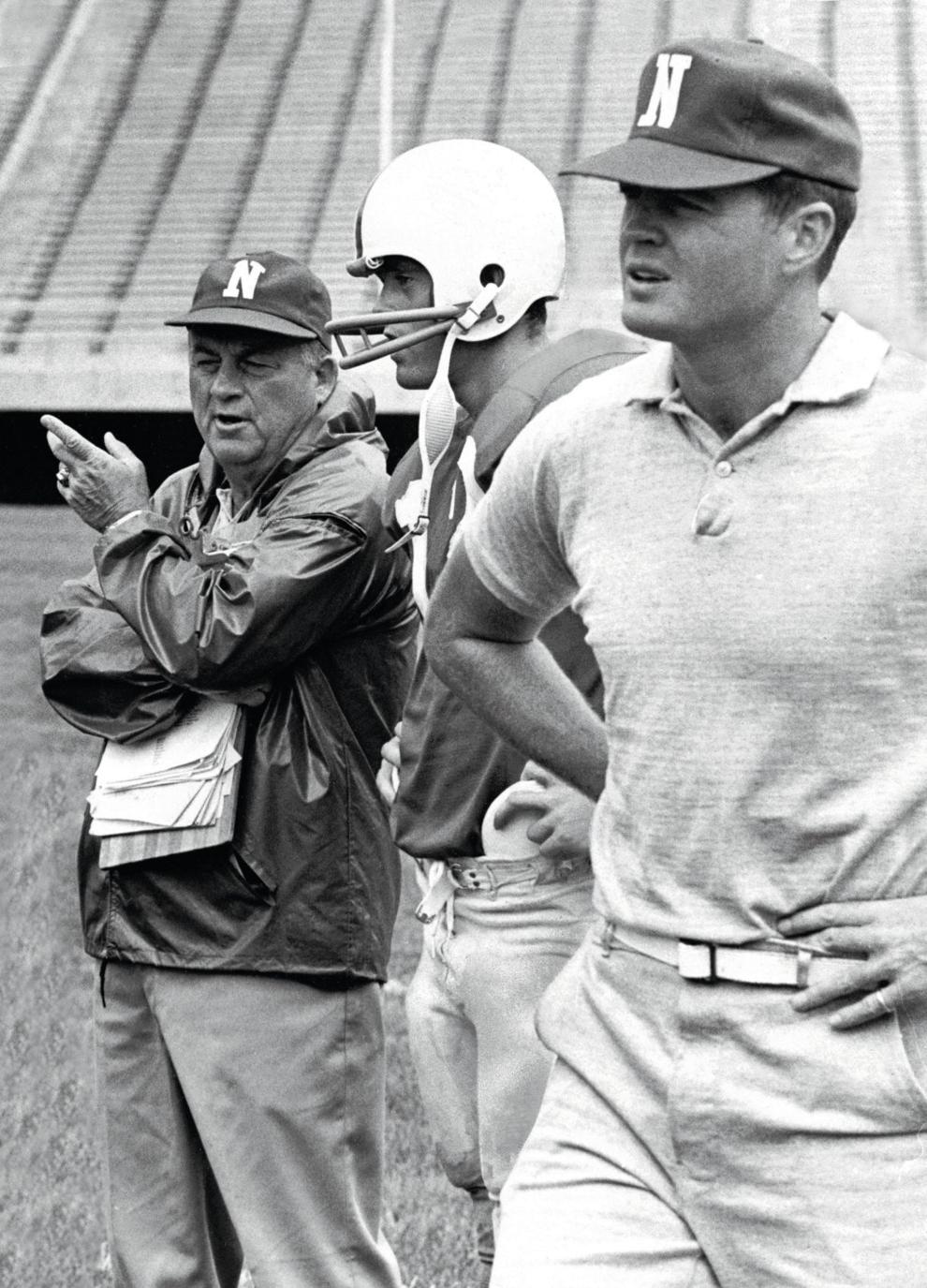 Keep in mind, this was June 1968. Husker football was coming off a 6-4 season. Tom Osborne was still a year away from reshaping Devaney's offense. But he saw something in Tom Kropp.
"Big kid. Kinda pudgy," Osborne said, looking back. "Looked like he might be a football player someday."
What are you doing the next two weeks? Osborne said.
Construction crew, Kropp said. Adding onto a farmhouse outside Aurora.
Kropp reported to work Monday and Osborne showed up, too, asking the foreman if Kropp could work the camp instead. True to Osborne's vision, Tom developed into a football star. An anchor of an Aurora program that went 24-3 his last three seasons.
As a senior, Carter said, "he was our defense."
One opposing quarterback marveled at the way Kropp flattened him, then lifted him up, then helped put his helmet back on. "Finally, he led me out of his huddle and back to my own huddle."

Kropp could kick, punt, snap, pass, catch. He broke his ankle sophomore year and didn't go to the sidelines.
"Hell, it was a life-changing experience for me to coach Tom," Carter said. "I could see him every day in front of me. There's an example that the harder we work, the better we are."
By senior year, Tom could finally beat his dad 1-on-1 in the driveway, but the old Marine didn't back off.
Bill Kropp had a good strategy during practice. Hold Tom to such a high standard — come down on him so hard — that his teammates will pity him and rally around him, strengthening their bond.
Tom didn't lack for support. When a newspaper reporter asked an Aurora 8-year-old why he cut his hair so short during the shaggy '70s, the kid said: "Mister, I'm from Kropp country."
On the road, strangers flocked to see Tom for the first time.
Doug Holtmeier remembered seeing Kropp at Lexington, where Holtmeier's dad was an assistant. "I literally thought he had 50 points and 30 rebounds. He was all over the place."
The next day's paper said Lexington "held" Kropp to 28. "Are you kidding me?" Holtmeier said.
Kropp's first three games as a senior, he scored 36 on Broken Bow, 32 on Albion, 45 on Minden. In February, he put 57 on Superior. Against Omaha Cathedral, Kropp's 41 included a 40-foot game-tying hook shot at the buzzer; Aurora lost in overtime. He averaged 33 a game.
Bill Kropp's teams always fast breaked. But the '71 Huskies blazed new trails because Kropp, at 6-3, was the only starter over 6-foot. Aurora, one observer said, resembles "a mother bear and four cubs."
At the 1971 state tournament, the Class B bracket was loaded with talent. As Aurora's bus rolls up to Pershing Auditorium, Kropp peeled oranges. One, two, three. The nerves did a number on him. Walking into the arena, orange juice stained Kropp's white jersey.
You wonder what Joe Paterno thought of that — the young Penn State coach was there to recruit Kropp. Behind Kropp's 35 points and 21 rebounds, Aurora blitzed Laurel, 91-71, setting up a semifinal showdown with Fairbury.
The same Fairbury team that Aurora hammered during the regular season. This time, a tug-of-war ensued between Kropp and future Husker Bob Siegel.
Kropp scored 45 and Aurora protected a one-point lead in the final minute when a Husky teammate lost focus and flipped a lazy pass to Kropp. A Fairbury defender sliced between them, raced the other way and scored.
Almost 50 years have passed and Tom Kropp has lost hundreds of games since. But that one — that play — stings the most.
* * *
What's next? A college decision complicated by 75 scholarship offers and persistent indecision.
Tom didn't string anyone along; Bill made sure of that. But while most prospects chose their colleges in February, Kropp waited until basketball was over. Then track — he won the Class B shot and discus again.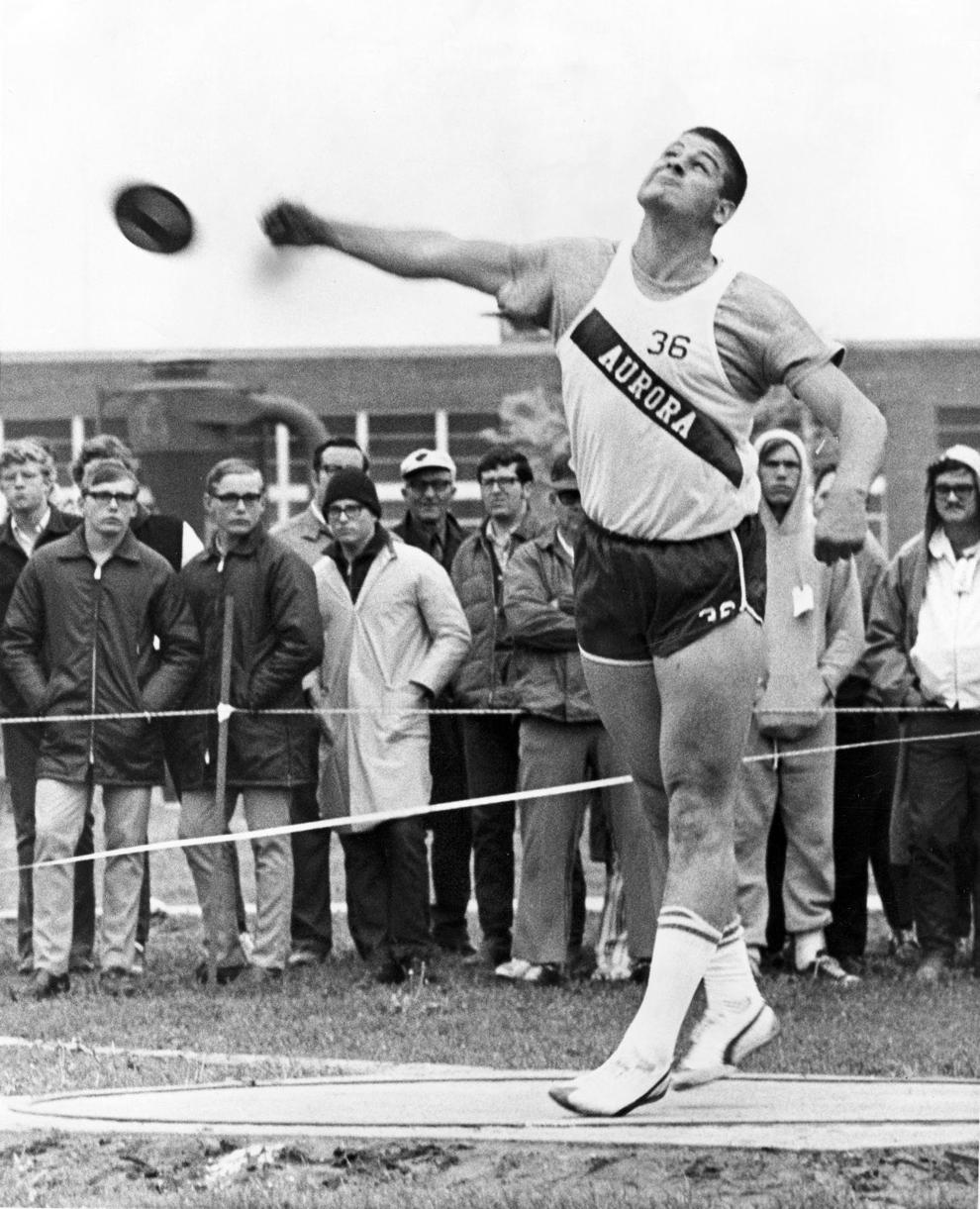 "He is the best example of young manhood we have ever known," his track coach said.
Osborne, a little more feisty in those days, confronted the kid he'd courted for three years. What do we have to do to get you to Nebraska? Do you want me to have the governor issue a proclamation?
Osborne heard that Kropp is considering John Wooden.
UCLA?!? You're not going to UCLA. If you like warm weather, we'll get three plane tickets for you, your mom and your dad. We're going to send you to Hawaii.
The notion of Nebraska's top athlete turning down the Huskers for Kearney State — just months after Devaney's 1970 national championship! — seems preposterous. He wouldn't even get a full ride at the NAIA school!
But all three of Kropp's siblings were at Kearney State. He wanted to play one year of college basketball with John. And playing two sports, as he wished, was tough in Lincoln because Nebraska football extended through New Year's Day.
The biggest factor was Kropp's small-town inferiority complex that clashed with his drive for greatness.To put it bluntly, Kropp was scared.
"Do you know how many scholarships Nebraska had in 1971?" Tom said. "180!" The signing class featured 45, including 20 in-state kids.
Kropp remembered a Plattsmouth quarterback going to Lincoln in '68 and sitting the bench. If he can't play at Nebraska, John told Tom, you sure as hell can't.
Kropp eventually signed his letter-of-intent to NU. But on his spring recruiting trip to Lincoln, Tom and host Chuck Jura challenged two football players to a pick-up game at the Coliseum. The guy guarding Kropp "just abused me," he said. "He physically annihilated me."
Who was that? Kropp asked afterward. Husker fullback Bill Olds, Jura said. And he hasn't been good enough to play for Devaney.
Kropp shuddered. "How the hell am I ever going to play here?"
His final decision became a source of summer drama for Nebraska sports fans. It dragged all the way into August, when Kropp started Shrine Bowl practices.
Omaha Ryan's George Mills, a South squad teammate, looked at Kropp with suspicion. Baby face. Crew cut. A roly-poly 245 pounds? And quiet as a mouse. Mills concluded that Kropp was media hype.
Then at practice one day, players launched into the blocking sled. Each time, the sled lifted a couple feet off the ground. Until it was Kropp's turn.
"He sprinted with an uncanny grace for a man his size," Mills wrote later, "and he hit it with an explosiveness not exhibited by any of the other guys. He flipped the sled completely over. There was sudden silence as everyone was stunned by what they had just seen.
"Then we whooped and hollered and congratulated Tom as he trotted back to the end of the line. The two coaches conducting the drill looked at each other, shaking their heads, and then laughed as they walked over to lift the sled."
On Aug. 21, 1971, 18,000 fans endured a 95-degree afternoon at Memorial Stadium to see the state's best blue-chippers.
Kropp scored all 16 points for the South team, including a 29-yard field goal. His 1-yard plunge in the final minute took the lead, then he sealed it by intercepting a North pass.
Afterward, a line of people waited to congratulate him, including Jeff Kinney, Van Brownson, Jerry Tagge and Husker coaches. Shrine Bowl officials asked him if he wanted to be player of the game for offense or defense. Offense, Tom said.
Devaney called Kropp's Shrine Bowl performance the best he'd seen in his 10 years in Lincoln. All the praise finally convinced Kropp he was ready for Nebraska. Devaney sighed with relief.
"He is a great football player, a very fine young man and will be a credit to our university and our athletic program."
* * *
A week later, Kropp arrived at his dorm with his entire high school wardrobe: five shirts and two pairs of pants. Devaney and Cipriano took him downtown to buy new clothes. (Contrary to legend, they did not give him a car).
He attended a freshman football meeting and registered for classes. When he checked out his equipment, he scanned the fullback depth chart.
"Do you know where I was listed on the depth chart? Seventh."
Two nights before classes, Tom couldn't sleep. He took a walk. Campus was dark and he didn't know his way, but he found Memorial Stadium. He approached the gates. Envisioned his life inside. The attention and pressure and possibility of getting swallowed up in a Sea of Red.
The next day, Sunday, he called his dad. Can you come pick me up?
When he broke the news to Husker coaches, they hustled to Abel Hall. (Poor roommate Tom Humm had to take a hike).
Devaney had never lost an in-state player of Kropp's caliber. Three months before the Game of the Century, Devaney kept pounding the same drum.
If you leave, Tom, you're always going to wonder if you could've played Big Eight football.
"I'm 18 years old and I had tears coming out of my eyes," Kropp said. "At that point, I didn't know what to do."
That's about the time Bill Kropp walked in. Devaney lingered a few more minutes, alerting Tom to the storm he's going to stir up. If you leave, he said, you're sure going to find out the difference between your friends and your fans.
One more time, Devaney pounded the drum: "You'll always wonder …"
And then the coaches cleared out. And it was just Tom and Bill Kropp, sitting on the beds. A few minutes passed. Silence.
All of a sudden, Bill got up and started putting Tom's stuff in cardboard boxes.
"Sh--," he said. "I played at Wayne State College for four years and I never once wondered if I could've played in the Big Eight Conference."
For better or worse, a Nebraska folk hero listened to his father. And for nearly 50 years since, he's heard Bill Kropp's growl in the back of his head. From Kearney to Washington, D.C. to Chicago to Belgium and back.
That Sunday night, they retreated to Grand Island, where Bill had taken a new coaching job. And the next morning, Tom's older brother drove him the rest of the way to Kearney, where he'd soon redefine the athletic department, first as a two-sport All-American, then as a basketball head coach.
"Since I've changed my mind," Kropp said in September 1971, "I've felt like a huge weight has been lifted off my shoulders.