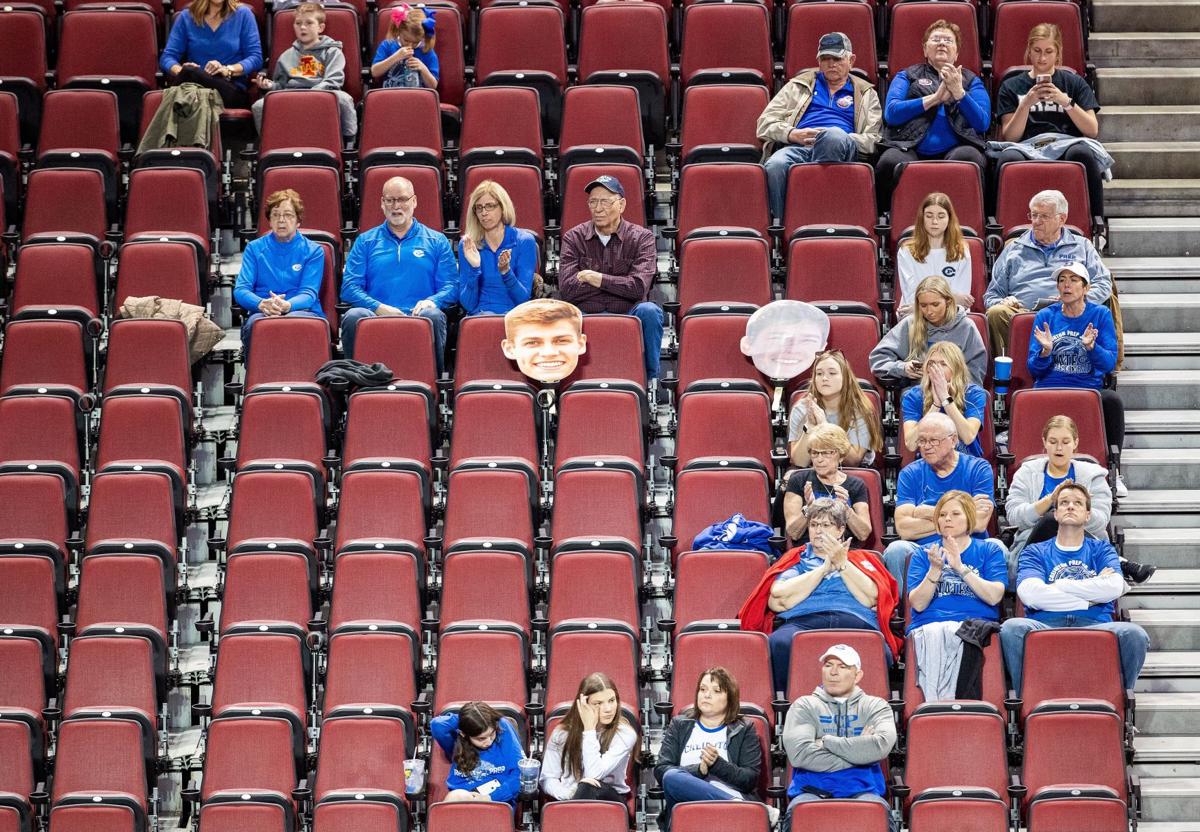 My head is spinning. My heart is hurting. My compass is broken.
I need to hear the Kansas Jayhawk fight song, and see a few thousand Beak 'Ems waving the wheat in the CHI Health Center.
I need a stroll through the Baseball Village, where I can hit one of those T-shirt tents and spend $20 on a shirt with eight baseballs or eight bats and the wacky logos of the College World Series teams.
I need to clear my head on the berm at Werner Park, stretch out and watch the sun set to the sound of a wood bat.
Mostly, I need a Zesto's shake.
They took away my Christmas. And my Fourth of July.
The year 2020 has some explaining to do. This was supposed to be our sports year to remember.
Well, we'll never forget it.
In the past 48 hours, the coronavirus has hit our sports world like an early spring tornado.
Sporting events across the nation have been impacted by the spread of coronavirus. 
First, fans were limited from watching the Nebraska boys high school basketball tournament.
Then, on Thursday, came the one-two knockout punches to the gut.
The NCAA canceled "March Madness," the iconic men's and women's basketball tournaments — the men's tourney was scheduled to come to the CHI Health Center for the fifth time.
Then came the crusher: The NCAA was canceling all spring sports championships.
That's the one that knocked the wind right out of me. I still can't believe it.
There hasn't been a summer in Omaha without a CWS since 1949. This has become my favorite event, mostly because it's a two-week reminder that Omaha is a great place to live.
Is this really Omaha if there's no College World Series?
One by one, the sports fell. NBA suspended. NHL. MLB. Werner Park will be empty until further notice.
Nebraska, Creighton, UNO baseball. All spring sports.
Creighton and St. John's made it to halftime. Then the Big East followed the cautious example set by the rest of the sport.
The Olympic Swim Trials? Stay tuned.
Husker spring football and the spring game are still on — for now.
It's hard to imagine, with everything that's going on, that NU would allow 60,000-plus people to gather in Memorial Stadium.
COVID-19 has made this a surreal time in our world. Schools have temporarily closed. Concerts have been postponed. There's no telling if and when basic facets of our lives — restaurants, buses, churches — will be impacted.
The headline in my house is to keep calm, stay clean and avoid contact and big crowds. The other headline is a high school graduation that is supposed to happen in two months.
Now we live our lives not knowing if the person next to us has COVID-19. Or if someone who was just in this room left COVID-19 germs.
And nobody knows when, or if, it will be contained.
Of course I'm getting back to sports. Sports is my job. For most, sports is the escape from all the bad stuff, the tough stuff, the real stuff.
But humans play sports, and now sports has been dragged into this national health crisis.
In fact, sports has had a leadership role here. There are some who may not be taking COVID-19 seriously or seriously enough. But take away their March Madness or NBA games and they start washing their hands.
Canceling and postponing the games is absolutely the right thing to do. And I know some are saying it's an overreaction, but wait another week or two and see if you're still saying that.
If you want to know why there's no NCAA tournament, let's look back at Wednesday night at the Big Ten tournament.
The Big Ten Network showed a shot of Nebraska coach Fred Hoiberg on the bench. Head hanging down. He looked terrible. It was an awful image.
Then came the snippets on social media. Hoiberg heads to the locker room. Hoiberg goes to the hospital. Husker team is quarantined in the locker room. Security officials won't let anyone go down the hallway toward the NU locker room.
The immediate response on social media was that Hoiberg must have the virus. And that his players must also have it.
What about the Indiana players? The people the Indiana players came in contact with, their families and friends? So on and so forth.
Later, NU issued a statement that Hoiberg was released from the hospital and only had influenza A.
What happened Wednesday between the hours of Fred Hoiberg's arrival at Bankers Life Fieldhouse in Indianapolis and departure capped a day in which the 21st century came face to face with the realities of a dangerous disease.
The reaction: Hurray! Hoiberg has influenza A!
When influenza A is a reason to celebrate, well, think about it.
That was a horrific scene and tense couple of hours for a lot of people. And that's exactly what could have had happened if there had been an NCAA tournament — even without fans present.
Creighton Athletic Director Bruce Rasmussen, the former chair of the Division I Basketball Committee, is well-connected with the organization. He was not surprised at the cancellation of the tournament.
"The NCAA put together a panel of experts on communicable diseases and infectious diseases," Rasmussen said. "The NCAA has been in communication daily with the Centers for Disease Control and World Health Organization.
"I have to trust that they know a lot more than I do about this situation."
Rasmussen said the bottom line was that with colleges nationwide shutting down classes and going online only, the decision to not let student-athletes continue to practice and travel and be exposed to uncertain environments made sense.
"It's an unusual time," Rasmussen said. "It's an unprecedented time. I trust that we're doing the right thing. But I don't think any of us understand the implications that this will have, not only on college athletics but society as a whole.
"We had a strange period of time after 9/11. And this is going to be another strange period of time. Hopefully we look back and say we did the right thing."
But the games returned a week or so after 9/11 and provided therapy for many. We don't know when these games are coming back.
The virus is in charge. And that's exactly why the idea of postponing the NCAA tourney for a month or several weeks was not an option.
That includes the games scheduled to be played in Omaha next week at the CHI Health Center.
"I know that was considered," Rasmussen said. "As we're becoming more educated on COVID-19, we're seeing the impact of that is going to be longer than anybody in the country imagined.
"I was hoping we would find a way to play the tournament with no fans. Or postpone the situation. But I have to trust those people that have been involved with this.
"My understanding is, all you need is one or two basketball players who have COVID-19 and you have a completely different issue. We see that in the NBA. While this may be an overreaction, if you're going to err, I would think you would err on the side of overreacting."
I asked Rasmussen if the CWS could possibly return later, in July or August. The NCAA canceled spring sports championships, not the actual spring sports seasons. The conferences did that. Could the sports return in a month or so?
"At this point it's not only not likely, it's not going to happen," Rasmussen said. "That's not to say something can't happen a month from now to change that.
"But a lot of campuses are encouraging students to be gone for the rest of the semester. It's highly unlikely that we will change how we operate our athletic departments this spring."
So you feel for the college senior baseball and softball players, the decathletes, the tennis players and golfers whose careers slammed to a halt on Thursday.
The swimmers and wrestlers, too. All that training and no chance at a national title.
You feel for the Creighton men's basketball team. The Jays' special season ended abruptly at halftime of their first-round Big East game with St. John's.
They'll never know what seed they might have gotten. Or if they would have earned a trip to St. Louis, where their fans couldn't have cheered them anyway. Or if Marcus Zegarowski could have made an inspirational return to lead the Jays to the Sweet 16.
Most of this great team returns next year. But Creighton's first Big East champs will have a bittersweet "What if?" tone, also.
Rasmussen reminded to think about the folks not in the spotlight: the ushers, ticket takers, security, airport personnel, restaurant people, "many of them living paycheck to paycheck."
When we talk about a combined $75 million lost to the Omaha economy, they are the ones I think about.
But we can't feel sorry for the athletes and coaches or ourselves. The easy trade-off to losing our favorite games is the hope that we're getting out in front of a dangerous virus. And that this will lead to containing it.
"I've always told our athletes that athletics is a game meant to be enjoyed today, talked about tomorrow and forgotten the day after," Rasmussen said.
"It's a blessing that we've been given to enjoy. Remember it as such. No lives are going to be saved or lost by the final figures on a scoreboard. We can't let those things that are least important get in the way of those that are most important.
"And getting this virus contained is what's most important."
Indeed. If losing our games is the saddest thing that happens, that's a good thing.
Photos: History of Creighton men's basketball in the NCAA tournament
Creighton has made the NCAA tournament 21 times in program history. Here are some of the best photos taken in that time.