Mornings at the longstanding basketball camp would begin with ear-piercing whistle blasts.
The camp's hoops experts were doubling as counselors on the Hastings College campus. And as chaperones, meal planners, statisticians and film experts.
So it made sense that Lynn "Doc" Farrell and his team of coaches treated the wake-up calls like the start of a practice.
Right around 7:30 a.m., Farrell started pounding on walls and rattling doorknobs, accentuating each of his steps with whistle shrieks as he zipped his way through all the corridors of Bronc Hall.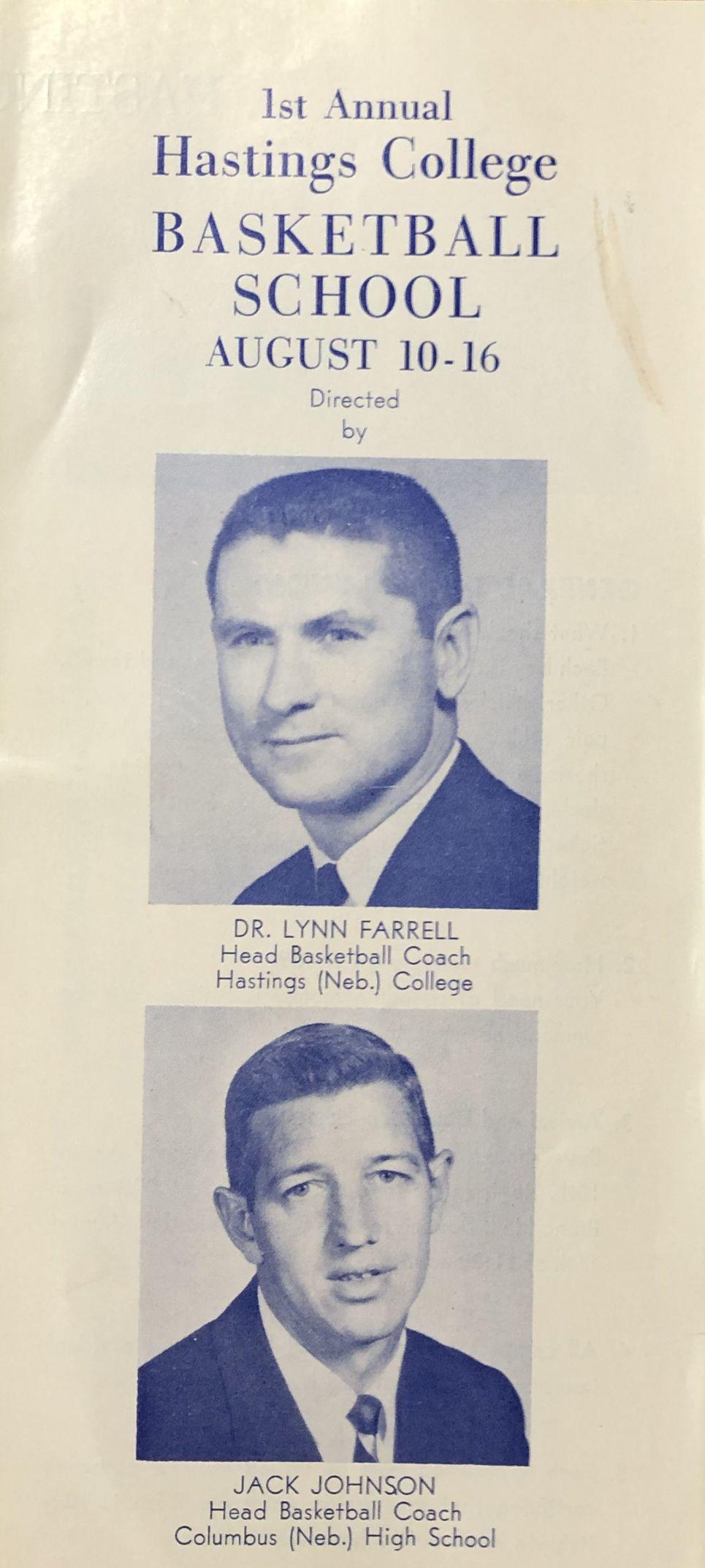 "We always had a bunch of good kids — but yes, we had to get them up in the morning," the 88-year-old Farrell said by phone from his home in Kansas.
And that's not a complaint.
Farrell enjoyed each one of his duties — most were his idea, anyway.
The Hastings College coach initially planned with then-Pawnee City High coach Jack Johnson, back in the late 1960s, to start a basketball basics clinic so they could help nurture a few young players in the area.
The Hastings College Basketball School quickly evolved into a can't-miss summer event for junior high- and high school-aged kids across the state. It was an away-from-home hoops oasis that attracted more than 1,000 participants over four or five one-week sessions each summer. For half a century.
"I mowed lawns so I could go twice in one summer — my parents paid half of it for me," said Brad Feeken, the Gretna boys coach who's from Hastings. "I think I went five times. I thought it was one of the best camps, with something for everybody. It was so much fun."
There are tales of an eighth-grade Eric Piatkowski winning nearly every award one year. Omaha star Ron Kellogg was a counselor once. Feeken said he met former Husker Andy Markowski there. Russ Hochstein was one of several future Husker football players who took in a week.
John Hammond, now the general manager of the Orlando Magic, helped as a coach for several summers. Organizers brought in Don Meyer to speak — Meyer, a Wayne native who coached at Northern State in South Dakota, held the college basketball all-time wins record until Mike Krzyzewski passed him.
There are tons of high school coaches across the state with stories about instructing kids by day and playing cards until their eyes hurt at night.
"The pressure's off, so you can just teach the game in a relaxed atmosphere," said Larry Ribble, the hall of fame coach formerly at Millard South who started working summers with Farrell in 1970. "The thing I liked about it, it was a fundamental camp."
Yes, the staff wanted to teach the game. The basic skills needed to properly shoot, pass and dribble.
They took the time to film each camper's jump shot — on 8-millimeter strips for the first several years — then analyze it for quirks. They had coaches lead instructional sessions. They tried to pass along drills that could be easily replicated at home.
But Farrell and his coaches also went to great lengths to ensure the kids left smiling.
They let the youngsters hang out by the television in the dorm's common area. The NBA Finals, or whatever was on MTV, kept many occupied.
Kids had swimming pool access. They got to scarf down all-you-can-eat meals, and yet still were allowed after-dark pizza deliveries. And, of course, each camper left with a T-shirt and camp photo.
The staffers conducted one-on-one tournaments and three-on-three events. They kept stats and shared them with the campers at breakfast every morning. They pulled pranks and ran skits — when "The Gong Show" was in its heyday, they sent the gym into hysteria by yanking Hammond off the stage midpresentation.
They brought in an adjustable hoop that became legendary for rim-grabbing enthusiasts of all sizes. The SkyDunk machine, they called it. Hemingford's Joe Lliteras slammed one home with the hoop set to 11-foot-3, what's believed to be a camp record.
Then there were the evening team games.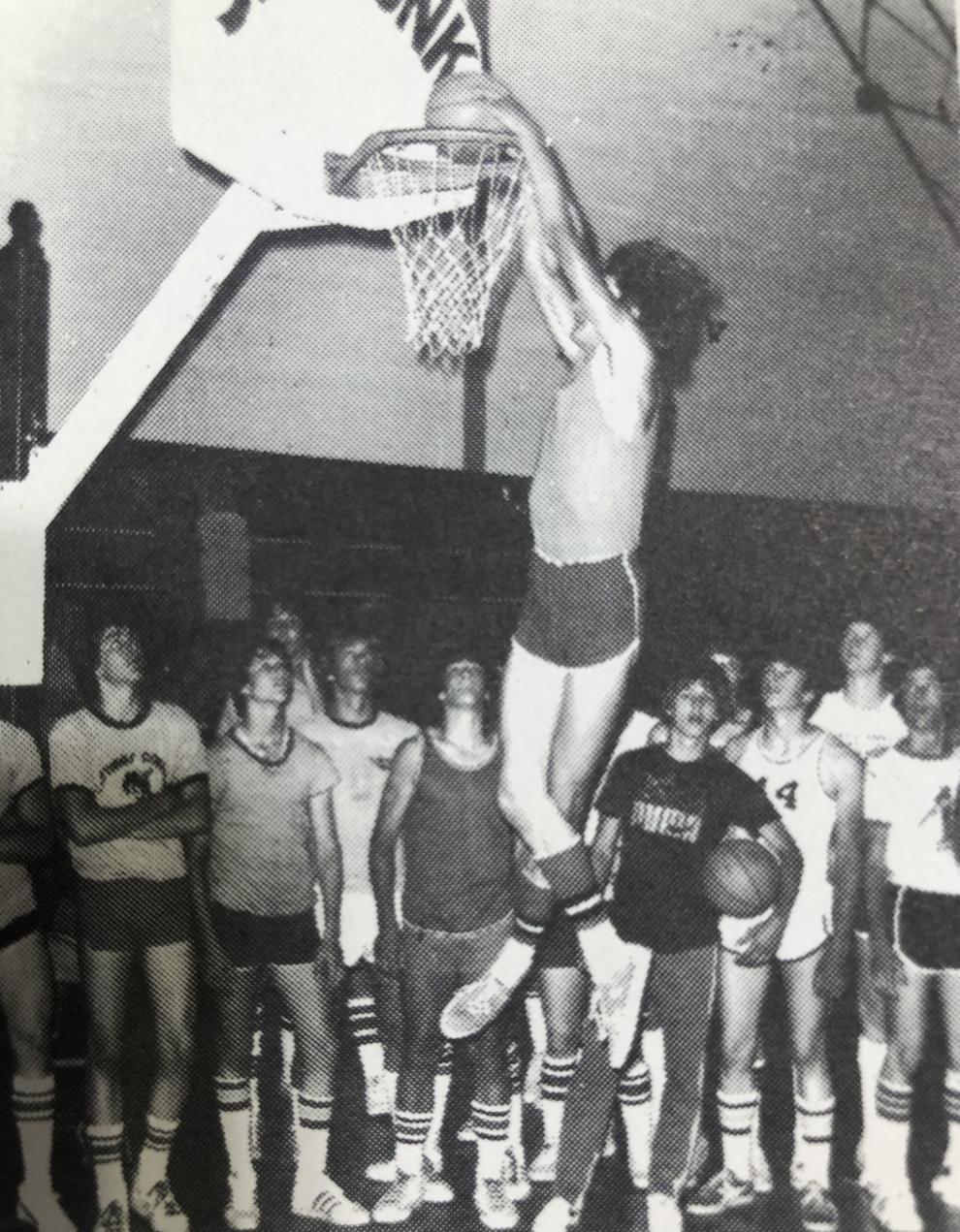 Farrell and crew designed those so rosters would vary based on performance. That way, a camper wouldn't get stuck with a dud squad all week. Farrell helped build a poster board that revealed the new groupings each night — tabs with the names hung from hooks.
"Doc was the brains behind it all, there wasn't any question about it," said Mike Trader, who played for Farrell at Hastings College and then succeeded him as coach. "Doc was just brilliant. He did just so many little things, simple things, that the kids liked and that made the camp successful."
Trader started helping in 1972. He took over the operation after Farrell retired from coaching in 1986.
And Trader's still running a camp in Hastings. It's scaled down a bit. But much of the core structure — probably 90%, Trader said — that was put in place in the 1970s remains the same, he said. Trader's running a handful of other camps in different Nebraska cities, too, often aided by Ribble.
"Probably 15 years or so ago, the high schools all started to have their own camps and feeder teams," Ribble said. "There are so many more options now. So we've had to change things a little bit."
They'll still often see a kid whose dad or mom camped with them back in the day, though. Or an uncle. Or a cousin.
Attending the state tournament was always a treat for Farrell because he'd see so many familiar faces sporting Hastings College Basketball Camp T-shirts. Maybe a few former campers would pretend they were shooting a basketball, flick their wrist and hold the follow-through — coined the "camp wave."
When Farrell reflected on it all the other day, he said he never spent much time considering the scope or significance of the summers at Hastings.
He had a blast. So did the kids. That was what mattered.
"Let's see, we had the first camp back in the '60s. How old would some of those kids be now?" Farrell said. "They've got some age on them, haven't they? Boy, we saw a lot of basketball players, a lot of good ones. But I was very fortunate. I had a lot of good coaches helping me out."