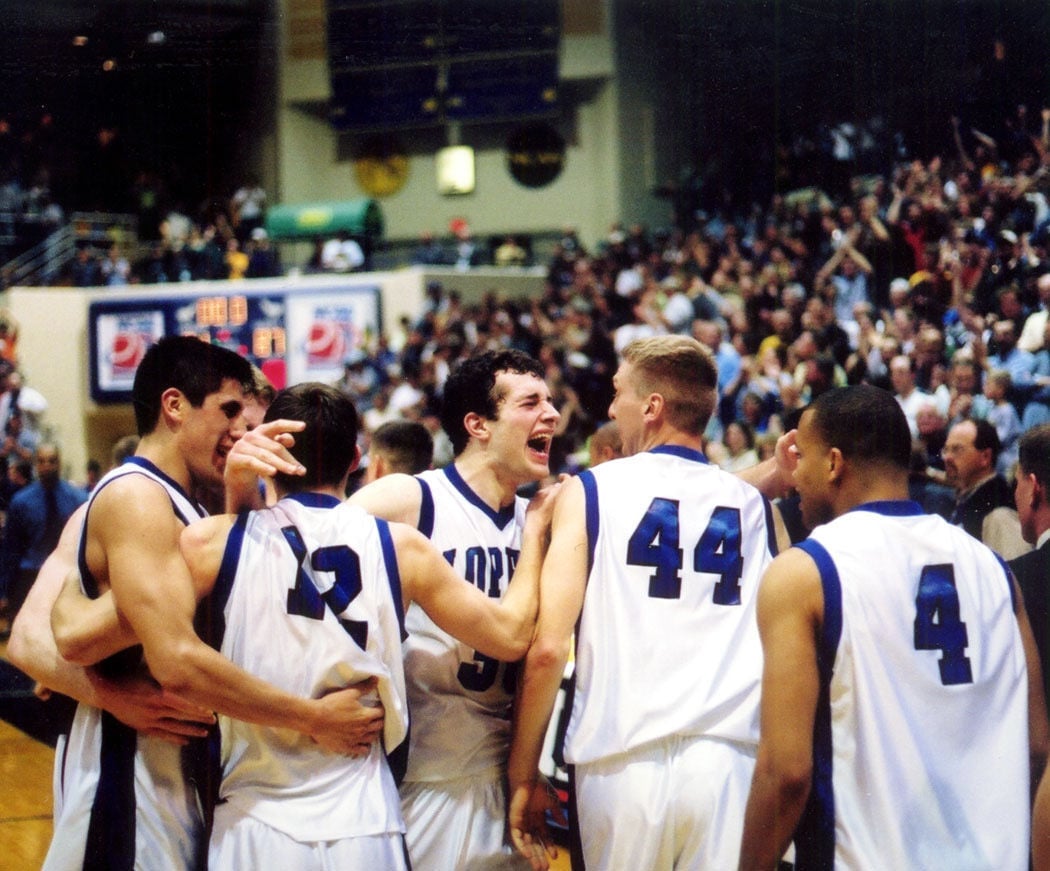 Brian Dunagan knows it's out there somewhere. In a dark corner of his basement. Maybe a dusty cardboard box in some forgotten storage unit. More likely, gone forever in a central Nebraska landfill.
About a year after the greatest Loper basketball season ever, Dunagan and his teammates got together one night at a college house in Kearney and — perhaps fueled by beer — documented their experience.
Twenty-three straight wins! Ranked as high as No. 2! All culminating with the biggest crowds and wildest basketball weekend Kearney had ever seen!
But really — let's be honest — they mostly just told Tom Kropp stories. They passed around Dunagan's video camera and, in their best Kropp voices, tried to imitate his tongue-lashings and life lessons. One story sparked another, which sparked another and another. An hour later, they'd produced an oral history of playing for a Nebraska folk hero.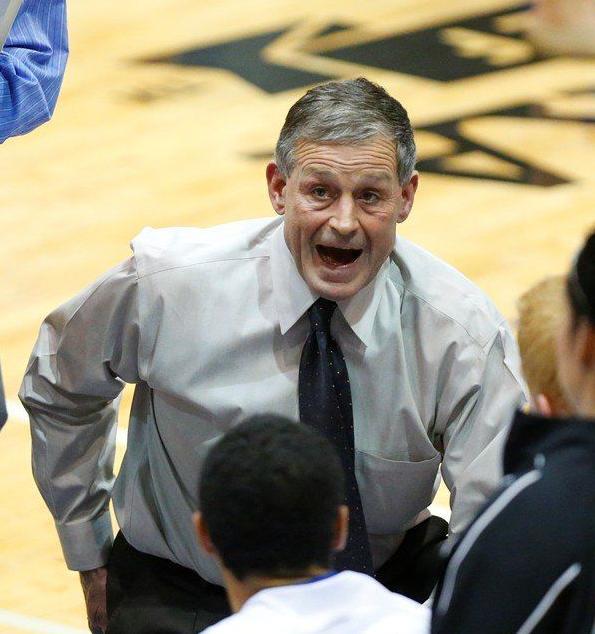 Dunagan always meant to burn the tape to DVD and distribute it. But somehow in all his post-college moves, he lost it.
"I would give 10 grand if I had it in my pocket right now," Dunagan said. "I cannot find it anywhere."
He lost a treasure. Here's what he keeps: Marathon text-message chains with old teammates, full of laugh-until-you-cry emojis. Vivid memories of conditioning drills and post-game celebrations that didn't make the official record book. And a sense of gratification from emptying the tank.
You can't tell the tales of Tom Kropp without his signature team, a group of undersized overachievers who lacked in slam dunks, but overcame with floor burns. What drove them? Their teammates and their families and their school. But mostly their coach.
"I would've ran through a freaking wall for that guy and not even thought twice about it," Nick Svehla said. "It's unexplainable. I can't put my finger on it."
For decades, understanding Kropp felt just as elusive. But in 2003, a year in which he won 30 games and lost a battle far more important, his players found a way into his world.
* * *
Dunagan thought he was ready.
His dad played for Bill Kropp at Grand Island High School. Followed Tom by a few years at UNK. As a kid, Brian attended Loper basketball camps and watched Tom put on shooting clinics, full speed, full extension.
He felt Kropp's energy and grit.
Dunagan won a state championship and played for a great coach, Dave Oman. He earned a reputation for sharpshooting and hard work. He intended to go to UNO, but Kropp made a rare recruiting visit to his house, pulled out a piece of notebook paper and pencil — in his slow cursive — made an honest list of plusses and minuses for each school.
Dunagan committed. He couldn't have felt any more prepared.
Then a few days into school his freshman year, August 2000, Dunagan received a call from his new head coach. Meet in my office in the next half hour. Bring your gym clothes.
When Dunagan arrived, Kropp was in his Russell gear — sweatshirt tucked into his sweat pants, sweat pants tucked into his long socks. Two balls in hand, he flipped one to the freshman.
"Brian Dunagan, we recruited you to be a shooting guard. Let's go play some shooting games."
So began Dunagan's introduction to Running Horse, Kropp's variation of the old driveway game, highlighted by never-ending movement and relentless concentration. Kropp doesn't play HORSE to attempt circus shots, no. It's a tool for development — body and mind.
Kropp gets control and stays in control with an avalanche of "easy" shots. Eight feet, 12 feet, 18 feet. Boom. Boom. Boom. Get out of rhythm and the points (not letters) pile up.
1-2-3 … Miss 10 shots and you lose.
"That's one game for me, zero for Brian Dunagan."
Dunagan could shoot 3s with precision, but Kropp didn't let him venture that far away. Boom. Boom. Boom. He finds a weakness — baseline jumpers? — and exposes you. And he always announces the score.
"Seven games for me, zero games for Brian Dunagan."
After every game, move to another basket. Dunagan visited roughly 15 baskets that morning, losing all but one game. Finally, Kropp rebounded Dunagan's last miss and flipped the ball back to him.
"Brian Dunagan, we recruited you to be a shooting guard and you're not a very good one. You better keep this."
By the fall of 2002, Kropp had the Lopers running faster than ever. And he'd compiled a roster that reflected all of his best characteristics.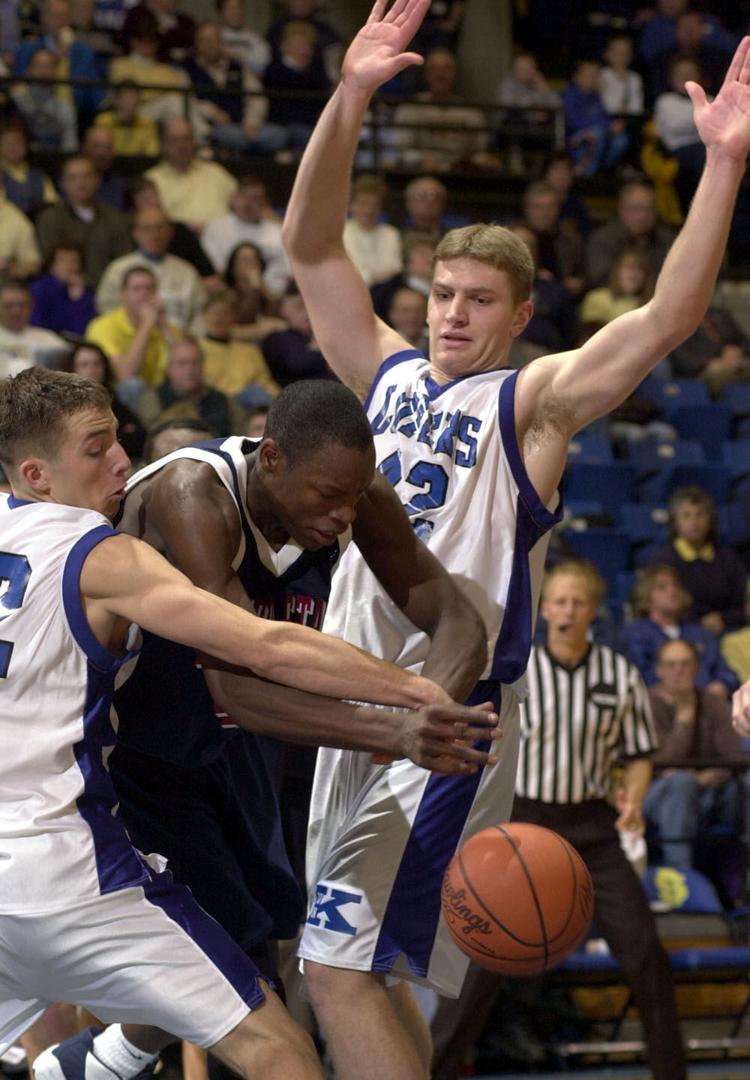 Coming off a 24-6 season and an RMAC regular-season title, UNK lost in the regional semifinals to conference rival Metro State. Metro had made three national championship games in four years and ended four consecutive UNK seasons. Hex? No, Kropp said. Metro was just better.
Kearney had made six Division II postseason appearances since 1991 but never advanced out of the North Central regional. Never reached Division II's marquee Elite Eight.
But Kearney returned four starters, all of whom had been fully indoctrinated into the Cult of Kropp.
They knew to clench their teeth when shaking his hand — he squeezed so tight as he looked you right in the eyes.
They knew about his summer daily regimen: 1,000 jump ropes, 500 shots without the ball hitting the floor.
They tried to keep pace with his jump rope at 6 a.m. on Mondays and Fridays in the fall. "Something that no other coach in their right mind is doing," Dunagan said.
On Tuesdays and Thursdays, they ran 20 line drills in 20 total minutes. You might have 49 seconds for the first suicide. By the last one, you had 33 seconds and could barely breathe.
They'd run suicides because freshman Nick Branting played Pac-Man at a McDonald's in Pueblo, Colorado. Normally it might've been OK but not after back-to-back losses. "He glared straight into my soul with the most furious stare for about 10 seconds," Branting said. "Felt like 10 minutes."
They'd heard Kropp berate Jake Mohs for failing to use a ball screen "You're either stupid or you just don't care!"
They'd endured film sessions where Kropp demanded rewind for Mike Gitt's lazy flailing arms on defense. "Play it again!"
When Joey Cochran complained about eating Domino's pizza on a team trip to Hawaii, Kropp delivered a 30-minute speech about gratitude and humility, about a bare Christmas tree in Clarkson, Nebraska, when his aunt and uncle showed up with a six-pack of Coke. "You'll swim back to the mainland," he warned.
They'd heard his advice for handling dirty play. If an opponent gets a little rough, don't plead with officials. Don't retaliate with a foul. Instead of whipping a pass next to your opponent's ear — as you're taught — hit him in the forehead. Or post up, get your man in the air with a pump fake and go straight up, elbows out. Lay him out.
"This is a men's sport," Kropp told them. "And this is how men play the game."
They heard about the coyote that drags himself until it dies. And about the lazy flip pass that cost him a high school state championship. About Kropp asking students if they'd ever worked so hard their bodies collapsed and started flopping like a fish on a dock. No one?
"So none of you have ever gone as hard as you can."
On the first day of practice, junior college transfer Marty Levinson scooped up a loose ball and completed the scrimmage with a fast-break layup.
"No basket!" Kropp yelled. "You didn't grab the loose ball with two hands."
Despite all of that preparation — the hundreds of hours of teaching — they still didn't know Coach Kropp. He didn't let them. Why did he push so hard when he had no use for fame, money or even glory?
Nobody could figure it out, Loper guard Kyle Fletcher said. How could someone so esteemed be so mysterious? So widely known but so untouchable?
The Lopers opened the season at home against old rival Hastings College. They won by 20. Then they bombed Wayne State by 21. Then blitzed Nebraska-Omaha by 20.
Two nights later, Mesa State came to Kearney. And the Lopers finally got complacent.
At halftime, Kropp and assistant Kevin Lofton typically walked out the north side of the Health and Sports Center, curling back around to the locker room to address the team. That night, Kropp beat them to the locker room. He stormed in to yell at them and immediately walked out without saying a word. Lofton started talking and 30 seconds later the door swings open again. Kropp starts ranting and storms out again. Thirty seconds later, he's back again with more f-bombs than George Carlin.
UNK walked out of halftime with a four-point lead. They won by 34.
"It was scary how good we played that second half," Levinson said. "We weren't gonna let him down."
* * *
You could tell from the crowds that something special was building.
Almost 4,000 showed up for the UNO blowout. Kropp's closest confidantes usually sat right behind the bench. But there was one glaring empty seat.
Bill Kropp retired from coaching in 1977 following a 20-2 season at Grand Island. In 24 years in Nebraska high schools, he won 70% of his games.
"I remember he scared the living daylights out of me," said Kyle Hoehner, who watched Bill once at Grand Island. "He was that guy that was just bigger than life."
Bill's hard edges softened in retirement. When he started spoiling grandkids, Tom's siblings would look at each other in disbelief: "Wow, that would've never happened with us."
But the lessons endured. Over the years, he'd receive calls from former players thanking him for his discipline. No surprise, right? Except some of these kids he'd kicked off his teams.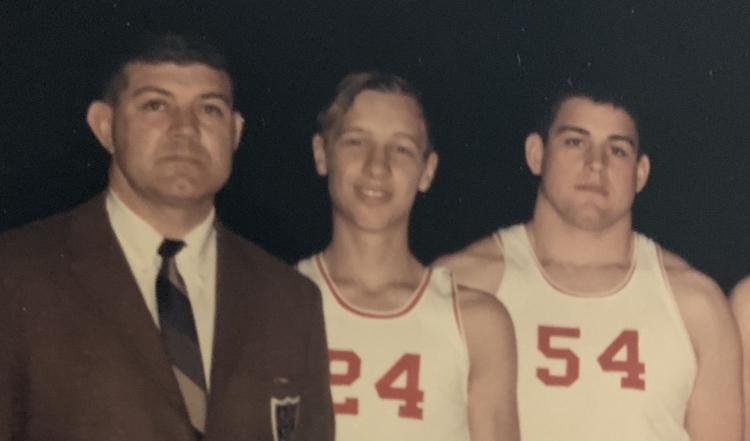 Nobody heard his voice more than his youngest child. Once a former teammate asked Tom Kropp for pointers on coaching his daughter's team. Tom handed him Bill Kropp's coaching handbook compiled 30 years earlier.
When Tom took over at UNK, friends got a laugh watching the bench. There was Bill sitting a few rows behind his spittin' image. And on the floor? A Loper team striving to meet their standards.
But Bill hadn't felt well for a long time. And as the 2002-03 season began, his family convinced him to find out what was wrong.
The day of surgery, Tom picked him up to go to Lincoln, and Bill disappeared to the back porch. One more cigarette.
Bill smoked most of his life. But the Kropps hoped for the best when they entered Bryan Hospital. They huddled in the waiting room. Within 20 minutes, the doctor walked in. This is not gonna be good, John told Tom.
Cancer, the doctor said. So much that they couldn't do anything to help.
Kropp returned to Kearney and broke the news to his Lopers: One of their biggest fans wouldn't be coming to games anymore.
Tom started making frequent trips to Aurora, often driving over and back the afternoon of a home game. He told his dad about this special group, like an image right out of his handbook.
His backcourt rotation featured three relentless Grand Island kids: Dunagan, Levinson and Chad Sheffield. His forwards were tough and versatile: Nick Branting, Richard Dionne and Mike Gitt.
And his leader, Nick Svehla, he's what Bill Kropp called a thoroughbred. Bill loved going to the horse races in Grand Island because of their 100% effort.
That was Svehla. An all-stater at Creighton Prep, he seemed a natural fit for UNO, too, but he couldn't make a decision. "The stress was just eating me up."
The day before his self-imposed deadline, he talked to Kropp, who understood recruiting indecision as well as anyone.
If you decide not to come to Kearney, we'll be fine. We really want you, but you gotta do what's best for you.
Svehla hung up thinking, "If he cares enough about me to be OK with me going to a different school, I want to play for him."
Kropp inspired Svehla's rigorous offseason shooting workouts, without fear or intimidation.
"I cannot explain to you how much harder you wanted to play when he stepped into the gym," Svehla said. "If he wasn't in the gym, you could be kinda shooting around and just playing. He'd step into the gym and you didn't want to disappoint him."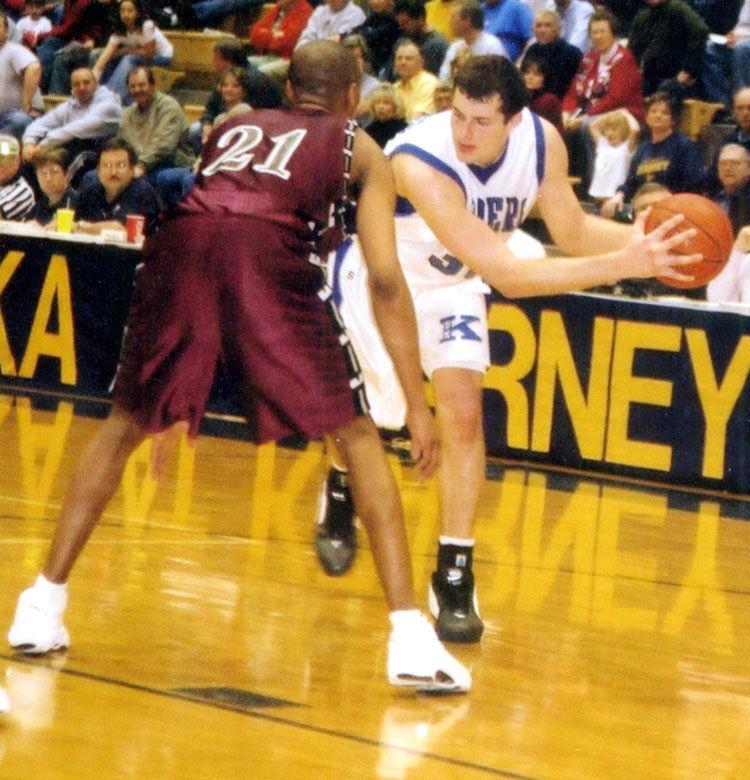 Svehla didn't jump high. Didn't beat anyone off the dribble. He just wore down opponents. He averaged 17 points and seven rebounds his junior year, 2002. By his senior year, he was an inside-outside force with a knack for clutch performances.
"If you went to a game and you knew Kearney had an All-American and 'Let's pick him out during warmups,' you wouldn't be able to do it," Kropp said in 2003. "He's not very intimidating when he comes into the gym. But he's so tenacious, and so hard-nosed.
"As the game wears on, he kind of rises to the top."
* * *
At Christmas, they took a break. A long break. Kropp always ordered his teams to work out individually, but he knew they needed time off. He understood their stress.
Following 17 days between games, the Lopers swept a 1,200-mile road trip to Southern Colorado and New Mexico Highlands.
They rolled through the following weekend, too, setting up a road trip to Gunnison, Colorado.
The sign in the visitors locker room promoted Paul Wright Gym as the highest altitude arena in the United States: 7,723 feet above sea level. Fellas, we can take that sign and shove it up their ass, Kropp said.
They did. And leading by 30 in the second half, Kropp called timeout. "That was for them," he said.
That wasn't the only button Kropp pushed that day. At pre-game shootaround, Branting tweaked his knee and took a seat on the bench. Afterward, Kropp gathered the team and delivered a speech about the difference between pain and injury. Branting, furious that Kropp not-so-subtly called him out, scored five points in the first 30 seconds.
Over and over, Kropp encouraged them to enjoy their success. Heck, 35 years in basketball and even he'd never experienced a run like this. Yet he kept directing their eyes from the scoreboard to his favorite quote.
"Success is the peace of mind and self-satisfaction of knowing you took your God-given ability and did the very best you could."
Said Levinson: "We lived by that quote."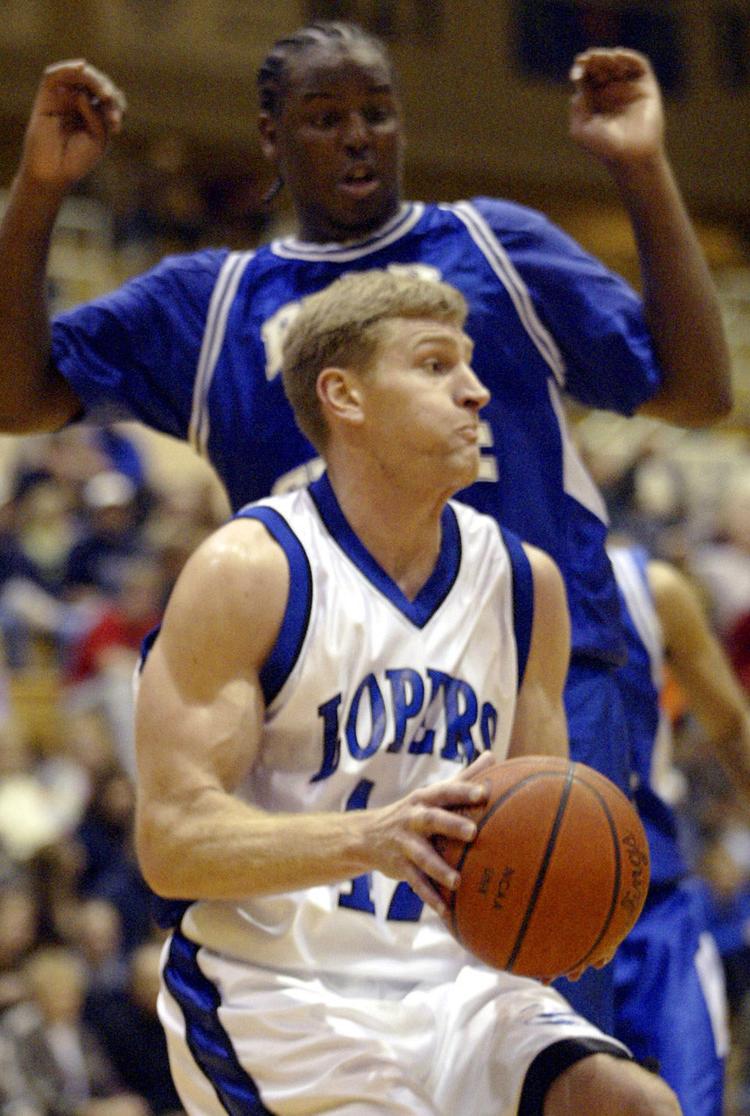 One day, after a long practice, the Lopers were running suicides. Don't dare put your hands on your knees or he'll chew your butt. As players panted for air, Kropp stopped and gave them a break.
You guys wanna feel sorry for yourselves? You should go to a hospital right now and just think about how many people would just die to be on that line right now. They would give anything to be on that line.
"That's the fastest suicide I ever ran," Cochran said.
They knew Kropp was thinking about his dad. Sometimes he described Bill's declining condition, sometimes players put two and two together. But they kept winning, including a late rally over Fort Hays State in front of 5,800 fans to break the school record for consecutive wins.
One of Wooden's mottos was "Never lie. Never cheat. Never steal." Bill Kropp frequently recited the quote, with an addendum. "Always cater to the underdog."
On Feb. 12, Tom Kropp celebrated his 50th birthday with a gift for his underdogs. The next night against NAIA Morningside, he started the three players at the end of his bench. Even his dad questioned the move.
If you take your first loss because you started three guys who never play, they'll run you out town.
No, dad. They work as hard as anybody in practice. UNK, newly ranked No. 2 in Division II, overcame a slow start and won 117-96.
* * *
How the heck were they doing this?
The Lopers' tallest guy was 6-foot-6! In pre-game layup lines, they looked like a high school team. Rebound. Flip pass. No dribble. Two steps. Use the glass. All mandated by Kropp.
"Cool guys get you beat," he often said.
Kropp imposed two-dribble limits on certain players, including Levinson. And don't even think about going between the legs unless you gain an advantage from it.
"You never see that in teams anymore," Levinson said. "No coach can get ahold of their team like that where there's no individual showmanship. We didn't even want to."
But Kropp did value freedom. He wanted five guys who could dribble and shoot. He wanted a free-flowing offense built on fundamentals. If a teammate held the ball too long, Kropp didn't have to say a word. His players did the shouting.
"Teams had a tough time guarding us because we didn't even know what we were doing," Levinson said. "We just knew each other's strengths and we worked together."
By late February, UNK had become the biggest game on every opponent's schedule. And games were getting tighter.
The night after Morningside, the Lopers needed overtime to win at Colorado Christian. Next night, a last-minute Richard Dionne jumper edged Colorado Mines.
The streak ended at Fort Hays State, UNK's fourth game in six days. Kropp saw it coming, but he didn't take it lightly.
You let 'em bogard you! (Nobody knew what bogard meant, but it probably wasn't good.)
The next game, UNK's fourth straight road game, it scored only 23 in the first half. Kropp stormed into the locker room with a stat sheet.
Svehla was 6 of 9 from the field. The rest of the team? 2 for 22.
"If I were you, Nick Svehla, I'd tell these chickens---s to give me the ball and get the f--- out of the way."
Svehla went 6-for-6 in the second half and UNK won 72-59.
How did Kropp pull it off? How could he say things that might prompt a rebellion or disengagement in other locker rooms?
It always came back to credibility. Kropp's body of work gave him authority that players couldn't ignore. That's why he could push as hard as he did. And that's why it meant so much when he praised you for diving into the scorer's table.
Kropp could make you feel 1-inch tall, Kyle Fletcher said. Then he'd build you back up as high as the Empire State Building.
"He could say something that may sound degrading to most people, but at the same time it made you want to be better," Dunagan said. "For me, I think I played a little better when I was angry. He knew that."
* * *
UNK caught a second wind and finished strong. 26-1.
A second loss to Fort Hays State in the RMAC tournament didn't dampen enthusiasm, but it did annoy Kropp, especially when Svehla told the Kearney Hub that "there wasn't much to gain" by winning the league tournament. For two days, he gave his best player the silent treatment. Respect the game.
Kropp promised the Lopers if they received the No. 1 seed in the North Central Region — Kearney's first-ever opportunity to host a regional — he'd let them watch old game tapes of his NBA days. He followed through.
That may have been the Lopers' last moment of relaxation. First round, they drew Minnesota Duluth and trailed with 10 minutes left before Dunagan — the shooting guard Kropp envisioned — got hot in the second half.
The next night against South Dakota State, the tension intensified. The towering Jackrabbits grabbed a 14-point halftime lead thanks to a 34-14 rebounding edge. UNK clawed back, taking a lead with 3:30 left. Svehla's layup in the final minute held up. The 86-85 win set up the ultimate climax.
Metro State, Division II's dominant program.
The Roadrunners were UNK's nemesis — and antithesis. Kropp built the Lopers with local kids. Dunlap developed Metro with mercenaries like Australian Luke Kendall and Congolese Patrick Mutombo. UNK represented brilliant improvisational offense. Metro was known for stifling pressure defense.
The Lopers had beaten Metro twice the previous two months, but this was a regional final and Metro State always played its best in the postseason.
When Kropp addressed his team in the locker room, he told them that fans were parking at the country club because campus lots were full. This is what you worked for all season, he said. An opportunity to play a game like this. Enjoy it. And, one more thing …
Basically 20% of Kearney showed up and squeezed together. When 5,600 are screaming in a small arena, it's all chemistry and IQ because you couldn't hear your coaches and teammates.
UNK fell behind again. Trailed 38-30 at halftime. When Dunagan sprained his ankle, the scene didn't look good.
But Svehla got going and the margin closed. At one point, Levinson passed up a free-throw jumper and Kropp called him over at the next whistle.
"If you ever get open again, take that shot," Kropp said. "You deserve it as much as anybody."
Boom. Levinson's 3 tied it at 45. Back and forth, all the way to overtime.
That's when it looked more dire. The stress was too much. Kearney's archrival was about to tarnish its dream season on its home court.
When Metro scored with 14 seconds left, the Lopers trailed 78-75. Kropp let 'em play. Branting found the All-American power forward in the left corner.
Svehla had only made 12 3s all season. Wasn't his game. But with six seconds left, he didn't hesitate. You could've heard the roar all the way to Aurora.
In double overtime, Svehla scored nine more and the Lopers ran away, 94-87. Svehla, Sheffield and Branting played all 50 minutes. UNK was going to the Elite Eight.
After the buzzer, Dunlap, the Metro State coach, stepped to the center of the court and applauded the UNK fans. "I couldn't be happier for Kearney," he said. "And in particular, coach Kropp. … This is what college basketball is all about."
Before a crowd that didn't want to go home, the Lopers cut down the nets. The gimpy Dunagan tried to coax Kropp to the ladder. C'mon, Coach!
He wouldn't do it. He sat in the bleachers — not far from his father's old spot — and just absorbed it all. Finally.
Here was the culmination of all those years rushing out the door to shoot baskets on the garage hoop. Driving his Ford Maverick around Washington, D.C., in search of pickup games as an NBA rookie. Diving on the floor at noon ball. Challenging recruits full-court, 1-on-1. Here was a coach who'd accomplished the impossible: he built a team that played like Tom Kropp once did.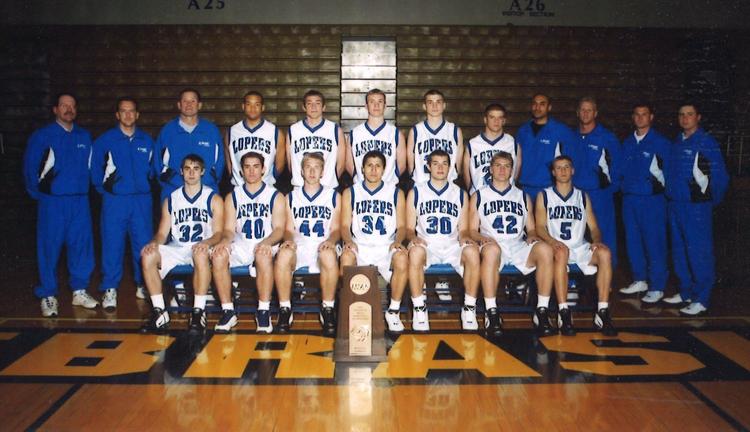 That was the answer to their questions. That was Kropp's endless, obsessive pursuit. Not glory, but purity.
"It's like, God invented this game and he has this idea of how it's supposed to be played and it's Tom's job to get people to play it that way," said Hoehner, the former Kearney High coach. "And he believes it with every cell of his body."
In March 2003, even as he was losing the man who instilled his passion, he gained fulfillment.
The following week, the Lopers ran into a juggernaut in the Elite Eight. Northeastern State blew them out. Kropp expressed no regrets. His best team had fulfilled Wooden's vision. And his dad's.
Success is the peace of mind and self-satisfaction of knowing you took your God-given ability and did the very best you could.
Five months later, the Saturday before the first day of fall classes at Nebraska-Kearney, the Lopers got together for one more road trip. They put on their finest sport coats and ties. They carpooled an hour down Interstate 80. They squeezed into United Methodist Church and mourned the loss of a man they knew only in stories.
And when they filed out of Bill Kropp's funeral, they knew their coach just a little bit better.
Coming Wednesday: The conclusion of the series.
The Nebraska 100: Our greatest athletes
The Nebraska 100, originally selected in 2005 and then updated and re-ranked in 2015, came from a pool of nearly 500 names from the ranks of high school, college, amateur and professional sports from the past 140 years. Assistance came from a panel of veteran sports observers from across the state, with the newspaper's sports staff determining the final rankings.