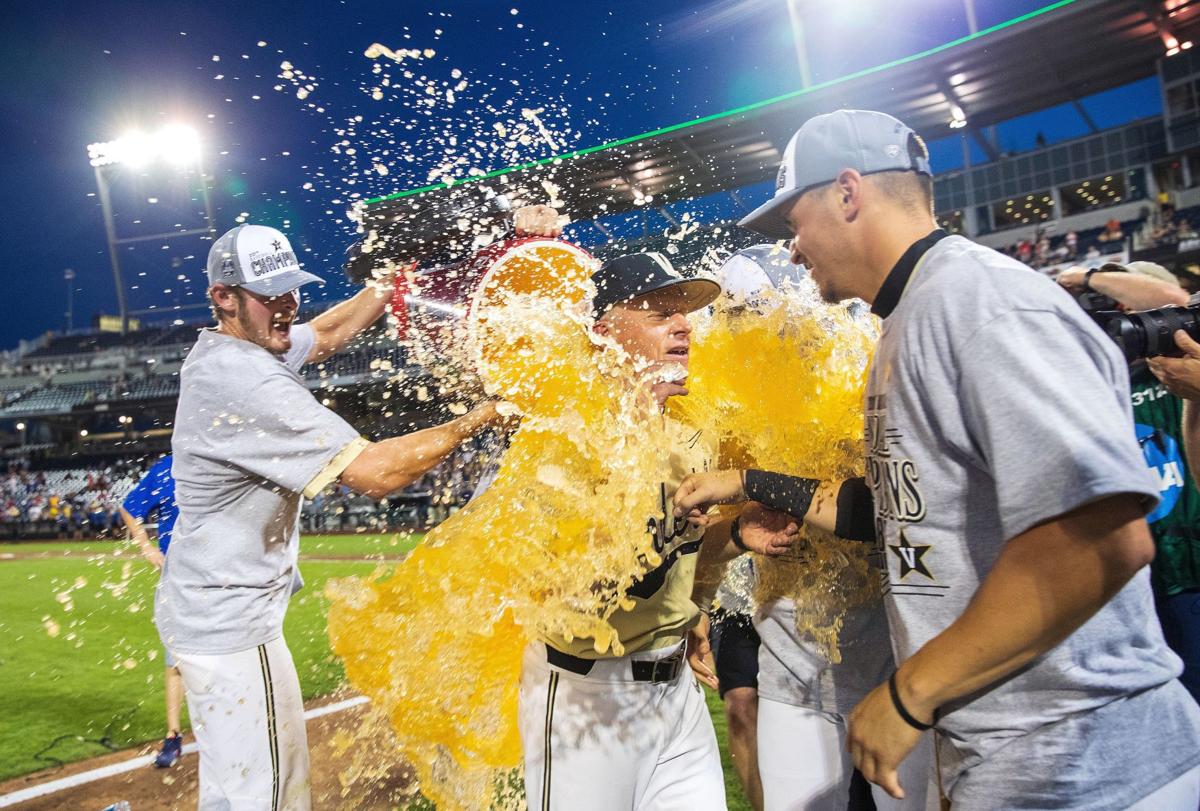 Everybody loves a reason to celebrate.
And sure, TD Ameritrade Park doesn't turn 10 until next spring. But this summer would have been the 10th College World Series in our downtown ballpark — a milestone worth commemorating with a bit of hoopla and flare.
But the jubilee has been canceled.
Instead of confetti and cake, it's a foul-tipped fastball right to the city's jugular.
The CWS was supposed to begin Saturday. But the coronavirus pandemic is here in its place. So for the first time since 1949, the nation's best collegiate baseball players won't be pilgrimaging to Omaha.
There won't be a pitching gem, or a clutch hit, or jaw-dropping catch, or a gleeful dogpile to end it all. No underdog stories to root for and no dugout antics to laugh at.
We won't get to watch the bleacher bums try to settle the age-old debate: does right field or left field inhale air at a greater rate? We can't do the wave — regular speed, then extra slow, then super fast. We also can't clap for ourselves after completing that wave or gripe at one another because we maybe did too many waves.
We'll miss searching for the Journey Guy dancing in the stands, or belting out the lyrics to Neil Diamond's classic songs, or waiting our turn to snap a photo at the Road to Omaha statue, or joining the after party at the beer garden tents.
The ice cream this summer won't taste as sweet or as satisfying — not like on those stuffy afternoons at the ballpark that leave us soaked in sweat and scorched with sunburn yet committed to coming back the next day.
Perhaps there's a silver lining here. Kathryn Morrissey, the executive director of CWS of Omaha Inc., has tried to think that way.
"I've been looking on the brighter side of things. Which is what we need to do," she said. "When the College World Series is back, it's going to be bigger — and better. And I think we'll all appreciate it more."
Until then, though, The World-Herald hopes to help fill the void. For the next two weeks, we'll be looking back at the classic CWS moments, highlighting the devoted individuals and chronicling the cool traditions that have helped etch this event into the fabric of our city.
That's something to be appreciated, right? Even if there's no baseball.
After all, when CWS coaches and players share their thoughts on what makes this a bucket-list destination, they often don't relay stories about the games.
It's Oregon State's Pat Casey talking about giving a jersey to a young baseball fan then receiving a thoughtful note from the kid's dad two weeks later. It's Michigan coach Erik Bakich talking about the team's Omaha bus driver, who they nicknamed OC, who had a pump-up speech after every ride and who even led the guys in the fight song.
It's Nomar Garciaparra chatting with a group of Kent State players and telling them how special their CWS experience will be — "this city makes you feel like a big leaguer." It's the hellos from folks when players walk to a restaurant in the Old Market. It's the barbecue cookouts held for teams by local volunteers. It's the autograph requests from kids. It's a day off at the zoo. Or a heartfelt trip to Children's Hospital and Medical Center.
When Vanderbilt coach Tim Corbin and his Commodores won a national title last year, he stood on the podium and looked at the scene inside the stadium. He'd won a game, but he was thinking about so much more.
"I want to thank Omaha," he said. "You put on such a special event."
But next year? Yeah, Coach, see ya then. We'll be ready to do it again.