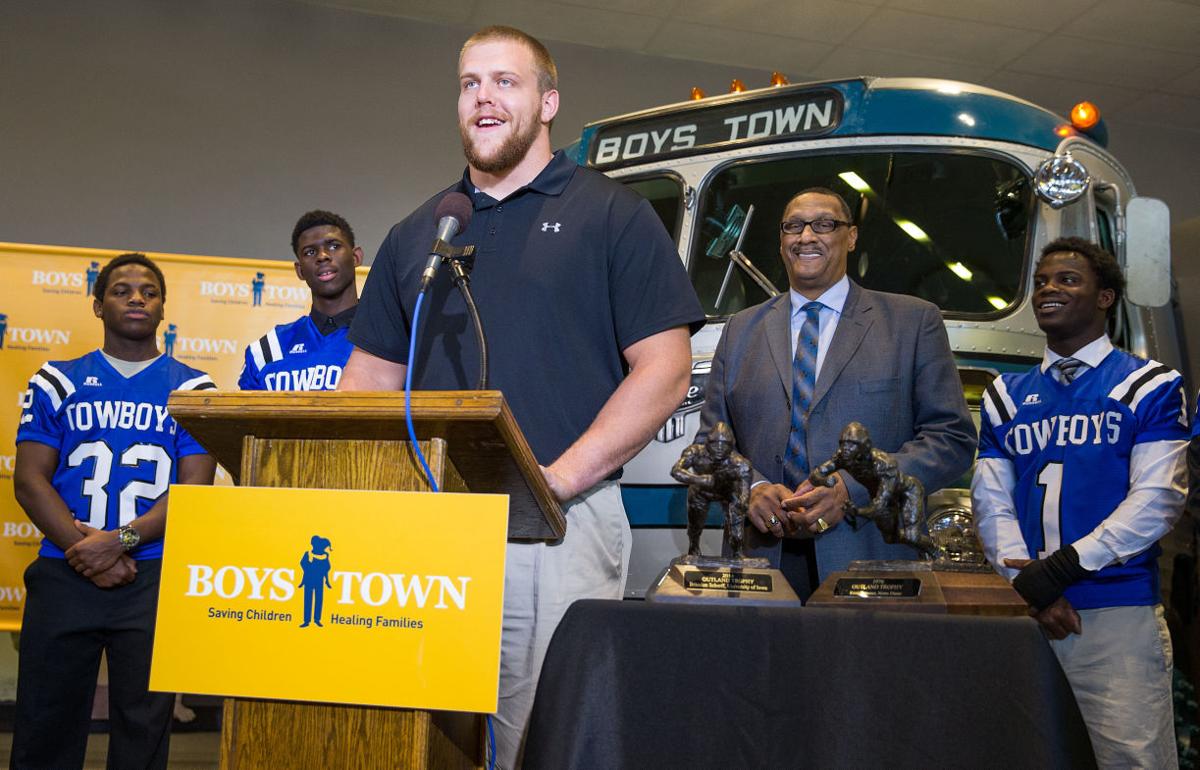 Winning the Outland Trophy has been a goal for two years, but as Brandon Scherff reflected on the past month Wednesday, he said it's still tough to comprehend what he's accomplished.
"It's surreal," Iowa's All-American said as his three-day tour through Omaha took a stop at Boys Town. He was in Orlando for the initial award ceremony last month and in Jacksonville for the Hawkeyes' Gator Bowl game. The NFL combine is up next. He is projected to be a first-round pick.
"I never thought I'd be where I am as a player right now," the former Denison-Schleswig star said.
Scherff — and 1976 Outland winner Ross Browner — will be honored at a banquet Thursday night in downtown Omaha. They were both the centers of attention at Boys Town on Wednesday, speaking with reporters, meeting with staffers and conversing with students. Lots of photos, handshakes and autographs.
And some learning, too. Scherff was impressed with the new experience. "It's a great cause and I'm looking forward to learn more about that," he said.
Q: The pancake block. What's the sensation, the feeling like when you take somebody to the ground?
A: It's fun, when everything works together. You get under their pads and just knock them down. You see them laying there. And just walk away.
Q: Is that the pinnacle for an offensive lineman? The pancake?
A: I'd say, the best thing for us is when you're on your block still and you don't know where the running back is at. Then you hear the crowd yelling. You finish your block. And you see him running downfield for a touchdown. That's it.
Q: You guys get credit for that in film. But it's not necessarily a highlight for you.
A: That's all right. I'm all right with that.
Q: Off the field, what are you into? We heard you like to hunt.
A: In the summertime, I think we worked out in the morning and then we fished all day. Just repeated it. Did it all summer pretty much.
Q: Where does that hobby (hunting) come from?
A: I went fishing with my dad growing up. I had a buddy in middle school and high school — we both loved fishing. Then I got into hunting. Probably seventh or eighth grade, I went pheasant hunting with a buddy. They had an extra gun for me to use. And I got into hunting from there.
Q: Any correlations with hunting to the football field?
A: Oh, I like to get away from all this football stuff. Hunting and fishing, it's just relaxing. Just get out of it. Do things you love to do. There's times when you have to be a football player and there's times when you can go out and relax.
Q: Not much relaxing right now. What's next?
A: Just going to rehab and get healthy. And get ready for the combine.
Q: Are you ready for this draft process? Do you think it's easy to block out the noise?
A: It's pretty easy. You've just got to remember where you came from. Just focus on what you can control.