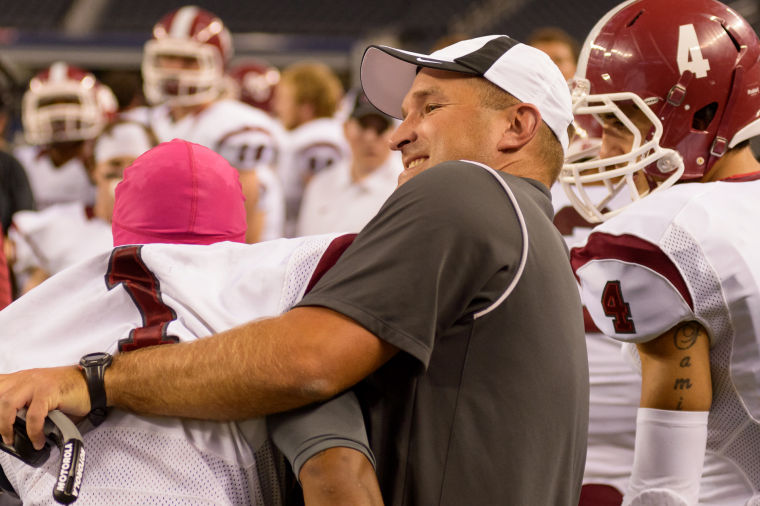 CHADRON, Neb. — All the marbles will be on the line at Elliott Field on Saturday when the Chadron State Eagles host their No. 1 nemesis in recent years, Colorado State-Pueblo, for the lead in the Rocky Mountain Athletic Conference.
The Eagles and the ThunderWolves are alone at the top of the RMAC standings with 3-0 records after Western New Mexico upset Colorado Mines 25-23 on Saturday. The Wolves also won both of their non-conference games (41-36 over Northern Colorado and 45-24 over Angelo State), giving them a 5-0 record and the No. 5 ranking in the American Football Coaches Association poll.
"We're excited to be playing Pueblo," CSC coach Jay Long said. "They've dominated the conference the past two years. They're good offensively, defensively and with their special teams. They just don't have a lot of weaknesses."
This will be the sixth game between CSC and CSU-Pueblo since the ThunderWolves revived their football program in 2008 under coach John Wristen. The Eagles won the first encounter 32-0 en route to their third straight RMAC championship. But Pueblo ended CSC's 28-game RMAC winning skein 28-17 early in the 2009 season and has won the last three games. Both the 2010 game and last year's contest went into overtime.
The Eagles' 28 wins in a row that extended from 2005 through 2008 when they ruled the RMAC in football, is the conference record. Pueblo has reeled off 25 straight victories against RMAC foes since last losing to the University of Nebraska at Kearney 38-24 midway in the 2010 season.
Chadron State's latest win was by 31-0 over Adams State on Sunday. Pueblo topped the Grizzlies 48-7 the previous week. The Wolves' other conference wins have been 44-7 over Western New Mexico on Sept. 21 and 35-3 over Fort Lewis last Saturday.
Both of CSC's coordinators agree with Long about Pueblo's clout.
"They're right up there with West Texas," offensive coordinator Chris Stein said in with reference to the team that edged the Eagles 34-31 in AT&T Stadium on Sept. 12 in Dallas. "They deserve to be ranked where they are. They're extremely sound and make very few mistakes. They make you beat them and have a heck of a coaching staff."
Stein added that the Pueblo secondary is as good as the Eagles will face and that end Darius Allen, the RMAC preseason defensive player of the year, is a sure-shot All-America candidate. Allen already has eight quarterback sacks.
CSC defensive coordinator Jeff Larson said ThunderWolves' quarterback Chris Bonner, who is 6-foot-7, 225 pounds, also has "a big arm." Bonner has completed 82 of 155 passes for 1,317 yards and 13 touchdowns. He's been intercepted three times.
In addition, Larson said tailback Cameron McDondle, who has carried 73 times for 585 yards for an 8.0-yard average, is outstanding. The CSC coach also said the Wolves have a big, strong offensive line and an excellent group of receivers.
"They'll try to power their way past us," Larson said.
The kicking game gives Pueblo another weapon. Senior Brandon Kliesen has punted 28 times this season for an average of 45.8 yards, second best in Division II in the nation. He is one of nine ThunderWolves who were placed on the all-RMAC preseason team selected by the coaches. Seven Eagles also made the team.