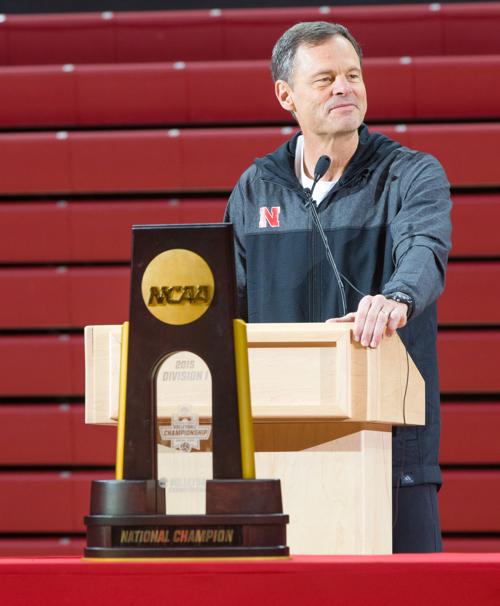 I know better than to try to guess what's going on inside a legendary coach's heart. But the guess here is, John Cook isn't going to pitch a chair in Pacific Beach, California, anytime soon.
Two years ago, in a column I wrote about Nebraska volleyball's move into the Devaney Center, Cook addressed the topic of when he might walk away from the Husker bench.
He said he wanted to make sure the move to the Devaney Center was a success. Mission accomplished.
He said he wanted to win another national championship. Mission accomplished.
Cook also said his current contract goes through 2019. Who knows what he might be able to do in four more years?
Most of the elite coaches I've covered aren't driven by championships. They're excited by the chase, the annual challenge of putting together a championship puzzle. They're attracted to the relationships with their players. Sure, they want to win big, but after they cut down nets, their first question is, "Okay, what's next?"
Cook offered a window into his head and heart immediately after winning his third NCAA title Saturday night. One of the first things he talked about was being proud of his players' journey, their growth and their ability to trust what they had learned.
That's the kind of stuff that hits a coach square in the heart. You teach, they learn and then they go out and do it on their own.
So yes, Cook has the team again next year, with more talent coming in, including an All-America transfer from LSU. His legacy is cemented, but ask a coach and he'll tell you the legacies that matter are the players, the practices, the journeys. The teaching, the failures, the successes.
The prediction here is, there's still a spark in Cook and a lot of room left on the chalkboard.
» Nobody asked me, but the NCAA should anchor the volleyball final four at the CenturyLink Center every four years. Pass it around, get the sport exposed in all corners, but every four years you bring it back here and let 17,000 do the advertising. The event here is too good not to make it a regular stop.
» While Tommy Armstrong is going back to the basics of Mike Riley's offense this offseason, I'd like to see Riley and coordinator Danny Langsdorf go study the basics of the quarterback run game and install a package for Armstrong that lets him have a chance at a big senior year. Meet halfway. I'm telling you, this quarterback run game, it will come in handy after Armstrong's gone. It never goes out of style.
» I watched Nebraska lose to Samford and read coach Tim Miles' quotes about not knowing or not caring how to run the offense, and I wonder: Do the Huskers have an identity? What does this program do well in its fourth year? Former Creighton coach Dana Altman once told me you can't move upward from the bottom of a league by playing vanilla or straight up. You have to have a curve ball. Altman's was to run and press in the Valley. It takes everything to win in the Big Ten, but I'm wondering if Miles couldn't use a curve ball. Run, press, break a press.
» Takeaway from Creighton-Oklahoma: There's a lot of potential in blue. There will be ups and downs in the improving Big East, but the nucleus of Mo Watson, Cole Huff and Khyri Thomas will be a load to deal with later in the season. Meanwhile, Xavier and Butler look as good as anyone in the country. That's realignment that works.
» I love that UNO played Arizona State. I remember the schools that gave UNO a break when it first joined Division I hockey. Going undefeated in the nonconference season can only help the PairWise ranking, and it's not as if it's going to drop in the NCHC.
» Yes, the Chiefs have benefited from a soft schedule and Peyton Manning's worst day at the office, but watch this team play. KC is getting good quarterback play and has a very good defense. That's a formula that has worked in the NFL playoffs for a long time. I'm sure Chiefs fans would be happy to win a playoff game, period.
» We're still two weeks away, but I'm fascinated by the NFC playoff possibilities. The Super Bowl will go through Carolina, but Arizona has the goods, and Aaron Rodgers in January is usually money. Don't forget Seattle, which remembered how to score.
» I'm not sensing a lot of buzz for this Foster Farms Bowl game. Anybody out there excited?
» My friend Hawkeye Chop is driving his Iowa Hawkeyes RV out to the Rose Bowl. I'm calling it, "Iowa Vacation." I hope he doesn't end up in Sante Fe, New Mexico.
» Congrats to the Husker Senior Award winners: Andy Janovich (Novak), Jack Gangwish (Chamberlin) and Ryne Reeves (Fischer Native Son). They'll be honored at the Jan. 14 Outland Trophy Dinner at the downtown Omaha Doubletree Hotel. For tickets, call 402-346-8003.
» One more and I'm outta here: The first football game I ever saw was Miami at San Diego, in 1966, at old Balboa Stadium. A lot of memories rushed back Sunday as I watched the Dolphins and Chargers close down Qualcomm Stadium as the Bolts are expected to bolt for LA. The old coach (my dad), a Brooklyn Dodger fan, once said, "You get over losing a stadium. You don't get over losing a team." Looks as if I'm about to find out.
Be the first to know
Get local news delivered to your inbox!