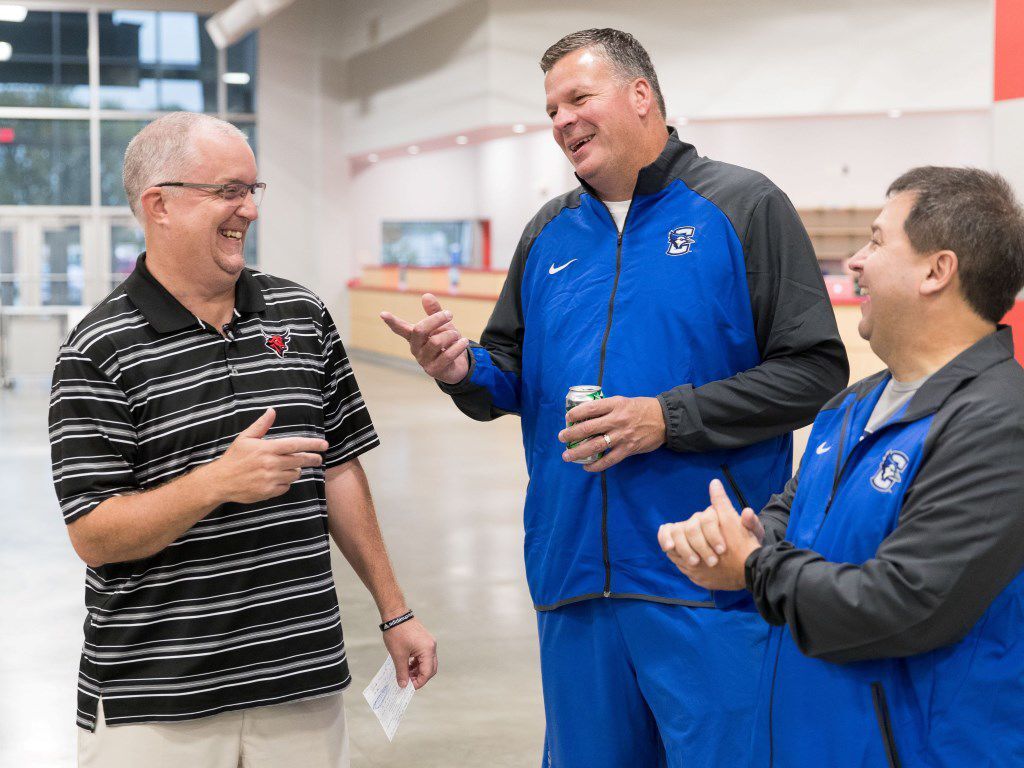 First downs and second guesses, the polo shirt and sweats version:
Derrin Hansen, a hoops junkie from St. Paul, Nebraska, was really looking forward to taking his UNO team to Assembly Hall, the barn that Bobby Knight made famous.
COVID-19 took that game away. But Hansen got a suitable replacement.
UNO will play Creighton on Tuesday at the CHI Health Center. It's a regular-season matchup Hansen has wanted for a long time.
The last time the Jays and Mavs met in the regular season was Nov. 30, 1995. CU won 74-71 in front of 3,895 at the Civic Auditorium.
That was Dana Altman's second year on the Hilltop and Kevin Lehman's first at Sapp Fieldhouse. CU, led by Chuckie Johnson, finished 14-15 and tied for fifth in the Missouri Valley. UNO was in Division II.
On Tuesday, in front of a few family members and school officials, they meet again.
Finally, COVID did something good for local sports.
This wouldn't have happened without the pandemic. UNO, now Division I, annually wants the game. Creighton won't play it.
But with the college basketball season off to a chaotic start, the timing was right.
So when Creighton coach Greg McDermott called a few weeks ago to offer the game, Hansen jumped on it.
"This game makes sense, but it really makes a lot of sense to play it this year," Hansen said.
"Let's say one of us can't play the game (because of COVID). Well, later on we can call them up and say, 'We're healthy, how about playing a game in 48 hours?' I can't make up a game with Colorado in 48 hours."
Creighton is paying UNO a guarantee, though Hansen would not disclose the amount. He did say UNO's pool of nonconference guarantee money — which annually funds the athletic budget — is "50 percent of what we normally bring in."
"That's incredibly high," Hansen said. "There's a lot of schools getting 35 percent of what they normally get."
Is this the beginning of an annual series? Not likely, so appreciate the moment. It's a great game for Omaha and it will be played in an empty arena. Oh, the irony.
Hey, in 2020, we'll take what we can get.
» Will there be more of these last-second matchups this college hoops season? 
Say Creighton loses two Big East games to COVID and has a week open in the middle of the season. Could McDermott call up a nonconference school in the area with a similar opening and set up a game?
Could CU and Nebraska play a second game later this season under those circumstances?
If the conferences are smart, they'll say yes. Otherwise, some schools might not get a lot of games played this year.
"That's a possibility," said McDermott, referring to adding nonconference games as replacements for lost league games. "If you're in a situation where your opponent is shut down and Missouri is supposed to play South Carolina but can't ... I think you'd try to find another Big East game first, but if you can't I think you'd have to be able to pivot."
Here's the pivot I'd like to see sometime this winter: A doubleheader with Creighton playing Iowa in a battle of top-10 teams, and Nebraska playing Iowa State. Either, or both.
I'll keep beating that drum. Who knows? This year, anything is possible.
» Speaking of Omaha hoops, Dana Altman is coming back to his former town this week.
Altman's Oregon Ducks will open their season this week at the CHI Health Center. They'll play Missouri on Wednesday night and Seton Hall on Friday.
If those teams are coming to Omaha, might our city be a hoops bubble possibility for later this season? Hmmm.
» It's not too late for the Big Ten to act like the Pac-12 and allow nonconference football games these final weeks for teams that have games canceled.
Here's one: Cincinnati vs. Ohio State. Think that might stir some interest in the Big Ten?
» While I'm at it, here's another game I want to see: Iowa State vs. Iowa in a bowl game. The two rivals didn't get to play their annual scrum this year. There's a bowl in Phoenix that pits Big 12 vs. Big Ten.
One problem: ISU, which looks set to play in the Big 12 championship game, might end up in a much higher bowl.
» When I think of a hockey bubble, my mind wanders to those old-school table hockey games, where you and your brother were the Blackhawks and Red Wings controlling the players attached to metal rods under a plastic shell.
If you don't know what I'm talking about, consider it your loss. These games were the greatest.
The Omaha hockey bubble, without the metal rods, begins Tuesday at Baxter Arena.
The National Collegiate Hockey Conference will hold a 21-day "pod" there, with all 10 teams (Colorado College is not here yet) trying to play 10 league games in that span.
All 10 teams, including UNO, and their families will spend the three weeks in hotels walking distance to the arena. Game on, Aksarben Village bars and restaurants.
It's a creative plan. Let's hope it works.
» Maybe you've noticed a change in college basketball coaches this season. They've gone casual.
No more suits and ties on the bench. Coaches are now dressed in polo shirts and slacks. Or sweats.
These men wear sweats to work the other days of the week, so why not?
This was a conscious decision by both the ACC and Big Ten, and other coaches caught on. What's the deal? As Rick Pitino put it, "Why would you want to wear a suit when there's no fans at the games?"
They should stay casual when the fans come back. Trust me, they won't care.
» Patrick Mahomes is getting close to breaking Peyton Manning's record for ... TV commercials. Unless Baker Mayfield does first.
I have nothing against Mayfield, but why does he have so many commercials?
» One more and I'm outta here: Jim McFarland, the former Nebraska tight end who passed away Sunday, had a unique place in Husker history.
The North Platte native was the first Husker walk-on to get drafted in the NFL. He played five years for the St. Louis Cardinals and one for the Miami Dolphins.
After the NFL, McFarland got his law degree at Cornell University and practiced in Nebraska. He also served as a state senator.
McFarland, a member of the Nebraska Football Hall of Fame, was a starter in 1968 and '69 and was All-Big Eight in 1969.
But it was a catch he didn't make during that senior year that Husker fans remember most.
It came against Kansas and John Riggins. Nebraska entered the KU game at 2-2. Coach Bob Devaney, off back-to-back 6-4 seasons, was on the hot seat with Husker fans.
KU led 17-14 late in the game when McFarland went out for a pass. Quarterback Jerry Tagge, scrambling out of the pocket, threw a pass 10 yards over McFarland's head.
However, the KU defensive back hit McFarland while the ball was in the air. The ball was uncatchable, but the referee called pass interference.
First down NU. Jeff Kinney scored four plays later and the Huskers hung on to perhaps the biggest win of the year. And one of the biggest of that late Devaney era.
That's a cool Husker legacy. McFarland had that and a lot more.