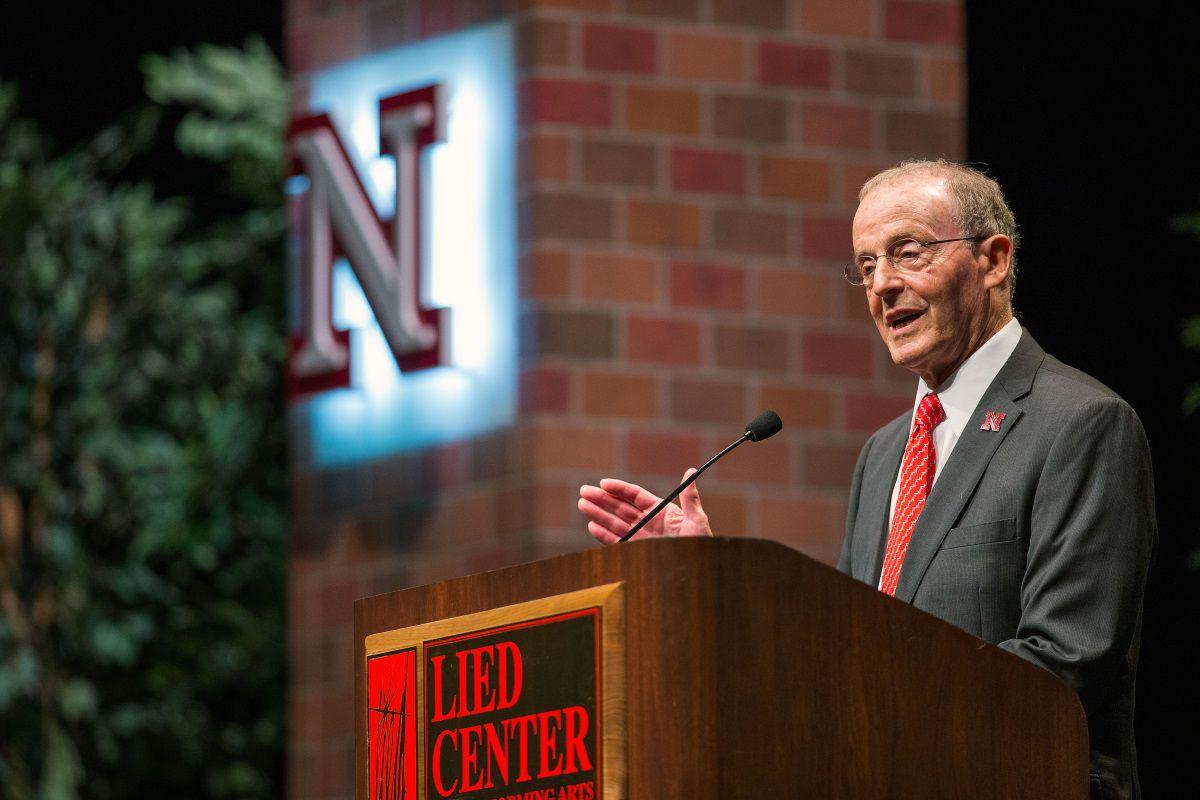 Who was the mystery "wow" coach from the NFL who left Steve Pederson at the altar?
The outgoing UNL chancellor would not reveal the mystery man. We had crossed off Dave Wannstedt's name before. Perlman said it was someone who was a current head coach in the NFL in 2003.
My sources had always indicated it was a former NFL head coach who was an offensive coordinator in the league in 2003.
Unless it was Bill Parcells, Jimmy Johnson or Jon Gruden, I'm not sure it would have mattered — and there's no evidence to suggest Gruden would be a great college head coach.
This shined some light into Pederson's state of mind in 2003. Why was he going to the NFL to hire a Nebraska football coach? And why did he think he needed a "wow" hire?
Back in the fall of 2003, Pederson was still riding high as the Nebraska boy coming home to save the day. Maybe Pederson knew that could all change if he fired Frank Solich, angering Tom Osborne and his supporters.
So perhaps Pederson figured that an NFL pedigree would soothe that over quickly, especially the "wow" kind. Oh, yes, and recruiting, too. Pederson equated NFL and "wow" to transforming the 2003 state of the Husker roster.
As history reminds us now, NFL coaches do not typically translate well to the college game. Pete Carroll begs to differ. But from the recruiting game to the quarterback skill sets to dealing with boosters, it's often a bad fit.
As for the "wow," Nebraskans are not "wow" folks. Sure, they like a big name as much as the next guy, but, really, a "wow" hire would have been any experienced college coach who could have won some Big 12 titles and delivered one of those crystal footballs to Memorial Stadium.
Alas, the "wow" guy changed his mind on the way to Lincoln, leaving Pederson to explain himself at countless press conferences. Pederson would get his bright lights NFL guy, and, well, the dominoes flowed from there.
As for the mystery guy, we may have to wait for the Harvey book or reunion movie to find out.
The Huskers have eight regular-season games left, including two Big Ten series and a Creighton game in Omaha. Including the Big Ten tourney at TD Ameritrade Park, they won't leave the state again — until the regionals.
About that, national college baseball insider Kendall Rogers tweeted on Monday that NU is back in the NCAA tournament discussion.
What will it take? Six of the last eight? Seven? The guess here is that the Indiana series will have high stakes. Not to mention that little game in downtown Omaha next Tuesday night.
» Mo Watson is coming back to Creighton after learning he wasn't ready for the NBA. And yet, nobody told him. Watson wasn't invited to the NBA combine and didn't get a call for an individual team workout. That's how you find out.
The NCAA's rule to allow underclassmen to dip their foot in the pool without losing eligibility is a good one. But the kids do it without so much as a guaranteed job interview or workout.
Watson won here. So did Creighton, so did college basketball. But too many college kids, in football and basketball, end up losing because they hire an agent. I'd like to see the rule expanded.
If an athlete goes all in, and takes money from an agent, let him put that money in an account until he gets drafted. If not, let him pay it back to the agent, and come back to finish his college career.
» I knew Tyronn Lue many years ago, before he became Red Auerbach.
The former Nebraska point guard is now the head coach of the extremely hot Cleveland Cavaliers, winners of eight straight NBA playoff games.
When Lue took over this seemingly no-win job last fall, it looked like he was still assistant coach to LeBron James. Then came the image this winter of a Cleveland player throwing his towel on Lue's shoulder coming out of a timeout. Lue the water boy?
Look who has stepped up. According to an ESPN.com story, Lue called a team meeting in late March, with the Cavs slogging along toward a certain underachievement. He challenged them to be more aggressive — and Kevin Love in particular.
Lue said, "Kevin, you gotta be more aggressive. Tell LeBron, 'I'm a bad ------------ too, so throw me the ball.' Be aggressive. Run the floor. If you're open, we got to throw you the ball. You got to demand the basketball, and I said, 'Score the ball and be aggressive.' "
Now this is the Cavs team everyone expected last year, before Love was hurt early in the playoffs. And nobody is throwing in the towel on Cleveland's title chances.
» So Oklahoma President David Boren wants the Big 12 to expand and the OU regents now say they don't. Of course.
» One more and I'm outta here: Jerry Murtaugh has released the list of sports legends playing in the first Nebraska Greats Foundation golf classic. It's a list that would have Harvey Perlman saying, "Wow."
The list: Eric Crouch, Johnny Rodgers, Van Brownson, Jerry Tagge, Tony Davis, Randy Borg, Dave Hoppen, Dean Thompson, Chris Kelsay, Joel Makovicka, Dave Morock, John O'Leary, Zach Wiegert and the newly-signed San Diego Charger, Matt Slauson. The venue: Omaha Country Club. The date: May 23.
Murtaugh even has NU Athletic Director Shawn Eichorst hanging out on the first hole to meet and greet golfers. Some of the recipients of the foundation's financial assistance will be on hand, including Larry Florence, Josh Jones and Jim Unger.