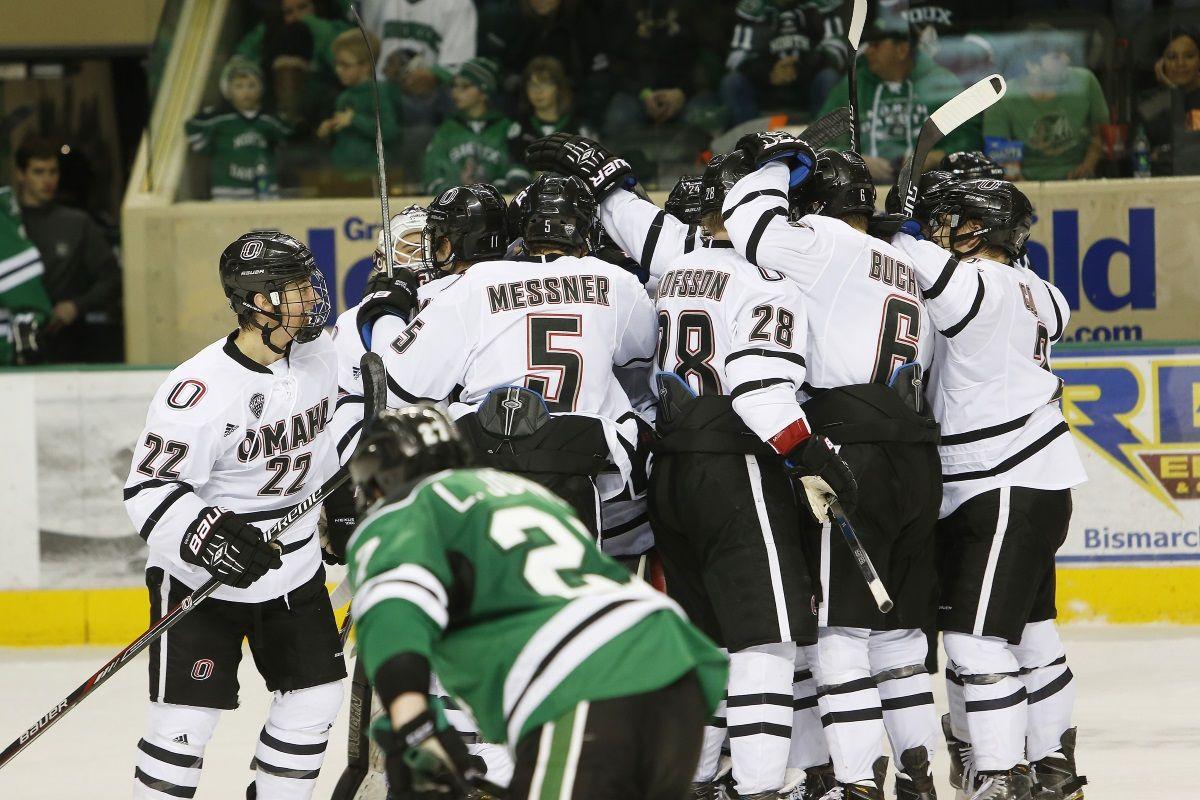 So it's mid-January and the forecast calls for snow. Shocking.
What about the postseason forecast? Here's a look at the local prospects, in order of best chance (and I'll try not to draw an either-or line through Omaha):
1. UNO hockey. The Mavs (15-6-1) are a solid No. 5 in the latest PairWise rankings. The NCAA basically takes the top 16 teams in those hockey RPI ratings for the postseason tournament. UNO has only two series left with top 16 teams (No. 3 North Dakota and No. 14 Denver) but splits with UND and No. 2 St. Cloud will help keep UNO buoyed in the top 10. It would take a monumental collapse to keep the Mavs out of the NCAA hockey tournament. This team's too good to let that happen.
2. UNO basketball. If the Jays or Huskers were in better shape, Derrin Hansen's team wouldn't be here. Actually, it will be here every year with the same chore: win the Summit League tournament March 5-8 in Sioux Falls. The Mavs are tied for first in the Summit after a few weeks and should have a team that can win the tourney. That will depend on getting hot and shooting well that week. But I wonder if other factors will be at play, how tight or loose UNO will be in its first Summit League tourney, how other teams see UNO, etc. There's a long way to go. But UNO's play so far in the Summit has put the dream out there.
3. Creighton. Oh, if the Jays could have found a way in Norman, Oklahoma, or showed up in the first half at Assembly Hall in Indiana. Or, heck, closed the deal against Providence at home last week. Most hoop observers in the Big East and at Creighton weren't counting on an NCAA bid this year — next year's roster make-up looks more friendly for that run. But that doesn't mean it can't still happen this year. The Jays, with an RPI of 100, play in arguably the best league in the country. That provides opportunity: two games left with Xavier, a projected No. 1 or No. 2 seed, two with Butler and one with Villanova, Providence and Seton Hall. CU is light on quality wins, but there are ample opportunities still out there. And — the Big East tournament, if this young team continues to grow fast.
4. Nebraska. The Huskers are on a nice little roll lately, and have a shot to move up in the Big Ten. Normally, a top-seven finish in the Big Ten puts you on the bubble. Not this year. The Big Ten is down by its standards. Meanwhile, NU's RPI is 176 and the résumé void of quality wins. Looking ahead, there's two games with Purdue, one with Maryland, Michigan State, Michigan and Indiana. Tim Miles' bunch is in the same boat as UNO — win the league tournament, with a longer shot at getting that done.
» This would be a good year for some local heroes to dance in March. There are first weekend sites in Des Moines, St. Louis, Oklahoma City and Denver. Very car friendly trips.
» Jim Ridlon, a former football player at Syracuse who also designed the Outland Trophy, accepted the Tom Osborne Legacy Award last Thursday at the Outland Trophy dinner in Omaha. In his speech, Ridlon praised the hard work of Bob, Mike and Joe Mancuso, saying, "The Mancusos are like the snow in Syracuse — they're everywhere." Bob Mancuso Sr. would have been proud to hear that.
» A fan post on the blog "Big East Coast Bias" that's critical of Creighton fans made the rounds this week. It was written by an Omahan who grew up in Big East country. He criticized CU fans for leaving early in the win over Georgetown and the last-second loss to Providence.
My take: The majority of fans at Jays games are into basketball, appreciate it and stay until the end. I don't recall seeing thousands fleeing for the exits early. I know some do. I also know when you draw 17,000 and not all are Creighton grads or longtime fans, you're going to get some there for the social event, some who will leave early.
Yes, it's a bad look. But I don't think you can paint a broad brush on Creighton fans and say this is who they are. They're good fans, love their hoops and want a team that works hard, plays good ball — and wins.
I also know there are nine other Big East athletic directors who would love to average 17,000.
» Along those lines: Ticket order forms for the Big East men's basketball tournament at Madison Square Garden are out. The Big East sells all-session tickets, meaning one gets you in every session of the tournament. Prices for one ticket range from $125 to $650. The upper deck are $250 and $350 per seat. You want lower bowl? That's $525 or $450.
Now, one room at the CU team hotel (across from the Garden) is $289 per night, with a three-night minimum. That's reasonable for a hotel in Manhattan. Add that to the cost of flying round-trip to New York from Omaha, and we're not in St. Louis anymore, Dorothy.
Heck, you pay those prices, you can leave whenever you want. I just don't know why you wouldn't stay and get your money's worth.
» Glenn Frey co-wrote "Hotel California," appeared on "Miami Vice" and inducted Linda Ronstadt into the Rock and Roll Hall of Fame. Oh, and he also wrote this line: "It's a girl, my Lord, in a flat-bed Ford, slowing down to take a look at me." What a life. RIP.
» What a horrible start to 2016 for music fans. David Bowie was an incredible performer. I saw him in 1988 at his "Glass Spider" tour. He was lifted down from the ceiling in a glass spider. Peter Frampton played lead guitar. Sometimes you ask yourself, "Should I go to this concert?" The answer is always yes.
» Tamba Hali, Derrick Johnson and Eric Berry are all Chiefs free agents. It doesn't appear K.C. will keep all three, or even two of three. Who do you want, Chiefs fans? My guess is, K.C. will make Berry a priority, with Johnson next and then Hali. But other teams will make a run at them, too.
If you're a Chiefs fan, you just hope your front office isn't in a huddle when the free agent clock is winding down.
» I know Lane Kiffin will be back as a college head coach. But how good of a job can he get? Kiffin is so good, a difference-maker, as an offensive coordinator. Seems to me he could make a career and legacy out of doing that forever. His stints running a program have not been successful, though he didn't stay long at Tennessee.
» One more and I'm outta here: If it's the third Tuesday of the month, it's Shatel Lunch Series time at the Omaha Press Club. Today's guest is Trev Alberts, who leads a double life as a Division I athletic director and College Football Hall of Famer. See you at noon.