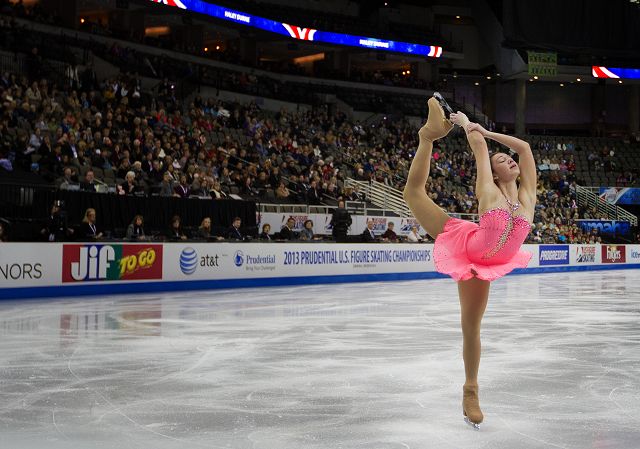 As soon as the music stopped, Ashley Wagner nodded her head.
Coming in to Omaha as the reigning national champion, the 21-year-old skater knew she had something to prove at this year's event. And while her short program Thursday night at the CenturyLink Center wasn't flawless, it was commanding and clean — and enough to secure her the top position heading into Saturday night's free skate.
Skating second to last in a lineup of 20 top competitors, Wagner landed jump after jump, showing up other expected contenders who tumbled on jumps and fumbled their spins.
"Tonight I felt really solid," she said after her skate, which earned a score of 67.57. "I did exactly what I came here and planned on doing."
But Wagner can't rest too easy.
Despite a fall on a double axel, last year's bronze medalist, Agnes Zawadzki, pulled off an otherwise-solid program that was enough to score 65.31 points and the second-place position.
She dislodged 2008 U.S. champion — and 2010 Olympian — Mirai Nagasu, who had been holding on to second place for most of the night. Judges awarded her 64.39 points.
Nagasu, who finished a disappointing seventh at last year's nationals, appears to be working toward a big comeback. In her program, she seemed relaxed and confident, although she's been battling the flu.
Talking to reporters after the event, Nagasu said she's feeling strong about the competition — even if her health still isn't up to par. Battling a nasty cough, she bowed out of a press conference early.
"My goal this season is to improve on each competition and I feel I did that," Nagasu said. "Going into the long program, I'd like to remain focused and confident."
Meanwhile, the much-buzzed-about senior nationals debut of Gracie Gold got off to a rocky start.
The 17-year-old skater, last year's U.S. junior champion, showed more personality than most of her competitors. But when she tumbled on the ice on the second of two triple jumps in an opening combination, the audience seemed to gasp in unison.
With a score of 54.08 points, Gold finished the short program in ninth. That put her more than five points behind another recent U.S. junior champion.
Courtney Hicks, who won the junior title in 2011, was the surprise of the night in her first senior nationals. The 17-year-old drew huge applause on her opening combination jumps and a triple lutz.
Hicks is in fourth heading into the free skate.
The most controversial score of the night — at least in terms of audience reaction — was for last year's fourth-place finisher, Caroline Zhang. Though she skated a smooth, crowd-pleasing program that earned a few standing ovations, the judges were less impressed.
She earned a score of 49.99, enough for 12th place. The judging panel earned the only boos of the night.
The ladies competition will conclude with Saturday night's free skate.
>> Video: Scott Hamilton discusses commentating for the skating championships:
>> Video: 1988 Olympic champion figure skater Brian Boitano spoke with food writer Sarah Baker Hansen about his TV show "What Would Brian Boitano Make?"