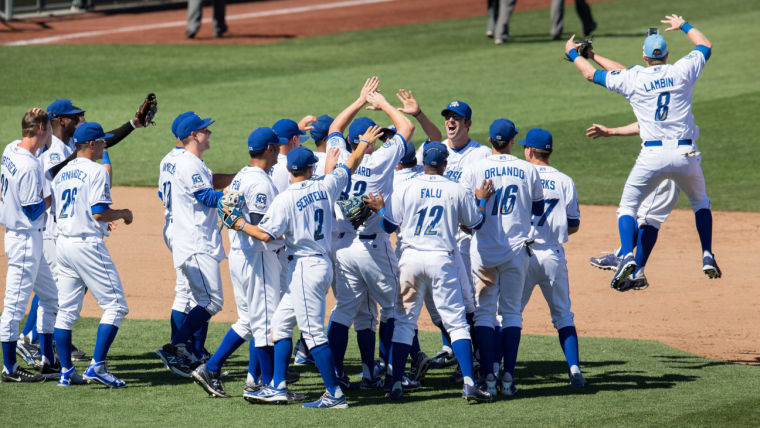 Tied against Round Rock in the fourth inning, the Omaha Storm Chasers received word.
Memphis had lost, 2-1 on another walk-off defeat in Oklahoma City. The door — front door, back door, side door, whatever — was open.
"I got some chills when I heard that," Omaha outfielder Anthony Seratelli said. "Knowing it was in our hands instead of in theirs."
Shortly thereafter, Omaha came to the plate in the fifth inning and roughed up one of the Pacific Coast League's best pitchers for four runs on six hits and then held on for an 8-4 victory Monday before 6,545 fans at Werner Park.
"It happens that way for some reason," said infielder Christian Colon, whose high-chop single broke the tie. "You're energized. You're right there and you don't want to let it go."
The victory on the final day of the regular season gave Omaha (70-74) the one-game lead it needed to both win the PCL's American Conference North Division and reach the playoffs for the third consecutive season.
It also ended a breathless, 24-hour stretch in which Omaha needed to win twice and have Memphis lose twice in order to reach the playoffs.
"It was crazy," Colon said. "When (Oklahoma City) came back and won (Sunday), you kind of knew something was up, that we were destined to make the playoffs."
The Redbirds, who held the tiebreaker advantage and would have advanced to the playoffs had the division ended in a tie, were twice one strike away from clinching Sunday night before surrendering a 4-0 lead with two outs in the bottom of the ninth and then losing in 11.
Omaha dealt with whatever pressure there might have been by simply relaxing, said longtime big-league slugger Carlos Pena, who had three hits — including a homer — and four RBIs in his fifth game with the team.
"The natural reaction is to tighten up, but this team did the opposite," he said. "They loosened up. That's quality. That's where your manager and your mental game shows up.
"I looked around and everyone was relaxed. ... It was a very aloof (pregame) clubhouse, and that's good."
Omaha now heads out to play South Division champion Oklahoma City for the first two games of the best-of-five American Conference playoff series that starts Wednesday. Game 3 is Friday at Werner Park, which is also the site of Games 4 and 5, if necessary, on Saturday and Sunday.
Second half of the season hero Paulo Orlando started the go-ahead rally with a single, though he was cut down at second on Manny Pina's attempted sacrifice.
Irving Falu singled to move Pina to third and then stole second base. That brought the Round Rock infield in to try to cut off the run at the plate, and Colon took advantage by chopping a single off the glove of leaping shortstop Brendan Harris to give the Chasers a 3-2 lead.
"I was looking for something I could drive in the air, but he had a good sinker working," Colon said of Josh Lindblom (8-4). "… It worked out. It was kind of a lucky play, but we'll take it."
Pena lasered a single off the right-field wall to make it 4-2, and then Seratelli plugged the gap in right center with a two-run double for a 6-2 lead.
John Lamb (1-2) pitched into the sixth inning for the win, Maikel Cleto pitched two scoreless innings and then Michael Mariot worked the final two innings for his 11th save.
Pena blasted his second opposite-field homer in five games with Omaha, a two-run shot in the bottom of the first.
But Round Rock answered in the top of the second, when Zach Zaneski lined a two-run double off the top of the wall in right center.
Lindblom took a 2.71 ERA into the game, a figure that would have led the league if he'd pitched 11 2⁄3 more innings in order to qualify.
Mike Bianucci's two-run homer — his third homer of the series — got Round Rock within 6-4 in the sixth.
But Omaha added insurance runs in the seventh and eighth, on run-scoring singles by Pena and Orlando.
The pregame clubhouse may have been relaxed, but it was a different story postgame as players sprayed celebratory champagne and beer, dousing one another.
The celebration calmed slightly as manager Mike Jirschele entered and, in a gruff but not completely serious tone said, "If anybody sprays me, it's $100 (fine)."
Infielder Pedro Ciriaco quickly chimed in, "You're going to be rich."
The celebration continued.
"We knew the ball was in Memphis' court," Omaha utility player Johnny Giavotella said. "If they wanted to make the playoffs, they were going to have to win. Their loss just gave us more motivation."
Among the Sept. 1 call-ups was the Boston Red Sox promoting Quintin Berry, who had spent most of the season with Omaha. Berry, expected to be used primarily as a pinch runner and defensive replacement, was traded to Boston last week for Clayton Mortensen.