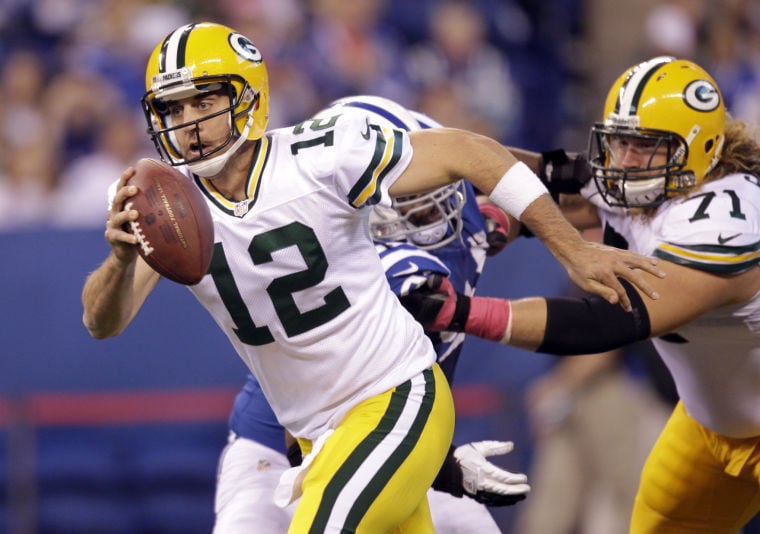 A capsule preview of Week 15 NFL action by World-Herald NFL editor John Rodino.
Packers at 49ers, 3:25 p.m. (Game of the week)
Last meeting: 49ers won 45-31 on Jan. 12 (NFC divisional playoff)
Lowdown: The marquee receivers are formidable, but the Packers' fate lies with the grunts who must keep Aaron Rodgers upright. Don Barclay and fourth-round draft choice David Bakhtiari provide depth at tackle. A deeper running game with rookie Eddie Lacy should also help. Second-year linebacker Nick Perry has to help Clay Matthews on the pass rush or Colin Kaepernick will be free to run roughshod as he did in the 49ers' playoff victory. The loaded NFC champs' biggest early concern is a lack of depth at running back and kick returner, with LaMichael James (knee) out at least three weeks. Veteran wideout Anquan Boldin and tight end Vernon Davis may be Kaepernick's top targets early, with Michael Crabtree and Mario Manningham out.
Patriots at Bills, Noon
Last meeting: Patriots won 37-31 on Nov. 11, 2012
Lowdown: The Patriots might get top tight end Rob Gronkowski (forearm, back surgeries) back in a couple of weeks — better than earlier scenarios. Danny Amendola takes over Wes Welker's possession receiver role. Bills first-round pick EJ Manuel is expected to start at quarterback. Starting cornerback Stephon Gilmore (broken wrist) is out, while two-time Pro Bowl safety Jairus Byrd (foot) is questionable.
Prediction: Patriots 33-16
Bengals at Bears, Noon
Last meeting: Bengals won 45-10 on Oct. 25, 2009
Lowdown: The Bengals' biggest import was linebacker James Harrison, 35. Don't know how much he's got left, but his Steeler swagger could make a decent defense more confident. Bears running back Matt Forte had better have strong legs if top wideout Brandon Marshall's hip is acting up. Jay Cutler doesn't have that many big-time weapons. The defense is still salty, with former Bronco D.J. Williams bringing a veteran presence as middle linebacker Brian Urlacher's replacement.
Prediction: Bengals 24-20
Dolphins at Browns, Noon
Last meeting: Browns won 17-16 on Sept. 25, 2011
Lowdown: The addition of Mike Wallace gives Dolphins quarterback Ryan Tannehill a deep-threat receiver. Lamar Miller must step up to fill the Reggie Bush void at running back. Tight end Dustin Keller (leg injury) is a big loss, though. Cleveland's new regime is building a potentially good linebacker corps, drafting Barkevious Mingo and bringing in former Ravens pass rusher Paul Kruger to go with D'Qwell Jackson. Mingo is recovering from a bruised lung.
Prediction: Dolphins 21-17
Falcons at Saints, Noon
Last meeting: Falcons won 23-13 on Nov. 29, 2012
Lowdown: Some might see the Falcons going all the way after last season's near-miss against the 49ers in the NFC title game. Former Rams mainstay Steven Jackson is a more versatile back than the departed Michael Turner and is a key addition to a loaded offense. We'll see how much difference Saints coach Sean Payton's return makes. The key coach may be new defensive coordinator Rob Ryan, who inherits a group that gave up record yardage last season.
Prediction: Falcons 30-26
Buccaneers at Jets, Noon
Last meeting: Jets won 26-3 on Dec. 13, 2009
Lowdown: A nice No. 1 draft pick, Dee Milliner, as the Jets' successor to top cornerback Darrelle Revis, went virtually unnoticed. Normally this would be an intriguing storyline for the opener with Revis and the Bucs. But of course the Jets are all about quarterback controversies. Rookie Geno Smith, after a mediocre preseason, is expected to start, with incumbent Mark Sanchez nicked up.
Titans at Steelers, Noon
Last meeting: Titans won 26-23 on Oct. 11, 2012
Lowdown: Both may look to the ground game for different reasons. The Steelers, with a solid defense, can chew the clock with a revamped backfield of Isaac Redman, Felix Jones and second-round pick Le'Veon Bell (when his foot heals). Chance Warmack was the Titans' top draft pick and they added another guard, Andy Levitre, in free agency. Offseason pickup Shonn Greene is a power back to spell Chris Johnson. The Titans need to control the ball, having done little in the draft to help a porous defense.
Prediction: Steelers 23-17
Vikings at Lions, Noon
Last meeting: Vikings won 34-24 on Nov. 11, 2012
Lowdown: When Adrian Peterson isn't running it, the Vikings will look to ex-Packer Greg Jennings as the No. 1 wideout and rookie receiver-returner Cordarrelle Patterson to fill the Percy Harvin void. Lions quarterback Matthew Stafford set an NFL single-season record for pass attempts in a 2012 season that was dismal for all but record-setting receiver Calvin Johnson. Maybe with running back Reggie Bush, they can change it up a bit. Will Nick Fairley rise up and help fellow tackle Ndamukong Suh on what's been an overrated defense?
Raiders at Colts, Noon
Last meeting: Colts won 31-26 on Dec. 26, 2010
Lowdown: The overnight sensation Colts made the playoffs in quarterback Andrew Luck's rookie season. Young teams like this are often puzzling the next year. Indianapolis could use even more production out of Vick Ballard (814 yards rushing in 2012) and explosive T.Y. Hilton (17.2 yards per catch). You wonder about the Raiders' identity. They just settled on dual-threat quarterback Terrelle Pryor, who competed with pocket passer Matt Flynn in the preseason.
Seahawks at Panthers, Noon
Last meeting: Seahawks won 16-12 on Oct. 7, 2012
Lowdown: Seattle is a legitimate contender with mobile quarterback Russell Wilson, power runner Marshawn Lynch and a top five defense. Think what the Seahawks' offense could be around December if they get receiver/returner Percy Harvin (hip surgery) on the field. With a proven runner in DeAngelo Williams and an elite receiver in Steve Smith, Carolina QB Cam Newton seeks to strike a balance instead of doing it all. The Panthers added top draft choice Star Lotulelei, a tackle, to a top 10 defense that includes league tackling leader Luke Kuechly.
Prediction: Seahawks 26-21
Chiefs at Jaguars, Noon
Last meeting: Chiefs won 42-20 on Oct. 24, 2010
Lowdown: The wheels fell off at Arrowhead the past two seasons. So, enter new coach Andy Reid, the longtime Eagles leader, and quarterback Alex Smith, whose game was peaking until injury cost him his job with the 49ers. The Chiefs will still lean on star runner Jamaal Charles. Some Jacksonville building blocks have question marks: Receiver Justin Blackmon will serve a four-game drug suspension, and running back Maurice Jones-Drew should be in his prime at 28, but is coming off a lost season with a foot injury.
Cardinals at Rams, 3:25 p.m.
Last meeting: Rams won 31-17 on Nov. 25, 2012
Lowdown: Second-year man Daryl Richardson is hoping to be the Rams' featured back in the post-Steven Jackson era. First-round draft choice Tavon Austin brings speed and slot skills to the wide receiver position. The Cardinals, with a carousel of ineffective quarterbacks, wore out a decent defense and squandered a good start in 2012. They're hoping veteran Carson Palmer can get the ball to star receiver Larry Fitzgerald. Former Steeler Rashard Mendenhall looks to revitalize the running game.
Giants at Cowboys, 7:30 p.m.
Last meeting: Giants won 29-24 on Oct. 28, 2012
Lowdown: Big years from pass-rushing end DeMarcus Ware and linebacker Sean Lee would help Monte Kiffin's Dallas defense. Bill Callahan takes over play-calling duties from head coach Jason Garrett. Quarterback Tony Romo has the marquee weapons in Dez Bryant, Miles Austin, Jason Witten and DeMarco Murray. Will the sleeping Giants wake up? This is a passing team, but Eli Manning has to trust young running back David Wilson, too.
Prediction: Cowboys 36-31